This post may contain affiliate links which may give us a commission at no additional cost to you. As an Amazon Associate we earn from qualifying purchases.
If you are a Pinterest fan or you frequent many blog sites, I know you've seen the endless supply of Chalkboard Printables out there. I, for one, love them! There's just one problem. I like to customize everything! I always wish they used a different font or a different quote. Sometimes I love it and I just want to tweak it in some way to make it my own or more original.
Making your own custom Chalkboard printables is super easy in Photoshop, but what if you don't have Photoshop and you're still like me and need to have your hand in the design process? Don't worry – you can be a chalkboard creator without having Photoshop.
Today, I'm going to show you how to use Pic Monkey to design your own custom chalkboard printables. Pic Monkey does have a paid option, but I did this 100% with the free version to make free chalkboard printables. You'll see how to make your own chalkboard printable quite easily!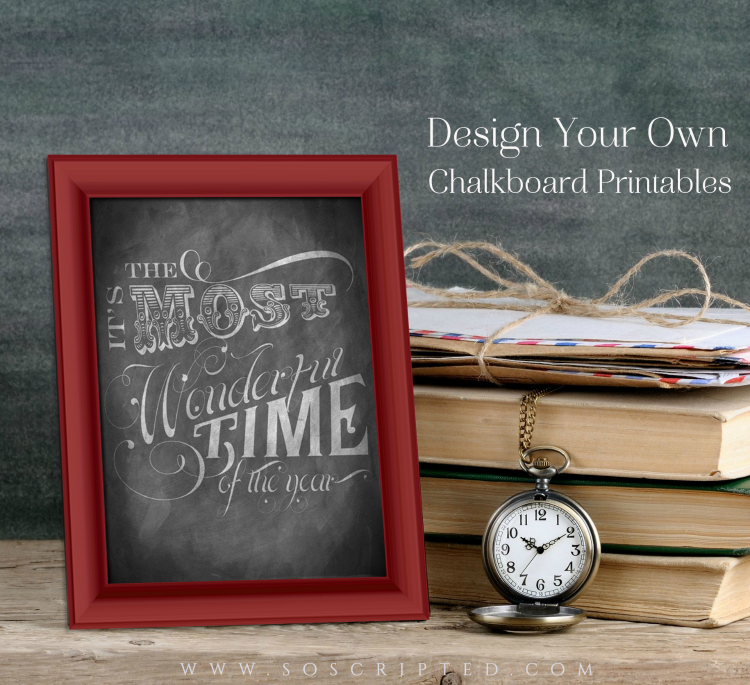 How To Design Custom Chalkboard Printables
You'll want access to a chalkboard printable generator. I started with a FREE 8×10 Chalkboard design, which you can download free right here.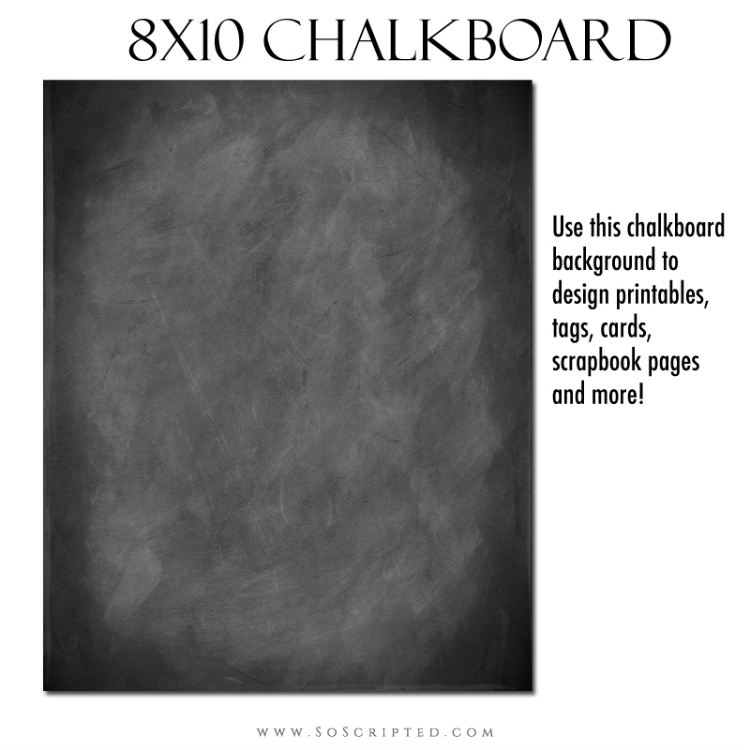 Step 1: Open Chalkboard Background in PicMonkey
Next go to www.PicMonkey.com and choose Design & 8×10. (If you miss this step it's Ok, your Pic Monkey canvas will adjust automatically when you open your chalkboard background.)
Click Open and browse to find your 8×10 Chalkboard Printable Background file.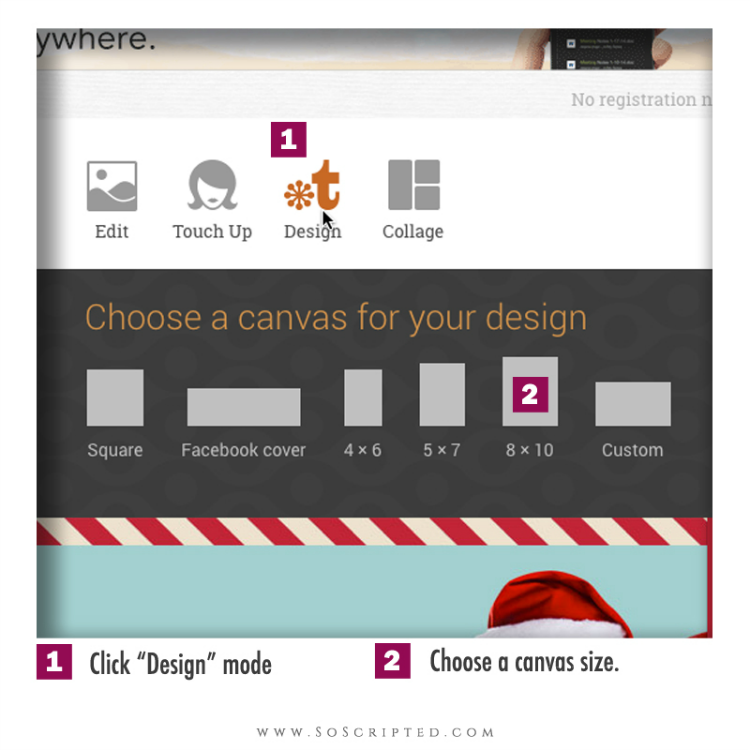 Step 2: Add Design Elements
Next you'll decide if you want to use png graphic, text, or a combination of both to design your printable.
For png graphics you'll look for the Overlay Option (it's the butterfly) in Pic Monkey and click on it. Then click on the Your Own Button and browse to find png graphics or word art you want to use in your design. The chalkboard art generator is intuitive.
If you don't have word art or graphics you want to use, you can go to the text tool. Use it to type out your message. Pic Monkey offers a lot of free fonts and some paid fonts (which require an account), but what I really love is that you can use all the fonts you have loaded on your computer too!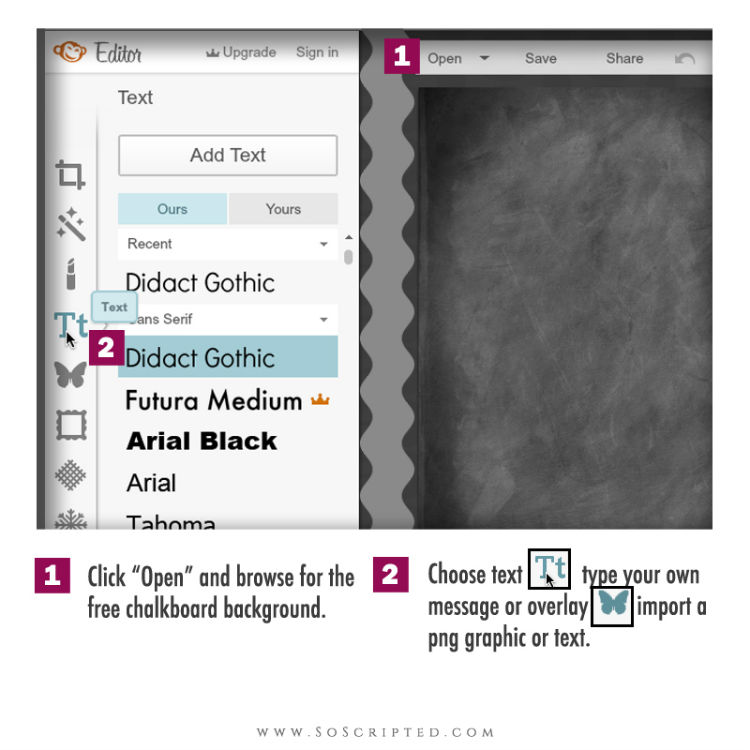 Step 3: Add the Chalk Look
Once you have your graphics upload your text typed out, now it's time to get that chalkboard look.
First you'll want to change the color to white, using the pop-up box in Pic Monkey.
Then, using the same pop-up box, change the blend mode to Overlay.
Once you've set your color and blend mode, you can then play with the "Fade" slider to have a darker or lighter chalk look.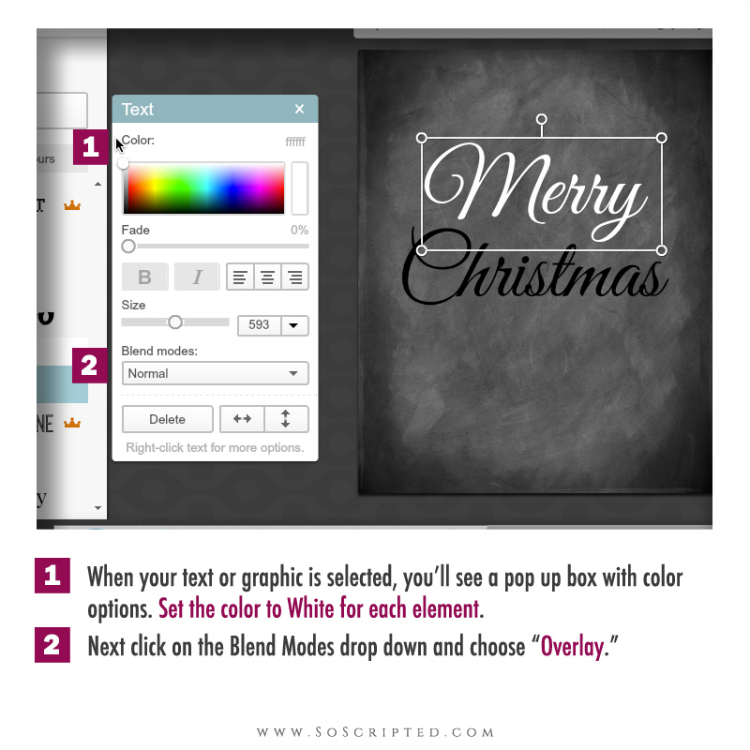 It doesn't matter if you're using text or png graphic overlays, Pic Monkey lets you use the same settings in each pop up box so everything will have the same chalkboard look.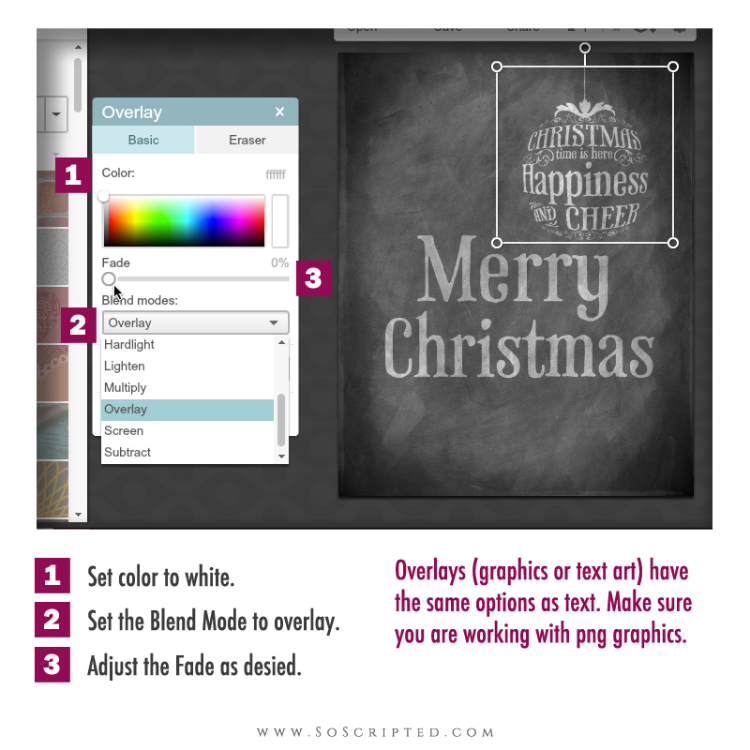 Step 4: Save Your Design
Once you have your final design it's time to save your file. Just click Save at the top of your screen to the save options. You can save your file as jpg or png file. For these chalkboard pintables, I choose jpg. Next you can choose the quality and I always pick the largest quality. Finally, PicMonkey lets you save your file to your computer or to some online accounts.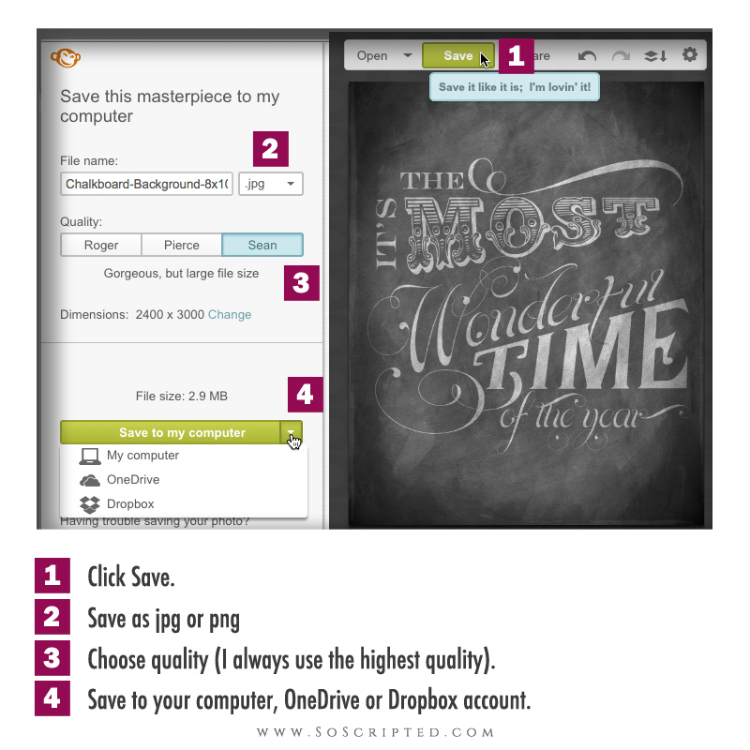 Once you've saved your file, you can then print it on photo paper and fame it to make a beautiful gift or, you can share the digital file. Here are a few designs I made.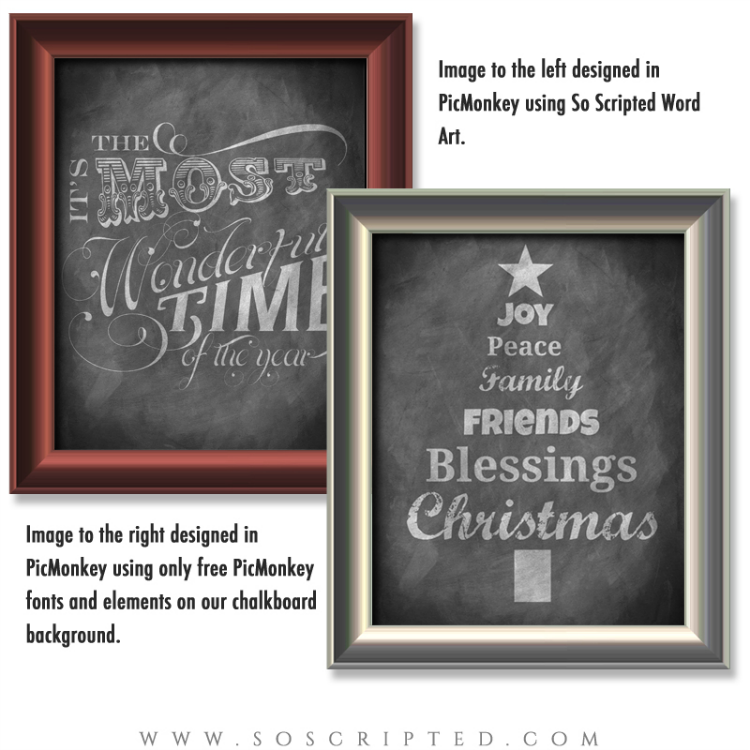 Most Wonderful Time: Uses Home for the Holidays Word Art from So Scripted
Christmas Tree: Uses only PicMonkey fonts and elements
Author Bio: Christina Roth
Christiina Roth is the marketing director for Say it Beautifully – the creative blog for So Scripted, a boutique printing and digital scrapbook website for creative people.
And now you know how easy it is to design a chalkboard sign online free. If you're looking for a free chalkboard poster generator, you can find one here.
Disclosure: This post includes affiliate links.