This post may contain affiliate links which may give us a commission at no additional cost to you. As an Amazon Associate we earn from qualifying purchases.
Looking for original, even super affordable ideas for Valentines Day? We have a step-by-step tutorial to help you turn your mantle into a Valentine's Day celebration without having to break into your piggy bank.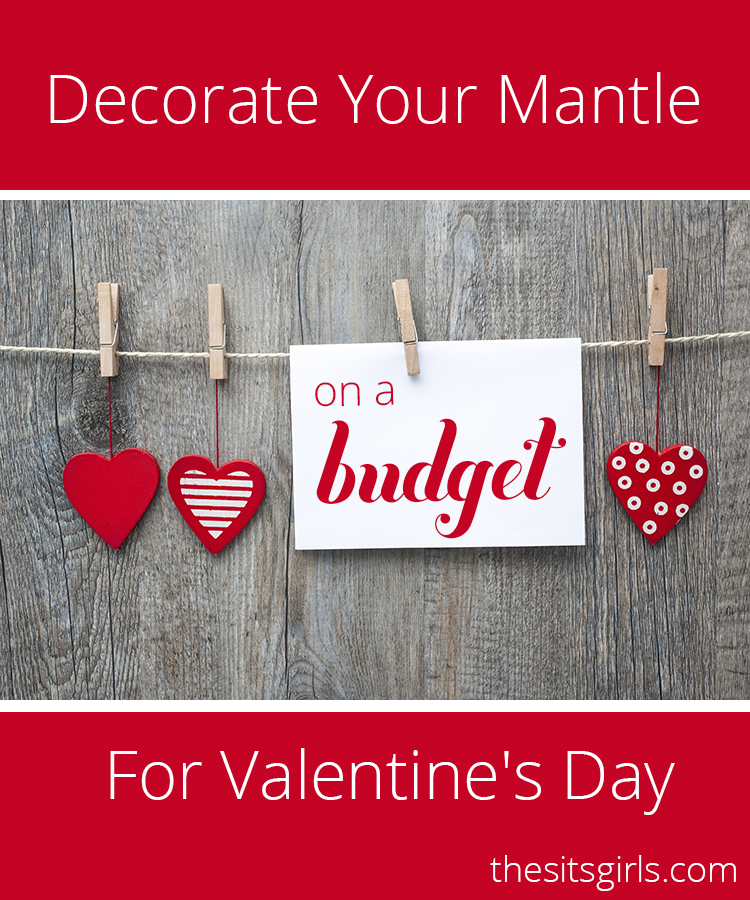 Decorate Your Mantle (On A Budget) for Valentine's Day
This year, after the yards and yards of Christmas greenery and glitter had been rolled out of sight, my mantle seemed bare and cold, depressed even. And after a long 20 days of looking at my bare and sad mantle, I made a decision that this would be the year I would totally embrace Valentine's Day!
But, I never like spending lots of money on things I can make for myself!
Could I decorate my mantle on the cheap?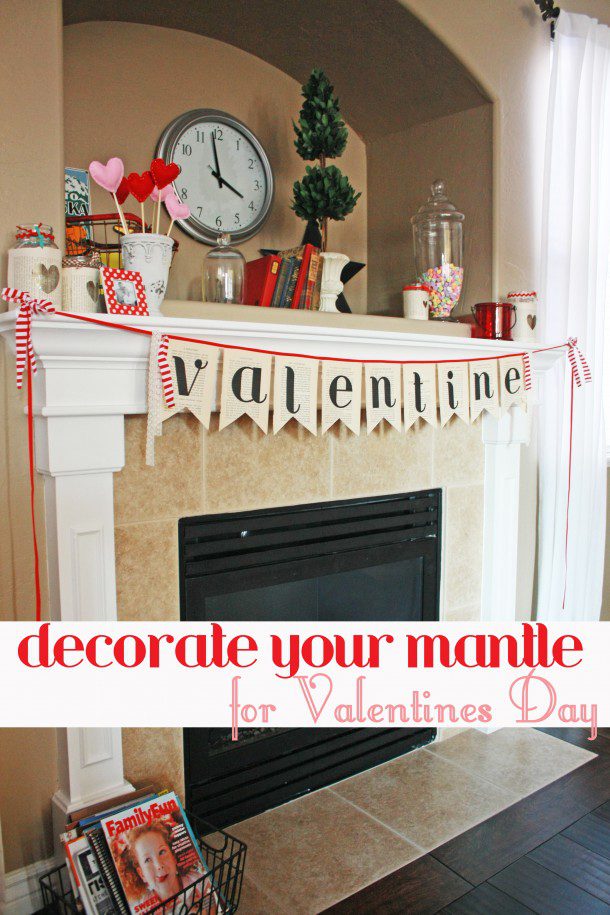 First, I had an empty white vase that beckoned for some Valentine spunk. I bought 2 pieces of felt—one pink and one red, some white embroidery floss, and I used some kitchen skewers that I had on hand to make a heart bouquet.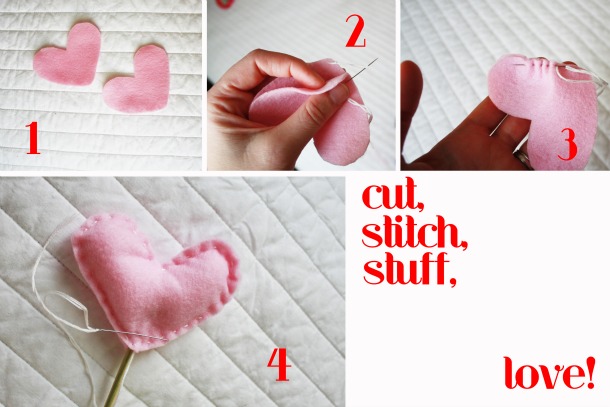 First, I cut two matching hearts out of the felt and stitched them together using the white embroidery floss– making sure that I left a bit of space for the stuffing! Then after stuffing, inserting a skewer, and stitching up the end. It was simple! It was cheap! (less than $1 total!) And most importantly, it was adorable!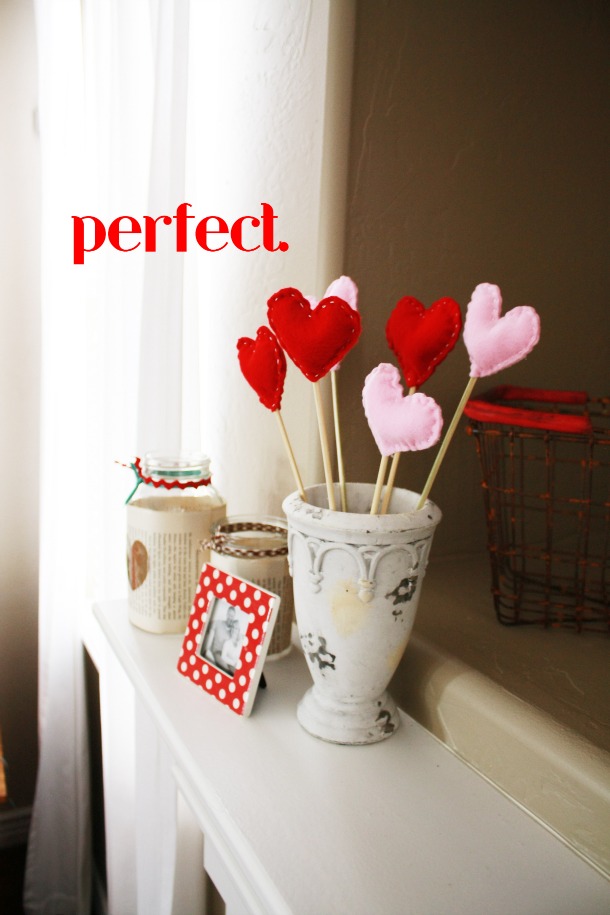 Make A Book Page Banner
Next, I decided to craft a banner using an old book & some bias tape!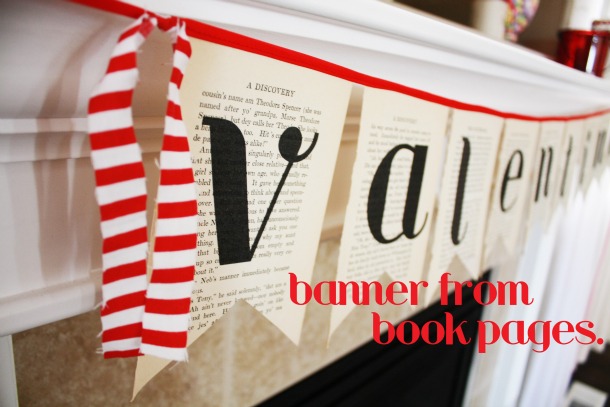 First, you must find an old book. Thrift shops, garage sales, and library book sales are a good place to find a cheap, old book. Before buying a book, take a look at the pages inside. Your book pages should be sturdy enough to withstand a run through a sewing machine, so don't use a book with water damage, mold, or paper that is too delicate.
To remove the pages, carefully peel the book back at the spine and wiggle the pages loose. Rip the pages as close as you can to the spine, use care and take your time! If you don't like the look of the ripped edges you could easily use a utility knife or razor blade to remove pages from your book.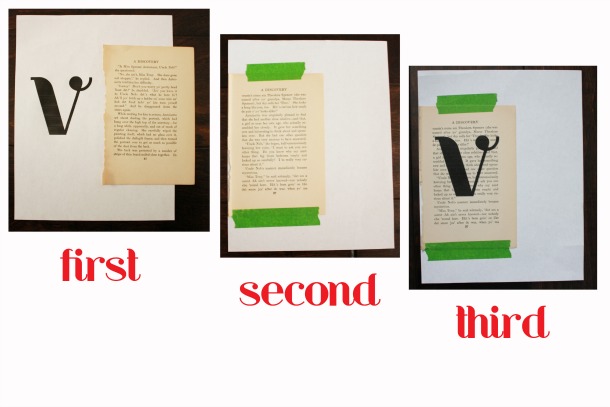 Pick a font on your computer that is chunky, and would show up against the type on your book pages. Size the font appropriately, and print a test run of the first letter of the word you are using for your banner. For example, my banner spells out the word VALENTINE, so I printed out a V. Check if the size is too big or too small. You can do this by holding both the paper and the book page up to a bright light or window and checking the size. If it's not quite right, resize and reprint.
Once you have your font size perfected, tape your book page onto your paper using painters tape. The painters tape is just sticky enough to hold your book page in place, and not too sticky to do too much damage when you are removing it. Run your paper through the printer again, and voila! The first page of your banner is complete!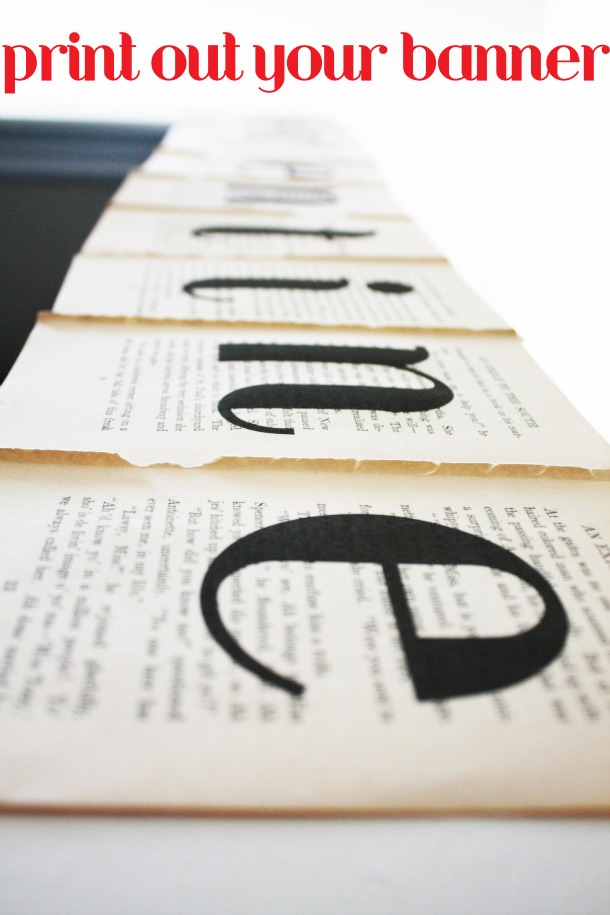 After you have printed out all of your book pages, it's time to get out your sewing machine!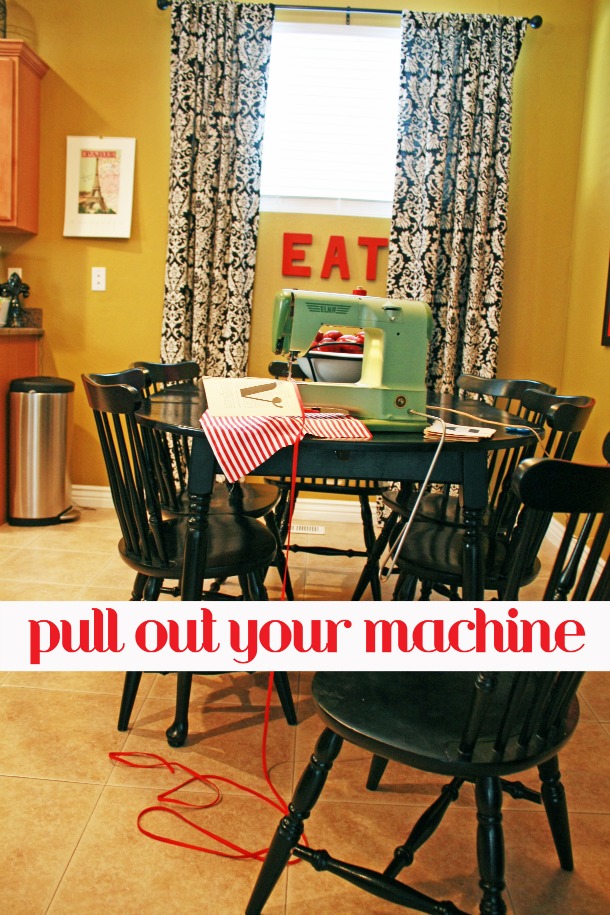 (Yes… my sewing machine is ancient! But, I love it!)
Position the first book page between the two layers of bias tape, leaving enough slack at the end to properly tie up the edges to your mantle. Using your machine, stitch over the bias tape and book page, making sure you keep the layers together and the stitches straight. Before your sewing machine reaches the end of the book page, get the next page ready. Leave a small gap between each letter. Continue on until all of your pages have been sewn together!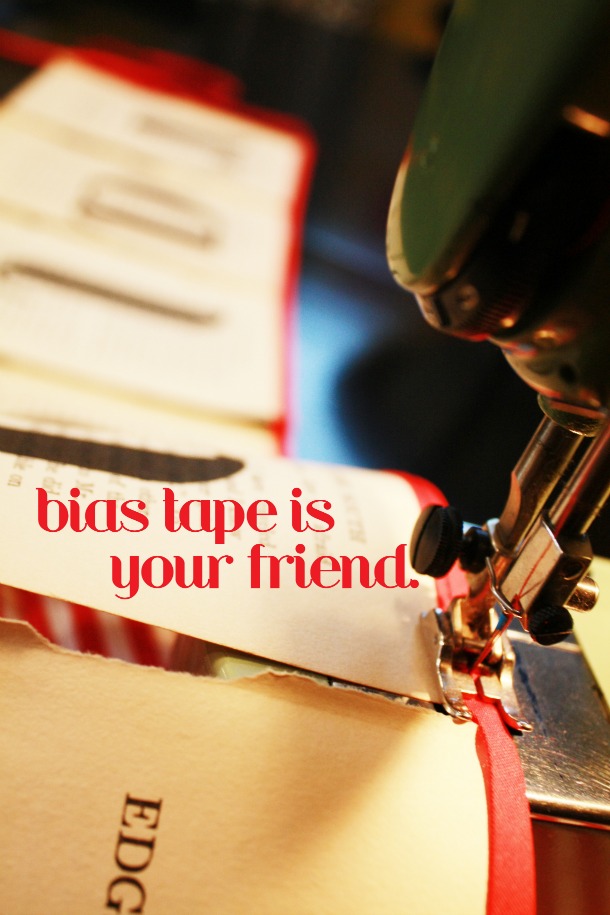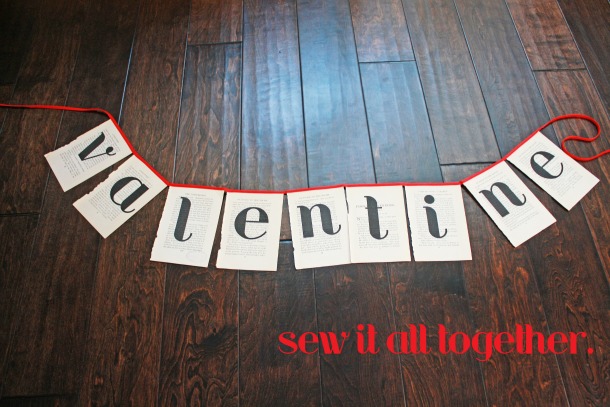 If you like, at the end, you can cut the bottoms of the book pages. I chose a dovetail design, but you could also leave them as they are.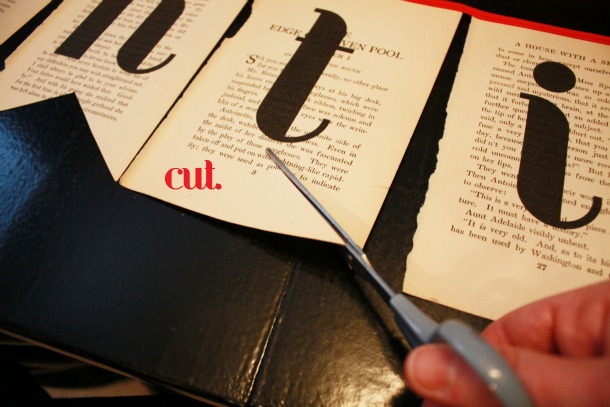 I also tied some red and white striped fabric strips on the sides to jazz it up a bit, you could add strips of lace, felt, ribbons, or even add glitter! The possibilities are endless. The best part is, the whole banner cost me less than $1.50 to make!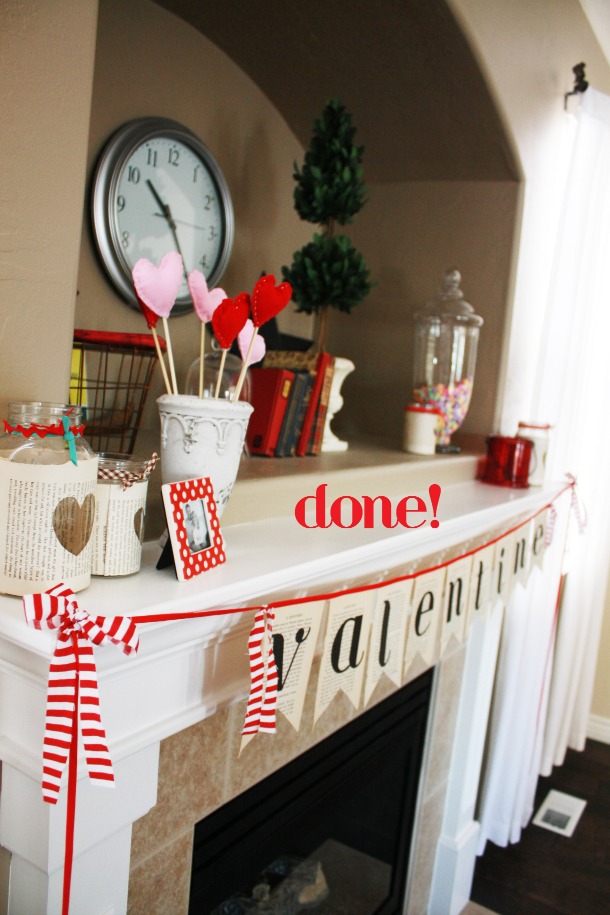 To finish my mantle, I covered some old mason jars I had on hand in the same book paper with a heart cutout for use as candle holders. (They cast such an inviting glow!) I also walked around my house and pulled décor that had red in it for use through Valentine's Day. Filling my large apothecary jar with candy hearts was the most expensive part of my mantle transformation! Now, I am faced with the challenge of trying to keep my kids (and my husband's) hands out of that jar!
Who knew that with a few bucks, a little time, and redistribution of a few items around my home—I could have the Valentine's Day mantle of my dreams?! I really do love it.
Is your mantle begging for a little Valentine excitement? Dress it up!
Looking for more ideas for Valentines Day?