This post may contain affiliate links which may give us a commission at no additional cost to you. As an Amazon Associate we earn from qualifying purchases.
Finding ways to decorate your home on the cheap is not always easy! Even so, sometimes a cheap decorating idea can take hours and hours of preparation. Not the case for today's simple DIY for adding pattern to your walls. You can have your cake and eat it too when you use contact paper to create stripes on your wall instead of paint! You are only minutes away from the perfectly straight stripes that create a visual pop on your wall. I used this technique for decorating a very small bathroom, but it would work in any room in your home. Using contact paper is not only easy, it's the perfect solution for renters, because the stripes can be easily peeled from your wall when they need to disappear!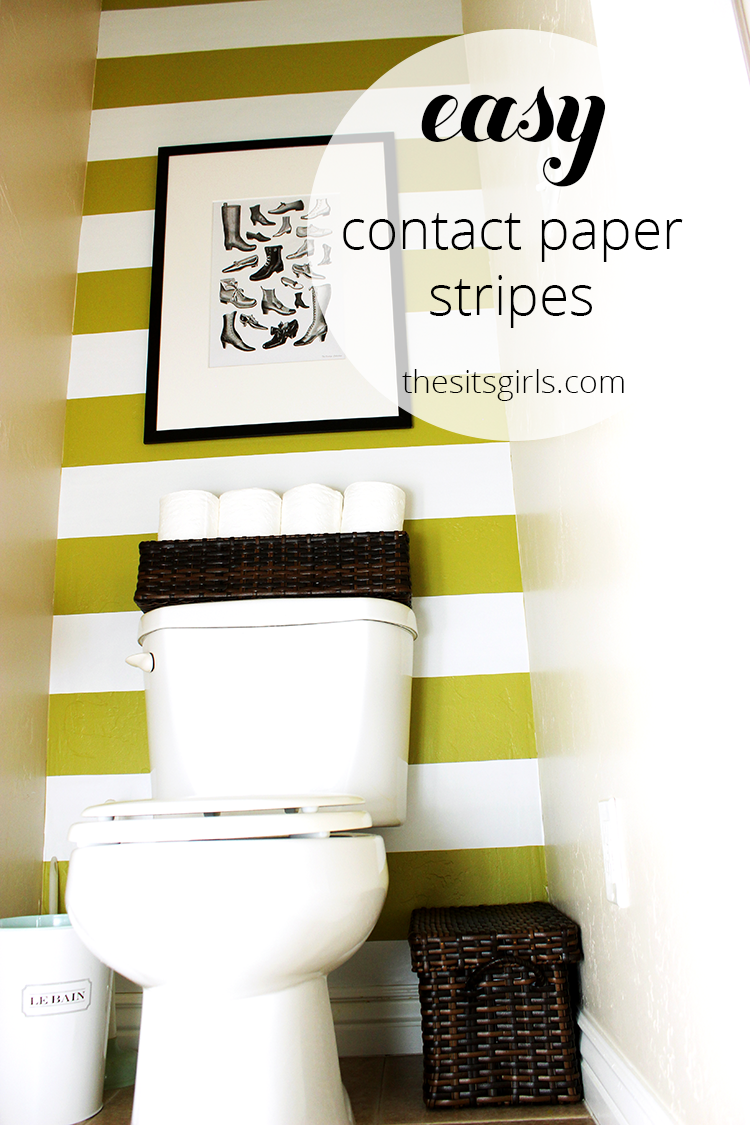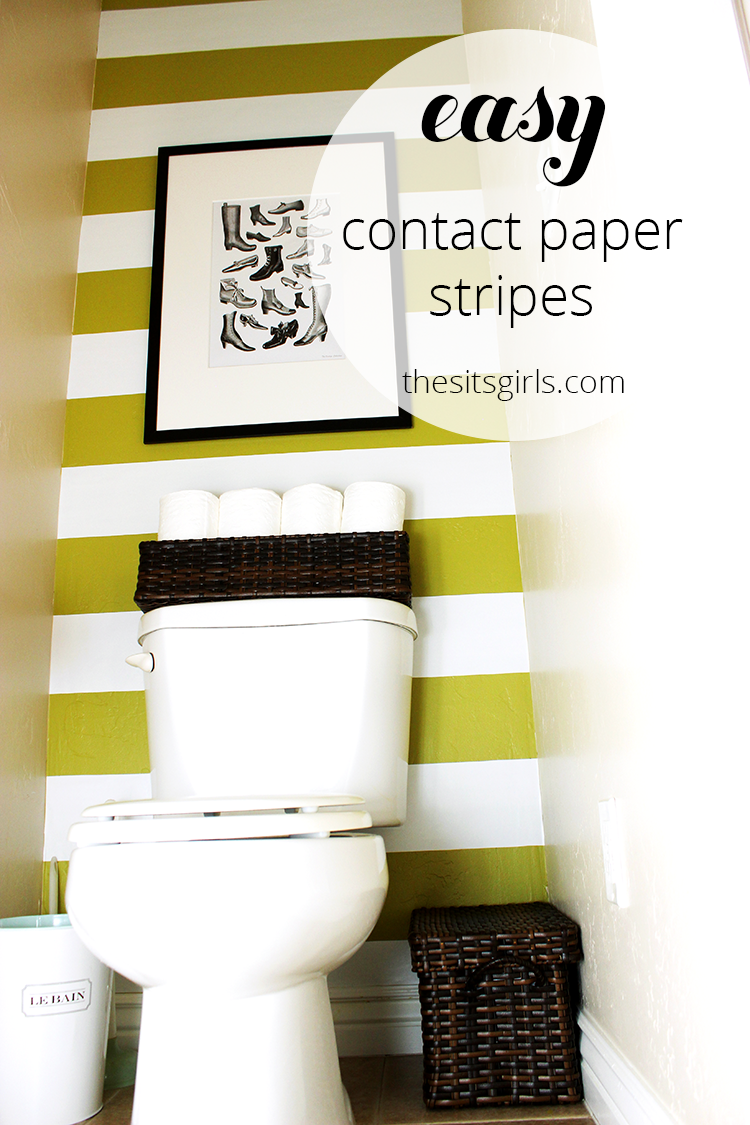 Decorating A Small Bathroom With Contact Paper Stripes
Spring is on the horizon, and so is home organization and beautification! DIY contact paper wall stripes cause the world of home décor and the world of ease and simplicity to collide. They can create a visual burst of interest and allow a small space to be quickly transformed.
To create your own contact paper wall stripes, you will need:
contact paper in any color (I choose white)
tape measure
scissors
level (if you want to make sure they are absolutely straight)
utility knife or craft knife
If you would like to paint the wall before you add your stripes, you will need:
paint in any color (I choose Split Pea Green)
painters tape
paint roller
paint pan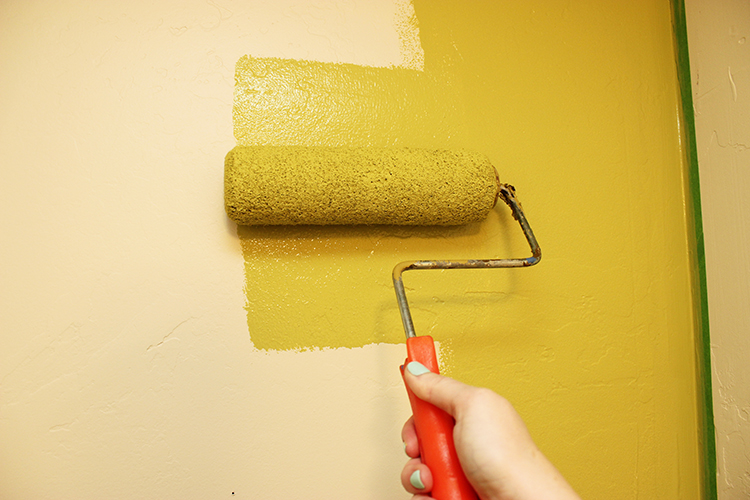 Painting your wall is totally unnecessary and is a step that can be skipped completely! Finding the best paint for small bathroom decorating is a step I was happy to skip. I wanted my stripes to have a nice contrast, so I decided to give my wall a nice fresh coat of paint.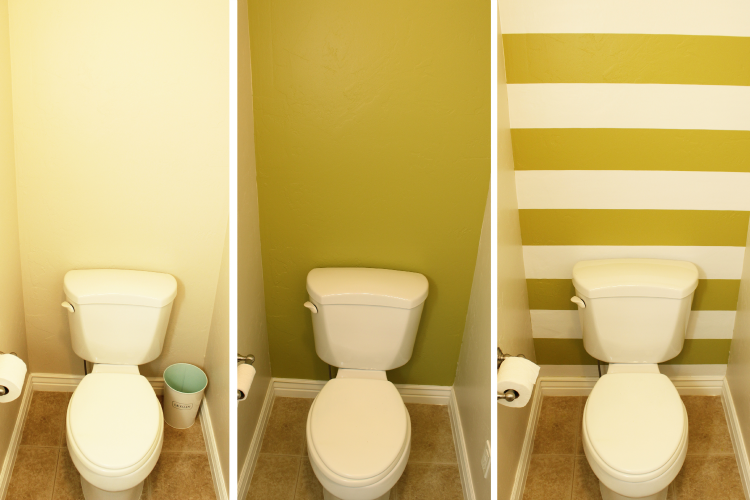 DIY Contact Paper Wall Stripes will work best on completely smooth or lightly textured walls.  A wall that has a very heavy texture would not be a good candidate for this decorating method. If you are going to paint your wall beforehand, make sure that your paint is COMPLETELY DRY before attempting to stick the contact paper stripes.  I would give it at least 24-48 hours of uninterrupted drying time.
Step-by-step Instructions For Decorating the Small Bathroom On A Budget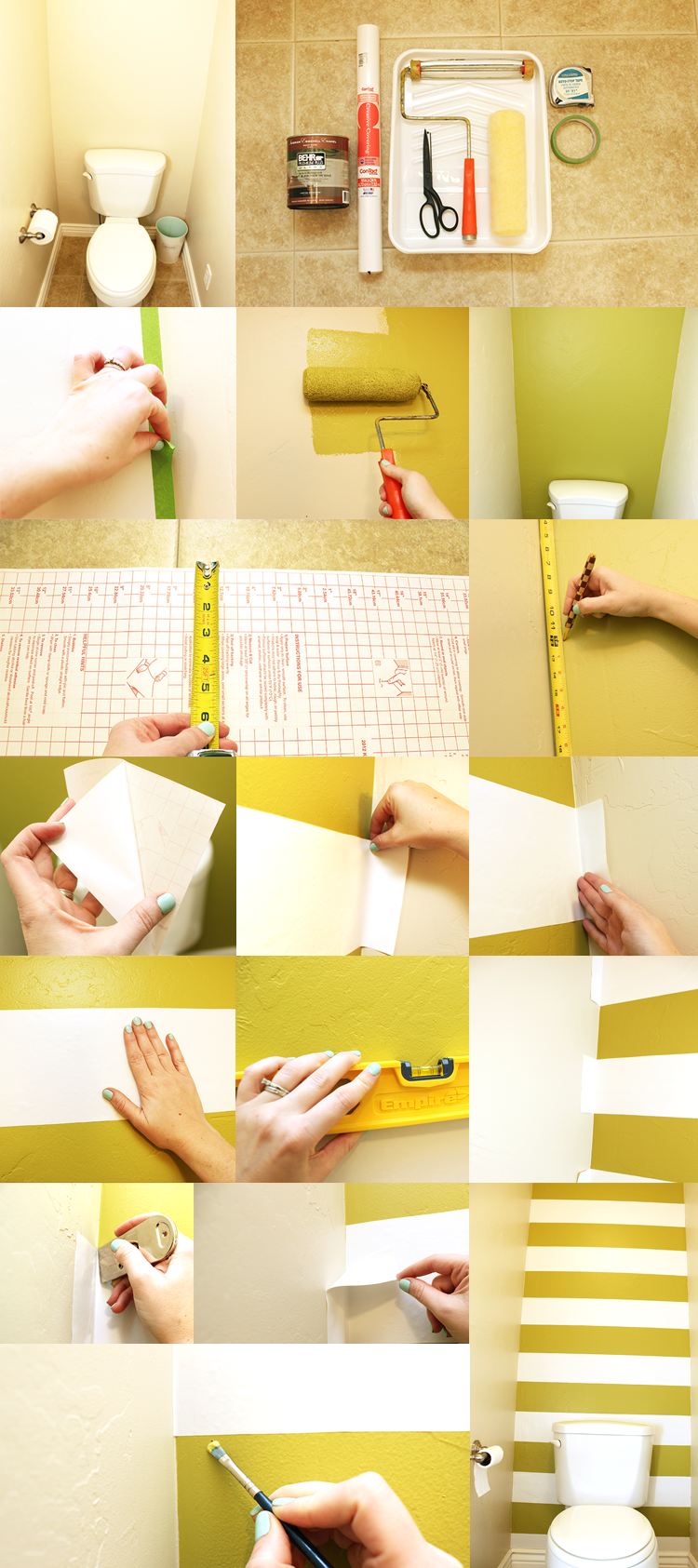 Step 1: Decide how thick you would like your stripes. I wanted a slightly thick stripe, but I didn't want it to overpower my very small space.  I decided to make my stripes 6 inches thick.
Step 2: Measure the length of your wall to determine how many stripes you will need to cut from your contact paper. Take the length of your wall (in inches) divided by the width of your stripes (in inches) to get the TOTAL number of stripes needed, and then divide that number by 2. I had an odd length wall that left me with a few extra inches of space. I decided to keep those odd inches at the bottom and add a stripe to tie into the baseboards. Nobody would be looking behind my toilet anyway!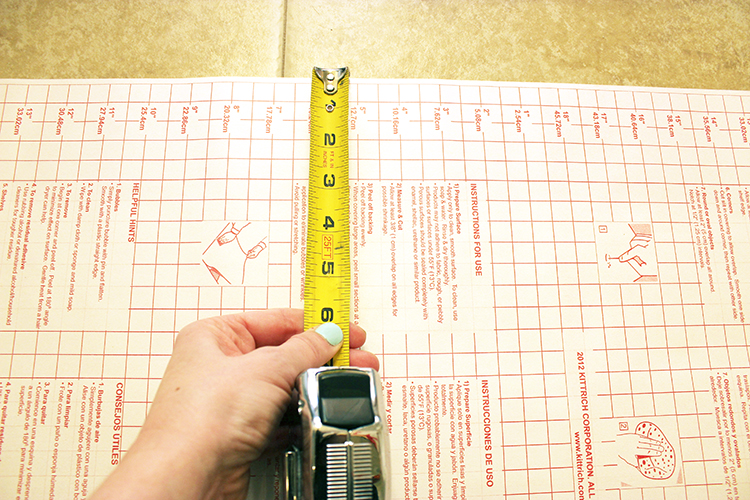 Step 3: Cut your contact paper. To cut your contact paper, roll it out and flip it to the backside. Most contact paper has a grid printed on the back for easy cutting. Measure out the width of your stripe and mark where you are going to cut. Then, measure out the length of your stripe and mark a cutting line. Cut out the number of stripes needed and set them aside.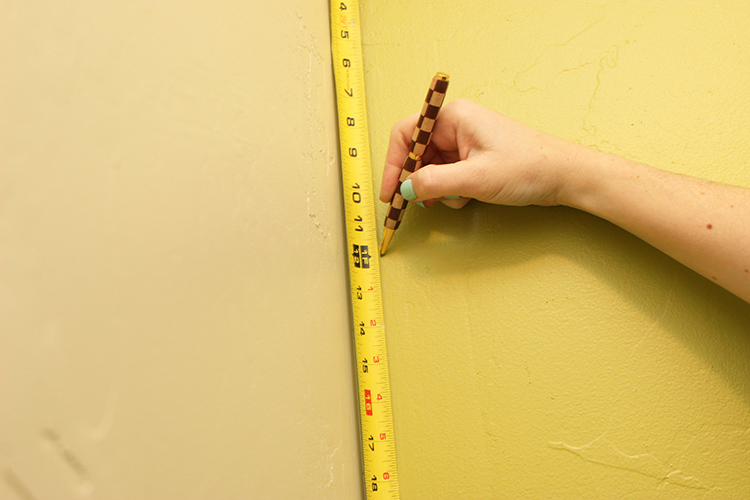 Step 4: Mark the width of your stripes on each side of the wall – use a tape measure to be exact. I used a pen so that I could see my marks clearly. If you are worried about harming the paint, you can use a pencil.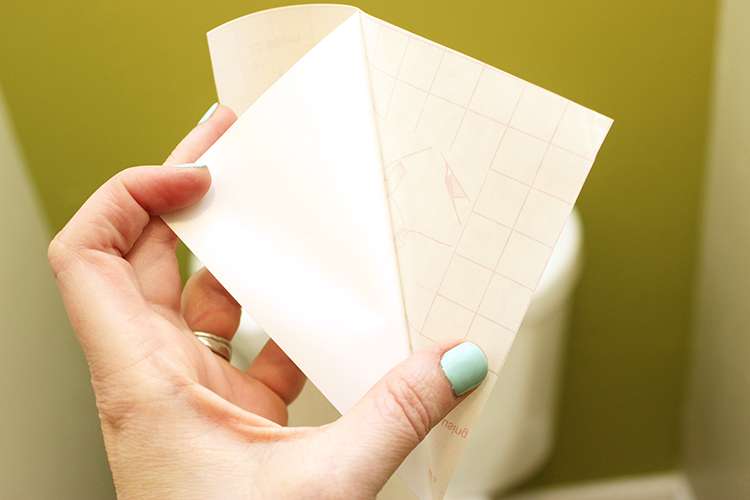 Step 5: Grab one of your stripes and peel back the paper. Remove the paper completely from the stripe and hold the stripe from the top, one hand on each side. Here comes the fun part! Don't be nervous!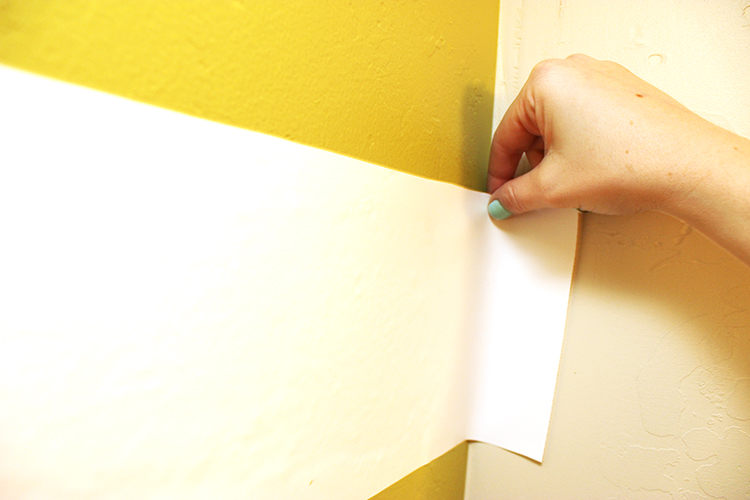 Step 6: While keeping an eye on your stripe marks, place the back of your fingers against the wall and gently place your stripe as straight as you can. These stripes are easily moved if you mess up so don't sweat it. If you pull a stripe off of the wall more than a few times though it might not stick as well, and you may have to cut a new stripe.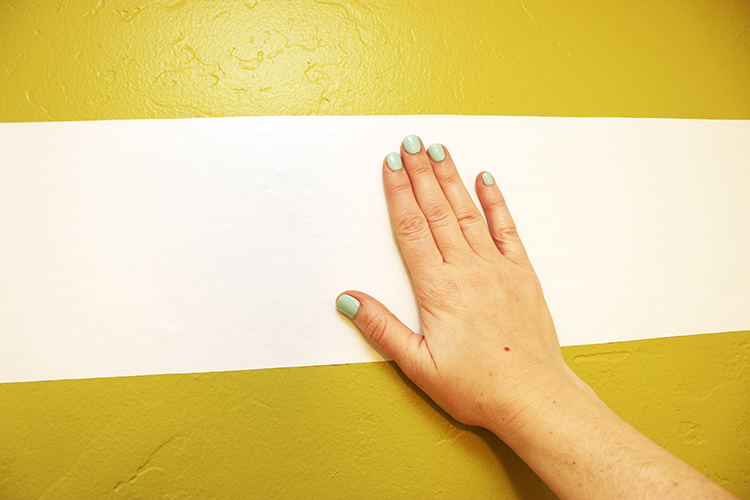 Once you've placed your stripe straight, gently run your fingertips along the corner of the wall to push the stripe into place. Smooth out any air bubbles or wrinkles.
If you want to make absolutely certain that your stripe is straight, you can use a level. Some walls are not completely straight so keep that in mind when doing this!
Step 7: Once you have placed all of your stripes, simply trim the ends with a utility knife or sharp craft knife by running it along the corner of the wall. Peel the remaining contact paper off and discard. Simple!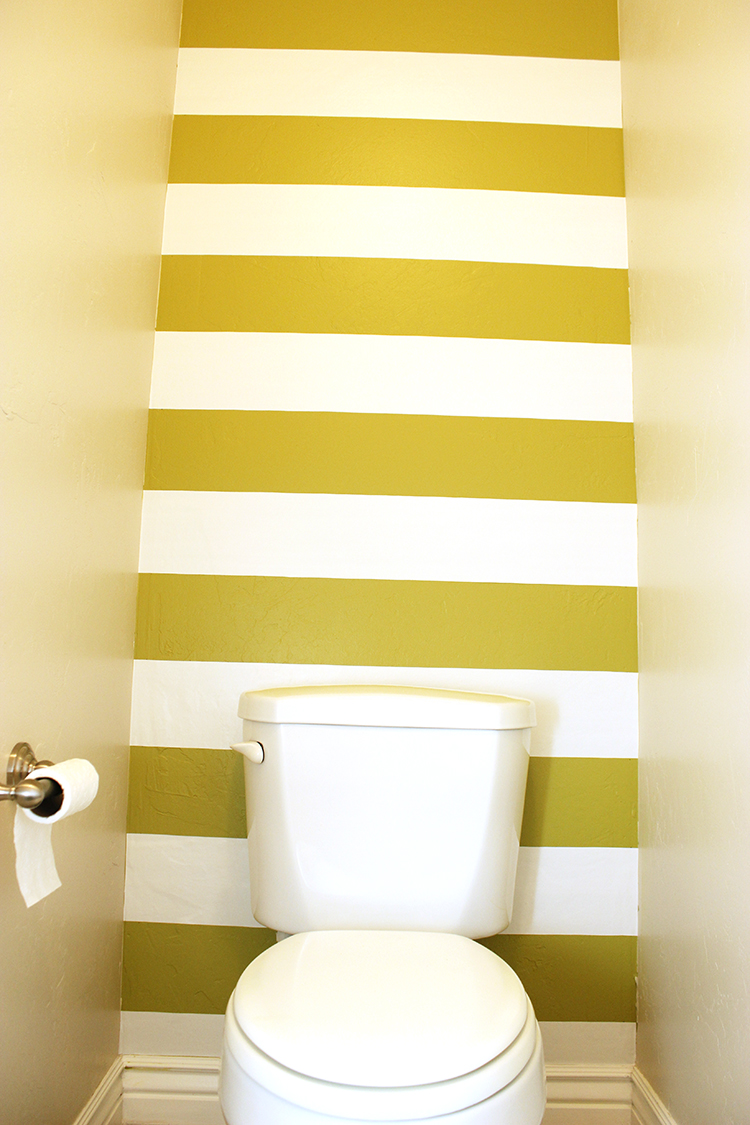 That's it! Your stripes are finished! To cover up any remaining pen marks, use leftover paint to touch up. If you used a pencil, simply erase and go!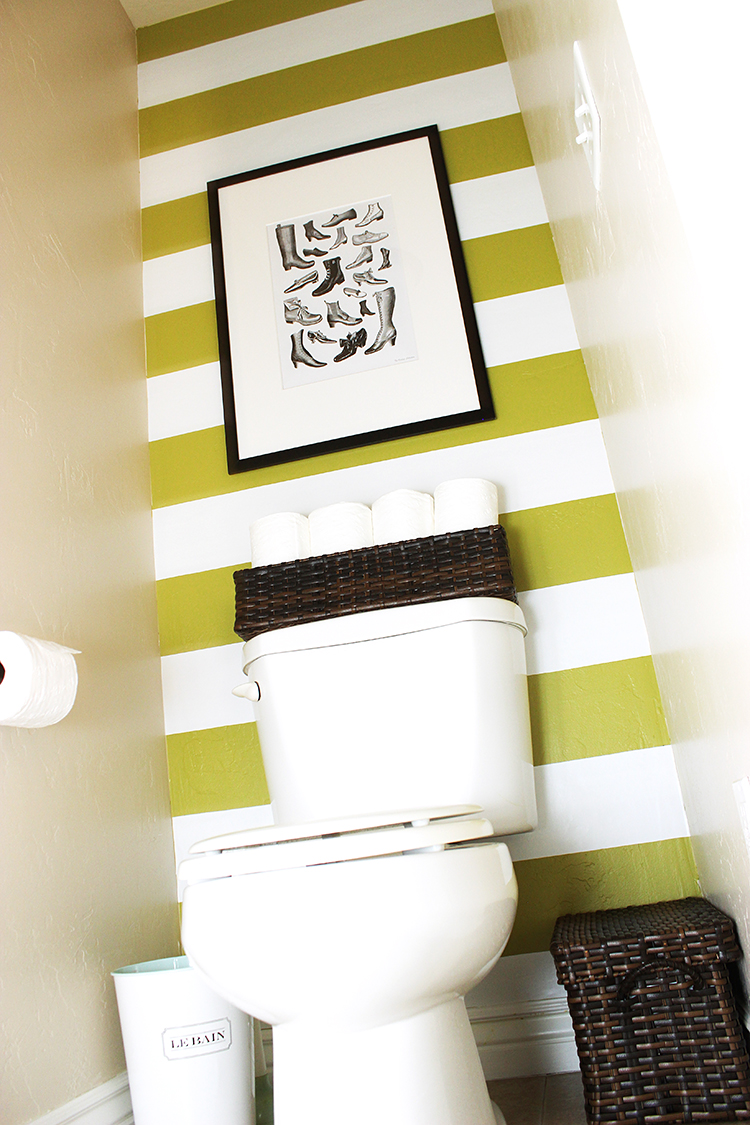 Add a few useful decorations, and your small bathroom remodel is finished.
Decorating on a budget never looked this great.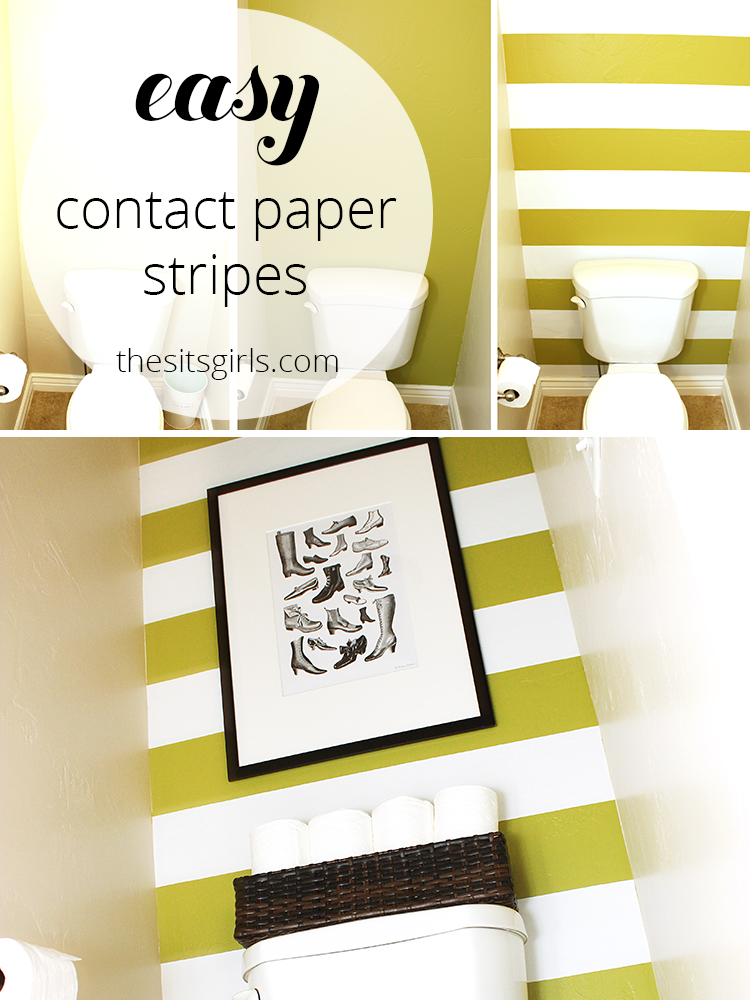 DIY Contact Paper Wall Stripes are a no nonsense way to decorate without making a huge commitment. Tired of your stripes? Take a few minutes and peel them away. The contact paper is easy to remove and does not require special tools or chemicals to do so.
What room are you going to decorate using DIY Contact Paper Wall Stripes?
Looking for more ideas to help you decorate your small bathroom on a budget?
Check out our $18 Bathroom Mirror Re-Do!