This post may contain affiliate links which may give us a commission at no additional cost to you. As an Amazon Associate we earn from qualifying purchases.
I have been seeing disco ball planters all over Pinterest, and I finally decided it was time for me to make my very own! Nothing brings me more joy than the opportunity to buy more plants and to have them shine throughout the room. This disco ball planter DIY can be a bit time-consuming, but I recommend you put on your favorite tv show, grab yourself a delicious drink, and dive in! You will be so happy when you are finished, I guarantee it will be worth it.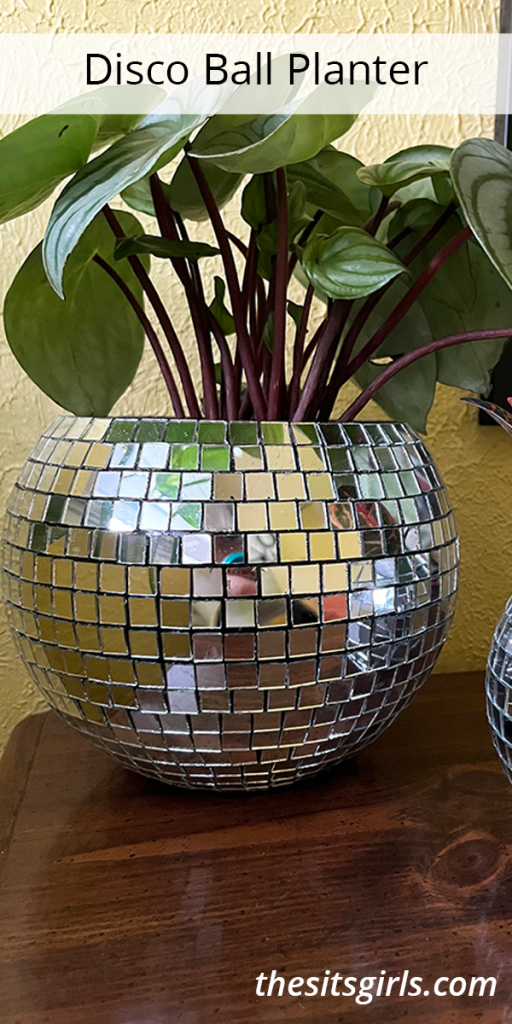 Disco Ball Planter DIY
In addition to a great plant and good soil, you only need a few things to make a DIY disco ball planter.
Disco Ball Planter Materials: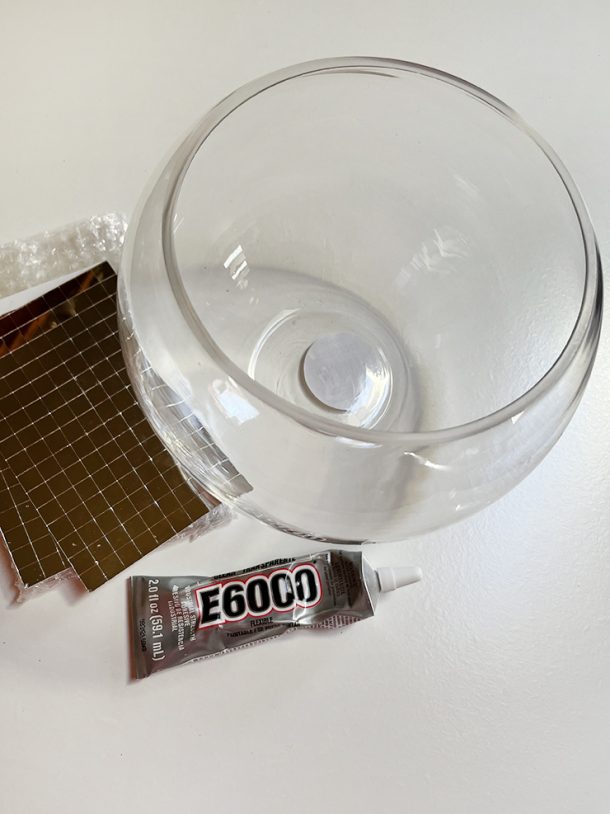 Making Your Own Disco Ball Planter
Creating your disco ball planter is, honestly, very easy. You will start by peeling off the glass mirrors individually and, using a tiny bit of glue, adhere the mirror to the bowl starting at the rim.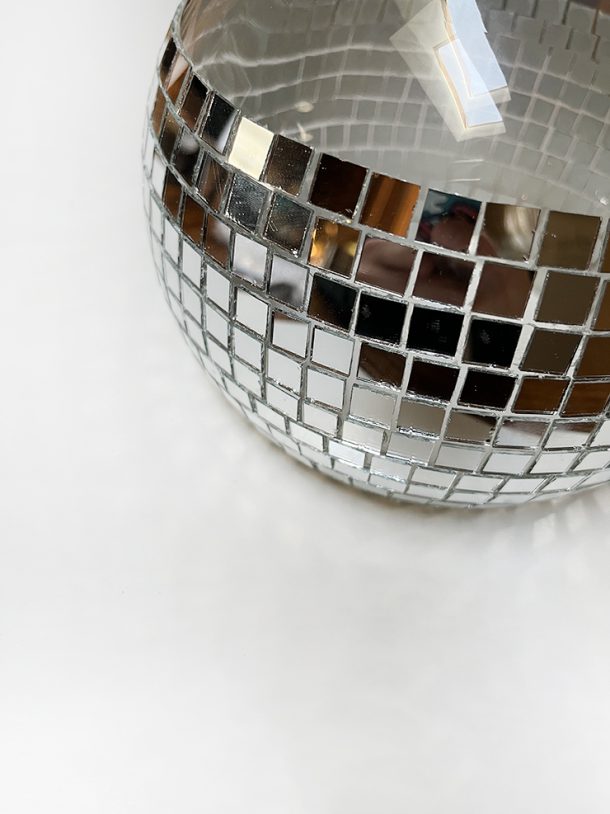 I tested this process on a smaller bubble bowl. During my test, I went from the bottom to the top and then realized that my mirrors didn't touch the edge of the bowl, so I recommend you start at the top and work your way down.
You'll want to glue the mirrors together as close as you can. You can leave a little bit of space between the mirrors if you prefer, but the true disco ball look happens when the mirrors are close. Continue this process until you get halfway around the bowl, then flip the bowl upside down and finish gluing the mirrors until you get to the bottom.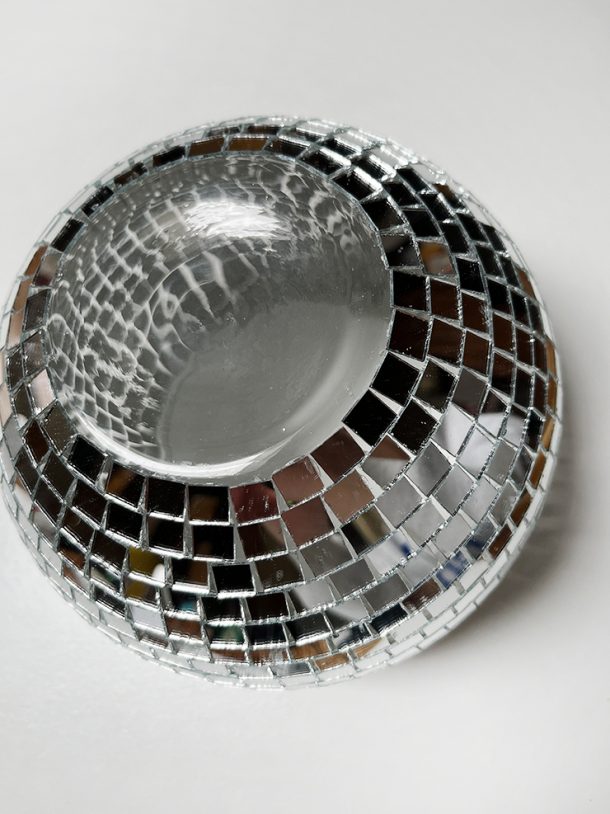 When you get to the bottom, keep in mind that you don't want the edge of the mirrors to touch the curve of the bowl. Make sure you leave a little space; otherwise, the mirrors could pop off if they touch the table's surface. If you plan on hanging your disco ball planter, I would add the mirrors on the bottom of the bowl, as I did, to achieve the full effect of a disco ball.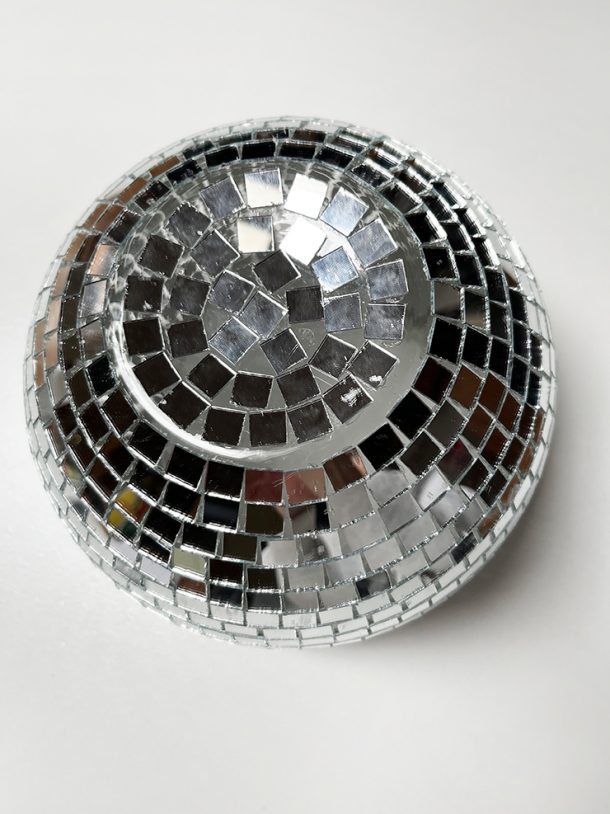 Once you have completed your disco ball, I recommend letting the glue cure for at least 24 hours before moving it or adding your plant.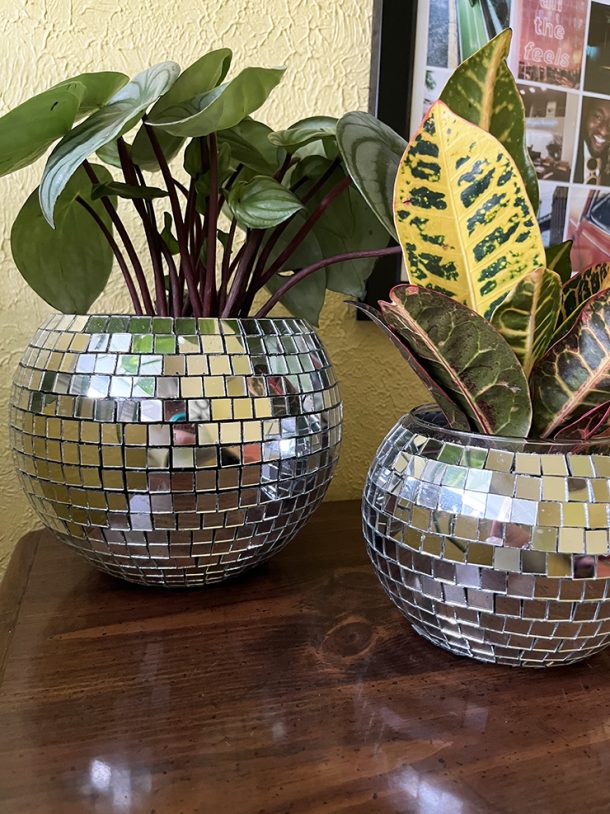 Recommended Plants For A Disco Ball Planter
The fun part about this DIY planter project is picking your new plant for the disco ball!
I recommend selecting a plant that will drape nicely around the ball, but you can put whatever type of plant in the disco ball your heart desires.
I decided to go with a Peperomia 'Watermelon' plant and a Petra Croton, and I loved how the leaves on these plants looked and thought they would be a great addition to my variety of plants. (I'm also obsessed with watermelon, so I was drawn to this plant for obvious reasons!)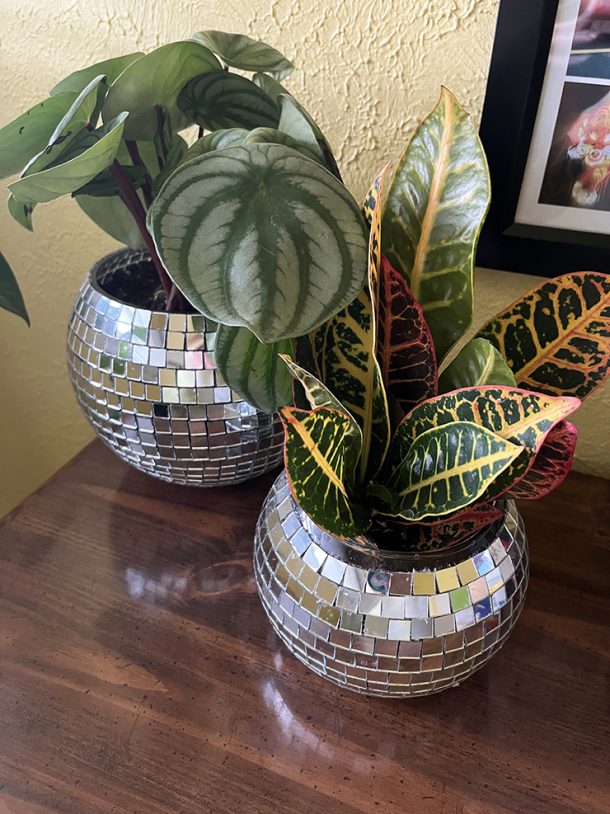 Other plants that I recommend would be Golden Pothos, Swiss Cheese Philodendron, and Kimberly Queen Fern.
Of course, any plant you select will look great! And you also always have the option of buying a fake plant if you don't have that green thumb! No shame here.
For more fun with plants, check out these ideas: