This post may contain affiliate links which may give us a commission at no additional cost to you. As an Amazon Associate we earn from qualifying purchases.
Summertime, and the livin' is easy! The weather has been absolutely perfect, and is screaming for a backyard BBQ. I am always looking for fun DIY projects, and came across building Corn Hole boards. I wanted to purchase them in the past but they were selling for $100-$200 a board! If you aren't familiar with them, you will be after this tutorial, but trust me, they are the perfect entertainment for a backyard BBQ. 100 percent kid and adult friendly, and they can also be used again for a tailgate party. When I realized how versatile they were, and how easy it would be to make my own, I was sold… DIY Corn Hole Boards here I come!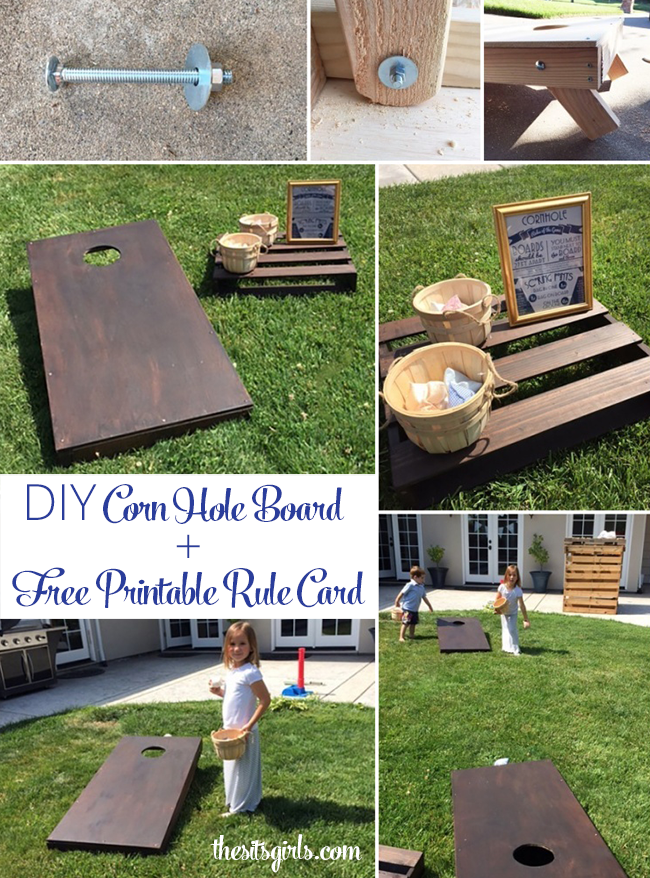 DIY Corn Hole Board
I am a huge crafter, and have always wanted to try some wood working crafts, however I was totally intimidated by power tools. Finally, I decided that it was time to face my fears, and buy a jigsaw, and build my Corn Hole boards. I found a fabulous deal on amazon for a black and decker jig saw for $35 (originally $90), so I thought that it must have been a sign from above.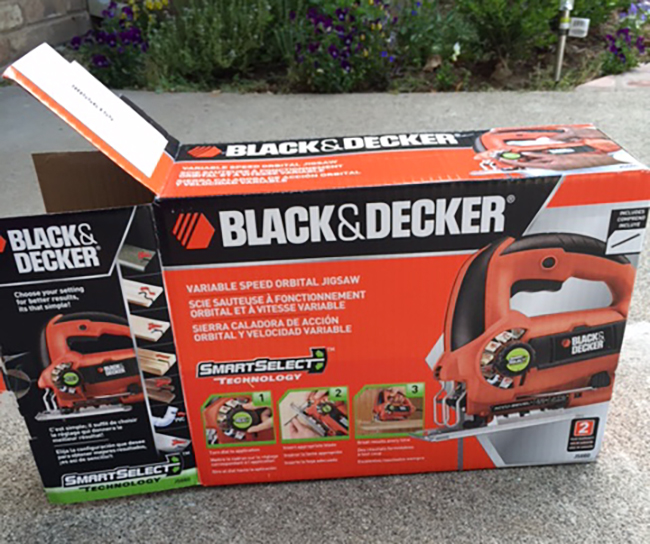 With jigsaw in hand, I set out on my quest to build my Corn Holes! Below is my tutorial for building your very own corn holes, perfect for a cold beer and backyard BBQ party!
What You Need To Make Your Own Corn Hole Board Game
A power drill with various sizes of spade bits
A jigsaw (necessary because it cuts both circles and straight lines, which are needed for this project)
2- 2×4 foot sheets of ¾ inch plywood (sold at Home Depot, already cut to this size)
3- 2×4 studs at 8 feet length (these will be cut to 4 – 21" inch pieces, and 4 – 4 foot pieces, 4- 11" inch pieces – if you ask nicely a Home Depot employee might do this for you for free )
4- 3/8 inch nuts
4- 3/8 inch lock nuts
8- 3/8 inch fender washers
A box of 3 inch screw
In Corn Hole you need two boards, one for you to throw the beanbags onto, and one for your opponent. So after you have completed one board, build the next one!
The first thing you must do is to cut your 2×4 studs into the 21 inch pieces and 4 foot pieces if you didn't have that done at Home Depot. These will be the frame onto which you are going to attach the 2×4 sheets of plywood. Assemble your frame with the 21 inch pieces on the top and bottom, and use the 4 ft long 2x4s for the sides. Basically, you are building a rectangle.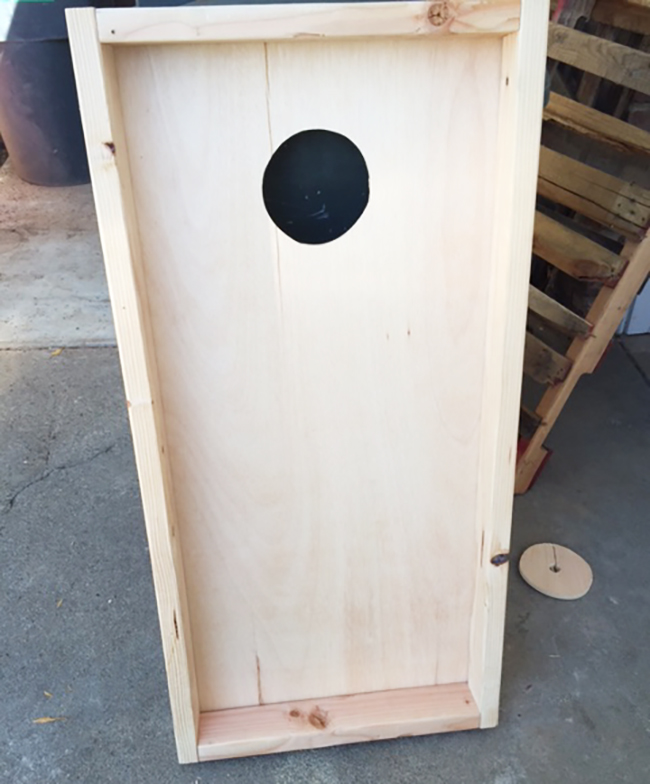 Next, attach the 4 ft sheet of plywood to the frame. To do this use your drill and just screw right through the top of the sheet, down in the frame. I used a total of 8 screw to attach the top sheet, by screwing one centered along each short end, and three on the long ends.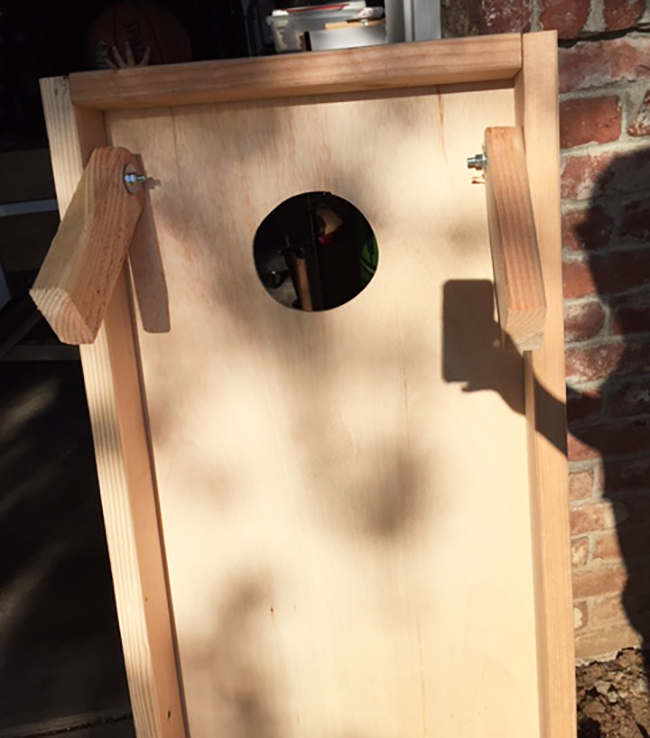 Once you have your frame, and top board assembled it is time to cut a hole.
There are official rules and regulations for Corn Hole boards, especially regarding the size and placement of the hole. The hole is measured 12 inches from each side, and 9 inches from the top of the board, and be 6 inches wide. I did this, and put a dot directly in the center. Now it is time to draw the circle, I was ready to attempt to use my high school geometry skills to trace a circle, however I decided to raid the kitchen, and find a bowl with a 6 inch diameter rim. Luck was on my side, so I traced the top of the bowl, and used that to make my circles.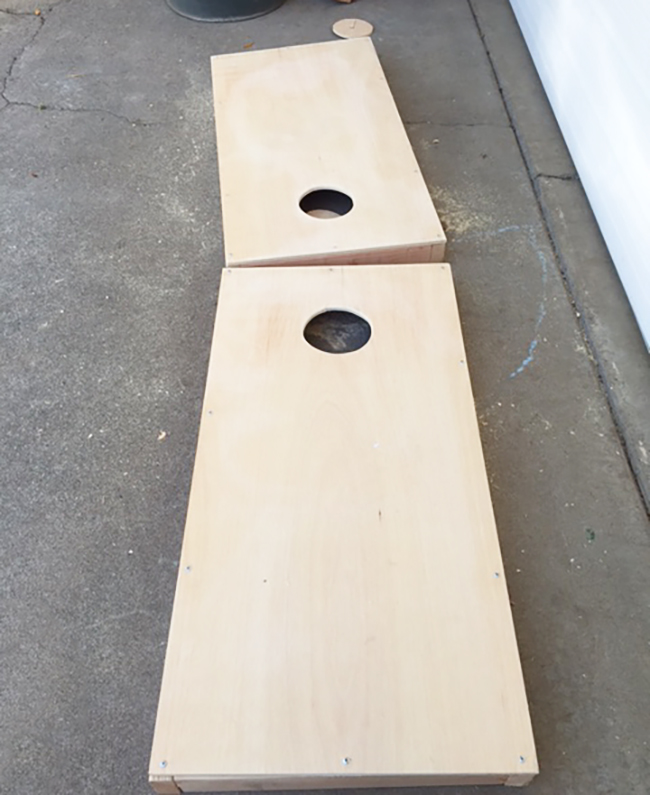 Cutting the holes is probably the trickiest part of the whole project. You must use your drill to make a small hole in the center of the circle, so you can put the blade of your jigsaw in, and start cutting. Basically, you need an entry point for the jigsaw. You will cut straight up from the entry hole, and then begin to trace your circle you have drawn. When cutting the circle, MAKE SURE YOU HAVE YOUR JIGSAW SET ON CIRCULAR CUT. That is super important! Look at the different settings in the picture of mine.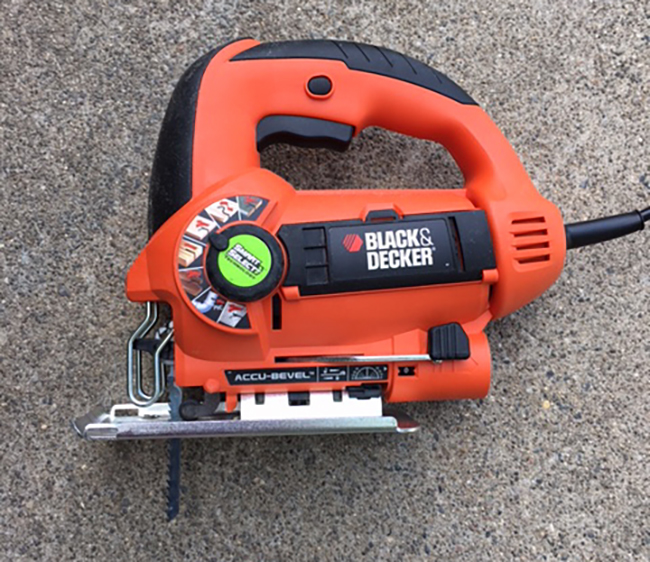 Next step, to create the legs! The legs are the 11 inch long pieces of your 2 x4 studs. They should be cut to a 25 degree angle. I have to admit, I didn't do this angle measuring accurately, I just eyeballed it, and it turned out perfectly fine. The edges of the legs need to be rounded so they can rotate and fold back up to the board. I traced a semi-circle on the edge, and then used my jigsaw (set to circular cut) to round them.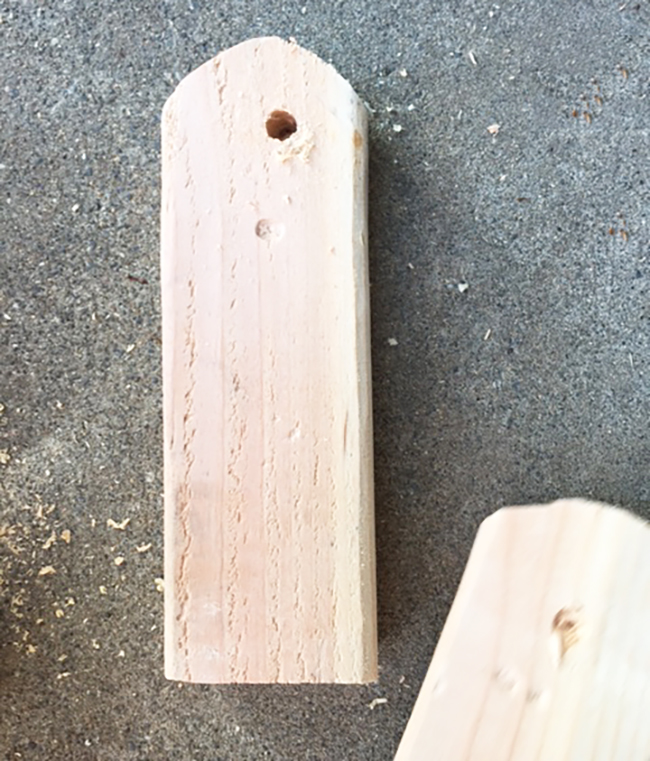 Next measure to the center of the rounded end and drill a hole with your spade bit (we used a ½ inch spade bit). Repeat this process for all of your legs, so they are all rounded on one end, with a hole on the rounded end. The next step is to attach the legs. The legs will be attached 5 inches down from the top of the board, on the side. The top of the board is the end with the hole. Use your ½ inch drill bit to drill the holes, with your legs lined up!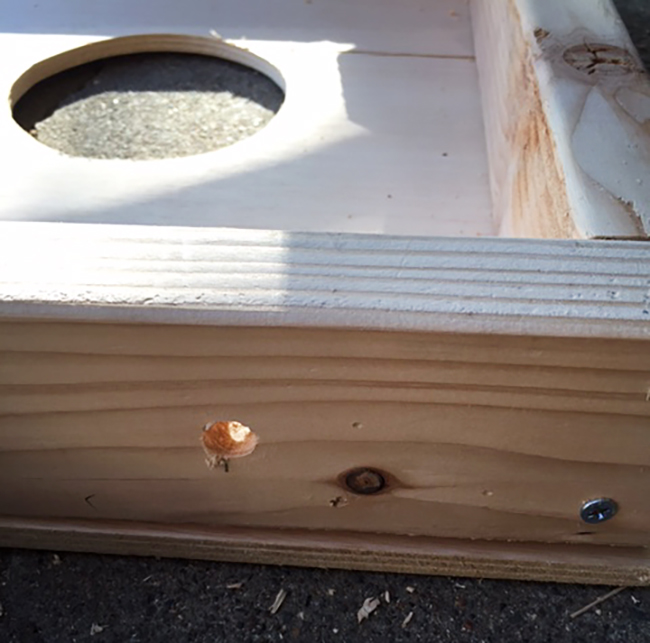 Next push your carriage bolt through, attach the fender washer, nut, and lock on the interior.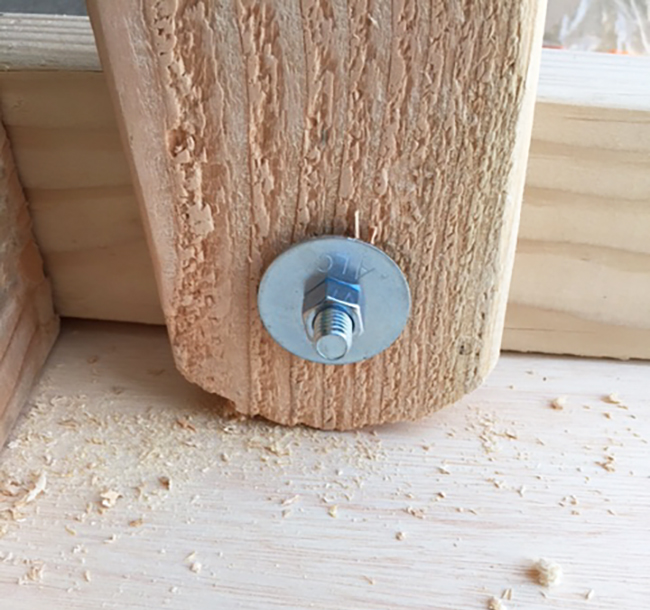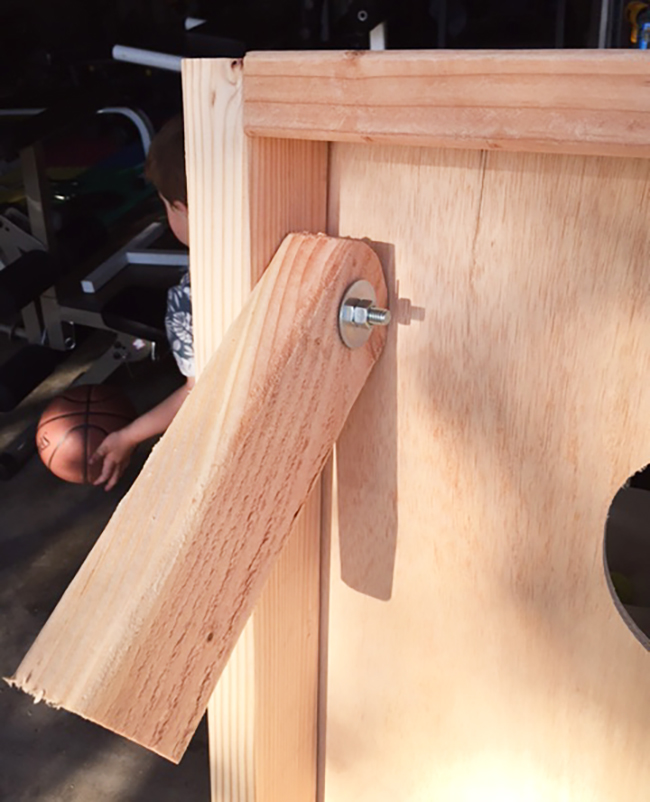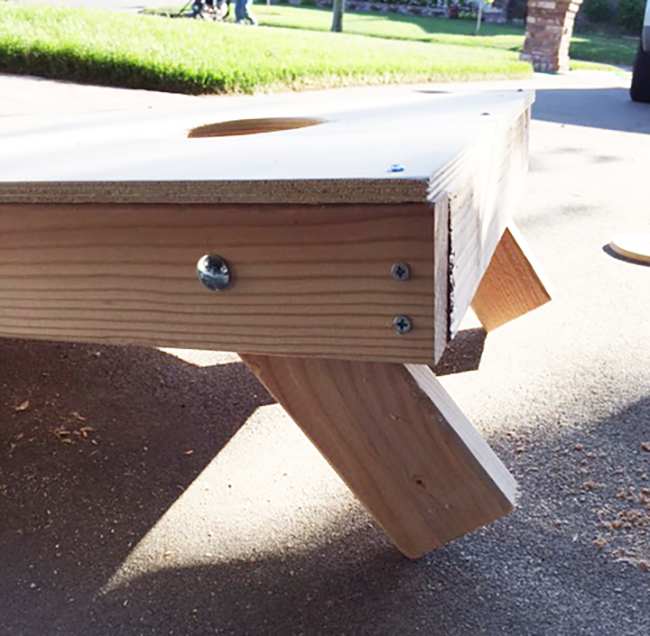 Presto! You are done with assembly, and now you are a wood working master!
Your DIY Corn Hole boards are almost complete.
I chose to stain my Corn Hole boards, because my next DIY project will be to paint some sort of an emblem on them. You can customize your Corn Hole boards any way you like. Wood staining is a messy, but easy process if you have never done it. I recommend wearing gloves, and having lots of soap ready for washing.
I chose a Kona dark wood finish for my boards. To apply the stain, paint the board, and then quickly rub/wipe off the extra stain with a dry rag. It is kind of like a buffing circular movement. After you have stained your board, you should apply a clear outdoor waterproof sealant. I used a spray because of ease, but you could apply one by painting it on as well.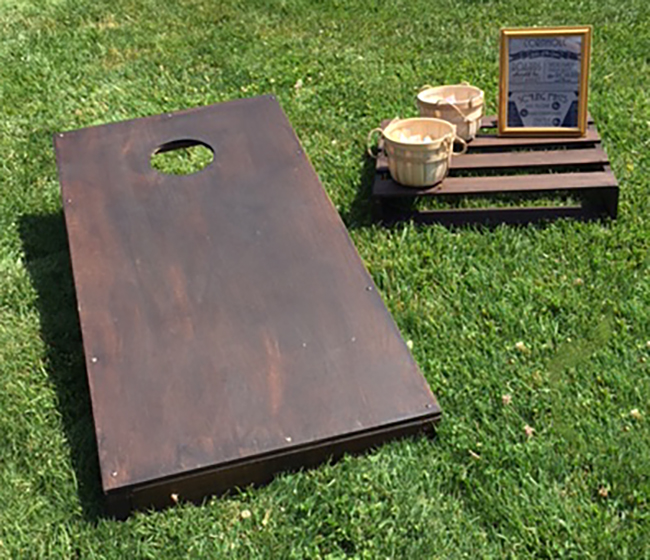 Lastly, don't forget to make or buy 8 beanbags, and print out the rules for your guests! As I found out, this is quite the serious game, and the rules are very important!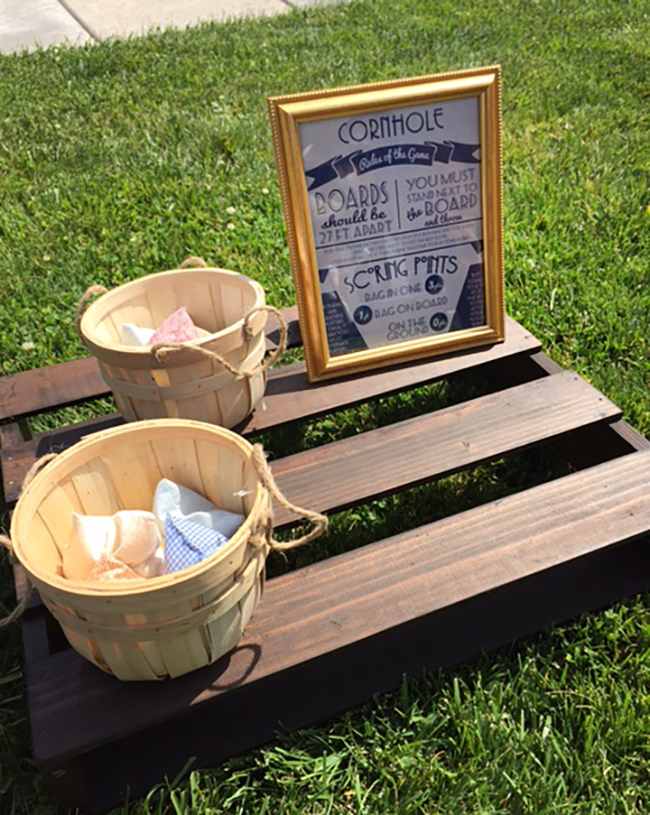 You are now ready to play Corn Hole!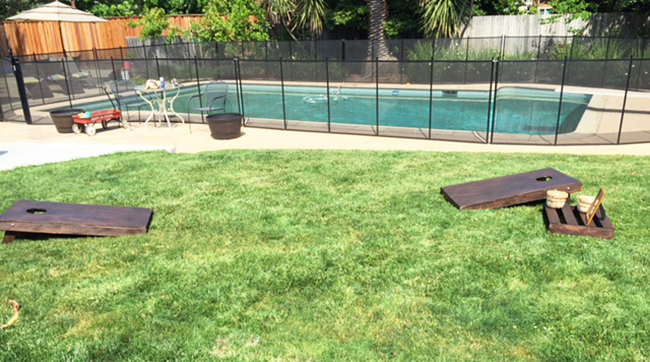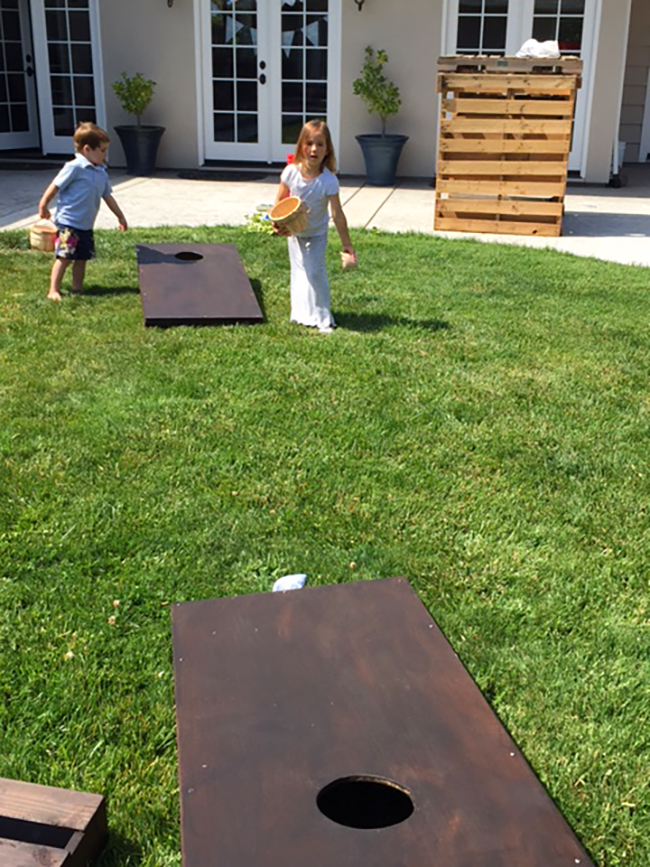 Congrats, and I hope you enjoy showing off your boards for years to come!
Want more lawn game fun? Check out our DIY Lawn Yahtzee Dice, and don't forget to grab your free printable Yahtzee score card while you are there!