This post may contain affiliate links which may give us a commission at no additional cost to you. As an Amazon Associate we earn from qualifying purchases.
With warmer weather around the corner, I'm on the hunt for fun activities that will encourage outside play. My family lives in a rural area, which means I'm often left to my own devices when creating outdoor fun. A quick shuffle through my craft supplies and I discovered some dowels, ribbon, paint, and every crafter's favorite tool – my hot glue gun. What better way to welcome Spring than with some dancing ribbon wands!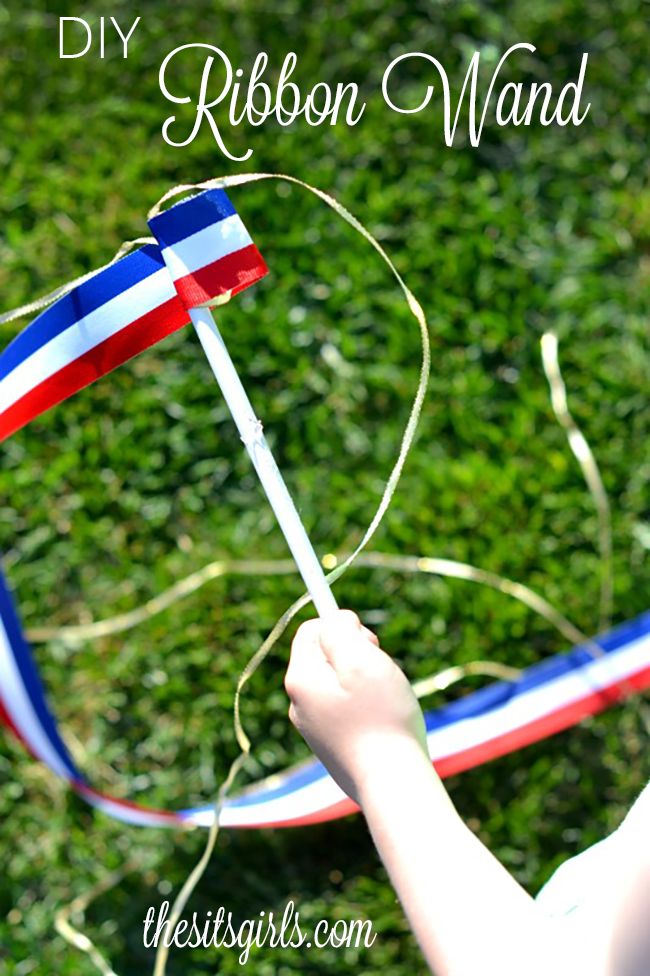 DIY Dancing Ribbon Wands
What you'll need:
craft dowels
paint (optional)
hot glue gun
ribbon (various colors and patterns)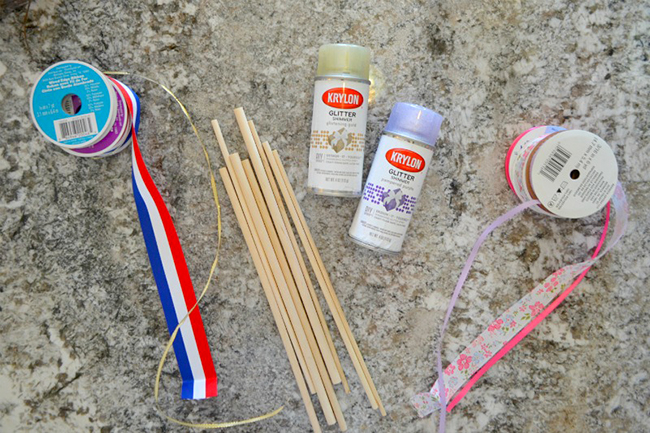 DIRECTIONS
If you want to paint your wands, you'll start by doing that. Cover the dowels completely in your paint of choice. I tried some glitter spray paint, but didn't have much success with an even coating. Instead, I painted my wands a solid color.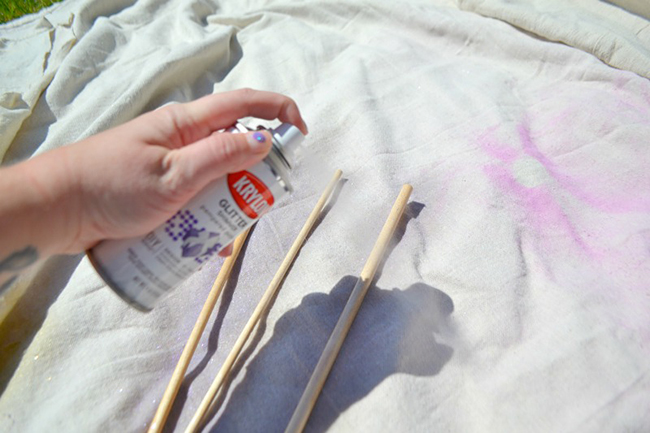 While the paint is drying, cut your ribbons to size. For maximum Spring magic, I chose three stands of ribbon for each wand. I cut the strands to roughly five feet long. There is no true right or wrong way to create this craft. If you're making these for tots, you could cut the ribbon to just a couple feet. If you're making these for teens, you could go wild and cut them at ten or even 15 feet!
Line up your ribbon and (now dry!) wand on top so you can see where to best place a strip of hot glue.
Place a small strip of hot glue directly to the ribbon and fold the ribbon over, securing it to itself around the dowel. If your ribbon slides up and down the wand, simply add a dab of hot glue to the top and slide the ribbon up.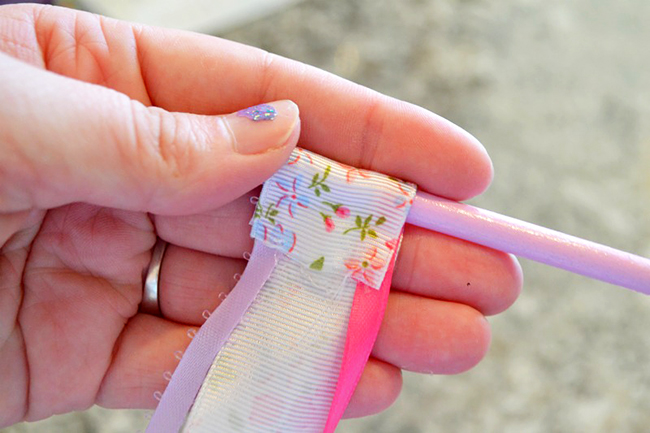 Allow the glue to dry completely.
Ribbon dance your heart out. Race, dance, paint the sky!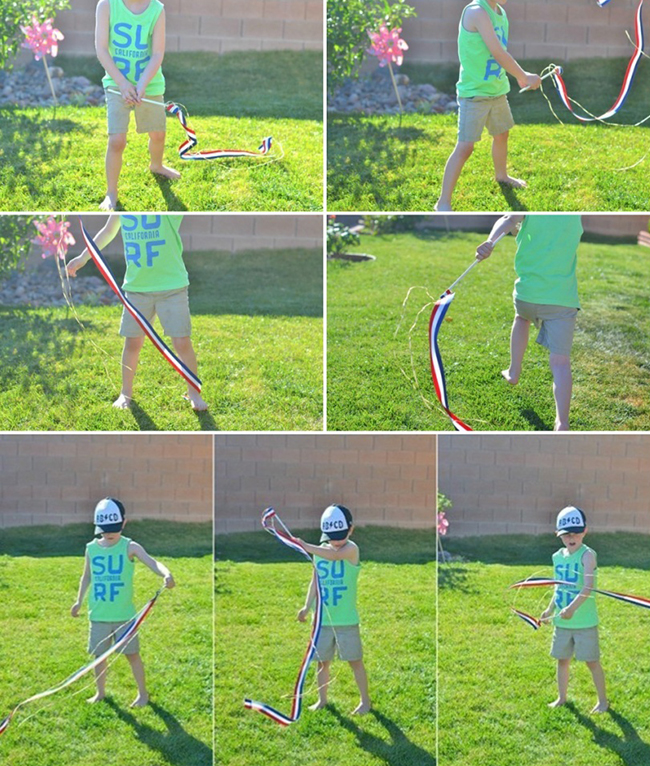 This craft is simple and thanks to the magic of hot glue, is ready within an hour. You can customize your ribbon to your favorite colors, for an event, or even for birthday party favors. Can you see light blue and purple for a Frozen themed party? Or maybe green and brown for a Minecraft party?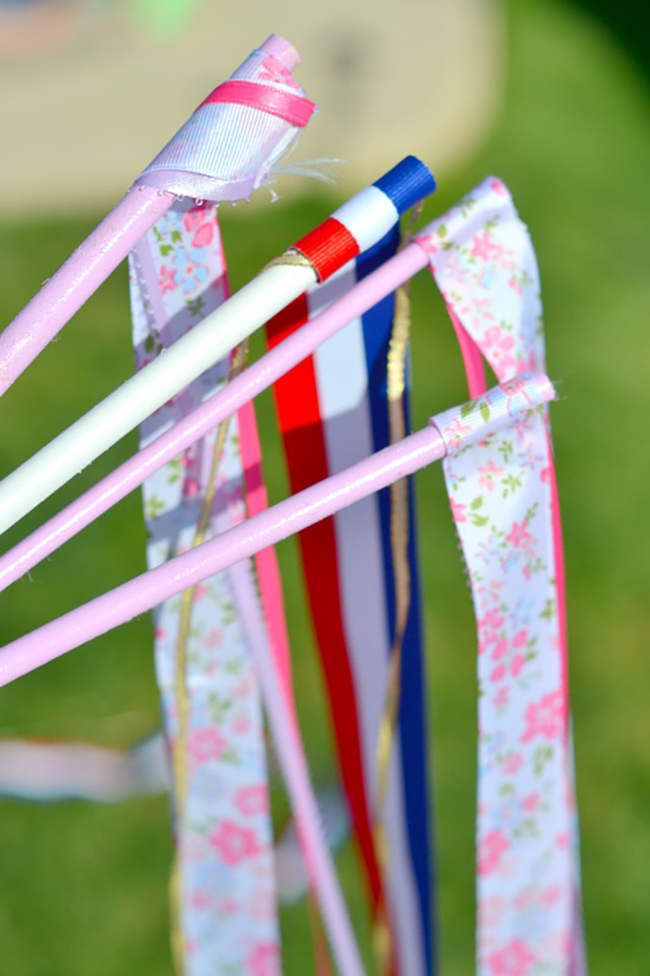 What I love most about these DIY Dancing Ribbon Wands is that they encourage kids to get out, be active, and use their imaginations. Races that trail ribbon behind them, dancing contests, and even sky art are all creative ways to stimulate play with your kids of all ages.