This post may contain affiliate links which may give us a commission at no additional cost to you. As an Amazon Associate we earn from qualifying purchases.
I have magazines, kid's school papers, coloring books, medical forms, and other papers all over my house. I found a way to organize almost anything with a simple DIY home decor project that turns cereal boxes into magazine holders. Now, for just a few bucks and about an hour, I can repurpose old cereal boxes by adding some fun paper.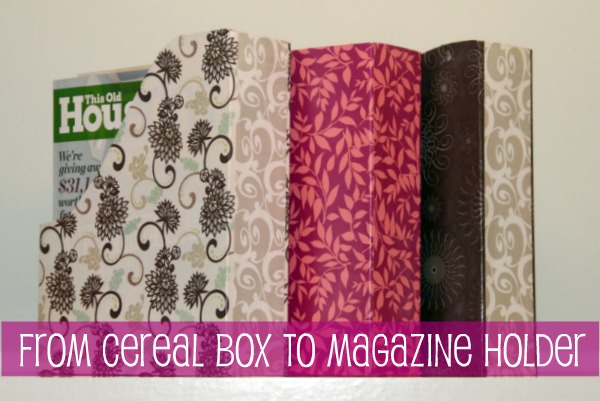 This idea was originally shared with our readers by Brittany. Today, Emily has updated it with new pictures and tips to make your DIY magazine holder crafting process even easier.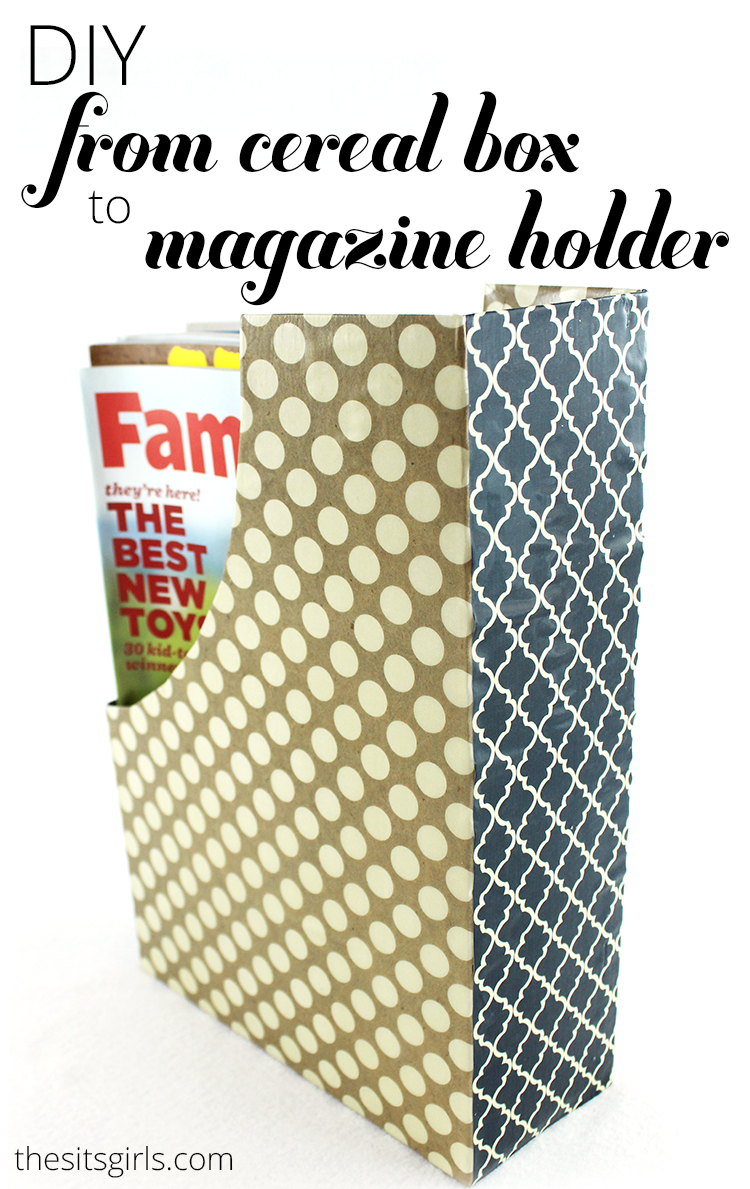 DIY Home Decor: From Cereal Box To Magazine Holder
Essentially this project is just a little cutting, gluing, and folding. It is cheap and easy, and the kids can help too. Who doesn't love cutting and glue?
Magazine Holder Supply List:
Large Cereal Box (I used the 1 pound box)
Scissors
Mod Podge (I used matte finish)
Paint brush
Packing Tape (optional)
Scrapbook Paper – You will need 3 sheets of 12×12 scrapbook paper. You can either choose 3 identical sheets, or choose a different pattern for your spine. I think the contrasting papers look great.
Scrapbook Paper Tip: Darker colors work better for hiding the cereal box. I made a box with a white background, and I can see some of the cereal box if I look closely.
I like to purchase scrapbook paper packs at the craft store. There is almost always a 40% off coupon available. With the packs, you will have a whole set of coordinating papers and can make a great set of magazine holders for a shelf that are not identical.
1) Cut the top flaps off your cereal box
I like to use packing tape on the bottom seam just to be safe, but I have done without and never had problems.
First, trace the shape you want for your magazine folder. You can use a magazine holder you already have as a template or easily just draw a line. Here is the guideline: you need at least 5 inches at the bottom and 3 inches at the top to hold your magazines securely. Your total height should be at least 11 inches.
You can use a curved shape, as shown below, or a straight edge. I used a large bowl to create the curved template that I used on my box, but you could also use a plate.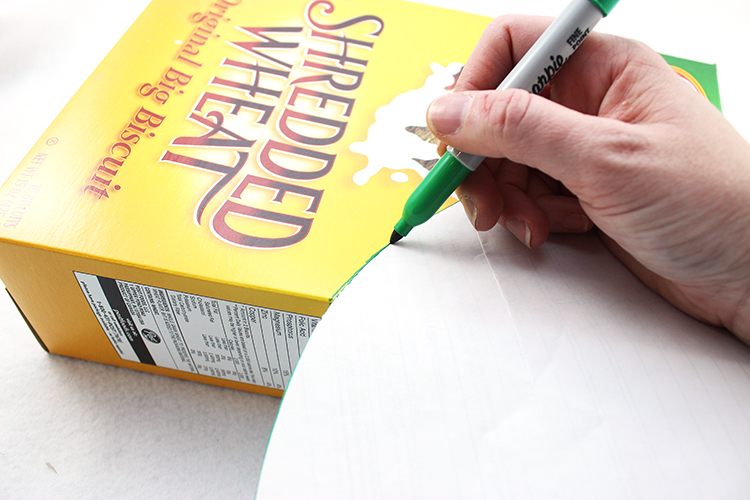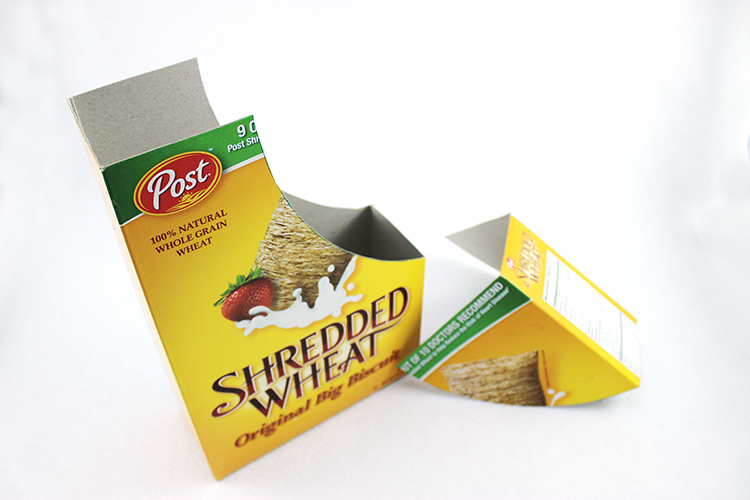 For a straight edge, simply start at your height and draw a line across at least 3 inches. Then make a mark up at least 5 inches from the bottom. Use a straight edge and connect the two lines. Easy! The paper will be able to fold over either shape, but the straight box is a little easier.
2) Mod Podge
Once you have your basic shape, paint a layer of Mod Podge on the box and lay your paper on top of the glue. When using 12×12 scrapbook paper, I lay the paper on the box and smooth the surface with my hand. I find I get the smoothest surface from laying the box down and smoothing from the inside and pressing down.
Mod Podge Tip: Less is more! The thinner the layer of Mod Podge, the better. If you add too much, your paper will wrinkle.
Mod Podge has a little give at first, so you will be able to move the paper around before the glue sets. I glue the entire page down, let it set, and then cut my border. Cut the scrapbook paper around your box, leaving at least 1/2 inch to 1 inch around on all sides.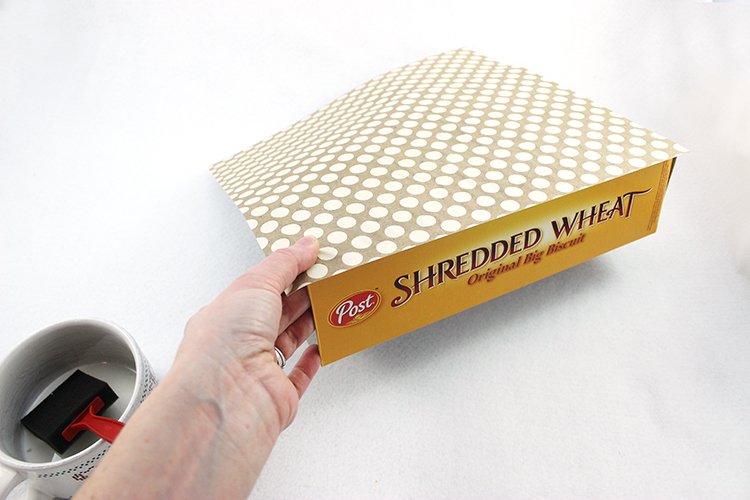 3) Adjust the Corners
To fold the corners simply use your scissors to cut a slit right at the corner and fold both pieces in. Mod Podge all the edges as you fold them in. I don't worry about the entire inside but I do want a nice folded over edge. To fold the paper around the curved edges, make slits in the paper every inch or two to allow the paper to fold more easily.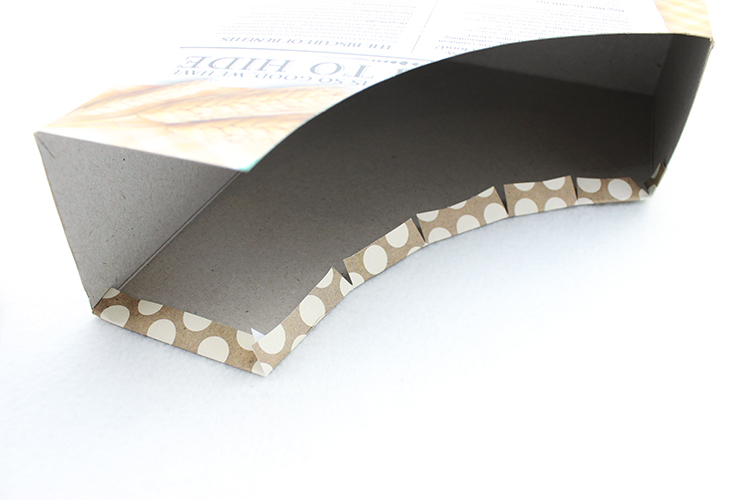 Once you have the first side just do it again on the other side. You can see that the long side has an empty strip and the short side is complete. Mod Podge all the seams, and they will dry completely clear.
4) Complete the box side
Measure your box side and choose the width of your outside strip. Cut the strip and Mod Podge it on, folding over at the top and bottom. It looks best to have a strip that is smaller than the total width so that your corners are totally smooth. As long as you have a simple pattern, or are using a different pattern for your strip, this will look really nice.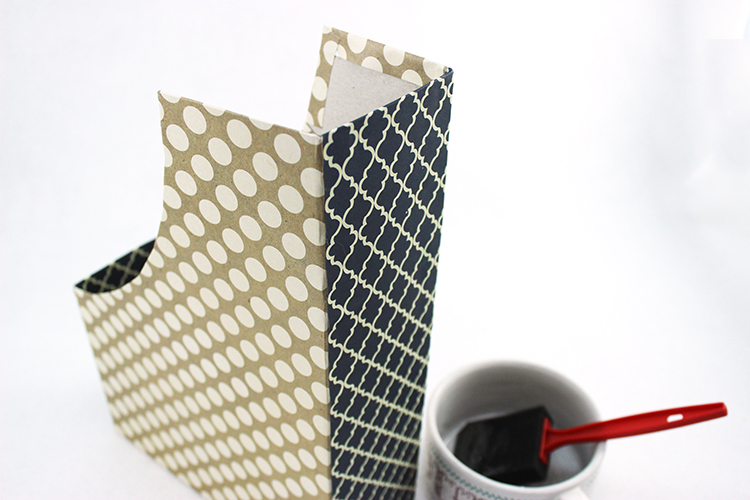 Cover your entire magazine holder with another layer of Mod Podge. It is not only a glue but a sealer. It will look a little lumpy at first, but it should not dry this way.
When your magazine holder is dry it will be smooth and ready for your magazines, coloring books, and all your other papers!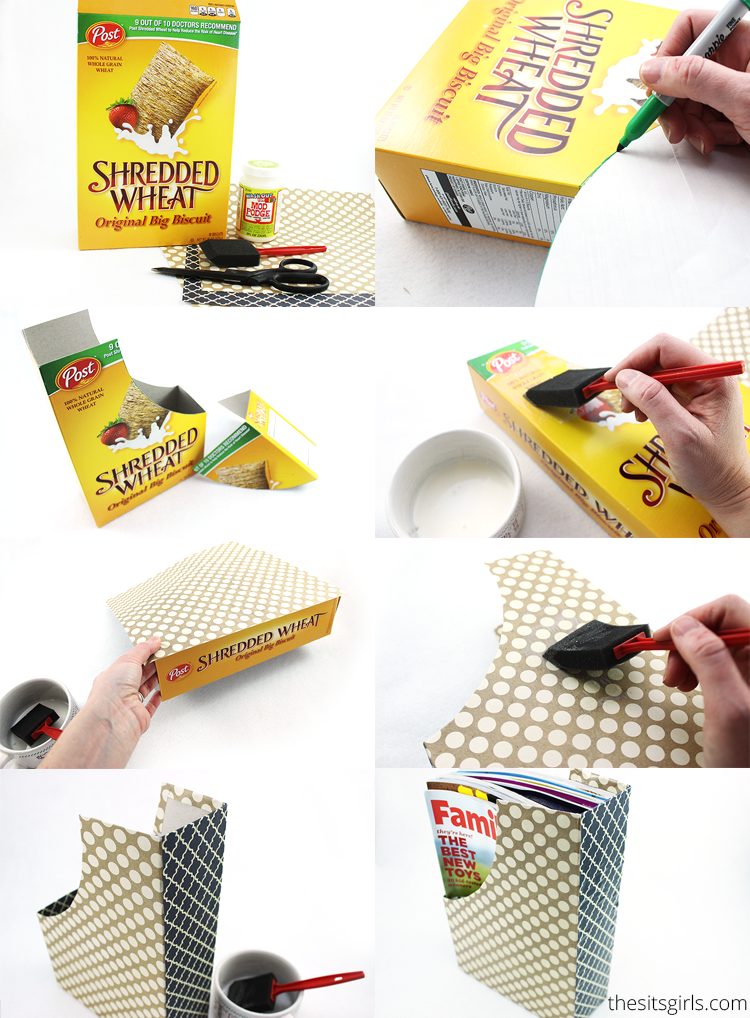 Once you have this easy project done, you will be saving all kinds of boxes and containers. My son got a cowboy themed treasure bin (to store things on his bookshelf) from a fruit snack package, and I made a kitchen bin to store chargers and other stuff. I have dozens of bins made from grocery containers that are super cute and very cheap.
The best part is you can get whatever look you want!
I hope you like these as much as we do and find lots of new uses for old boxes.