This post may contain affiliate links which may give us a commission at no additional cost to you. As an Amazon Associate we earn from qualifying purchases.
Looking for a delightful and easy tutorial? Then this DIY tablecloth made entirely from handkerchiefs is just for you. Read on to get the step-by-step instructions you need to enjoy a fresh surface for your al fresco dining. 
It's summer and the picnic season is up and running!  I love a good picnic, but I hate dirty and unkempt picnic tables spoiling my appetite! 
The last time we picnicked, I accidently left my beloved tablecloth behind!  To remedy our loss, I decided to craft a new tablecloth out of colorful handkerchief squares.  I love the kitschy charm of a handkerchief!  They seemed like the perfect backdrop to summer, especially in fun and funky colors!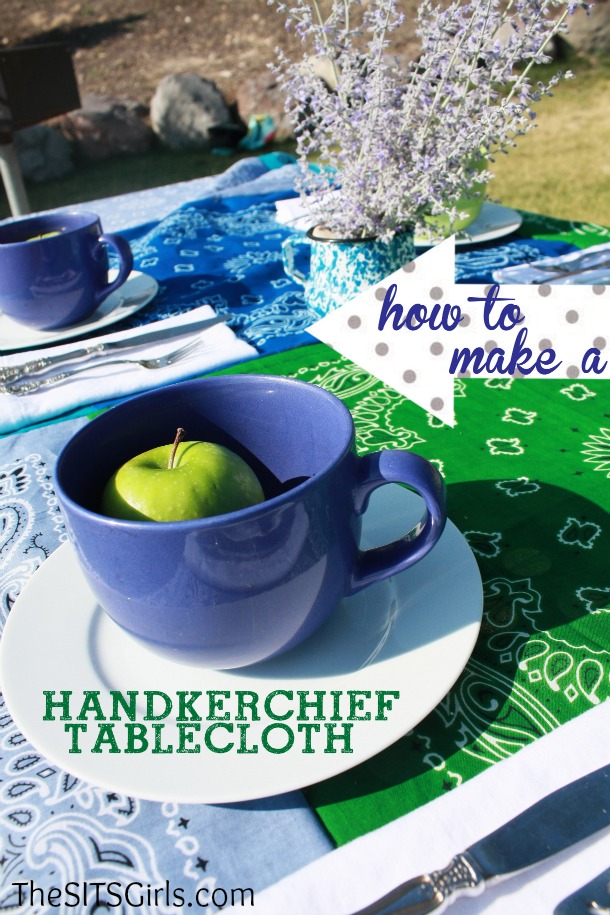 DIY Tablecloth: How to Make a Handkerchief Tablecloth
Making your own DIY tablecloth from handkerchiefs is simple, and requires minimal sewing since the edges of the handkerchiefs are already finished.
To begin, collect your handkerchiefs.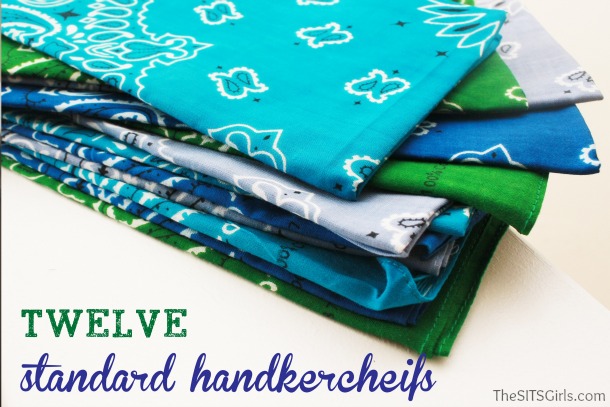 Each handkerchief I used was between 21 and 22 inches square.  Since they are handkerchiefs, imperfections are expected, but don't let this deter you.  You are making a DIY tablecloth, not a prom dress!  I found 12 handkerchiefs that were roughly the same size, and used those to make my project.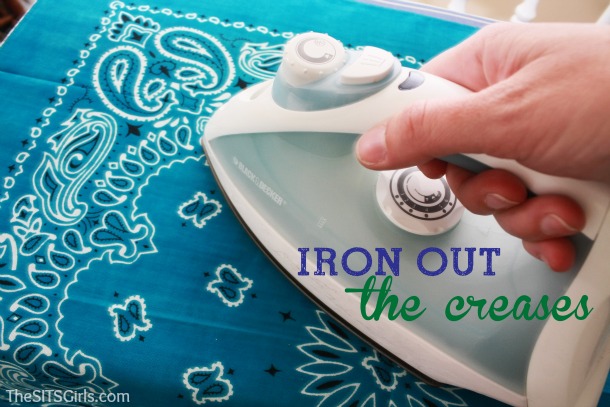 Next, is the ironing.  You really don't have to iron your handkerchiefs, but I wanted to make my sewing a little bit easier for myself!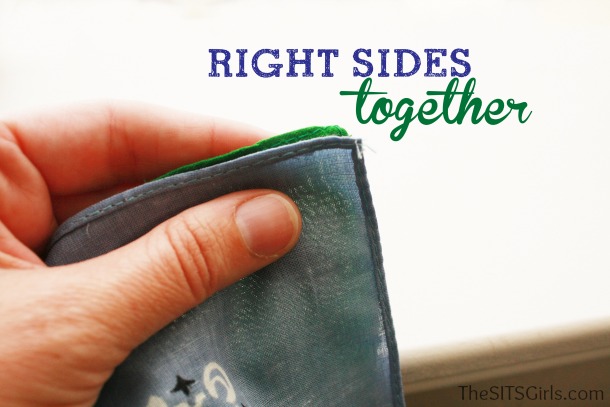 (I don't iron for just anyone, you know!  I would rather parade around in a wrinkled dress than stand in front of an ironing board all the live-long day!) 
It took me about 15 minutes to iron out all of the creases in my handkerchiefs.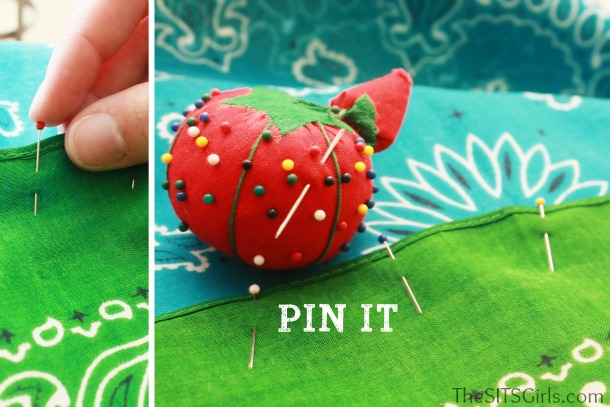 The next step is pinning your handkerchiefs.  (Right sides together!)  Again, if you are confident in your sewing skills, this is probably a step that you can skip. 
Since my handkerchiefs sizes were a bit askew, I wanted to make sure that I had as much control over my sewing as possible. Now, if you have handkerchiefs that are different colors, think about what kind of a pattern you would like for your tablecloth as you pin.  Don't be like me and just mindlessly sew two handkerchiefs of the same color together! 
(It really is no fun taking out your frustrations on fabric with a pointy seam ripper.  Trust me.)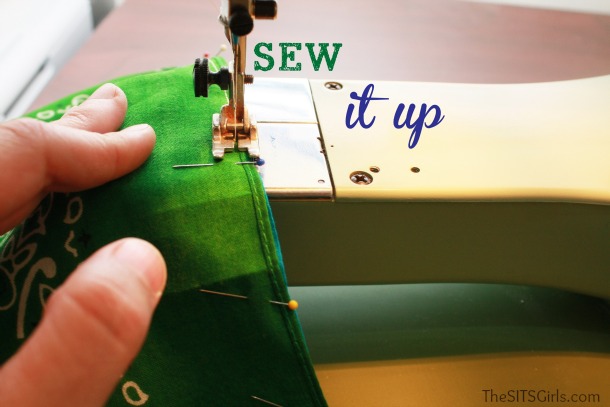 Finally, it is time to sew!  Begin by sewing your rows.  Since I used 12 handkerchiefs, I sewed 4 rows of 3. 
Again, keep your colors in mind as you sew if you have multicolored handkerchiefs.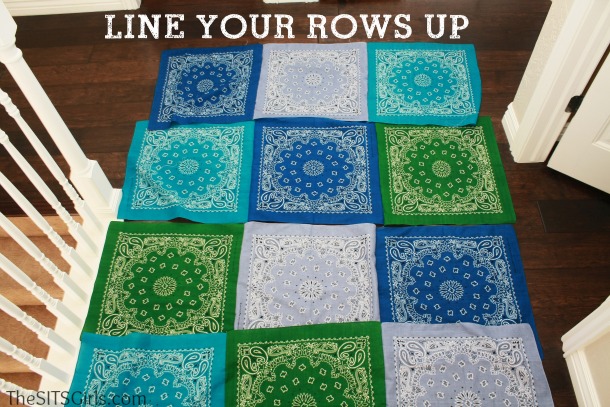 After you have your rows sewn up, lay them out on the floor to determine how you want to stitch them together. 
Then, pin (right sides together!) and sew.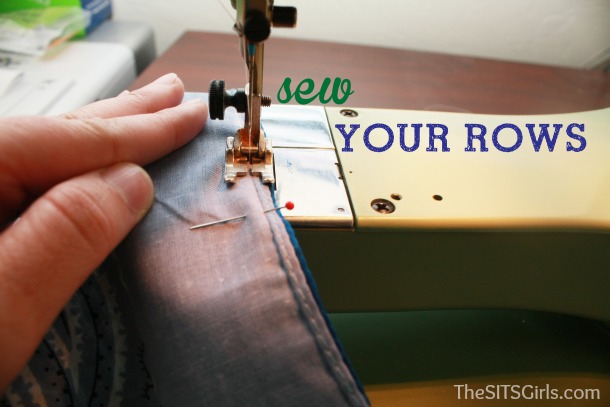 As soon as your rows are all sewn together, you are finished and can immediately pack up a picnic and head outside!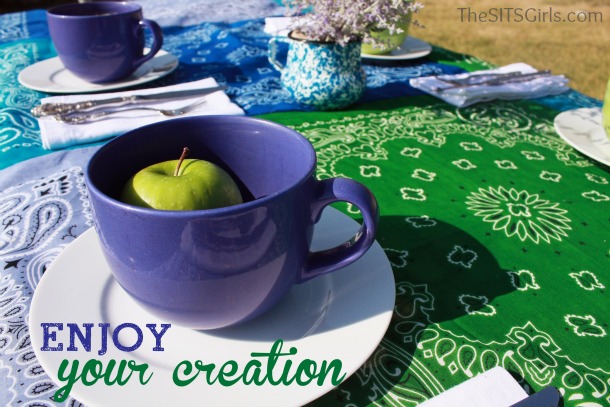 A handkerchief tablecloth is the perfect way to brighten up your picnic, and better yet, washable too!
What DIY creations are you making this summer? Leave a link in the comments below or come and chat with us here on our Facebook fan page!
Feeling Inspired? Keep Reading!
If you enjoyed this DIY tablecloth post, we have more for you!