This post may contain affiliate links which may give us a commission at no additional cost to you. As an Amazon Associate we earn from qualifying purchases.
This year my son was dead set on being Luke Skywalker for Halloween. Not any old Luke Skywalker costume would do, it had to be Luke Skywalker driving a land speeder. With a couple of cardboard boxes, we made this super fun DIY Landspeeder for a Luke Skywalker costume!
Halloween to me is almost as magical as Christmas. The reasons are completely different, but for children, Halloween is a time to live out their biggest wishes and desires! There is no pressure of gifts and family parties, it is just all about fun and watching the kids giddy with excitement. I love sibling costumes. Last year my littles went as Sandy and Danny from Grease, the year before that they were Fred and Wilma Flintsone, and they have even been Rosie the Riveter and Uncle Sam, so with my son being Luke Skywalker, it only seemed right that my daughter got to be an Ewok (and, yes, she was excited about that)!
DIY Landspeeder Luke Skywalker Costume
Materials needed to build a landspeeder:
Large cardboard box
2 Large oatmeal containers
Large plastic drink holder from dollar store (could replace this with a third oatmeal container)
Hot glue gun
Tan paint
Grey Paint
Orange paint
Scissors
Cheap metal sheeting (about 19 cents a foot at the home store — I got 3 feet and cut them with scissors)
How To Make A DIY Landspeeder
After studying pictures of Luke's landspeeder online, I cut matching top and bottom pieces from a large cardboard box. Basically you need a rectangle shape with rounded edges on the front.
Then, I cut three pieces that were going to be the middle of the landspeeder between the top and bottom. These are about 10 inches tall.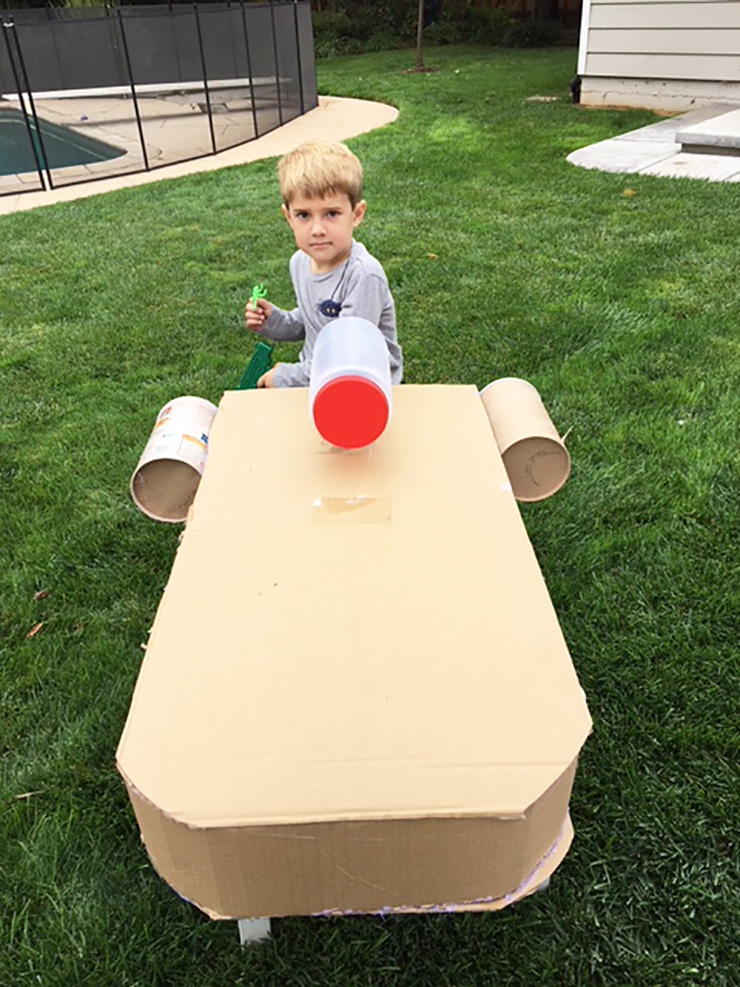 Next, I added the jet packs that make the landspeeder fly.
To make the jet packs, I simply used oatmeal containers glued them on the side. In the picture I saw online the top jet pack was a tad larger, so I rummaged the dollar store for a container that would work. There is no right or wrong, you just need a basic long cylindrical shape, so three oatmeal containers that are the same size will work just fine.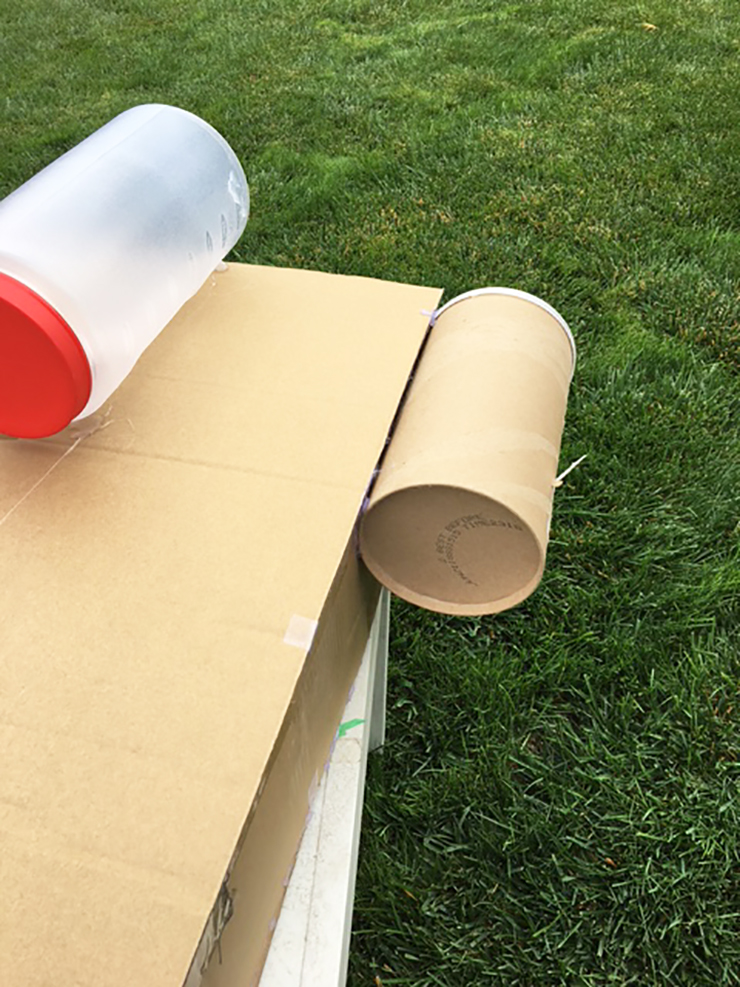 One we had everything assembled, we cut a hole that my son could easily fit in. He will be putting it on and have it hanging from his shoulders, so the hole needed to be about shoulder width wide. You can easily eyeball the hole, no need to measure it exactly.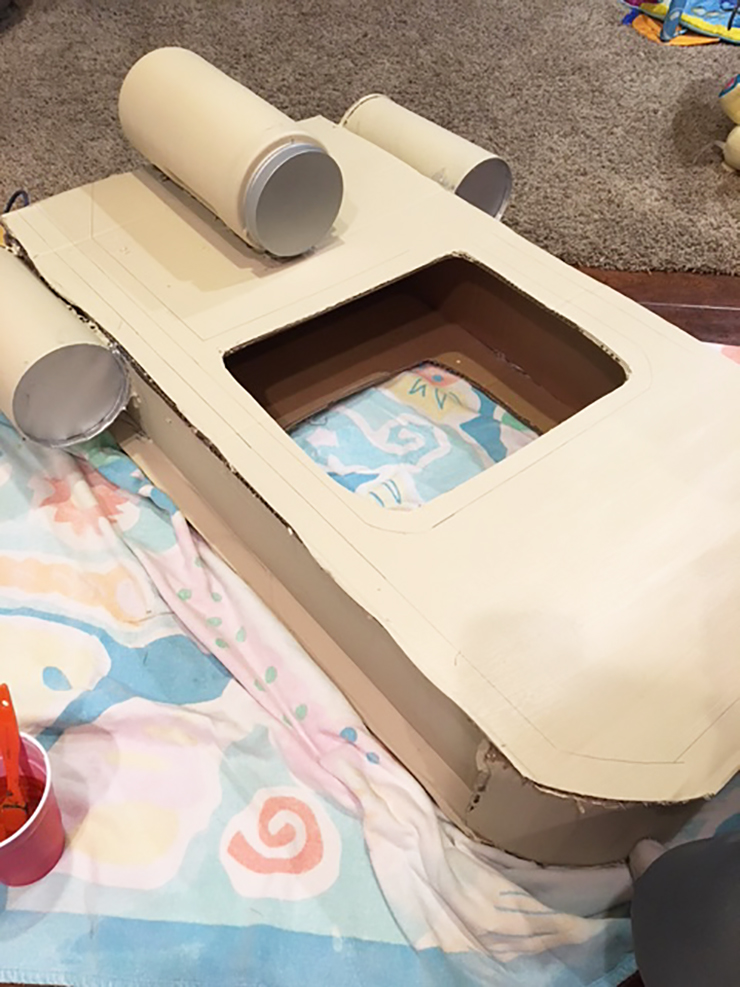 The next step was to paint the entire thing tan. I mixed some leftover brown and white paint to create the perfect tan color. The tops of the jet packs were painted silver. Once the entire thing was painted tan we began to make the design.
I have to give credit to my husband for the design. He was admit about making sure it was as exact to the picture as we could get it. The design on the landspeeder is a browny-orange, so I mixed a little brown with an orange paint that I had.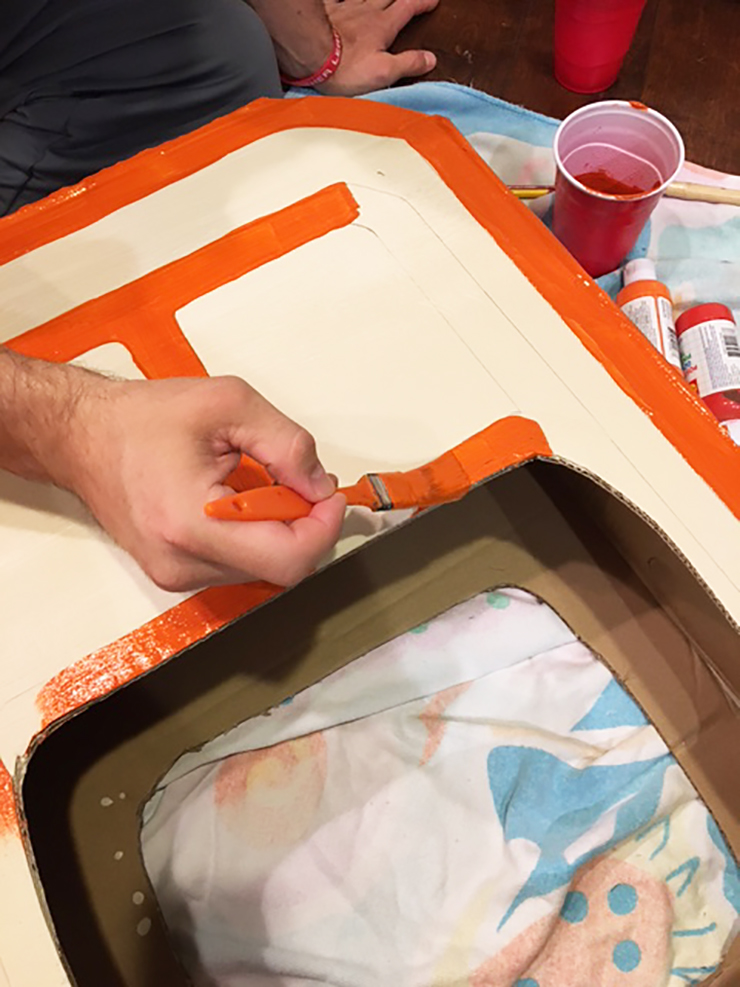 After we had the landspeeder painted, the final step was to attach the metal sheeting. I was a bit stumped as to what to use for the metal, so I went to the hardware store and said I need cheap metal scraps that I could cut. This metal sheeting was provided, and it was sturdy enough to hold up, but also thin enough to cut with heavy duty scissors I had at home. I used it for the side metal vents and for the front dashboard.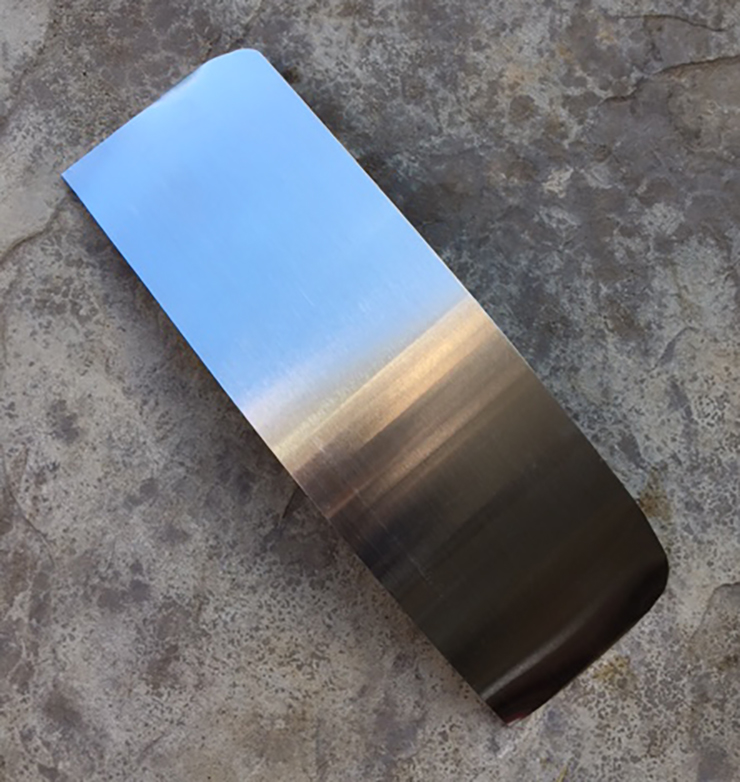 I have to say this project made me fall in love with my hot glue gun all over again. I used it to attach everything, and it is all cemented in place!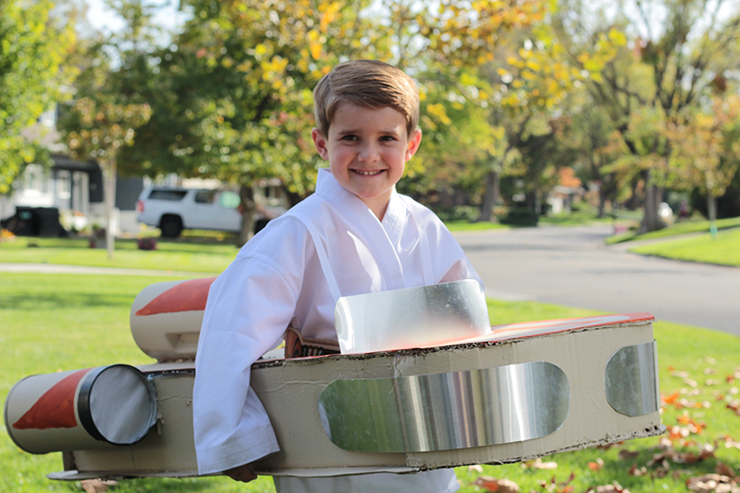 The look on my son's face was worth every trip to the craft and hardware store to make this DIY landspeeder. He was thrilled. His eyes lit up, and he even said, "Thank you for building me the most awesome costume ever, Mom."
I can not wait to watch him trick or treat on Halloween!
When Luke Skywalker drove the landspeeder, he had on a white wrap shirt and tan pants. To achieve this look we actually used a karate shirt and paired it with a pair of khaki pants we already had. He has tan fabric wrapped around his bottom legs, so we cut bits of fabric and wrapped them around his ankles. I figured since the costume part of it was so easy we could spend a little extra time on the landspeeder!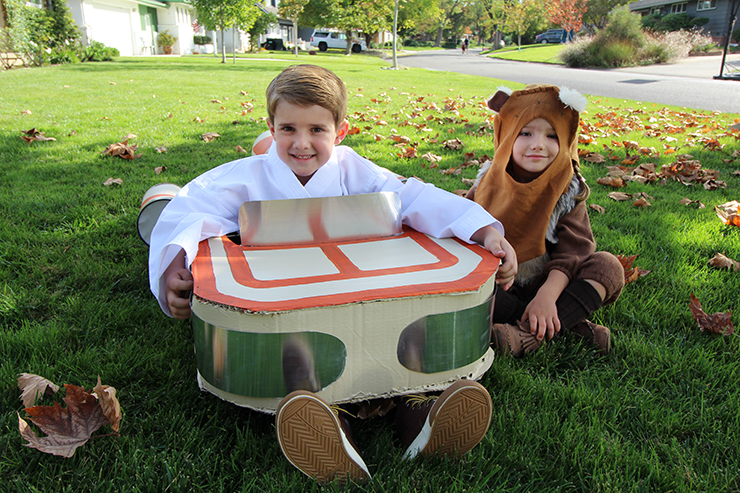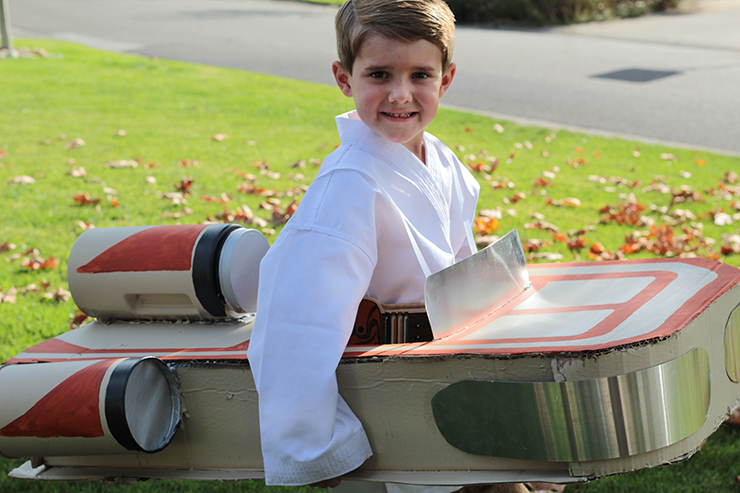 Do you make homemade costumes? If not, give it a try some time. It is a great bonding experience!