This post may contain affiliate links which may give us a commission at no additional cost to you. As an Amazon Associate we earn from qualifying purchases.
What I love most about the holidays, isn't the food, presents, time off work, but all of the holiday crafting! I end up pinning more holiday crafts than I can get through in the season, but there is always next year! (At least, that is what I tell myself!)
Every year while browsing the aisle in Micheals, I end looking at the nutcrackers but never thought I was artistic enough to paint them well and to display them in my home for others to see. Well, this year I threw my doubts in the trash and bought myself some wooden nutcrackers, and decided it was time to get down to business!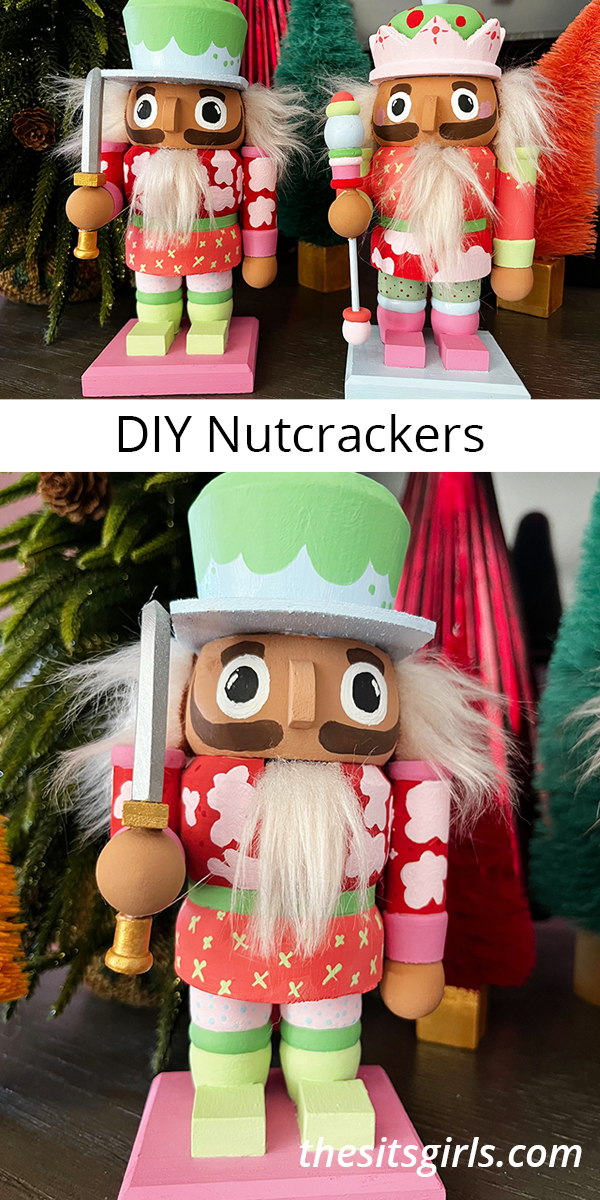 DIY Painted Nutcrackers
What you need to make painted nutcrackers:
How To Customize Nutcrackers With Paint
Time to paint! I ended up going with non-traditional colors when I painted my nutcrackers to mix things up this year. You will most likely need to do two coats of each color to get full coverage which is why this project can be a bit time-consuming, but it's also very relaxing. I recommend putting on a tv show or movie in the background.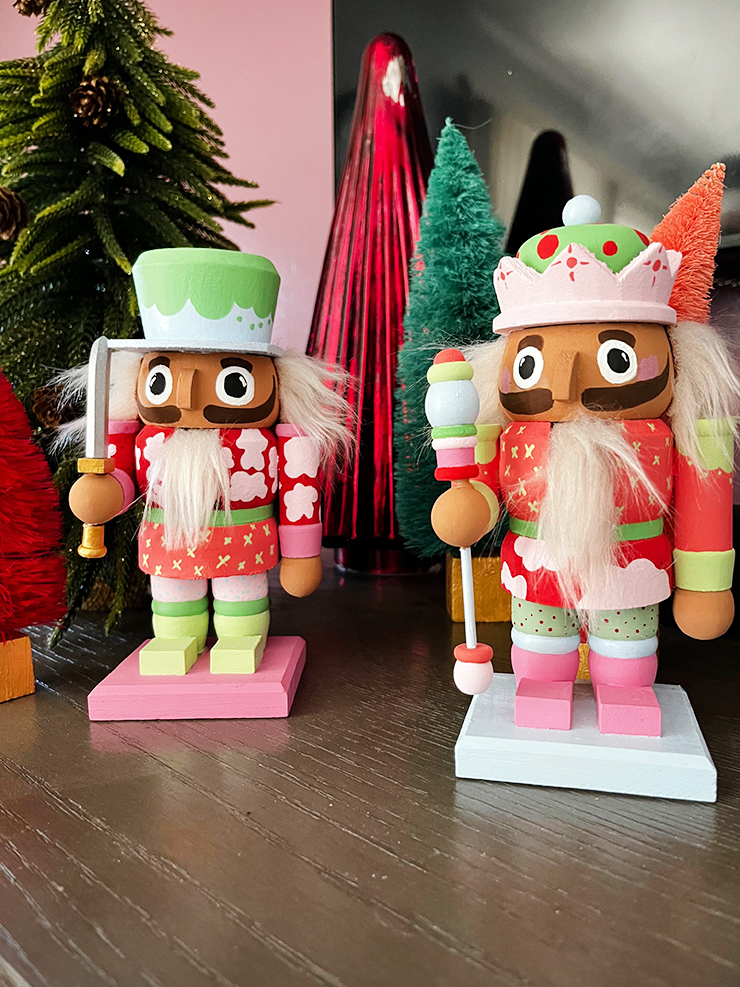 You will start by painting your nutcracker completely with a base coat and then the second coat to get full coverage. Then comes the detail work. Here is where you can get creative and give your nutcracker his trendy outfit with those added details!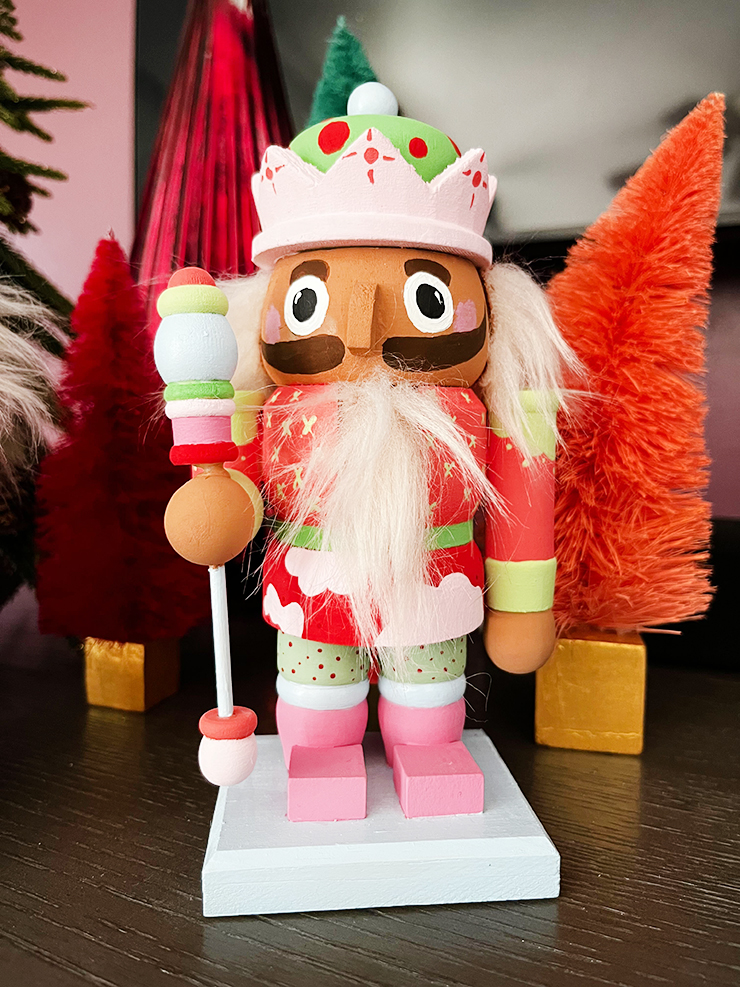 For your nutcracker's face, use a pencil and do a rough sketch of his eyes, mustache, and eyebrows. This will be your guide when painting – and remember, it doesn't need to be perfect!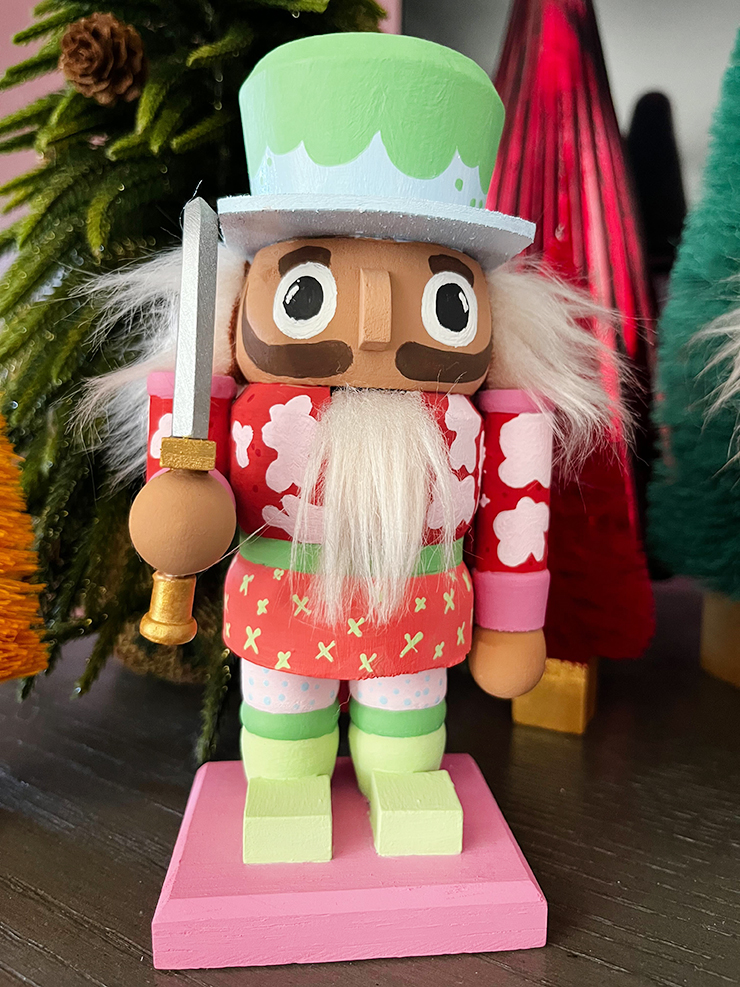 The final step to completing your nutcracker is adding the hair. One thing to note about faux fur is that once you cut into the fabric, it will start to fray, so make sure you are cutting it very carefully.
Pro Tip: cut more fabric than you think you will need, I've made the mistake of cutting not enough to fully wrap around the head.
I decided to dye the fur brown to give it more of a natural look, if you do decide to also dye the fur just follow the directions on the bottle. I ended up leaving the fur in the mixture for about 30 minutes and was pleased with the result. This step is optional and of course, depending on the color of fur you bought, you can skip this step! Let the fur completely dry overnight on a paper towel.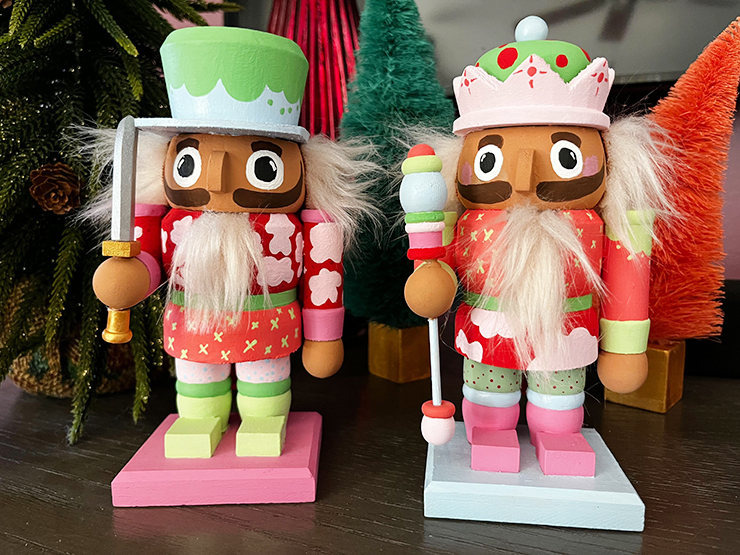 After the fur has dried, place it around the nutcracker's head and trim any access fabric. Add your glue and reposition the fabric so it is even on both sides of the head. Cut a small piece for his beard and glue that to the nutcracker.
Take a step back and be proud of your new holiday decor addition!