This post may contain affiliate links which may give us a commission at no additional cost to you. As an Amazon Associate we earn from qualifying purchases.
I love a wreath for every holiday, in fact I love to make them. I have made a Christmas wreath, Halloween wreath, and a fun Spring/Summer wreath, but I was missing a red, white, and blue wreath for Veteran's Day, Memorial Day, and 4th of July! The kids are out on Summer break, and I needed a DIY that was cheap and quick! This DIY Patriotic Clothespin Wreath is the perfect way to share your red, white, and blue spirit with the neighborhood!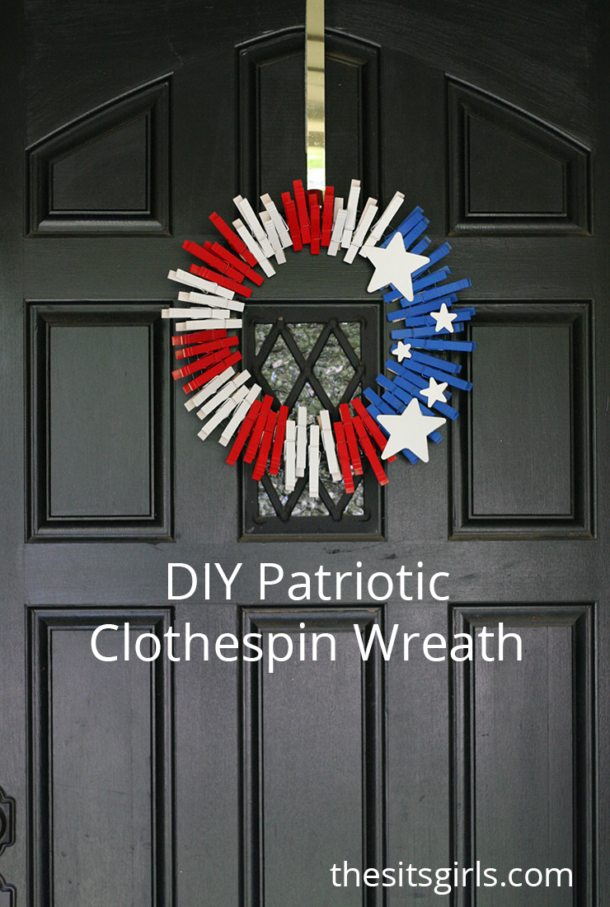 DIY Patriotic Clothespin Wreath
This is one of those projects you can get the kids to help you make! If you have young children, it's a great way for them to practice colors, counting, and grouping like colors together.
Red White And Blue Wreath Video Tutorial
Clothespin Wreath Video Tutorial Link
Clothespin Wreath Materials
Red, White, and Blue craft paint or spray paint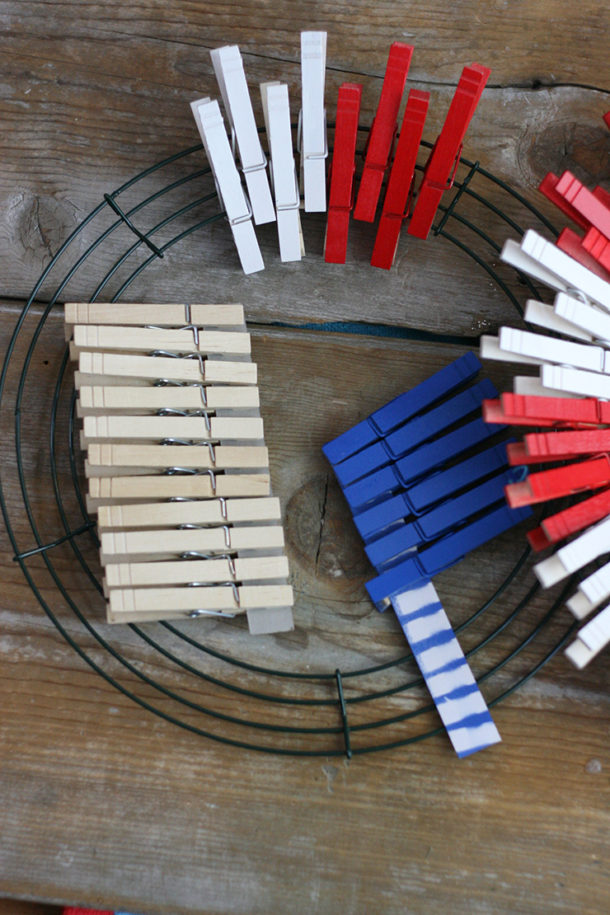 How to Make Your Own Patriotic Wreath
The first step is to paint your clothespins. I used 20 red, 20 white, and 18 blue clothespins to make my wreath. If you are using a larger wire wreath as a base, you may need more of each color.
I had leftover spray paint and clothespins from some other projects and decided to repurpose them to make my patriotic wreath. You can paint your clothespins with craft paint if you want, but the spray paint takes less time and dries much quicker!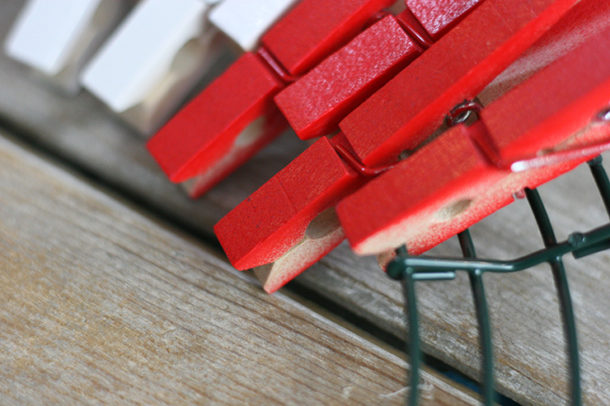 Once your clothespins are painted all you have to do is arrange them. I used groups of 4 for the red and white colors, and staggered them as I placed them. You place them all on the same inside rung of the wreath, but simply push some down further than the others.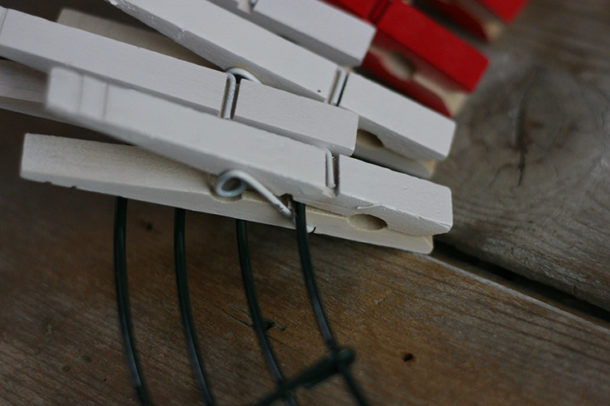 If you want to make sure your clothespins are extra secure you can add some hot glue, but mine have stayed in place pretty well without it. I did 5 groups of red, and 5 groups of white, and then moved on to the solid blue clothespins.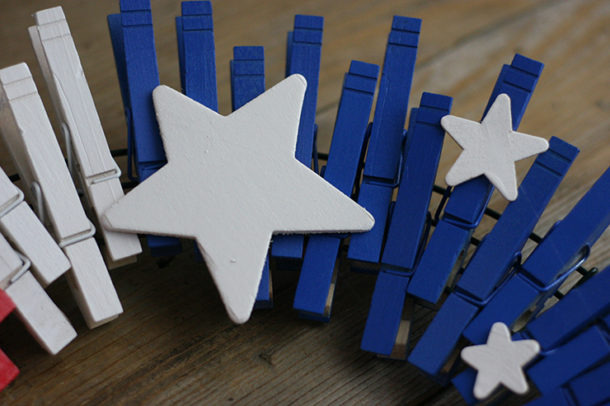 The blue is where you will attach your wooden stars. I staggered my blue clothespins the same way I staggered the red and white. Finally, use the hot glue to attach the wooden stars, and you are done!
I used smaller and larger stars, but you can use all one size if you prefer.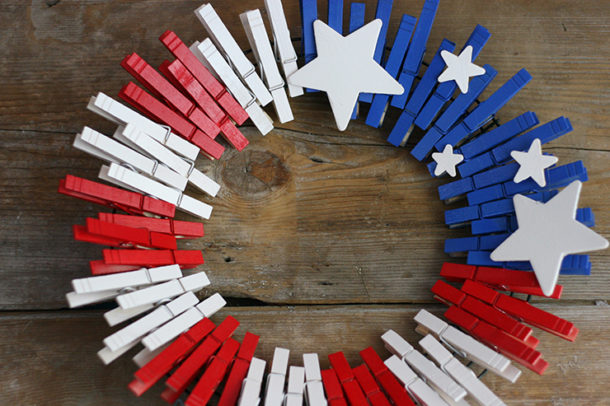 I used a wreath hanger to secure my wreath to the door, but you could also loop ribbon around the wreath to hang from the windows or inside, too!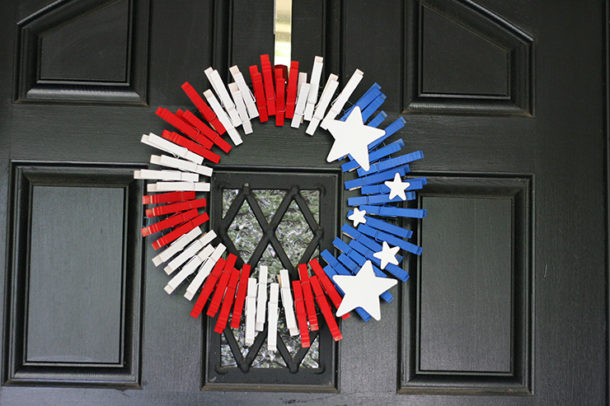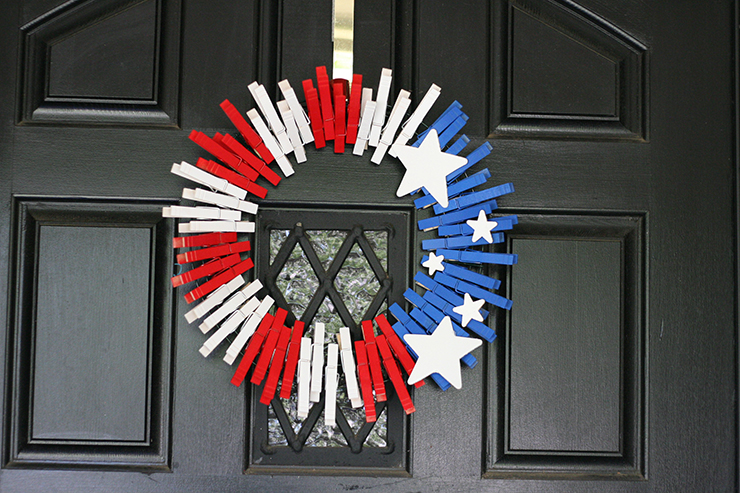 For more red, white, and blue fun, check out these other patriotic DIY projects: