This post may contain affiliate links which may give us a commission at no additional cost to you. As an Amazon Associate we earn from qualifying purchases.
Finally! Spring is here! And what better way to celebrate than by creating a DIY ring! The following DIY tutorial gives a step-by-step overview of how to make a ring with wire.
As an added bonus, I've even attached a quick little bird's nest complete with turquoise beads that I picked up at the bead shop yesterday!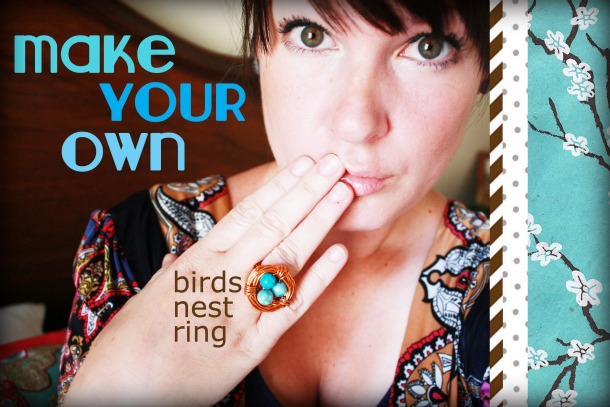 How to Make a Diy Ring With Wire
If you would like to try your hand at making your own wire bird's nest ring, you will need to gather these supplies:
20 gage wire
Blue "egg shaped" beads (I chose these turquoise rounds)
Pair of pliers
Ring mandrel (The ring mandrel is optional, but I do find that it makes the process much quicker)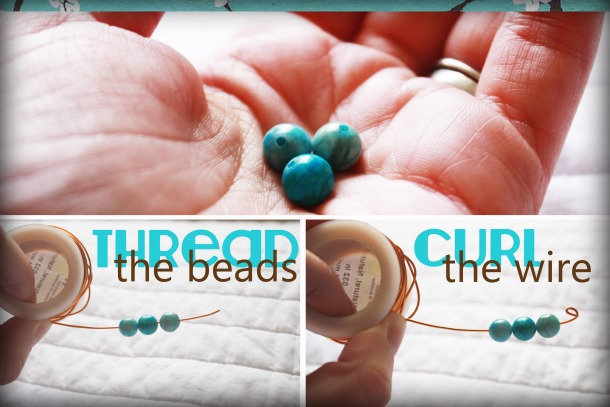 Starting your wire bird's nest DIY ring is as easy as pie! Just unravel your wire, thread three of your blue beads on, and curl the edge.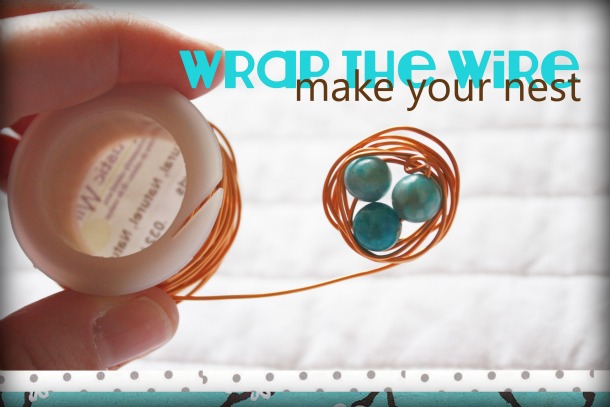 Next, you wrap the wire around your beads to create your nest. You can be as neat or as messy with this step as you wish! I like more of an organic feel, so I like to wrap the beads a little bit more loosely.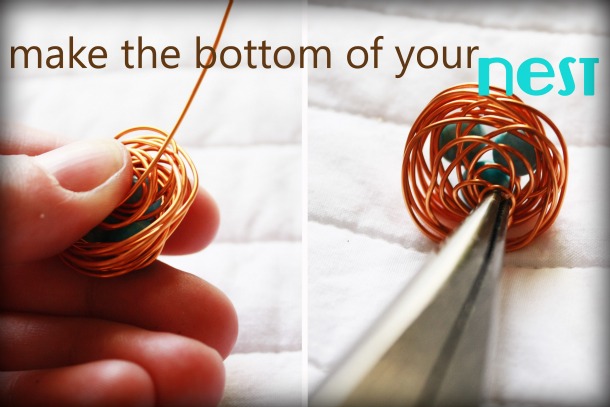 When you feel that your nest is full enough, you can cut the wire and create the bottom of your nest by using your thumb as a guide. Gently twist the nest in a circular motion and guide the wire around and around.
When your bottom is complete, curl the end under using your pliers.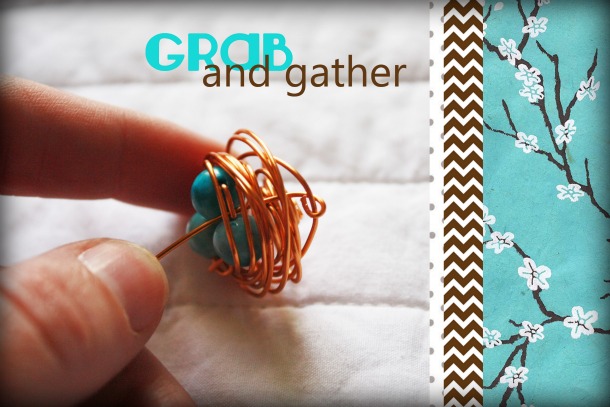 Next, cut a piece of wire about 6 inches long, push it through the spaces in your nest and attach it to one of the bottom wires (as shown in the photo above).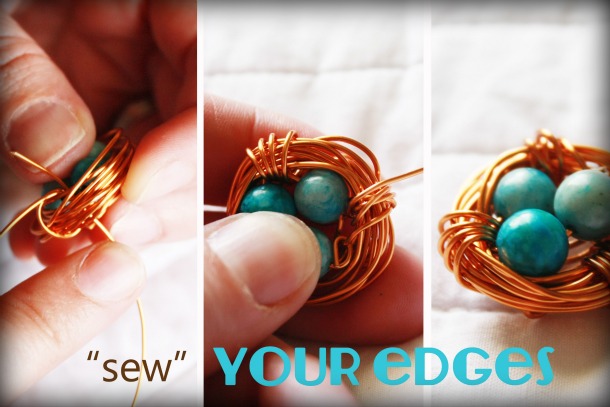 Using the 6 inch piece of wire "sew" around and around the edge of the nest, gathering the wires together and making them secure. After you have wrapped the edge 5 or 6 times, cut the wire, and tuck and curl the end under the bottom of the nest.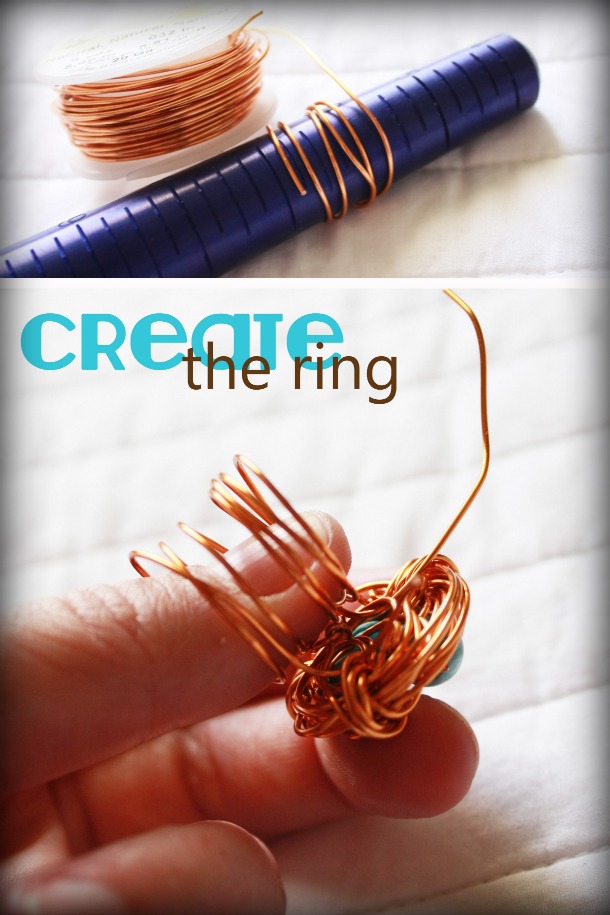 Congratulations! The top part of your wire bird's nest ring is complete!
To finish your DIY ring, take your mandrel and measure one of your rings for a guide to help you create the proper size for your finger.
Wrap the wire around the mandrel 6 or 7 times at one size larger than your ring size. (it will shrink when you attach it) Cut the wire with about two inches of slack, and then flatten the other side of your wire with about two inches of slack to help attach it to your nest.
To attach the bottom, hold the spiral under your ring at the place you want to attach it to your nest. Take one side of the wire, and with the 2 inches of slack you saved, loop it through some of the wires on the bottom.
Do the same to the other side, and then just simply fold the wire down and start wrapping the remaining slack around the sides of your ring, in a spiral shape. Do this to both sides.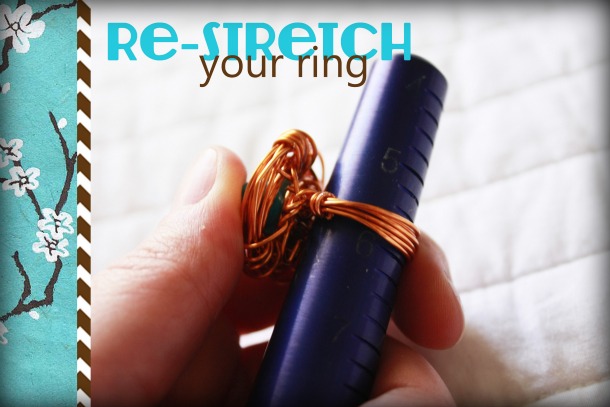 When your DIY ring is complete, slide it back on to the mandrel and give it one last sizing to stretch and straighten the wires.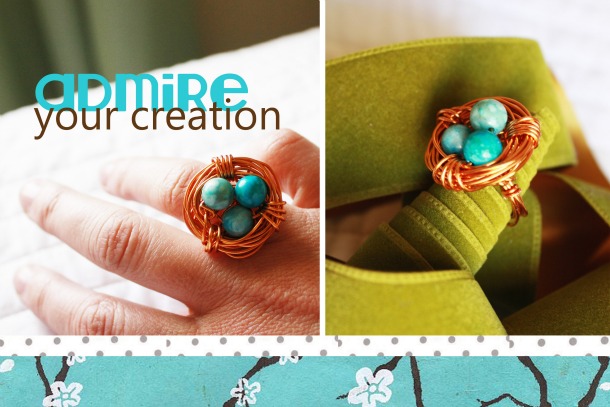 You're finished! Wear your DIY wire bird's nest ring proudly! Wire bird's nest rings are so simple to make and loved by all! They make the perfect gift for friends, teachers, new mothers, bridesmaids, or anyone that needs a little spring cheer sent their way!
What creative projects are you cooking up for Spring? Tell us in the comments below or head over to our Facebook fanpage and let's chat!
More Posts Similar to this Diy Ring Tutorial
If you liked this post, then you'll want to be sure that you do not miss the following: