This post may contain affiliate links which may give us a commission at no additional cost to you. As an Amazon Associate we earn from qualifying purchases.
The holiday season is in full swing!  Add a little dazzle to your Christmas décor with a DIY coffee filter ruffle tree.  It's the perfect way to give your room a little sophisticated boost and jazz up any area in your home. Fun diy christmas decorations like this ruffle tree are easy to make and are a blast for the kids to help out with.
Not only will this ruffle tree boost up an area in your home but they make for perfect diy christmas gifts.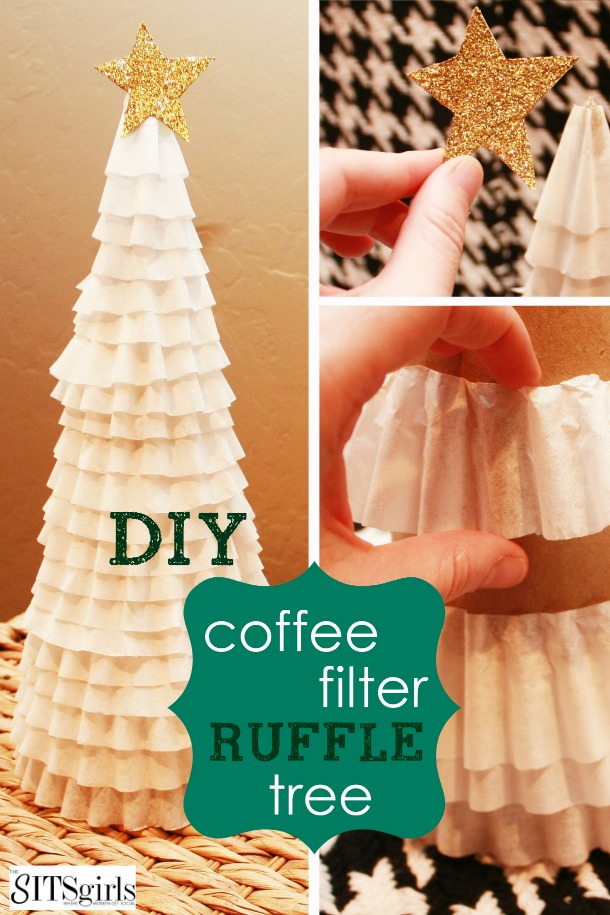 DIY Christmas Decorations
A DIY coffee filter ruffle tree is easy to make, and doesn't cost much either!  To make your own, gather these easy to find supplies.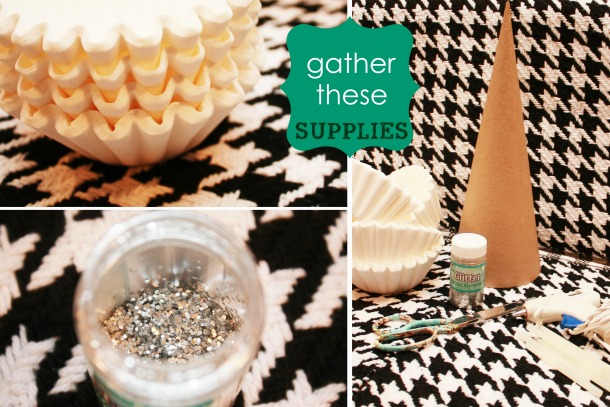 You will need:
A cone form, in either paper mache or styrofoam
Coffee filters
Hot glue gun and glue sticks
Glitter
Scissors
Start by folding about 10 coffee filters in half and cut out the middle.  This will leave you with just the outside ruffle edge of the coffee filter.  You can discard the middle.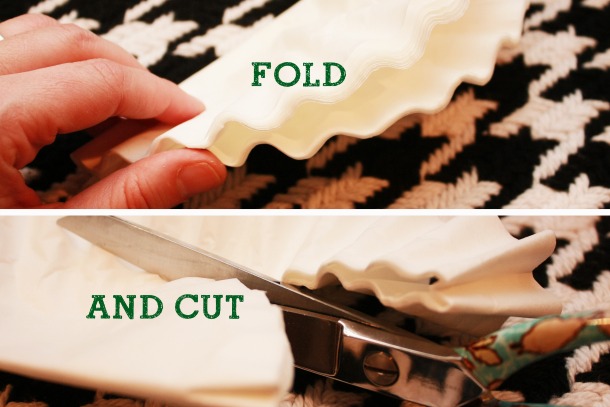 Next, to start your layers, pass one coffee filter ring over your cone form and add glue to secure at the bottom.  The edge of the coffee filter and the edge of your cone should match up.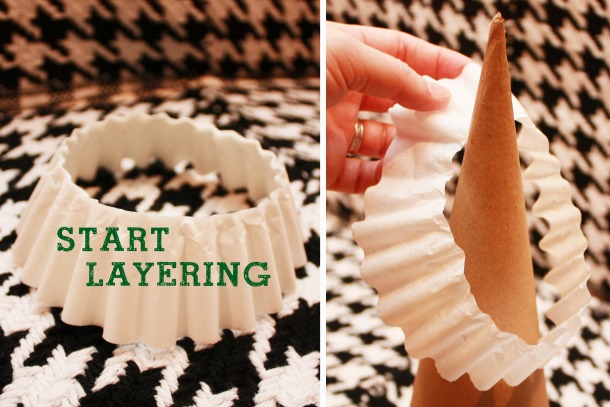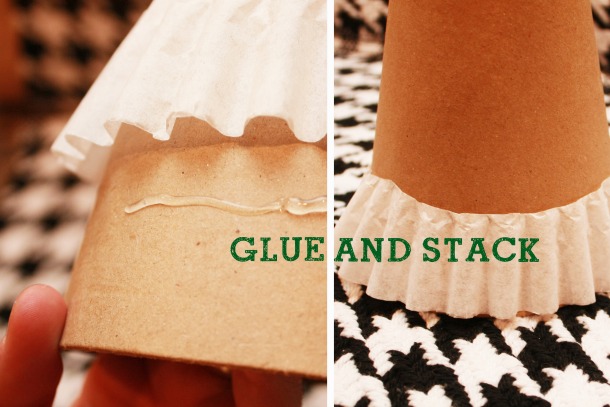 Continue layering and gluing each coffee filter.  You can space them as close together or as far apart as you like.  I layered mine about ½ inch.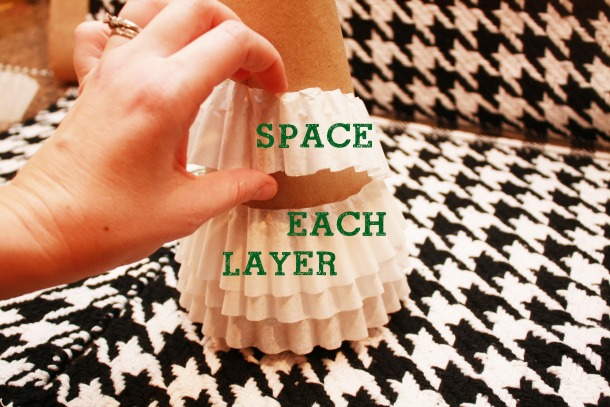 When your cone gets smaller toward the top, you will need to cut your filters to fit so there is no overlap.  This can be done with a quick measurement and a snip of the scissors.  Continue to glue and stack your coffee filters.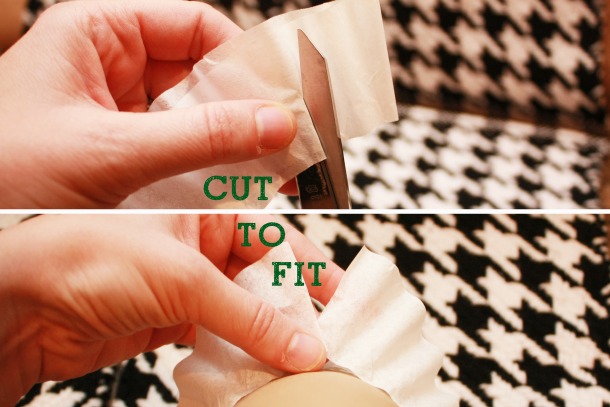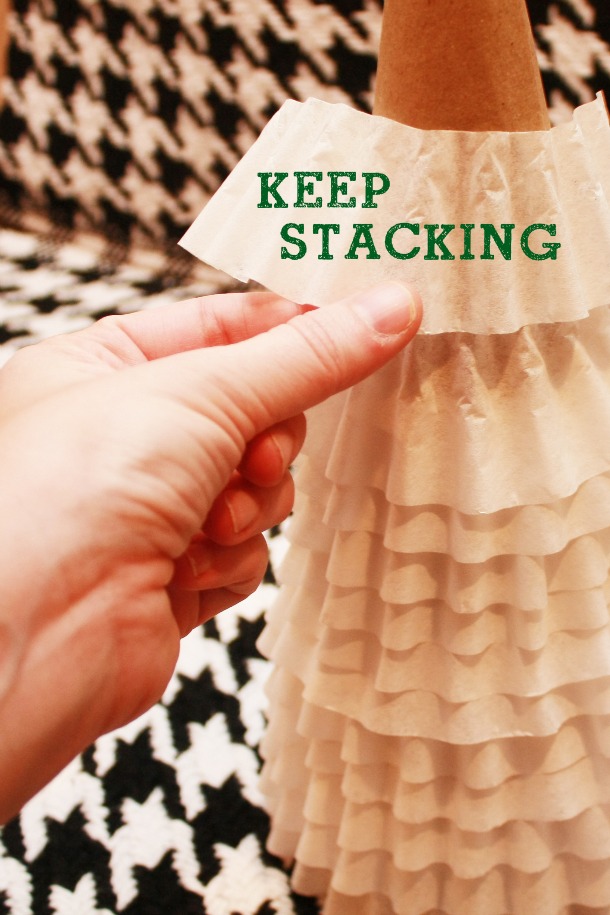 Once you hit the top of the cone form, you can leave it as it is, or add a star.  I created my star with a bit of cardstock and glitter. It's the perfect finishing touch!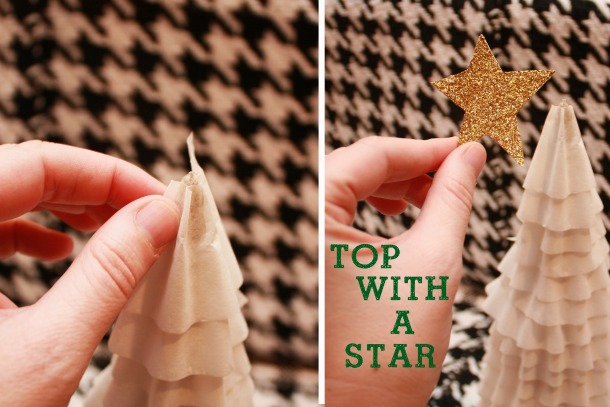 A DIY coffee filter ruffle tree is the perfect accent to a corner, fireplace, or mantle.  They are a great way to add a bit of charm to a dinner table and are so quick and easy, you could whip up a few for your next Christmas party!  Can you imagine the delight of a whole ruffle tree forest?
Enchanting!
Feeling Inspired? Keep Reading!
If you enjoyed this post on easy to make DIY Christmas decorations, keep reading. We have more! You can also find holiday inspiration over on our Sleigh Bells Ring Pinterest Board.