This post may contain affiliate links which may give us a commission at no additional cost to you. As an Amazon Associate we earn from qualifying purchases.
Is organizing your home one of your New Year's resolutions this year?  Get a jump start by creating a DIY Shopping Bag Holder.  You can create an easy solution with just a few simple supplies, and the best part… it's adorable!  You can customize your DIY Shopping Bag Holder to fit your own personal décor.  It's a quick fix that anyone can create, and it's made with objects that you can find around your home! If you are looking for ways to get organized this year, keep reading!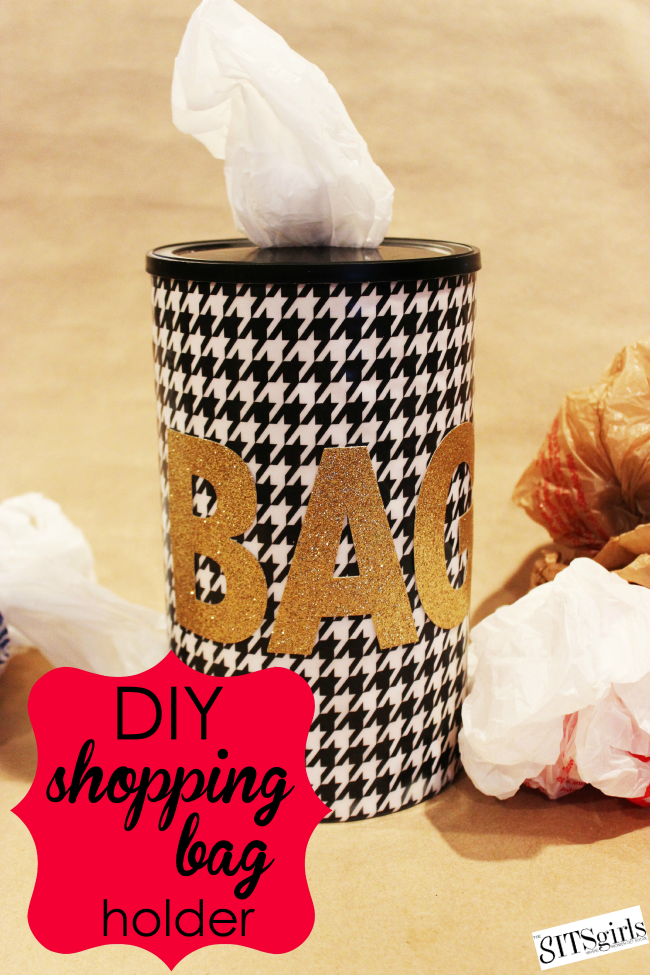 To begin this project, gather these supplies.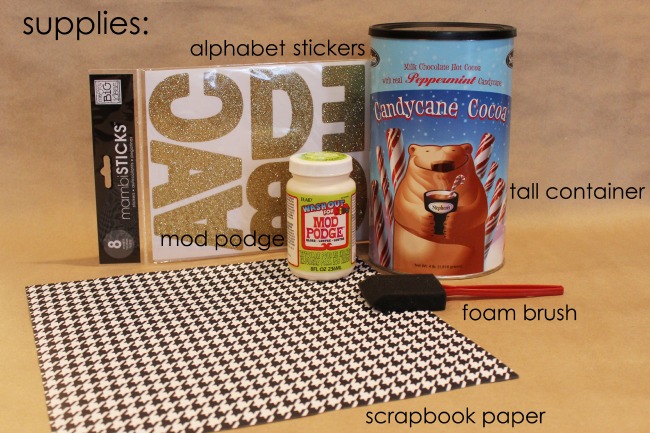 To begin, prep your storage container.  I used an old hot cocoa container with a paper wrapper on the outside.  First, I wiped out the cocoa residue and made sure the container was clean.  Then, I removed the outside wrapper so that I could adhere my decorative paper easily.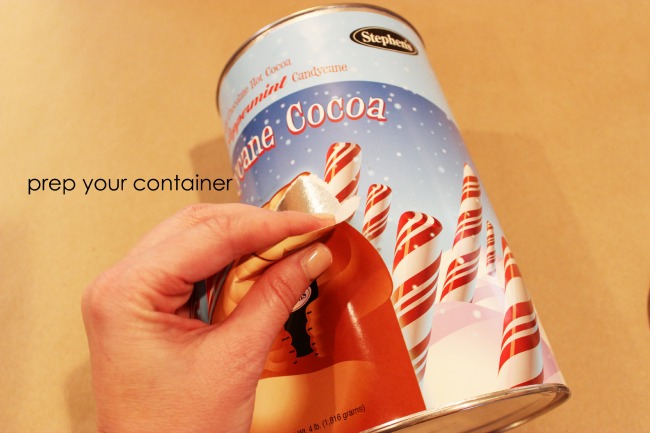 Next, cover your entire container with Mod Podge.  Make sure that you get a nice, even coat.
Wrap your container with your decorative paper.  Make sure that your seams match up and that you press out any air bubbles.  Smooth out wrinkles or bumps.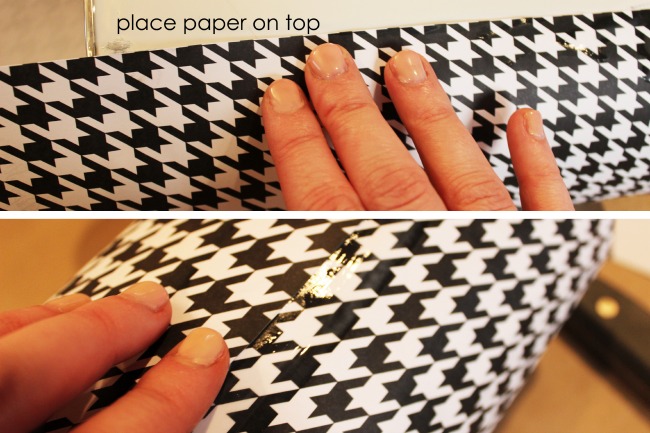 Next, trim your access paper using scissors or a knife.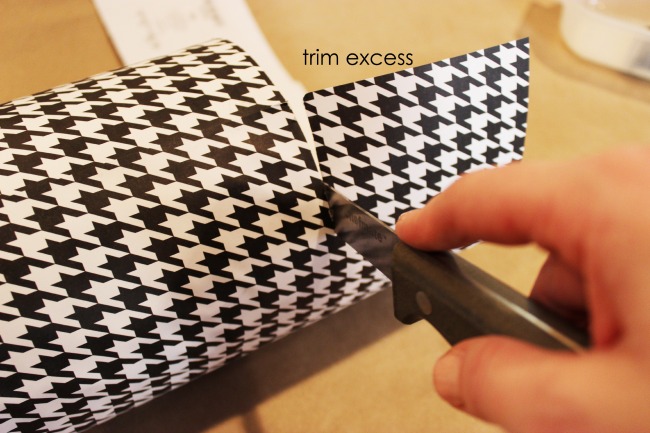 To thoroughly protect your paper, add a top coat of Mod Podge.  Make sure that it's even and not too thick.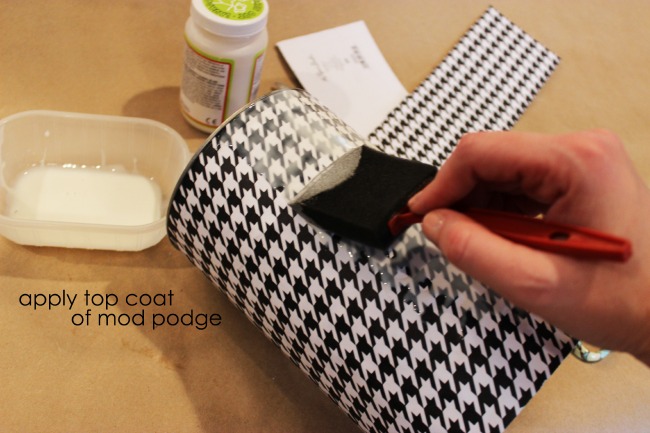 Allow time for your Mod Podge to dry.  This will take a while.  Put your container in a safe place where it won't be disturbed.  I sped up this process by using a hair dryer.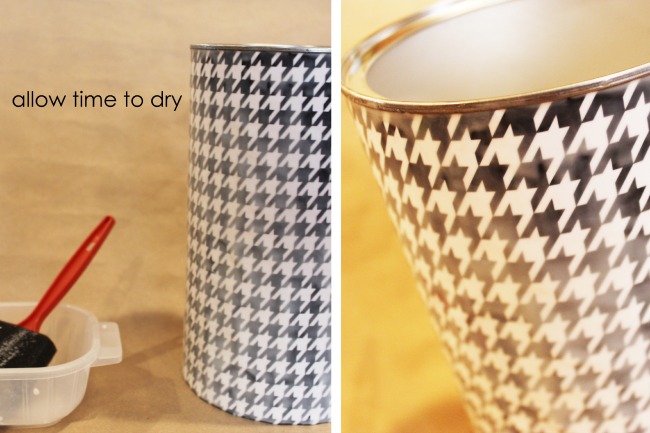 While your container is drying, you can cut the slit in the lid so you can remove the bags easily.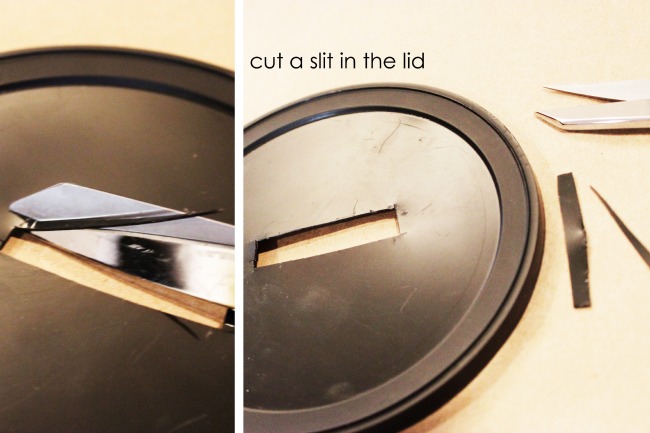 After your container is dry, you can apply your letter stickers.   I found these adorable glittery ones at Hobby Lobby and used them to spell out the word "BAGS" on the front of my container.  This is where you can let your creativity run wild!
Last, fill it up!  Clean out all those plastic shopping bags from under your sink and stuff them inside.  You will be surprised by how many can fit in that tiny little container!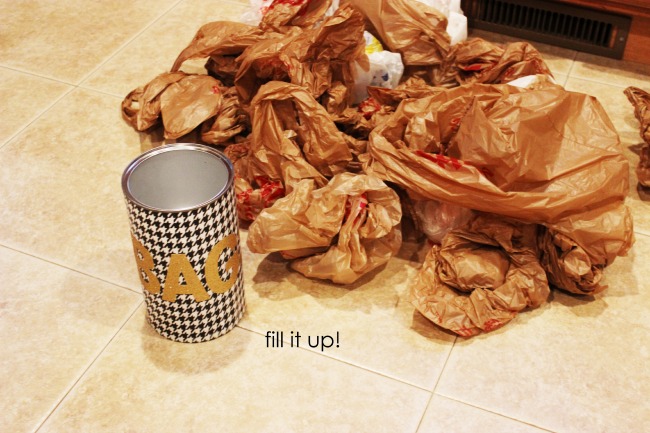 That's it!  Find a great little spot to keep your DIY Shopping Bag Holder handy and useable!  It's so cute, you can leave it out on the counter too!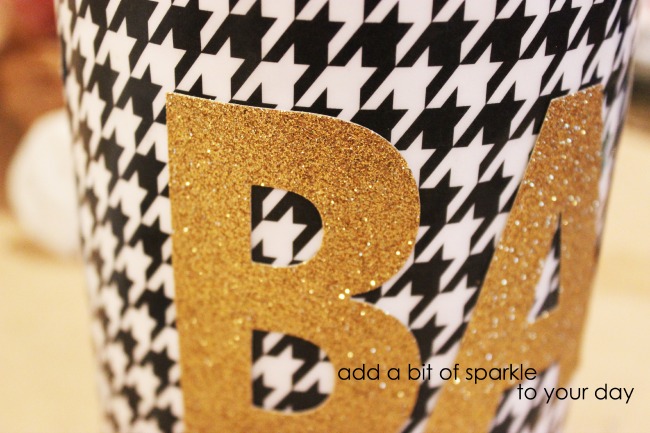 Recycled, creative, and fashionable!
FEELING INSPIRED? KEEP READING!
If you enjoyed this post on making a shopping bag container, keep reading. We have more! You can also find more DIY tutorials over on our Pinterest boards.