This post may contain affiliate links which may give us a commission at no additional cost to you. As an Amazon Associate we earn from qualifying purchases.
Just because you are decorating for Halloween, does not mean you have to go gaudy, tacky, and over the top! Halloween decorations can be simple, elegant, and sophisticated as well! DIY silhouette pumpkins are a simple way to add a little class to the fall season. Incorporating silhouette's into you pumpkin craft ideas is a lot of fun! Using silhouette art is a creative way to give your pumpkins a little personality.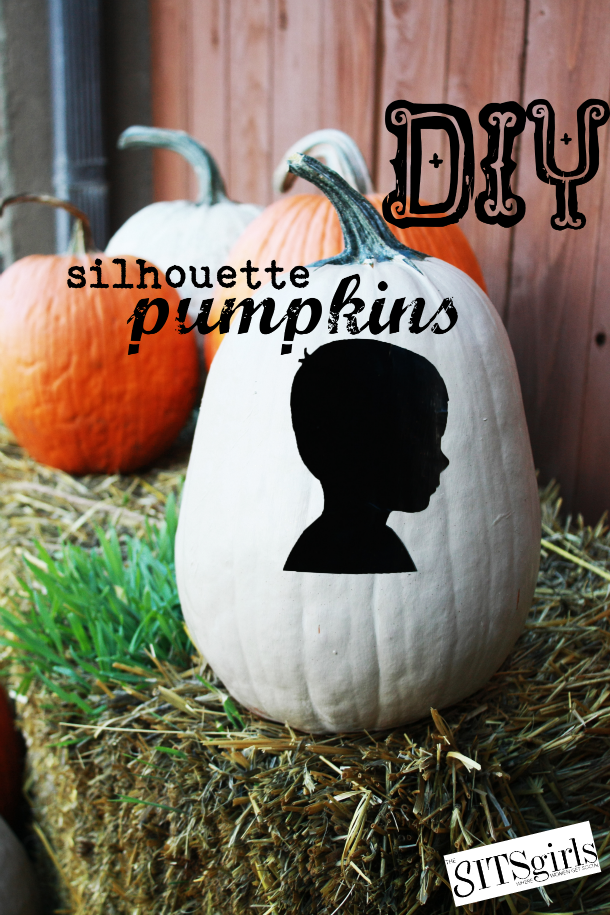 DIY Silhouette Art Pumpkins
Don't be intimated by how amazing these DIY silhouette art pumpkins look, they are as easy as pie! Just gather these simple supplies and follow along!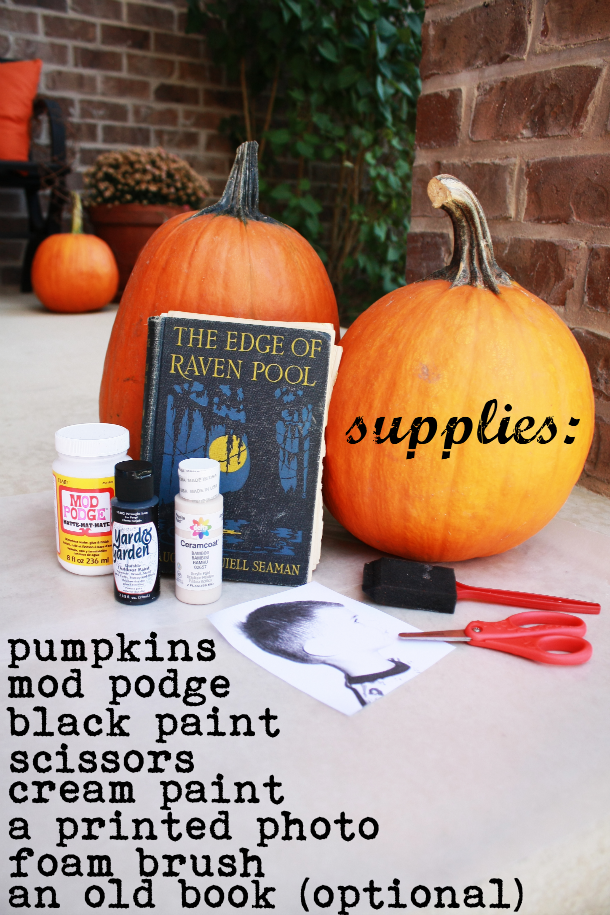 DIY silhouette pumpkins can be made with a non-painted pumpkin, a painted pumpkin, or a decoupage pumpkin. In this tutorial, I go over how to create a painted silhouette pumpkin, and then I'll show you how to make a decoupage pumpkin, in case you want to go that route.
1. To begin, you will need a profile photo that is printed on plain paper. I printed out my photo pretty light, to conserve ink. Carefully cut out your photo, taking care around the facial features!
2. Next, paint your cut out photo black. Allow time to dry.
3. Paint your pumpkin. It took me two coats to completely cover my pumpkin. You can use any color you want, I used cream. Allow time to dry.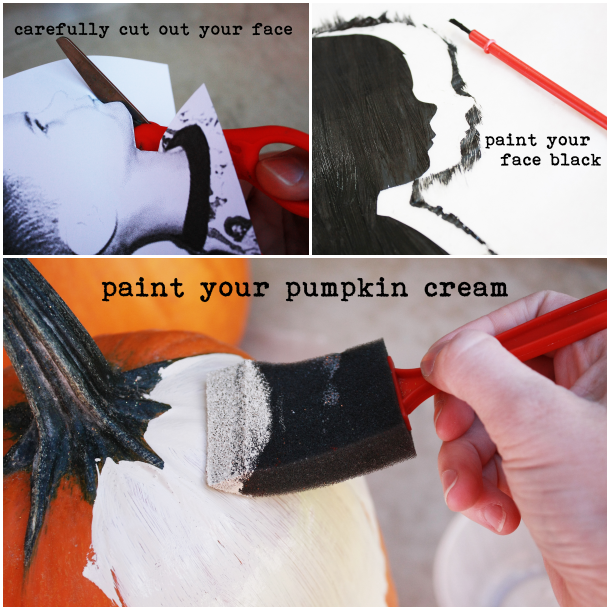 4. Apply the Mod Podge to your pumpkin, in an area wide enough to accommodate your silhouette. Stick your silhouette on your pumpkin, painted side out.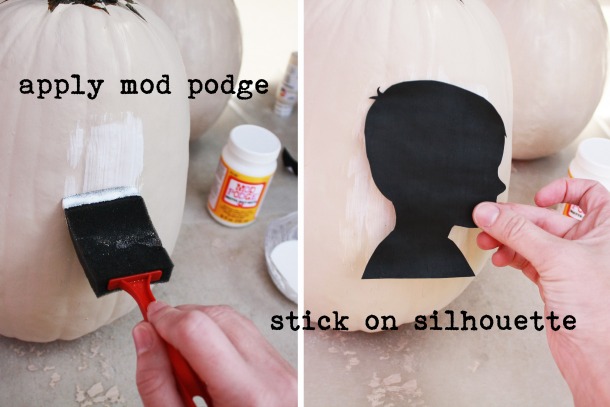 5. Make sure your silhouette is centered, and press down. Apply generous amount of Mod Podge on top of the silhouette.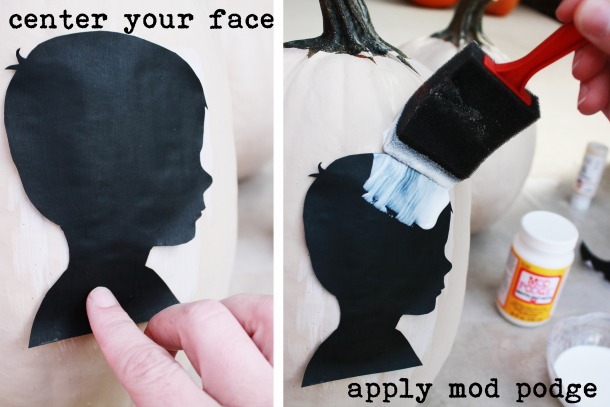 6. Allow adequate time for Mod Podge to saturate your silhouette, and then press out any air bubbles that might be hiding underneath.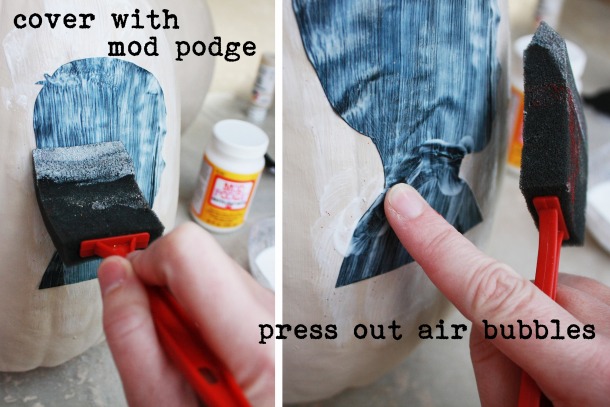 7. To complete your pumpkin, cover completely in a thin layer of Mod Podge. Allow time to dry.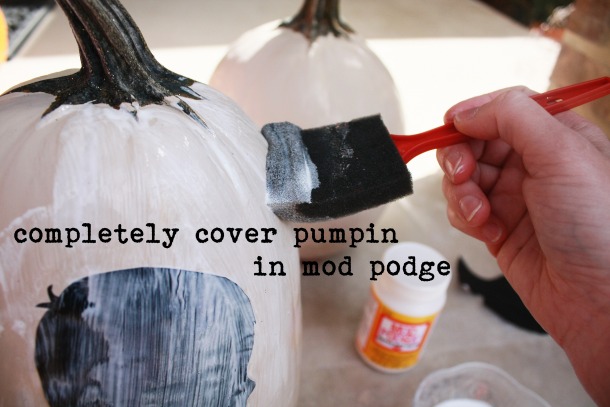 If you want to put your silhouette on top of a decoupage pumpkin base, follow these easy steps. A decoupage pumpkin looks amazing as is as well!
First, rip up book pages, and apply Mod Podge to your pumpkin.
Begin by placing a piece of your book page on top of the Mod Podge and covering with more Mod Podge.
Repeat with more book pages until your pumpkin is completely covered!
Allow time to dry and then complete steps 4-7 above.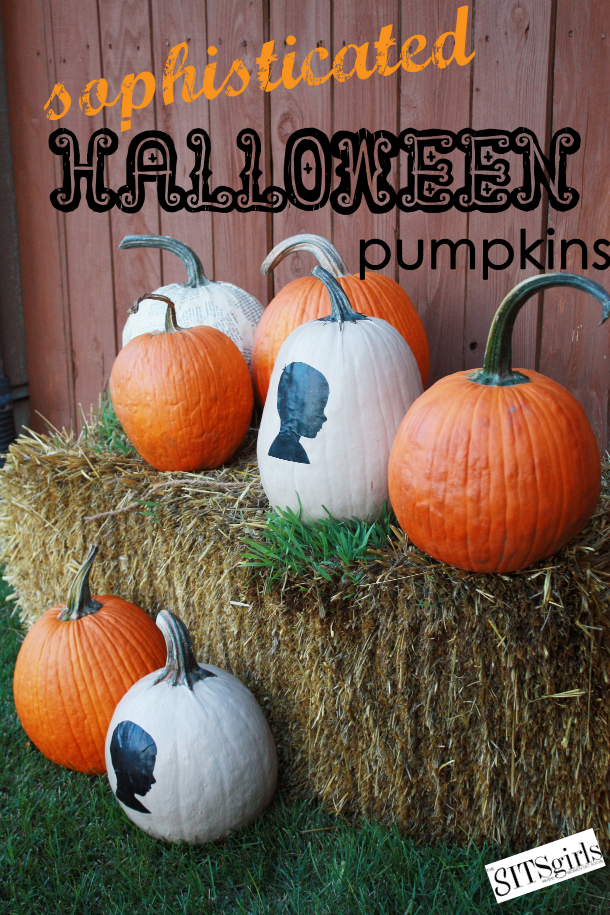 DIY silhouette art pumpkins are a festive way to celebrate Halloween! They jazz up any décor, and add a creepy touch of spooky sophistication! Mix a few in with some regular pumpkins and your decorating is complete.
Enjoyed Our Pumpkin Decorating Ideas? Keep Reading!
If you enjoyed this post on Halloween decoration ideas, then keep reading! We have more! You can also head over to our Hocus Pocus board on Pinterest for more inspiration.