This post may contain affiliate links which may give us a commission at no additional cost to you. As an Amazon Associate we earn from qualifying purchases.
Are you looking for the Valentine Day craft?  A pop of colorful DIY string art adds the perfect touch for any décor!  Use your hammering skills to turn a plain old piece of wood and some nails into an artistic masterpiece!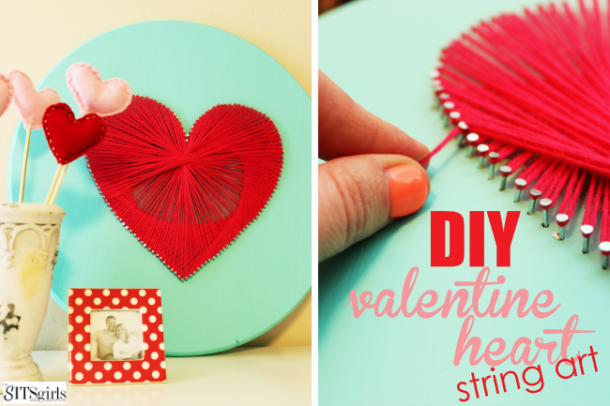 Valentines Day Ideas
Valentine's Day is the perfect opportunity to usher a bit of color into your home.  DIY string art is an easy way to brighten up your space and surrender to the vibrancy of the season of love.
To make your own DIY string art, gather these materials.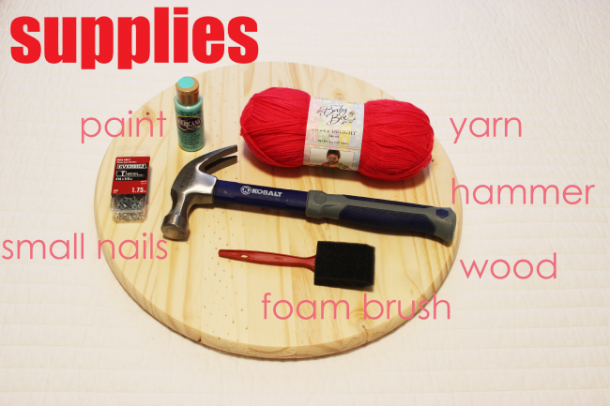 a piece of wood (I found a circle piece with a finished edge at Home Depot for $7)
craft paint (You can choose any color you wish!)
small nails (I used size #18, which is listed as 5/8 inch)
yarn (any color will do, you could also use embroidery floss)
a foam brush
a hammer
To begin, prep your wood with a fresh coat of paint.  You could also stain your wood, or skip this step all together if you are going for a more natural look.  I choose a vibrant sea foam green paint that would make my hot pink yarn pop!  You may need a few layers of paint to completely coat your wood.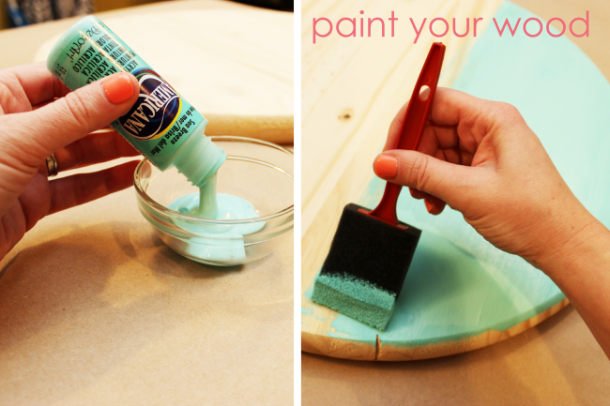 Next, allow your wood to dry completely before you do anything else!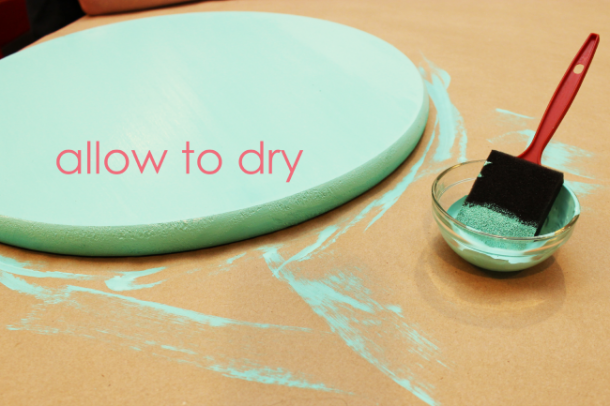 While your paint is drying, create a heart template to use as a guide.  I used my computer to print out half of a heart and then I traced the other half to make sure it was big enough for my board.  Once your paint is dry, position your template and tape it down using a painters tape or other removable tape that won't pull up your paint.  I used some washi tape.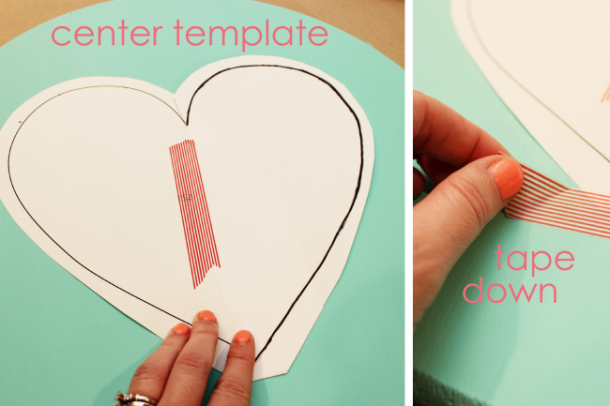 Using a ruler, measure out where you are going to hammer in your nails.  You can space them as far apart or as close together as you like.  I measured out 1/4  inch between my nails and marked each on my template.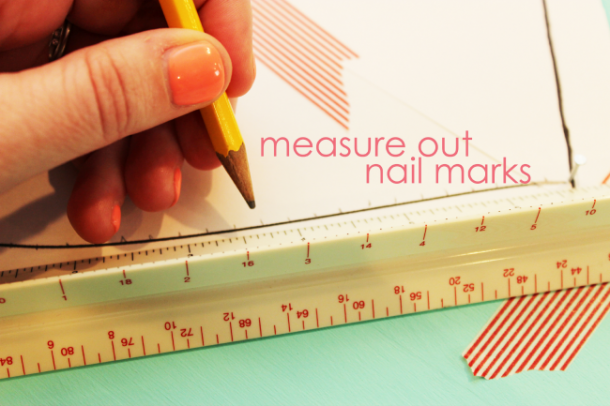 Let the fun begin!  Using your hammer, gently tap your nails into place.  You don't want to send your nail all the way down into the wood!  Leave about ½ of your nail up and out of the wood, enough to loop your yarn on.  Try to keep your nails as straight as possible.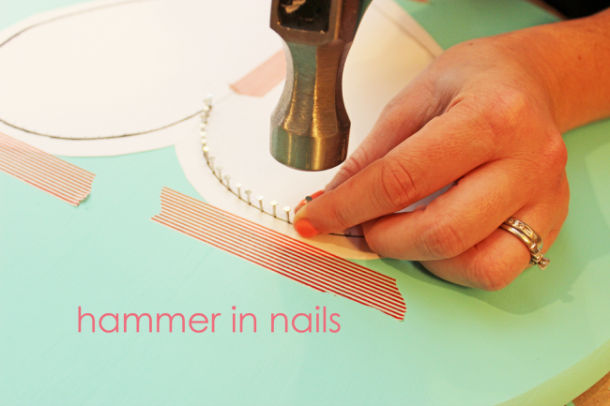 Next, rip your paper template off of your board to reveal your beautifully crafted nail design!  Make sure all of the bits of paper are carefully removed from around your nails.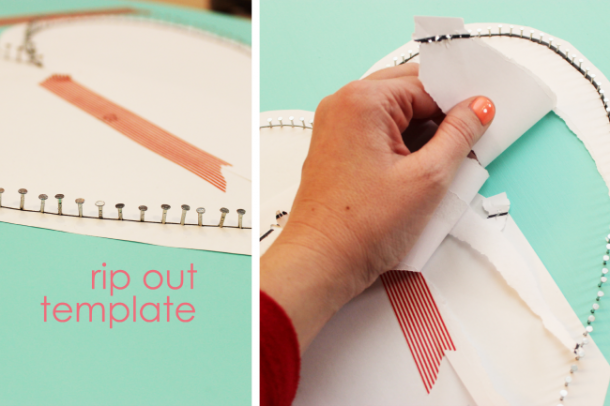 To begin your string art process, tie your yarn to the middle nail in your heart.  Don't worry about the tail of yarn that hangs down into your heart, it will be covered and unnoticeable.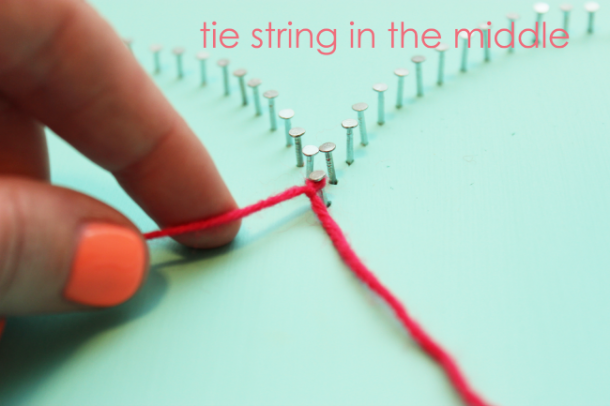 Begin by pulling your yarn directly across the side of your heart and loop on a nail. (see figure 1. below) Then, pull your yarn back across to your starting point and loop around the nail directly above the nail you started on.  (see figure 2. below)  Next, pull your yarn back across your heart and loop it around the nail directly below the last.  (see figure 3. below)  Keep this process going,  pulling your yarn across and following your looping pattern. (Pull across, loop above, pull across, loop below, etc…)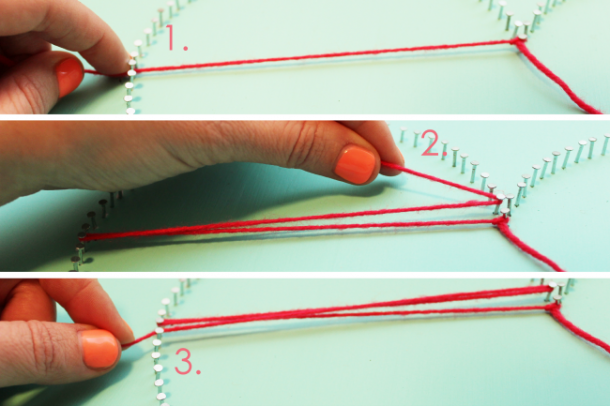 Your string art builds as your keep your pattern going.  Take care to not skip any nails.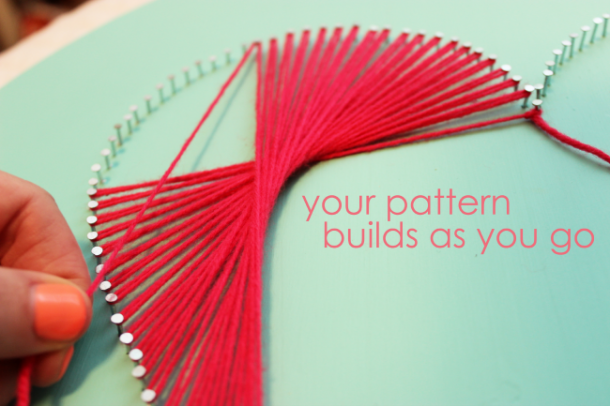 Once you hit the other side of your heart design (see point X on the photo below) and you make your last loop around where your started (see point a on the photo below) you must pull your yarn completely across your heart and begin to loop on the other side of the heart. (see point b on the photo below)  If you follow the nails back up the heart (see the no! on the photo below) your heart shape will turn into a triangle and you will lose your design.  Keep pulling your yarn across your heart (see point c on the photo below) and keep your looping process going.  You will make your way around your heart a second time.  Keep going!  This is part of the process!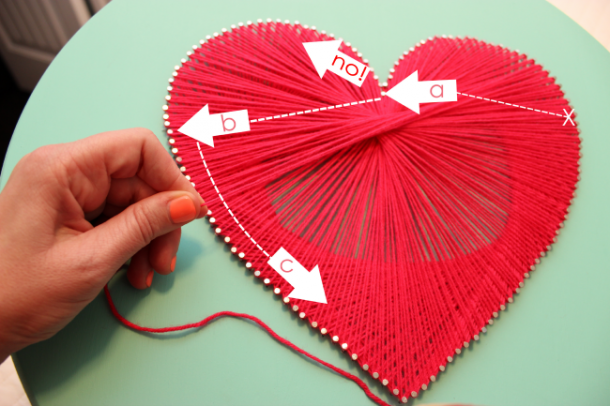 At the completion of your looping, double knot your yarn around the last nail and tuck the loose end into the yarn.  It will disappear.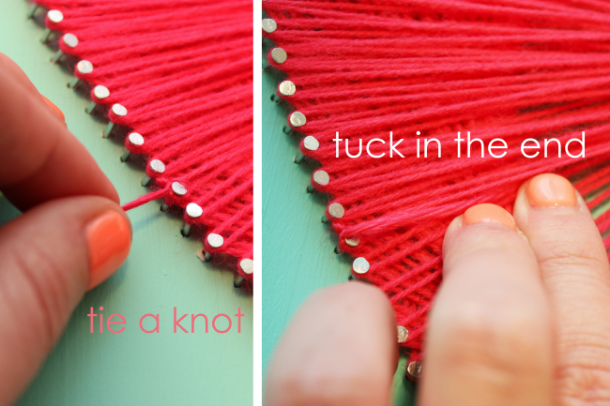 You can display your DIY string art anywhere!  Attach a metal frame hook and hang it on the wall, prop it on a shelf, or display it next to some Valentine themed décor.  It's the perfect addition to sweeten up any room!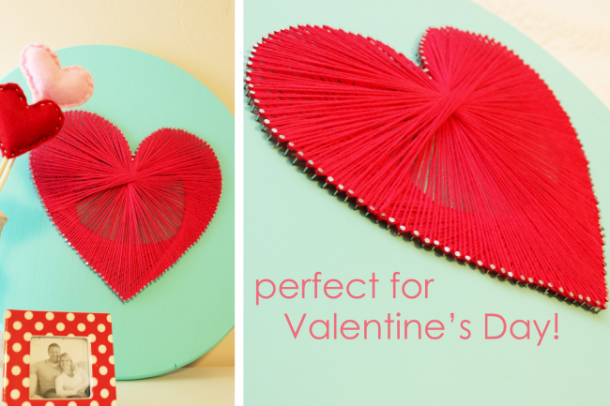 FEELING INSPIRED? KEEP READING!
If you enjoyed this post on valentine string art, keep reading. We have more! You can also find more DIY tutorials over on our Pinterest boards.