This post may contain affiliate links which may give us a commission at no additional cost to you. As an Amazon Associate we earn from qualifying purchases.
Halloween is the perfect time to break out the dry ice smoke. If you are not familiar with dry ice, it is actually available to buy by the pound at most grocery stores. I love experimenting with it. You buy it by the pound and then break off little chunks as needed. When dry ice is submerged in liquid, it creates a fabulous smoke effect. I have made spooky Halloween punch with it, but this time I was looking for something fun to do with my kids. I created an Dry Ice Smoke Puffs using everyday items found in the home!
Dry Ice Smoke Puffs
Materials:
Plastic wrap
Plastic disposable drinking cup
scissors
rubberband
pen
quarter
Hot water
dry ice
How To Create Dry Ice Smoke Puffs
The best part about this fun DIY is that you probably already have all the materials in your house. Before you get started, make sure that when you are handling dry ice you use gloves or something to protect your hands. Dry ice should not be touched with your bare hands.
The first step is to trace the shape of your quarter on the bottom of the plastic cup. Next, cut around the lines to create a hole in the bottom.
Take a large piece of plastic wrap and fold it several times to create a thicker layer. Cut it so that it is about the size of the mouth of the cup. Using a rubber band, secure the plastic wrap tightly around the cup. Make sure this is very tight, you will be pouring water in it, so you want it to be leak proof.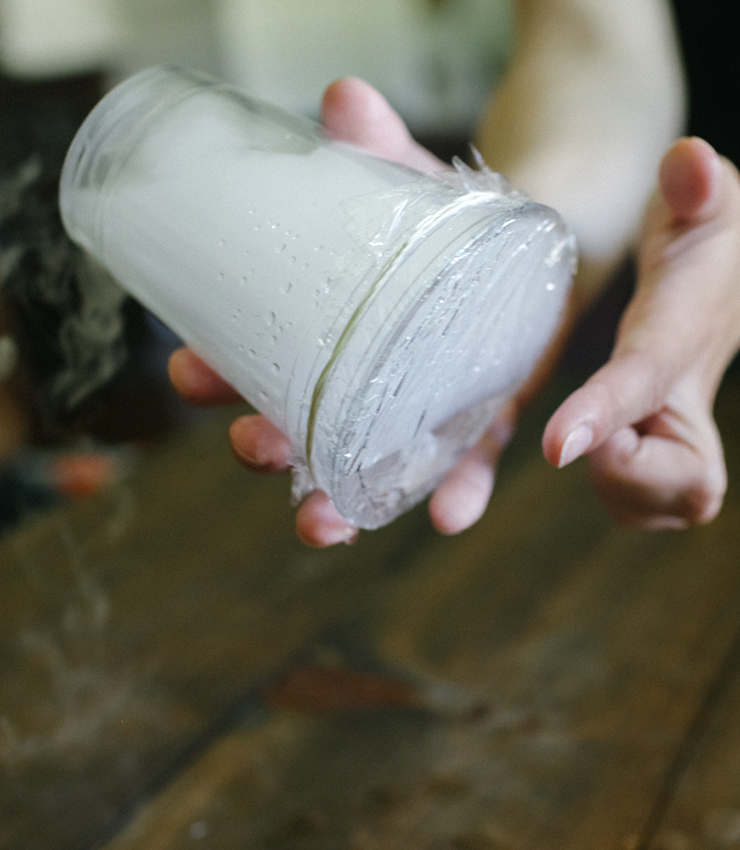 Take a chunk of the dry ice and place it through the hole that you cut using the quarter as your guide. Now you are ready to pour the hot water!
Slowly pour about 1/4 cup of hot water over the dry ice. When you see smoke, tip the cup to a slight angle and use your finger to tap gently in the center of the plastic wrap. A ring of dry ice smoke should puff out!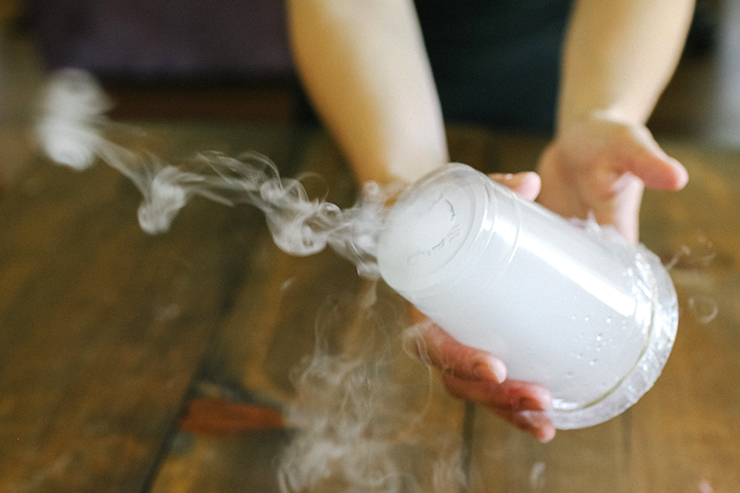 A fun thing to do is to tap the plastic wrap to a rhythm. The puffs will come out in various shapes and sizes and it is so delightful for kids to watch! If the smoke begins to dissipate simply add another dry ice chunk and some more hot water! It is so simple and fun. You can even create two and kids can blast each other with the ice smoke puffs!