This post may contain affiliate links which may give us a commission at no additional cost to you. As an Amazon Associate we earn from qualifying purchases.
Are you looking for a fun Hanukkah craft? Flameless Menorah Candles are the best way to get the kids crafting for Hanukkah. Let them make their own candles and "light" them safely. Their menorah can stay lit all night, and you can have piece of mind knowing it is 100 percent kid friendly!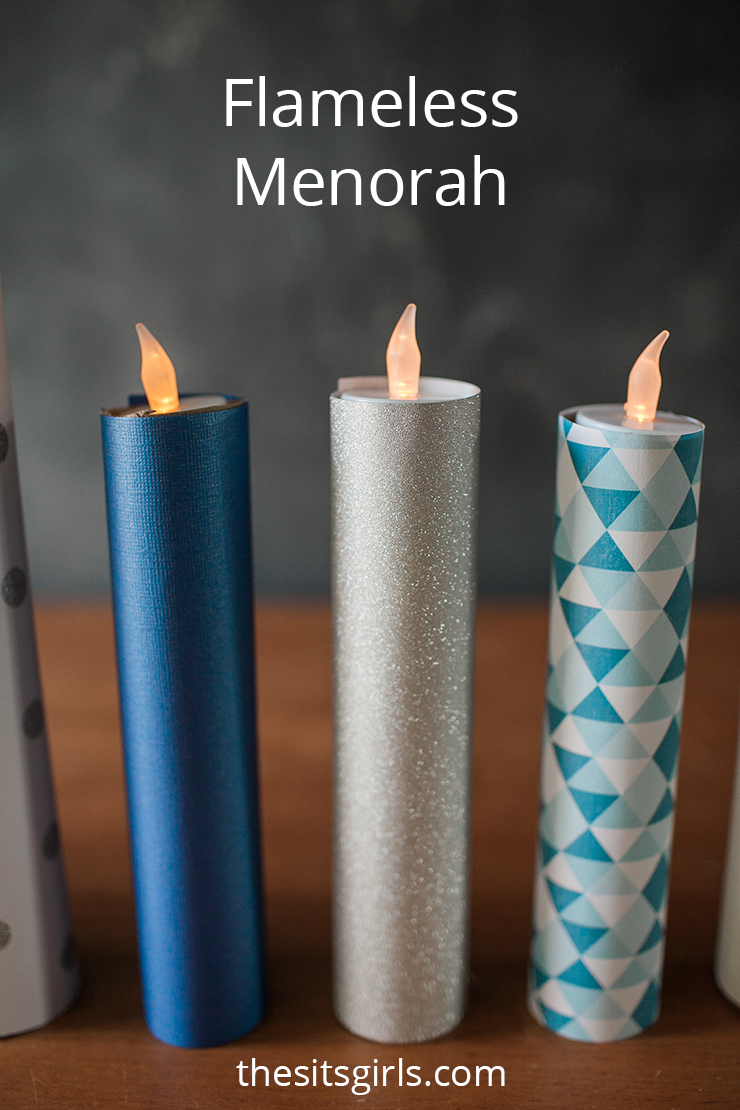 Flameless Menorah Candles
Flameless Menorah Candles Materials:
note: this post contains an affiliate link which gives us a commission at no additional cost to you
Toilet Paper Rolls
Glue
Craft Paper
Scissors
Flameless Menorah Candles Video Tutorial
How To Make Flameless Menorah Candles
I chose a mix of patterns, glittered, and solid paper for my flameless menorah candles. I think it is fun to mix it up, and make the patterns a little bit more modern.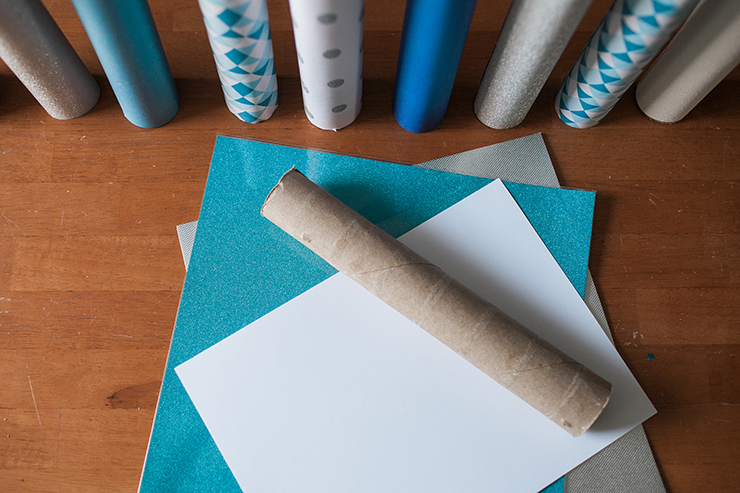 There are 9 candles on the Menorah. The middle candle is the tallest and used to light the outer candles.  In order to achieve the height difference when using paper towel rolls, just cut 8 of the rolls down about an inch or two.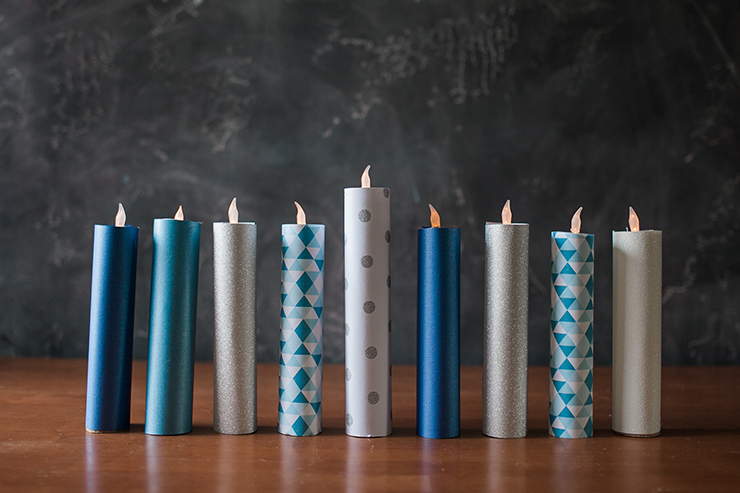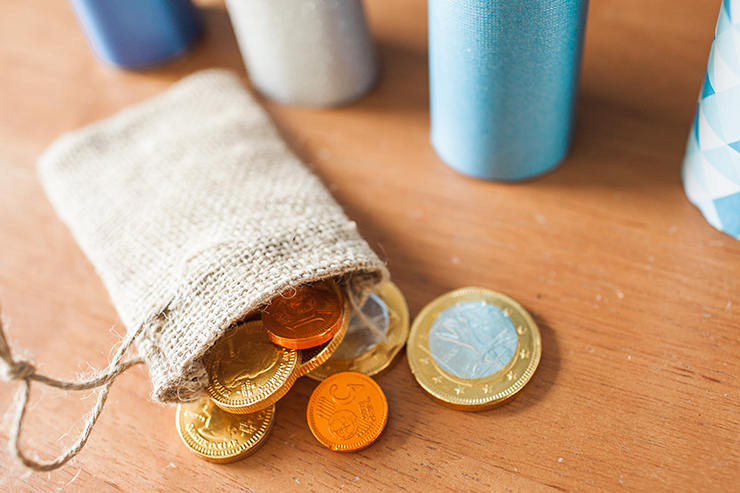 The method to make the candles is super simple! Wrap the candles in the paper, and secure it with glue. Once they are wrapped, the only other step you need to do is the create a little "cradle" for the candle to sit on. In order to make this, I roughly cut a 2 long strip of paper and glued it in to the inside of the candle.
This does not need to me measured, or look pretty. It just needs to be functional and able to hold the candle. Make sure where you glue the strip of paper it is close enough to the surface so that the candle "flame" peaks above the top of the paper towel roll.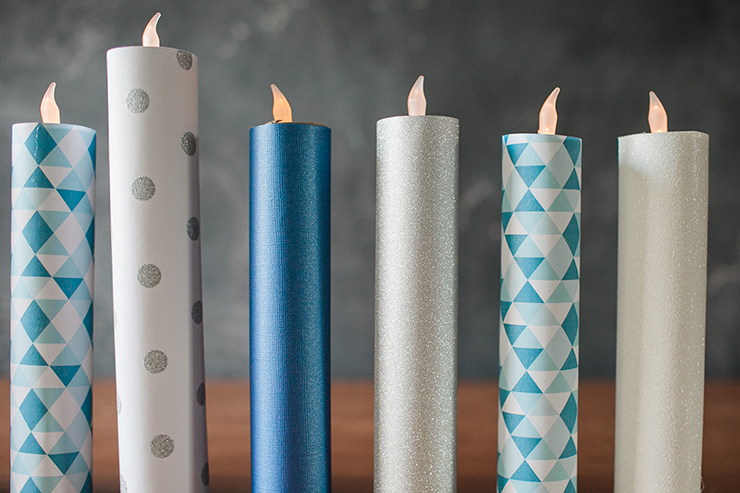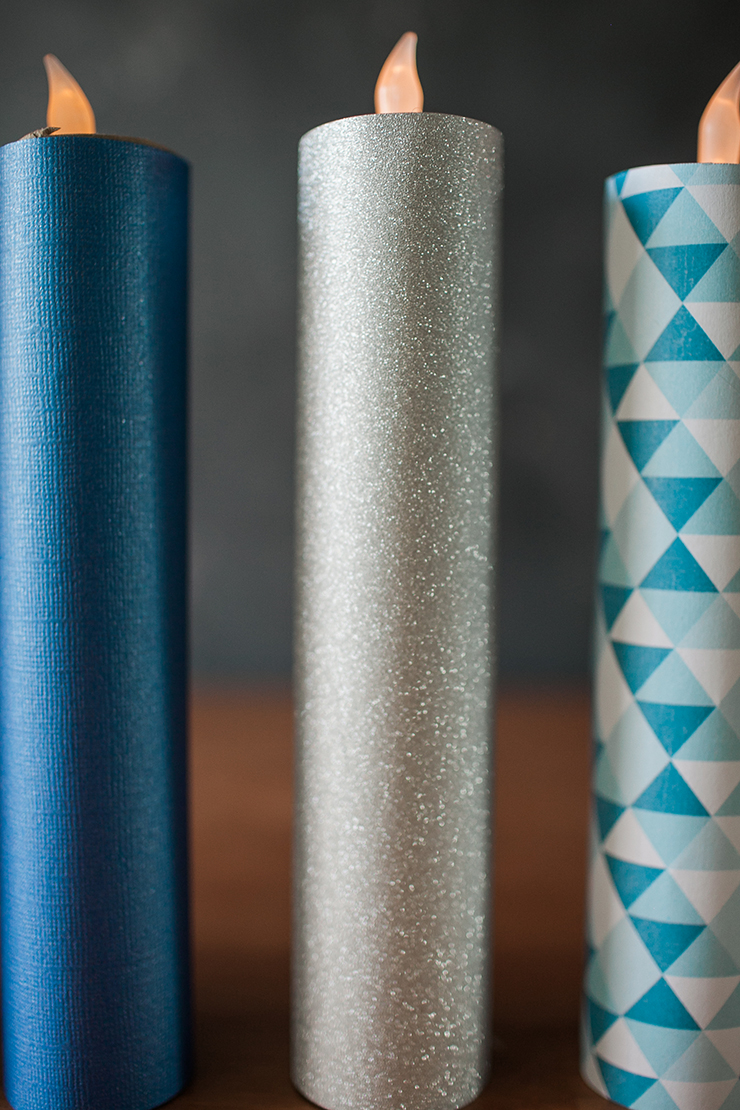 Now you are ready to light your candles! Kids can simply flip the switch to light each candle throughout Hanukkah. Since they are flameless they can leave their candles burning all night and day during the Hanukkah season!
Save your flameless menorah candles to reuse next year, and enjoy them again!