This post may contain affiliate links which may give us a commission at no additional cost to you. As an Amazon Associate we earn from qualifying purchases.
Fortune cookies are not only look cute, they are also one of many easy projects with fabric. What's more, they are a creative way to deliver a very important message to someone special!
Fortune Cookies: Fun Projects with Fabric
As if Valentine's Day (or any other reason to write a cute little love note) couldn't get any better, I've kicked it up a notch! I've used these for cookies for a wedding, birthday cards, teacher gifts, get well care packages, and now Valentine's Day!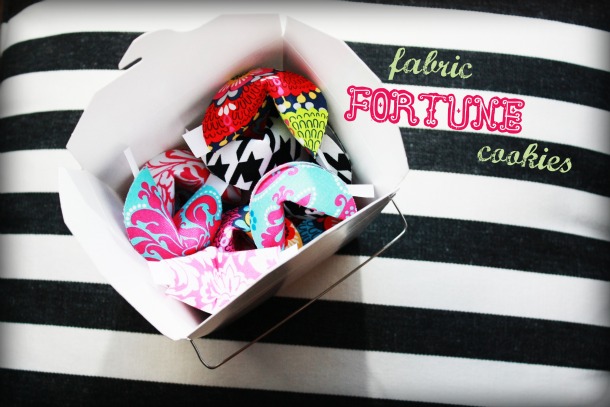 The best part about these lovely little fabric fortune cookies is that you don't need a sewing machine! I'm giddy just talking about it! You will need to collect the following supplies to complete your craft.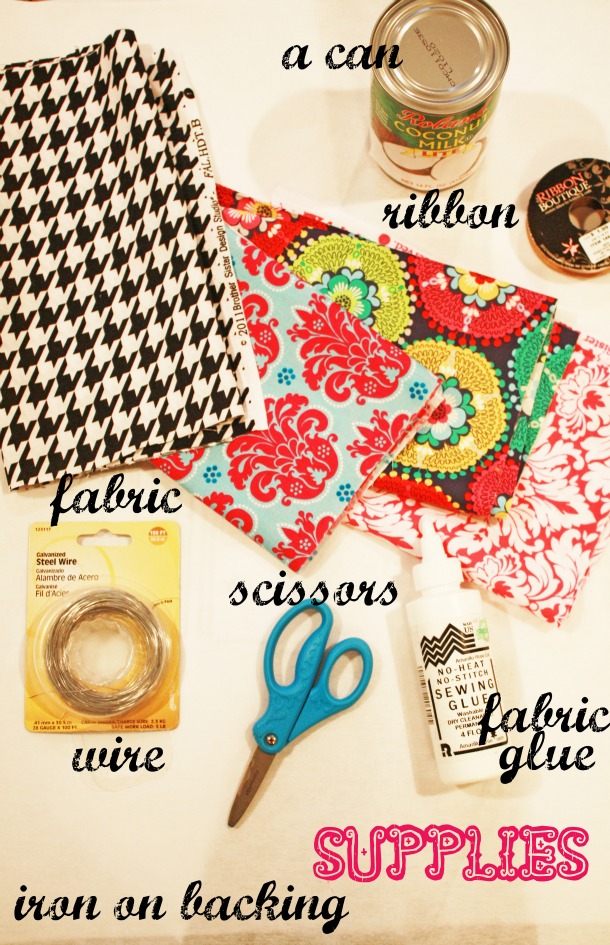 For my project, I picked 4 different fabrics and had them cut ¼ yard of each. I also purchased a yard of iron on fabric backing. If you are using a very stiff fabric (such as felt) you could probably skip this step, otherwise iron on fabric backing can be found at most fabric and craft shops. I got mine at Hobby Lobby for $4.99 a yard. The wire you use should be relatively thick, if it is too thin it won't work.
To help complete my fabric fortune cookies, I also invited my amazing friend Karlie over to craft with me! She is a school teacher and thought it would be fun to make a fabric fortune cookie for each of her students.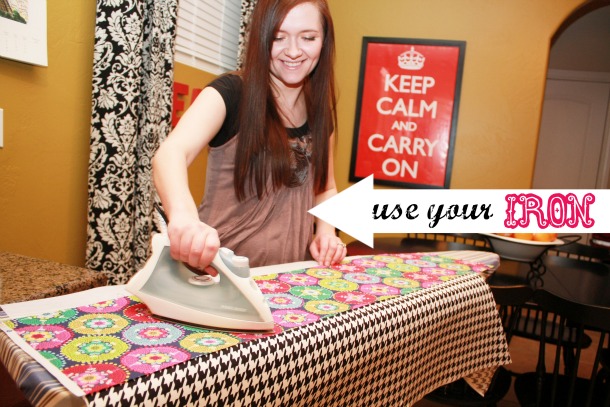 To begin, Karlie irons the fabric and backing together. Every brand of backing is a little bit different. Make sure you follow the directions that are specific to your particular brand of backing.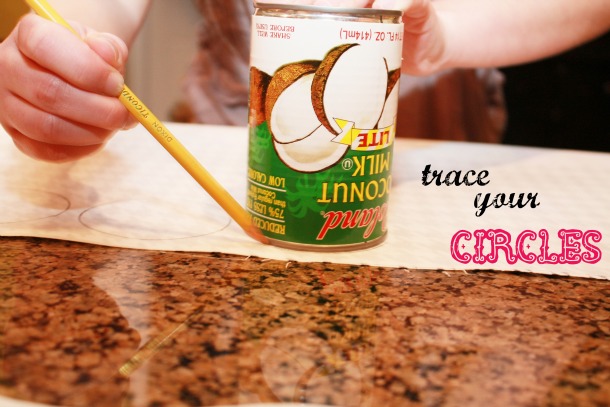 After all of your backing has adhered sufficiently to your fabric (you can do a little tug test and see if they have bonded well) use a standard size food can to trace your circles. We used a 14 oz can of coconut milk.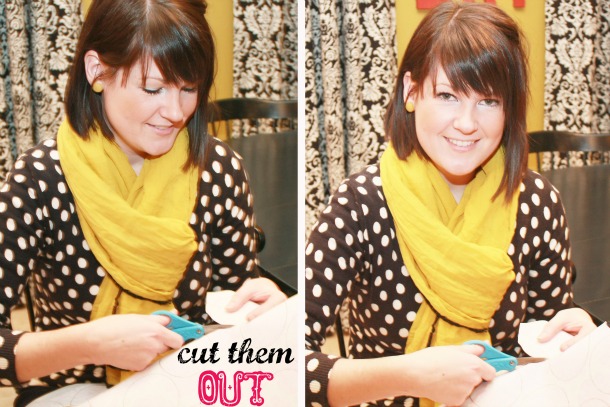 Next, get out your scissors! It may seem a bit tedious to cut out all of your circles, but if you have a crafting buddy the time will fly by!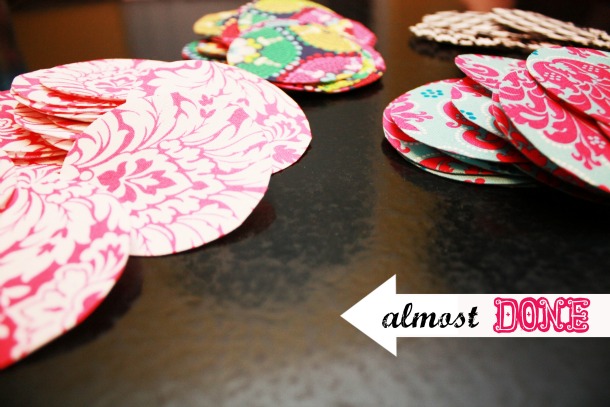 Once your circles are cut, it's time for the fun part! Get your fabric glue, wire, and ribbon ready.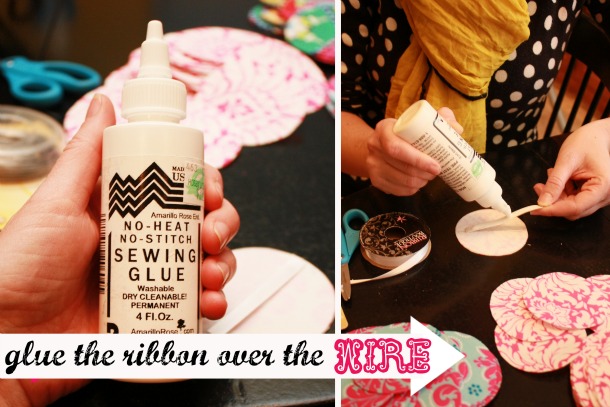 Cut a piece of wire that is slightly smaller than the diameter of your circle. Cut a piece of ribbon that is slightly longer than the wire, but does not escape the edges of the circle. Place your wire on the backing side of your circle. Apply glue to one side of the ribbon, and press on top of the wire. Allow time to dry.
After the glue has all dried, you are ready to fold! Are you ready for this? Pay attention!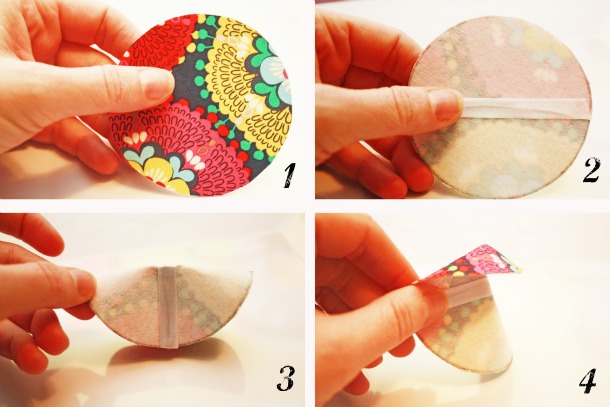 Take a circle, and flip to the wire side up. Fold the circle in half with the wire pinched in the middle. You will now have a half circle shape held in place with the wire. Take one side of your half circle and pull up and around the wire, do that on both sides so that the wire is completely covered and the shape looks like a fortune cookie! A fabric fortune cookie!
Now comes the fun part! Time to write your fortunes! Make your fortunes specific to the person the fabric fortune cookies are for. You can find ideas for fortunes all over the internet. I like to type up my fortunes and print them out for a more authentic fortune cookie appearance. But, a handwritten fortune would be quite special as well! The fortunes can be folded with the cookie, or carefully slipped in after the cookie is folded. You could also fill your fabric fortune cookies with confetti or small candies.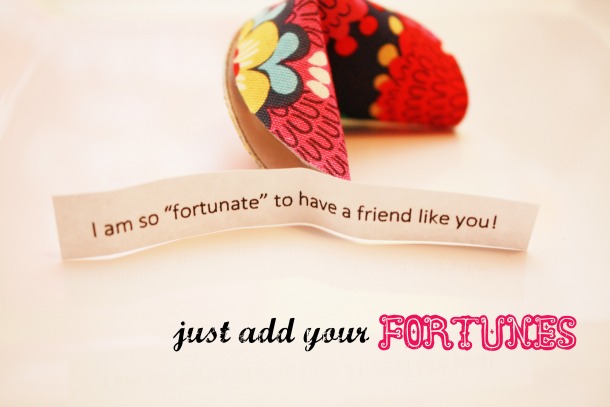 A standard white Chinese food takeout box is the perfect display for my fabric fortune cookies. They can be found at craft shops, gourmet food shops, or restaurant supply stores.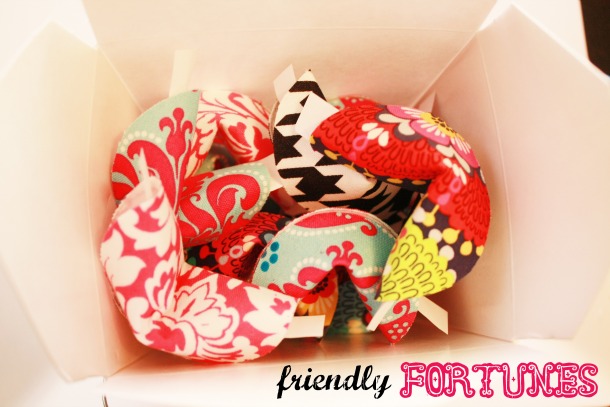 The recipient of a special box of fabric fortune cookies will be more than delighted as they delve into each cookie and read their unique and customized fortunes. They are easy to make and perfect for Valentine's Day, or any day!
More Fun Projects for Valentine's Day