This post may contain affiliate links which may give us a commission at no additional cost to you. As an Amazon Associate we earn from qualifying purchases.
I love the idea of having my two little ones in coordinating costumes. Something that is easy, cheap, and will be adorably cute! Last year I had my heart set on Pebbles and Bam Bam from the Flintstones. Bam Bam is minimally clad, though, and I didn't think my four year old son would be pleased Trick or Treating in basically a furry diaper, so I turned my little ones into Fred and Wilma Flintstone! The Flintstones is a classic cartoon, so if your kids haven't seen it yet, this is a great time to introduce them to these fun characcters.
These adorable homemade Flintstone Halloween costumes are made from felt fabric, and cost a whopping $5 each, so this year you can make the most awesome Fred and Wilma Flintstone costumes for your gruesome twosome!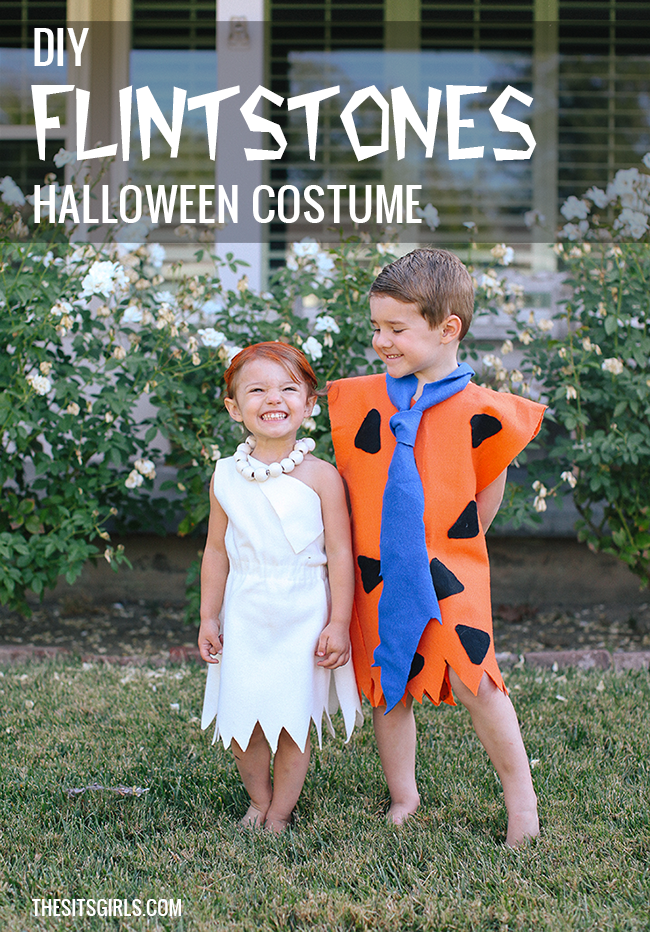 DIY Fred And Wilma Flintstone Costume
Materials for both costumes:
One yard of orange felt
A quarter yard of black felt
A quarter yard of blue felt or any other thick material
A yard of white felt or thick fleece (basically a stiffer fabric than cotton)
Some Large round beads (white if you can find them)
A cord
White spray paint (if you have white beads for Wilma's necklace no need for this)
Orange hair spray (optional, but I loved it for my Wilma)
DIY Fred Flintstone Costume
I tried to keep it simple when I made Fred Flintstone's rockin' tunic outfit. I just recently started sewing, and completed this, so you can do it, too! My son is only 4, so he is not very tall. A woman's medium t-shirt comes about down to his ankles, and is the perfect bagginess to make a tunic that would fit him. I pulled out one of my t-shirts, rolled up the sleeves, and laid it on the felt.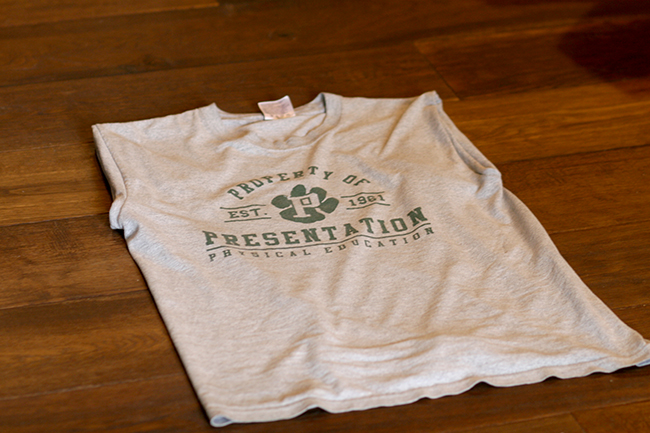 I simply traced around it with pencil, and then cut it out. I repeated that same method to get the piece for the back panel.
Next, sew the two panels together at the top by the shoulder and down the sides. Don't be intimidated! Sewing a straight seam is a piece of cake.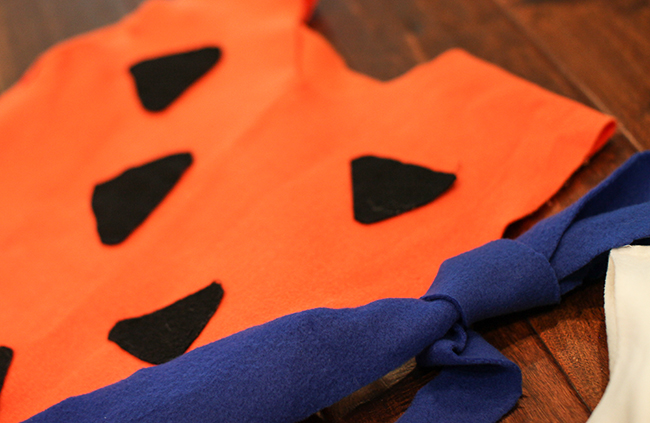 At this point I tried the costume on my little guy to see how long it was. Since it was the perfect length I laid it out and cut the jagged edge bottom, and the added more of a V to the neck.
Tip: When cutting felt make sure the scissors you are using are extra sharp, so they can cut through the thick density of the felt.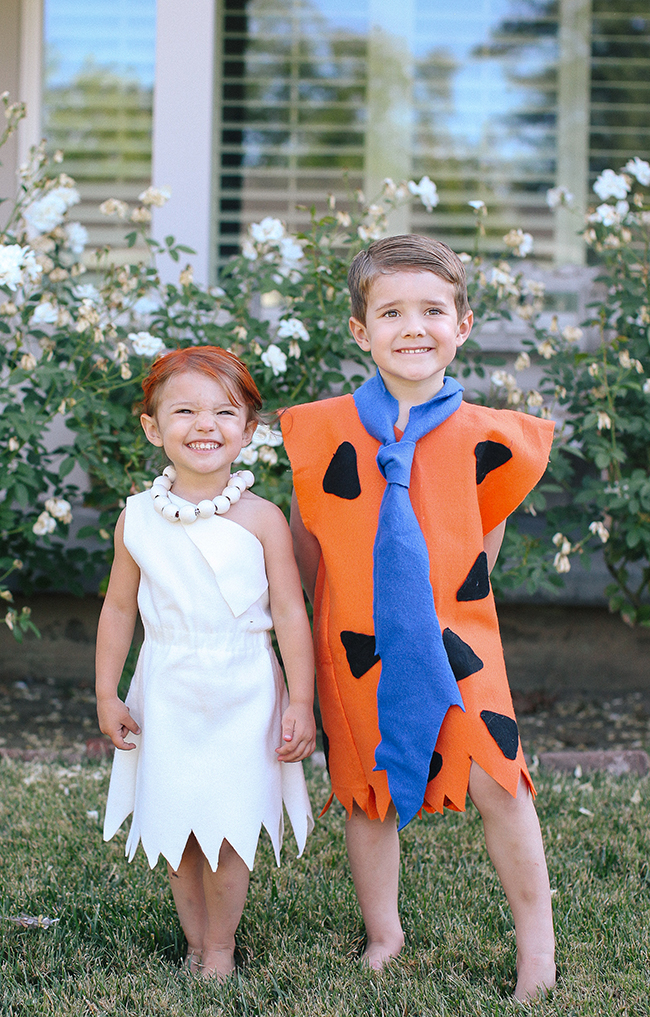 The next step is to accessorize the orange tunic you have created! I cut out rough triangles from the black felt, and then free hand stitched them onto the orange tunic. I figured it did not need to be perfect since it is supposed to look like it was made in caveman times. Honestly, that's one of the great perks of this project!
To make the blue tie I drew a tie shape free-hand on blue felt, and then cut around it. In pictures of the original Fred Flintstones' tie there are some rough jagged edges, so do not worry about making it perfect. The tie is supposed to look over-sized, so you really can not mess up the length, either. The tricky part is that you need to know how to tie a tie! If not, find somebody who does, and have them tie it loosely, so it looks like Fred's haphazardly tied tie.
For some extra styling you could spray Fred's hair black if you wanted. His hair is parted and combed neatly like a business professional, and you could even have him holding a briefcase!
DIY Wilma Flintstone Costume
Once you have Fred's costume complete you are ready to move on to Wilma's costume! Her outfit is a bit more complex, because I had to sew some elastic for the waist, but if you are leery about this, you could skip it entirely, and the costume would still look just as fabulous.
I used the same method for constructing Wilma's tunic as I did for Fred's. Repeat the cutting technique, and sew the sides. However, when you sew the straps together by the shoulders you will only be sewing one. Wilma is super styling, and rocks the one shoulder look. For the other shoulder, I cut the strap off of, and left it hanging over in a flap shape in the front.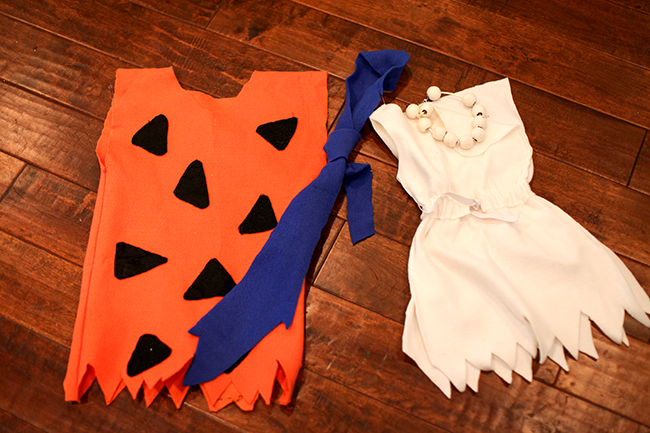 To add the elastic I actually sewed an extra panel in the inside, and then threaded it through. As I mentioned before, I am not a master seamstress, so I left the elastic raw in the back, and tied it to the tightness of the waist of my little one.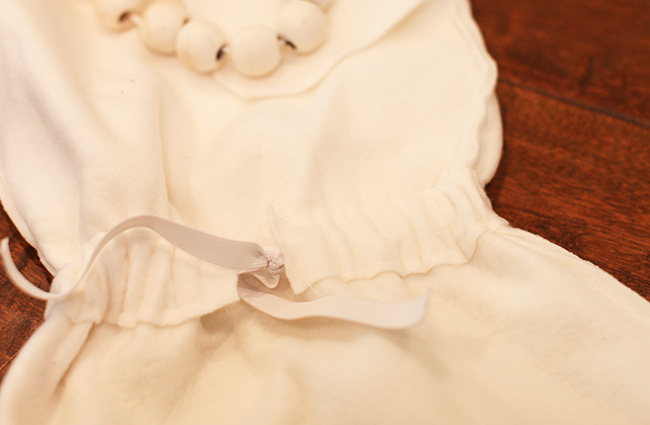 Styling Wilma was the most fun! I found wooden beads and sprayed them white to make her super fabulous over-sized necklace. I think Wilma is best known for her signature bright orange hair. If your little one is not blessed with a head full of beautiful orange locks you can use temporary orange hair dye spray like I did to get my daughter's hair that signature color. I was super worried it would be messy and would be a pain to get out, but it washed out super easy after one washing. I styled her hair in Wilma's high bun, and then sprayed away!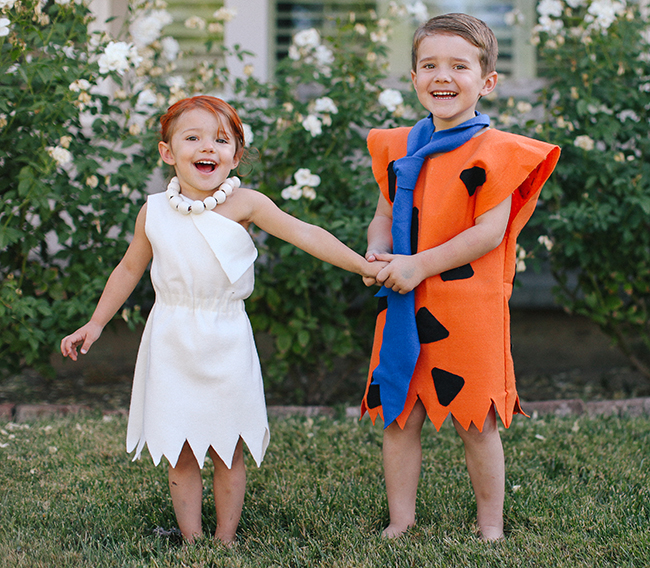 I had them wear some simple shoes for trick or treating purposes, but it really doesn't matter what they wear on their feet. Fred and Wilma weren't big on shoes.
The best part is the Flintstones' Car!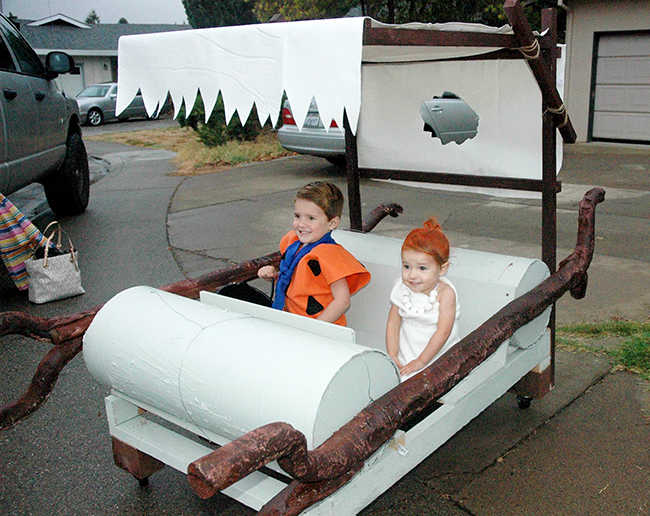 It took a great deal of trial and error, and some cuts and bruises, but I assembled a car like the ones in Bedrock for my Fred and Wilma to cruise the streets while Trick or Treating! The Flintstones' mobile was a huge hit with the kids. We ended up giving rides to 6 different kids in between houses. The car tutorial is a tad more complicated, so we will save it for another time.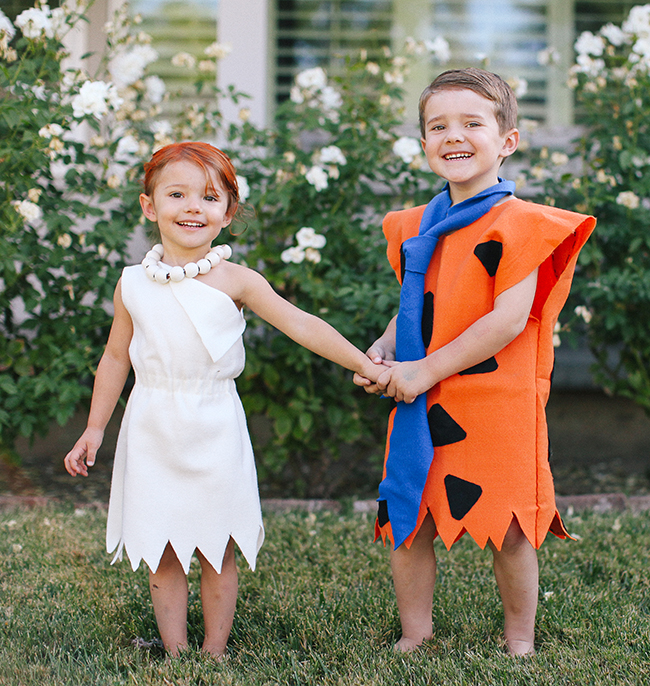 Don't forget…if you decide to make your little ones Fred and Wilma this year, they must master the infamous " Yabba Dabba Dooooooo!"
Want more great Homemade Halloween Costumes? Check out our Breakfast At Tiffany's inspired Audrey Hepburn costume and DIY Jelly Bean costume.