This post may contain affiliate links which may give us a commission at no additional cost to you. As an Amazon Associate we earn from qualifying purchases.
Fun activities to do with kids can sometimes be hard to come by.  Imagine my surprise when I discovered that a whole day of fun could be had with: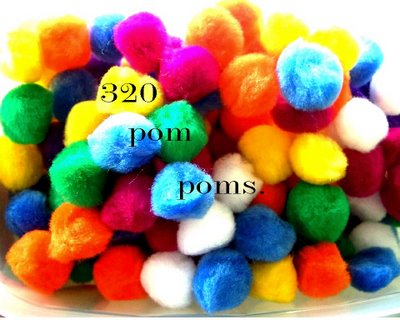 I hit the jackpot at the 99 cent store last year when I happened upon extra large bags of brightly colored pom poms. I bought a few bags for a special project and tucked them under my bed… for later. Of course, my youngest son had a different idea. He asked to play with the pom poms, but called them "ice cream scoops". This gave me an idea.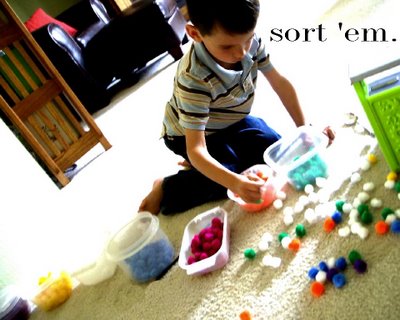 First, I had him sort the "flavors". I supplied him with plastic containers for each color. Then we set up our ice cream shop. A spoon for a scoop, paper cups for cones, we even resurrected the cash register from the bottom of the toy box! After he crafted a few quick menus made up with crayons, it was official! We were open for business!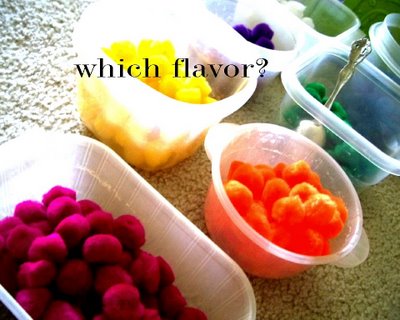 I, of course, am the first customer. Decisions, decisions! Choosing a flavor is hard! But then, I spot the menu and notice the "Rainbow Cone" choice. Ah, perfection!
How many scoops?
"Until they reach the top of the cone!" I exclaim!
Hey, its calorie free ice cream, I throw caution to the wind.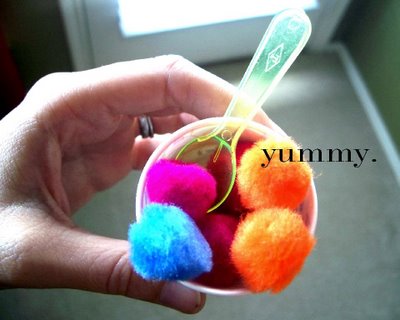 Ice cream shop is still one of our favorite stand-by activities. Its harbored hours and hours of imagination building fun with just a few simple (and cheap) supplies. It's taught money skills, working together, motor skills, and creativity. A perfect way to keep little hands busy this summer!