This post may contain affiliate links which may give us a commission at no additional cost to you. As an Amazon Associate we earn from qualifying purchases.
Gardening is one of the most therapeutic things you can do if getting your hands dirty and watching things grow from the sweat of your brow is your jam. Gardening can be a lot when you start, there's the structure of healthy soil, pollination, building garden beds, gardening tools, etc. But don't let this hold you back. Gardening can also be as easy and as cost-effective as you need it to be, especially when you are just getting started and want to make sure that you are in it for the long haul.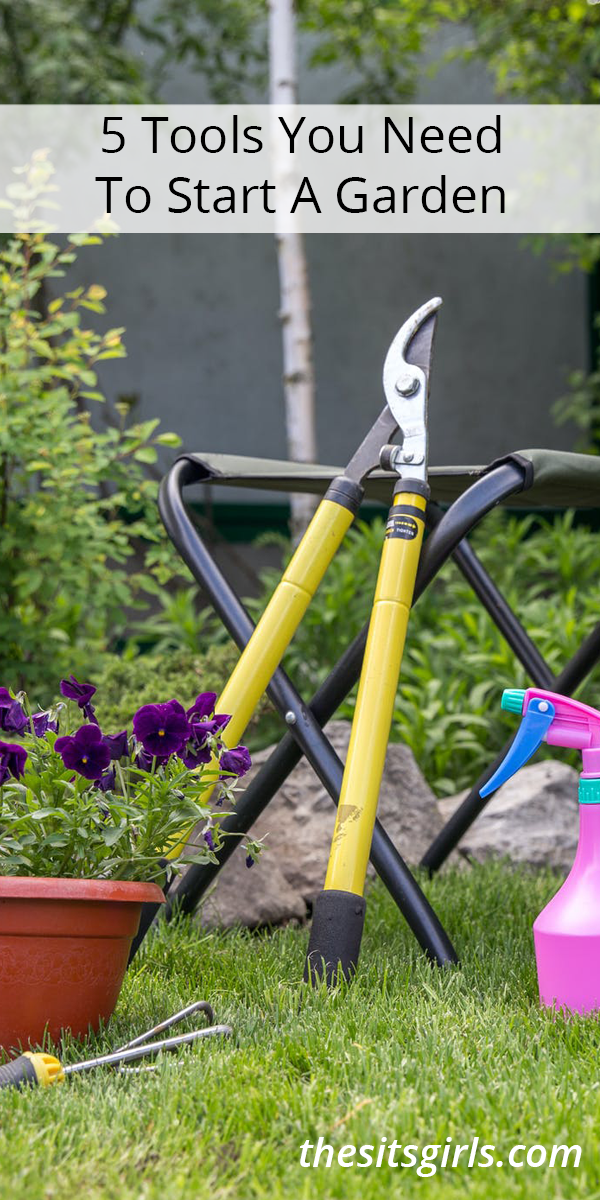 5 Must-Have Gardening Tools
Containers or Buckets
If you've never gardened before, I suggest starting with containers. While they require more attention, particularly when it comes to watering they are the least expensive way to get a feel for gardening before you invest the big bucks into boxes and soil.
Here's a hack, you can possibly get free containers by calling your local grocery store or restaurant to see if they have food-grade buckets they would like to get rid of. Please make sure they are food grade. These five-gallon buckets are perfect for growing squash and tomatoes. Drill a few holes in the bottom for drainage and you have the perfect vessel for growing things.
Seeds
While seeds can get expensive, some of your big box retailers as well as dollar stores offer seeds at $.25 per packet. I've used these seeds, and they perform just as well as some of the more expensive varieties, especially the flowers. If you choose to go this route, I suggest starting multiple seeds at one time in the event some don't germinate. If they all do, great, you now have more plants to keep or to share!
Good Water Hose
Watering will be your life if you don't have an irrigation system. Trust me, you need and want a good water hose and sprayer. I know the cheap ones are appealing, but they won't last a whole season and you'll need to replace it. You can get decent garden hoses for around $20 that will get the job done and will get water on the plants and not you!
Garden Gloves
I"ll admit there are times when nothing feels better than soil on your bare hands, but you still need a good pair of gardening gloves.
Some of the cheaper options may keep dirt from under your nails but they limit your dexterity. You need free range of all of your fingers and a good pair of gardening gloves will give you that. Not to mention, some are even touch screen friendly!
Kneeling Pad
If your knees aren't great, and even if they are, a kneeling pad is a must-have gardening tool to protect your knees while also protecting your back from bending while weeding and doing other garden tasks.
Garden Soil
Good soil is imperative to growing food and flowers. It takes years to build healthy soil, so starting with decent raised bed soil sets you up for future garden success. If you are starting with containers, make sure to get potting soil. If you are going to start with garden beds, raised bed soil is the better option.
These are just a few of the basic gardening tools you will need to get your garden started.
Happy Growing!
For more gardening fun, check out these ideas: