This post may contain affiliate links which may give us a commission at no additional cost to you. As an Amazon Associate we earn from qualifying purchases.
When Fall comes blowing in it is time to retire the fun summer activities. For me, that means cleaning out the pool and packing away all the pool toys. We have an abundance of pool noodles because they can be bought for a dollar and provide endless hours of fun! This year, instead of packing them away I decided to use them for some Christmas decor and created giant lollipops! They would also be great for a Candy Land party.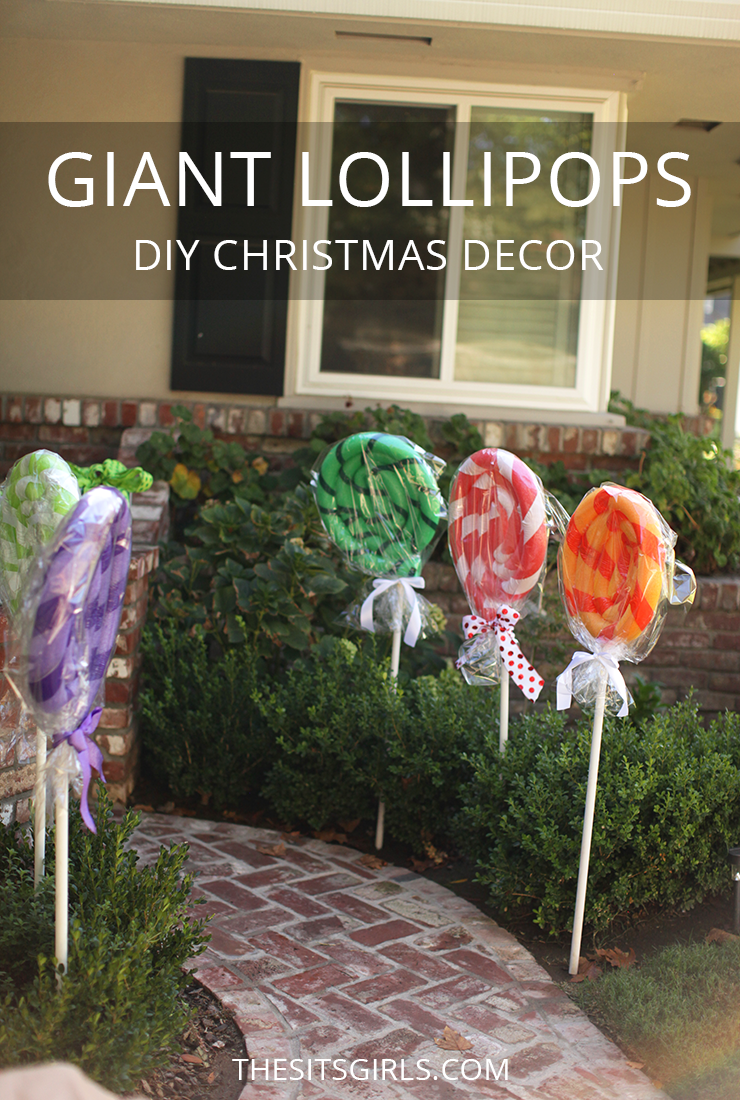 Giant Lollipops
The best part about this DIY is that it only costs a little over $3 per giant lollipop! *This post contains affiliate links.
Materials Needed:
2 pool noodles of the same color
Colored or White Duct Tape (I found amazon to be the cheapest place to buy this)
Skinny PVC Pipe Cut In 3 Ft Legnth (or a wooden dowel)
Ribbon
Rubber Band
How To Make Giant Lollipops
The first thing to do is to make sure your pool noodles are not too dried out from summer fun. You need to make sure that when you bend the pool noodle, there is some give and it does not crack on the bend. Once you have selected your pool noodles, you will glue two of them together. Let the glue dry and then secure around the middle with duct tape.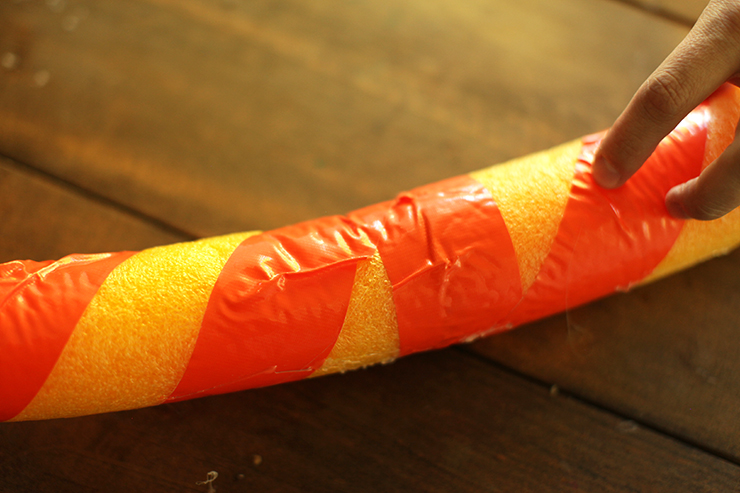 As you can see above, I wrapped directly around where the two pool noodles are glued together. It does not follow the spiral pattern you will be making, but when it is all rolled together, it won't matter. This helps it to hold more securely.
Now start at one end of your pool noodle and spiral the duct tape around to the end of the opposite end.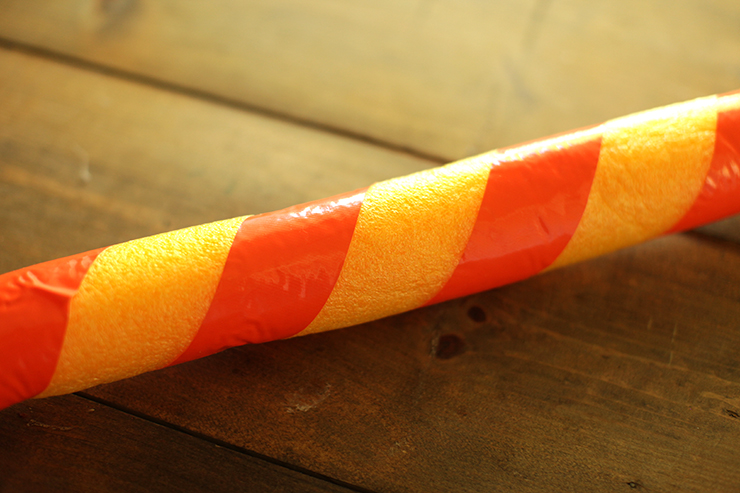 Try to wrap it so that it does not bubble and is not too tight, you want it to still be able to bend.
Next, apply hot glue and begin rolling the pool noodle.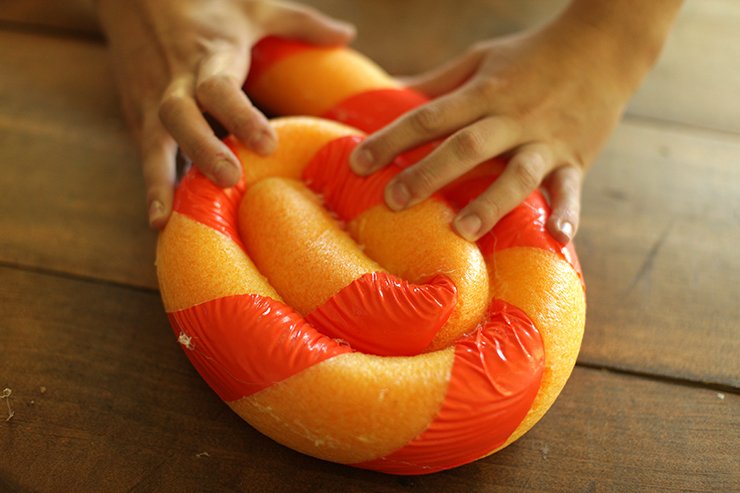 When you are rolling the pool noodle, make sure you hold it as you go. It will take about 5 minutes for the glue to dry and become stable, so keep a firm hand as you work to glue and roll it into your design. When you reach the end, secure it with extra hot glue.
Cut a small hole at the bottom of your lollipop, just big enough to fit your PVC pipe inside (you could also use a thick, wooden dowel). I chose a 3 foot PVC pipe, so the lollipops would end up being about 5 feet tall. Add extra glue around the base and let it dry. After the glue is dried, wrap your giant lollipop in cellophane and secure the bottom with your rubber band and a bow.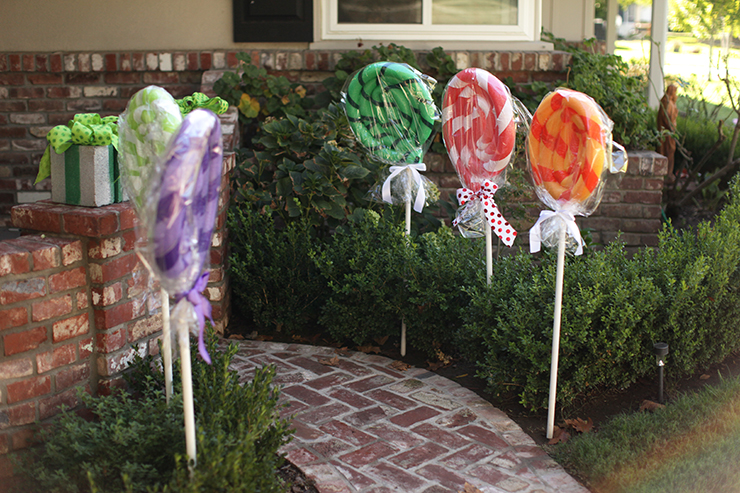 I decided to line a path leading to my house to make it look like a gingerbread house!
The best thing is that the pool noodles hold up perfectly in wet weather, too!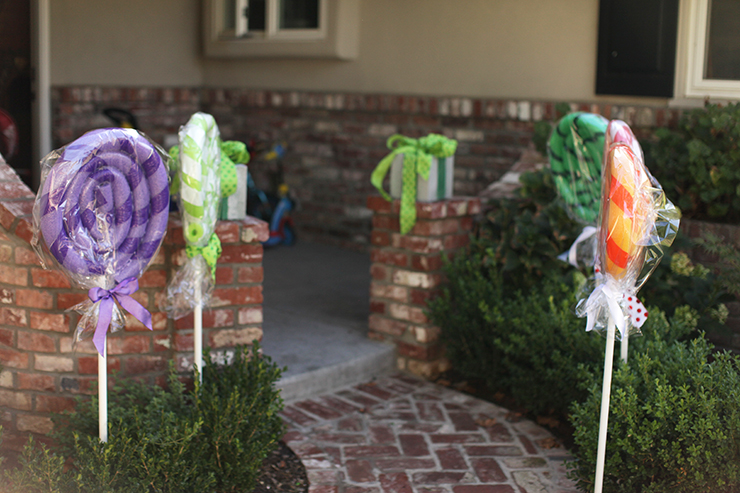 This is an easy project to personalize. Use colors that will match your overall decor.
You can also use thick or thin tape to change up the look of the swirls.