This post may contain affiliate links which may give us a commission at no additional cost to you. As an Amazon Associate we earn from qualifying purchases.
Last year I made these beautiful Giant Paper Bag Stars and the video was viewed over 20 million times! I was totally blown away how much people loved them. We received messages and pictures from followers that showed us how they used their paper stars. The beauty of that project was that it really was SO EASY! You needed bags, scissors, and glue. Even people who are not so crafty were able to successfully make the stars. This winter I realized that if I tweaked a few things I could change the Giant Paper Bag Stars into some amazing Giant Paper Bag Snowflakes!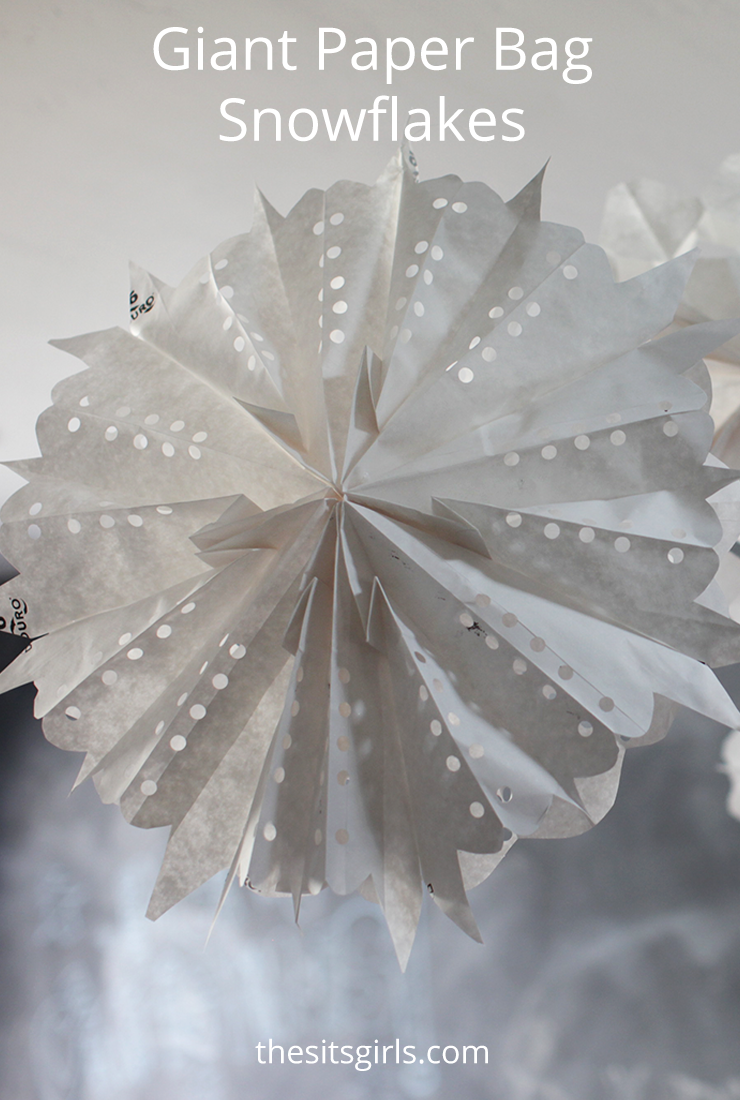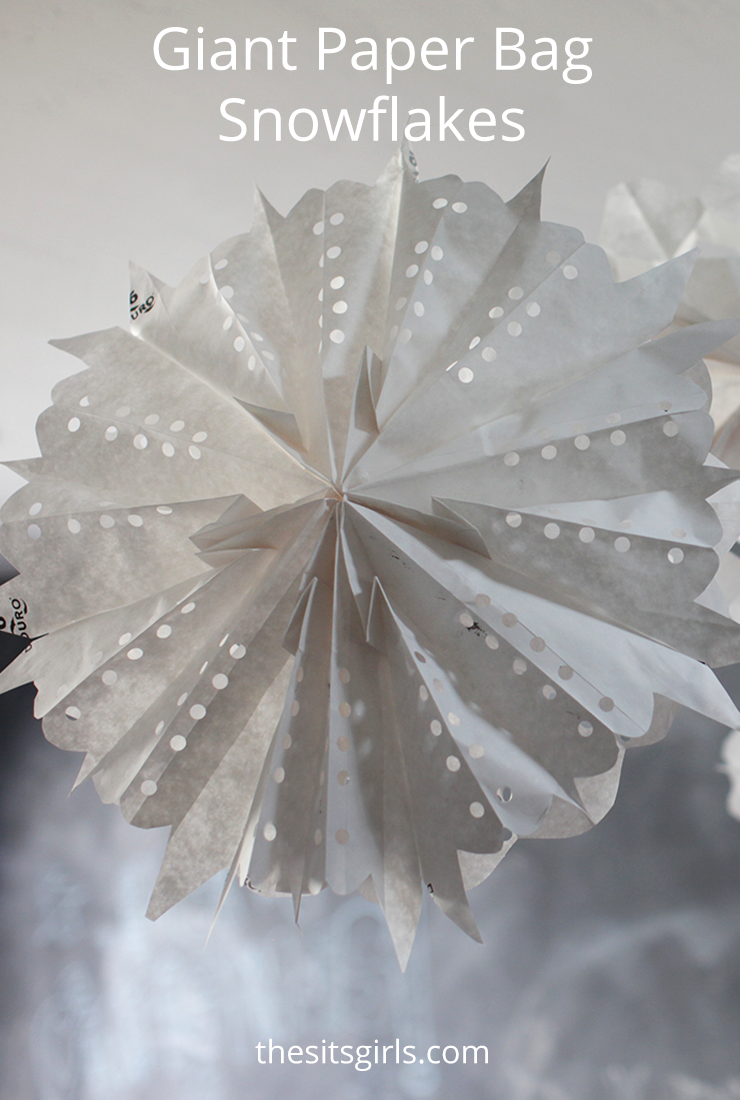 Giant Paper Bag Snowflakes
Here are the materials you need (*note: this post contains affiliate links):
How To Make Giant Paper Bag Snowflakes
The method for making these showstopper snowflakes is the quite simple. Each snowflake is comprised of 7 bags. I truly did make up the designs as I went. I cut the tips into different shapes and cut the middles into different patterns.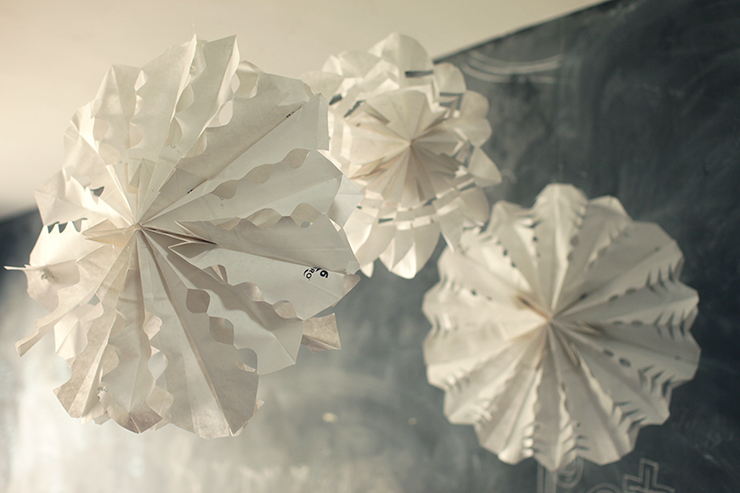 The first step is to figure out your design. Take your first bag and cut the bag in that design. Make sure you do not cut the center "backbone" of the bag.  You will be applying glue there to hold it all together.
Once you have cut the design on your first bag, use that as a template for the next 6 bags. Simply lay it on top and cut the exact same design out as you work your way through the stack.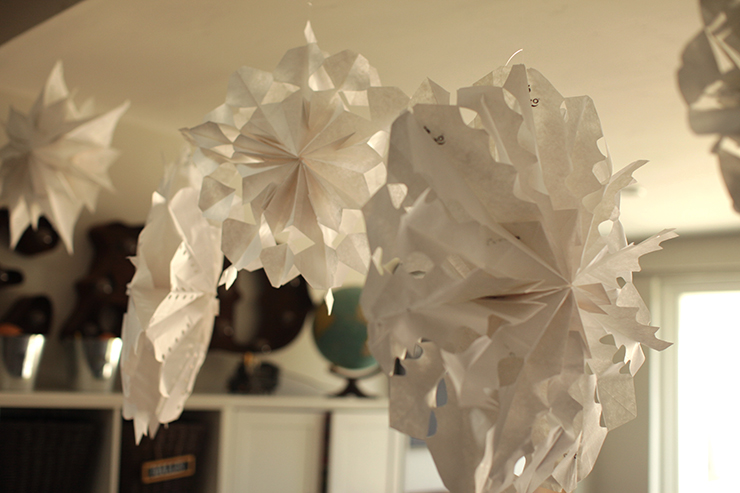 When all 7 bags have the design cut, you can apply hot glue. Put a long line of glue down the center and then at the bottom of the bag — forming an upside down "T" shape. Continue gluing and stacking until all of your bags are glued together.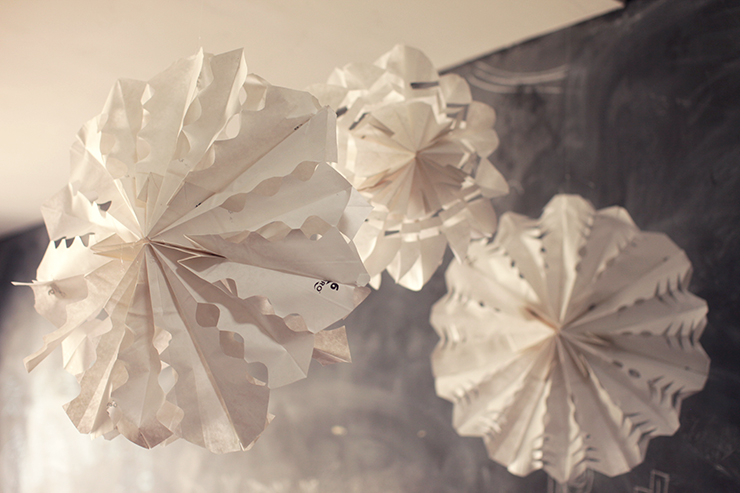 On the top of the last bag apply the glue in the same fashion. Then take the bottom of the bag and fan it out and around to the top of the last bag. Hold it for a couple seconds until the glue dries.
If you want to hang them from string you can punch a hole through one of the tips.  If not, you can hang them directly on the wall using command hooks or poster stickers.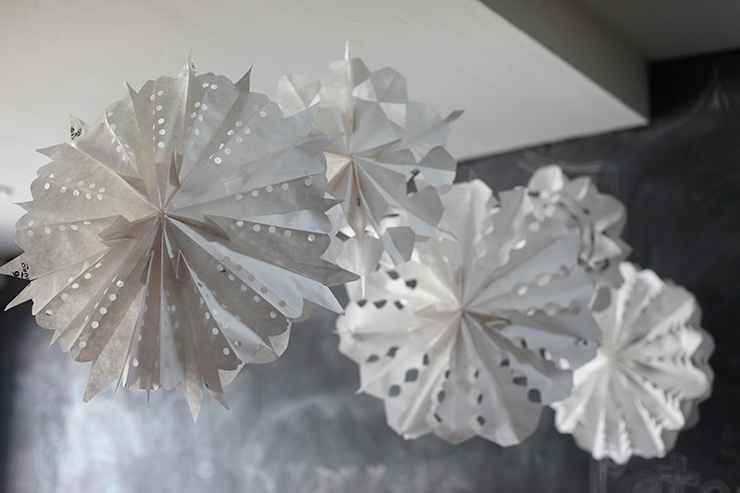 These are perfect for a fun afternoon project for the kids, photo backdrop walls, weddings, or anytime you want to make a huge statement with your party decor!