This post may contain affiliate links which may give us a commission at no additional cost to you. As an Amazon Associate we earn from qualifying purchases.
There is nothing more fun that decorating your house for Christmas. In the past I have spent countless hours hanging Christmas lights and sticking snowflake decals to the windows. But this year I wanted to try something a little different that would really wow people. I am going to theme out my entire house. Making popcorn garlands used to be such a fun pastime, so I wanted to take it to the next level by making Giant Popcorn Garland to adorn the front of my house. Each year I will make another string of popcorn and eventually my entire house will be complete!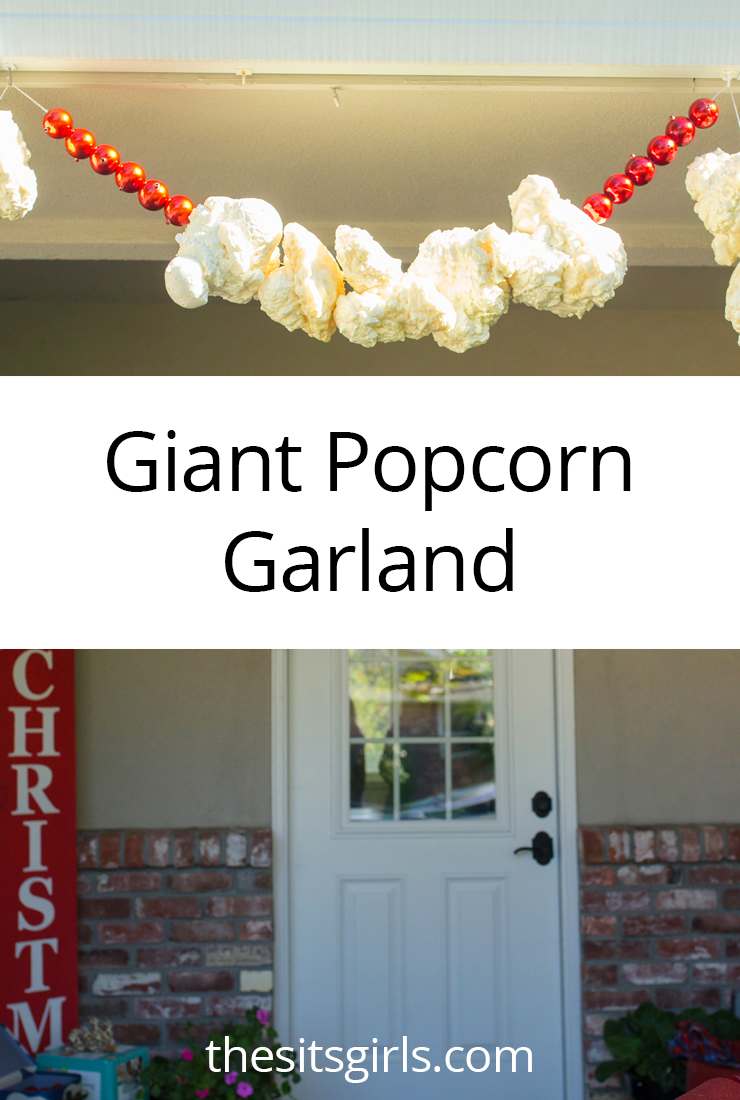 Giant Popcorn Garland
Materials you need to create giant popcorn garland (note: this post contains affiliate links)
Newspaper
Red Ornaments (optional, but I added them to look like cranberries)
String
Drop Cloth (to protect the ground from foam)
How To Create Giant Popcorn Garland
This is one of the easiest projects that I have ever made. At first I was a little intimated to test it out. I am no contractor, that is for sure, but to be honest the foam sealant is one of the easiest things that I have ever used.
Tip: If you are unfamiliar with using foam sealant, it would be a good idea to wear gloves.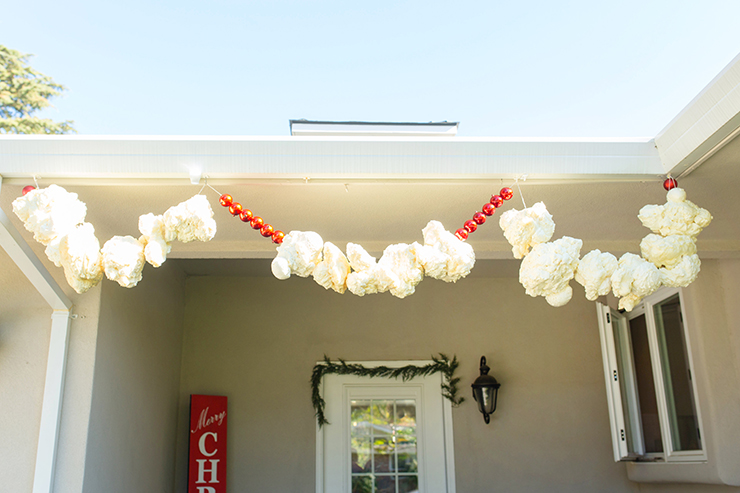 Foam sealant is used to stick to various surfaces and cover cracks, so make sure that you put a plastic sheet or something down to prevent it from ruining the concrete prior to spraying.
Your first step is to roughly ball the newspaper up. It does not have to be perfect — this is basically a base to hold the shape of the popcorn. If you want super huge popcorn kernels, make the newspaper ball larger.
Next, attach the spray straw of the foam can. Shake the foam can and then begin to spray directly on to the balled up newspaper.
Cover the newspaper entirely and then add a few nice big plops to the sides to make it look like popcorn.
Let the foam dry completely. It takes about an hour or two depending on how hot it is outside. Once it is dry, it will easily peel off of the plastic drop cloth. Flip it over and cover the other side of the newspaper. Let it dry again before moving. Once both sides are dry, you can add some more peaks to your popcorn if you want.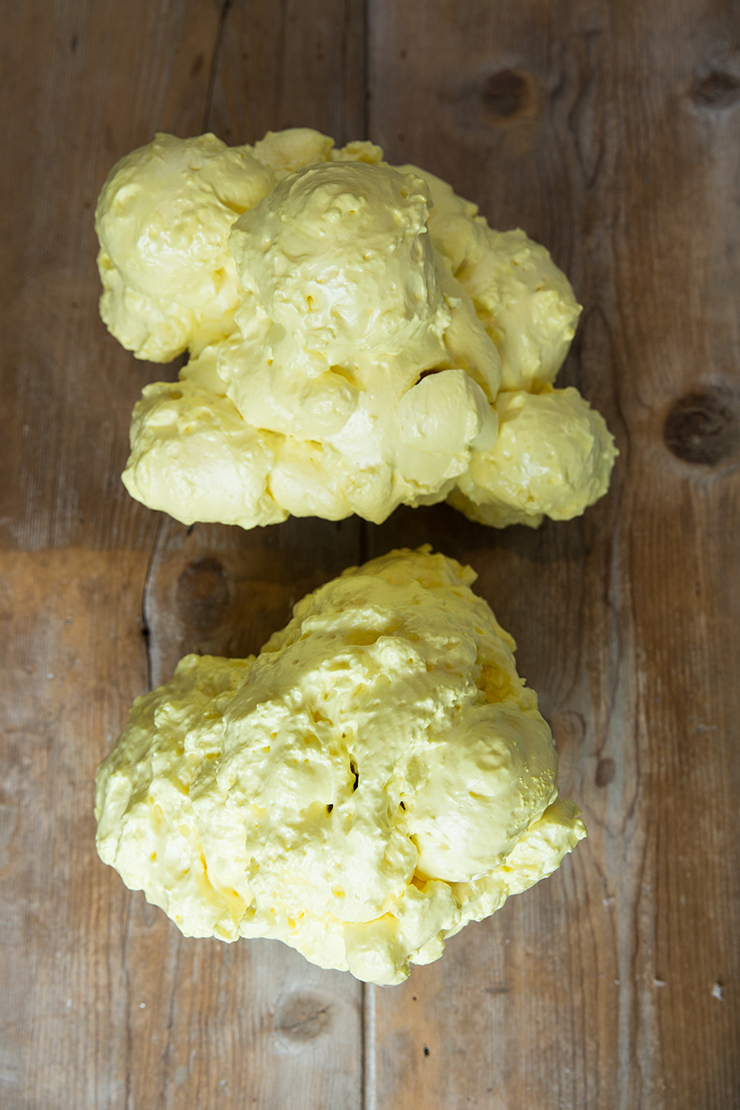 The beauty of the foam popcorn kernels is that they are waterproof, light, and durable in all sorts of weather. I made mine into a garland by taking a kabob stick and making a hole to string each piece of "popcorn". Then I threaded string through one side and out the other, and repeated the process until I had stringed all of my popcorn. I wanted to add a little color to the garland so I used cheap plastic red ornaments to look like cranberries.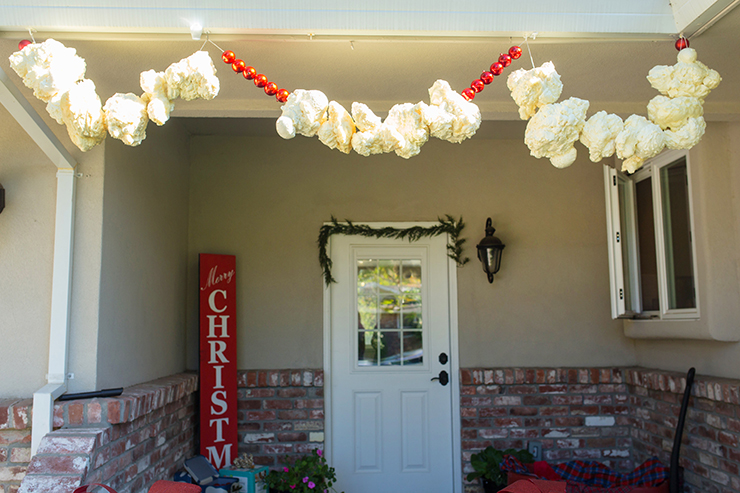 To hang my giant popcorn garland, I attached a couple of command hooks to my gutter and strung them up.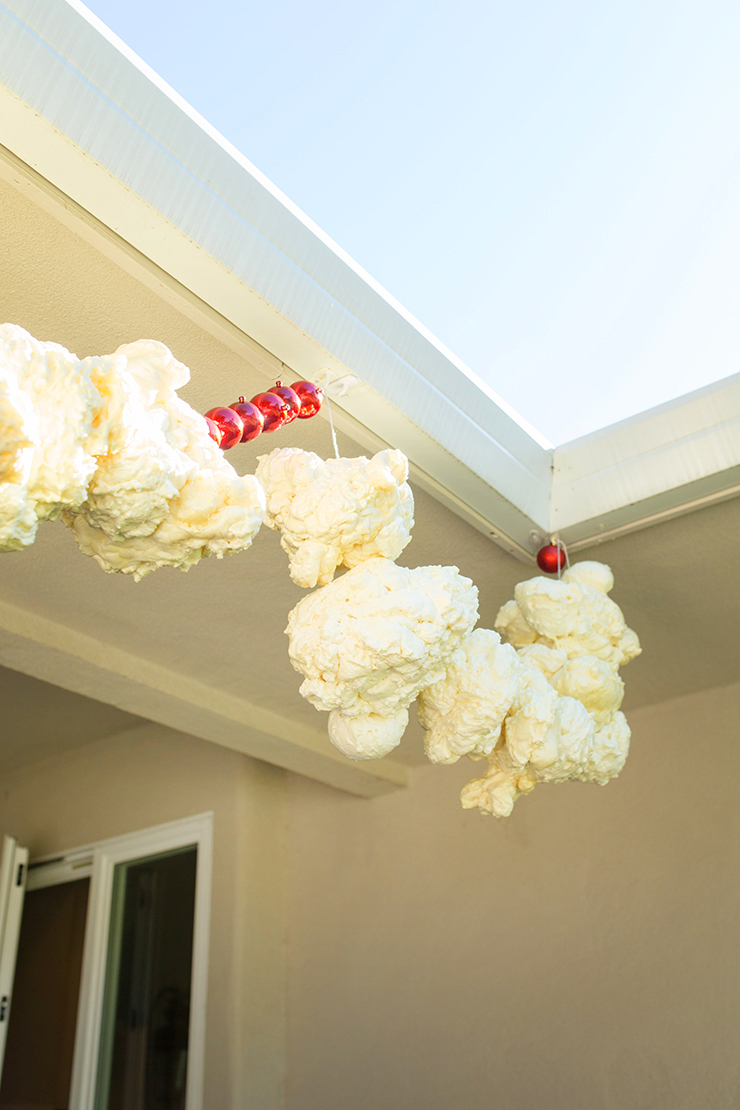 The reaction I have gotten from my neighbors has been amazing. People love that it is so original, but reminds them of childhood Christmas crafts. After I hung my giant popcorn garland, it was time to turn my whole porch into a mini gingerbread house.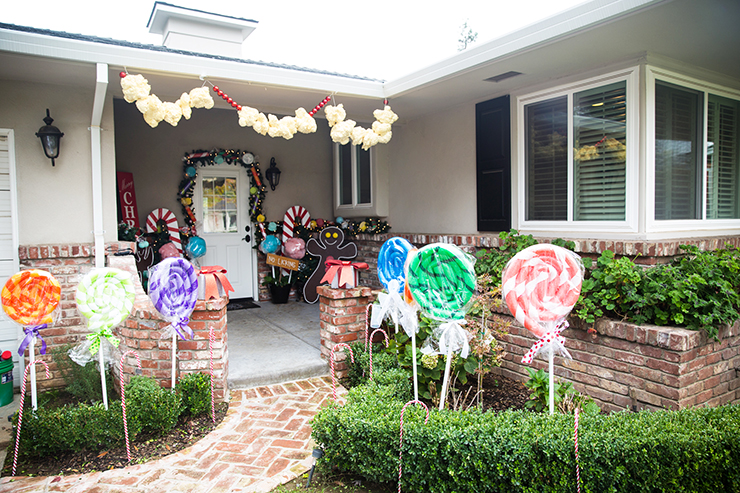 So far this has been my favorite Christmas decoration idea of the year!
Check out our tutorial for DIY Giant Lollipops to make your own candyland display.