This post may contain affiliate links which may give us a commission at no additional cost to you. As an Amazon Associate we earn from qualifying purchases.
Halloween and pumpkins go hand in hand. I remember carving pumpkins a couple nights before Halloween and proudly displaying them for the street to see. We would reach in and pull out the pumpkin "guts" after my Dad cut open the top. I had such fond memories of carving pumpkins as a child. Now that I am the parent, I realize that pumpkin carving is HARD work! My small kids come up with elaborate designs, and I am left in the cold carving for hours. I needed an amazing, no carve pumpkin solution this year, and these Glow in the Dark Pumpkins were the perfect answer.
You can create an awesome glowing Jack-O-Lantern without ever having to carve a single pumpkin!
Glow In The Dark Pumpkins
Materials needed for glow in the dark pumpkins (*this post contains affiliate links):
How To Make Your Pumpkins Glow In The Dark
I began by printing off a free jack-o-lantern pattern that I got online. I then traced in onto my contact paper. If you are a good artist, you can skip this step entirely, however my drawing skills are not so amazing.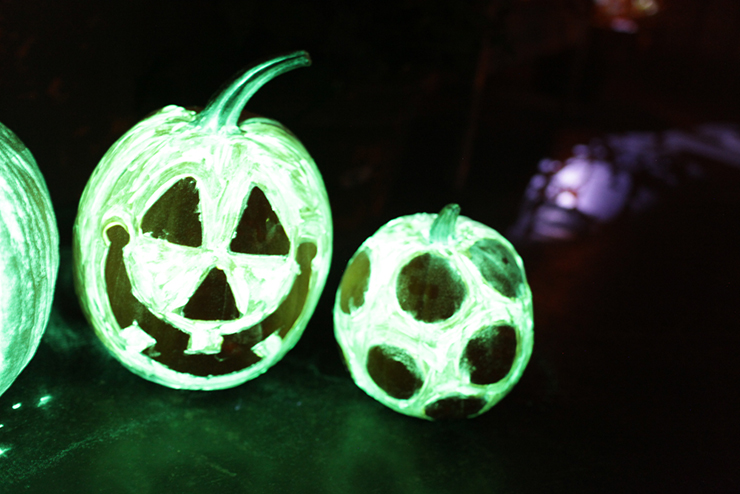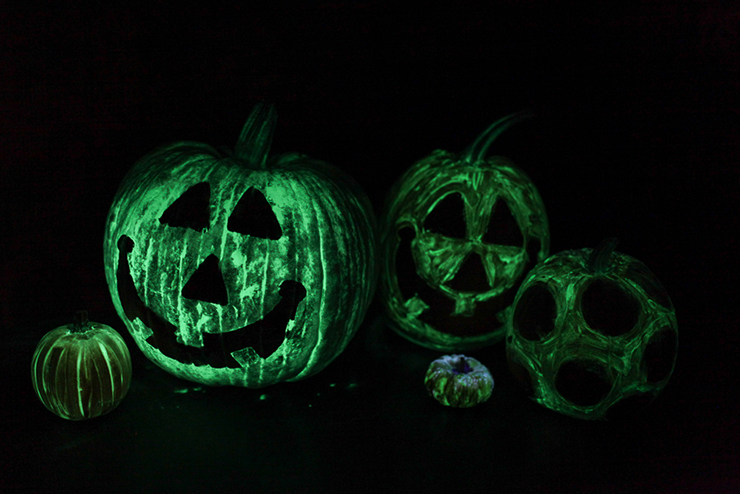 Once I had my design cut from the contact paper I simply peeled and then applied it. Make sure the edges are smooth. I traced over a couple times with my fingers to really press the design firmly in place. I did a couple different designs as well as leaving a couple of the pumpkins without any contact paper so they could glow all over!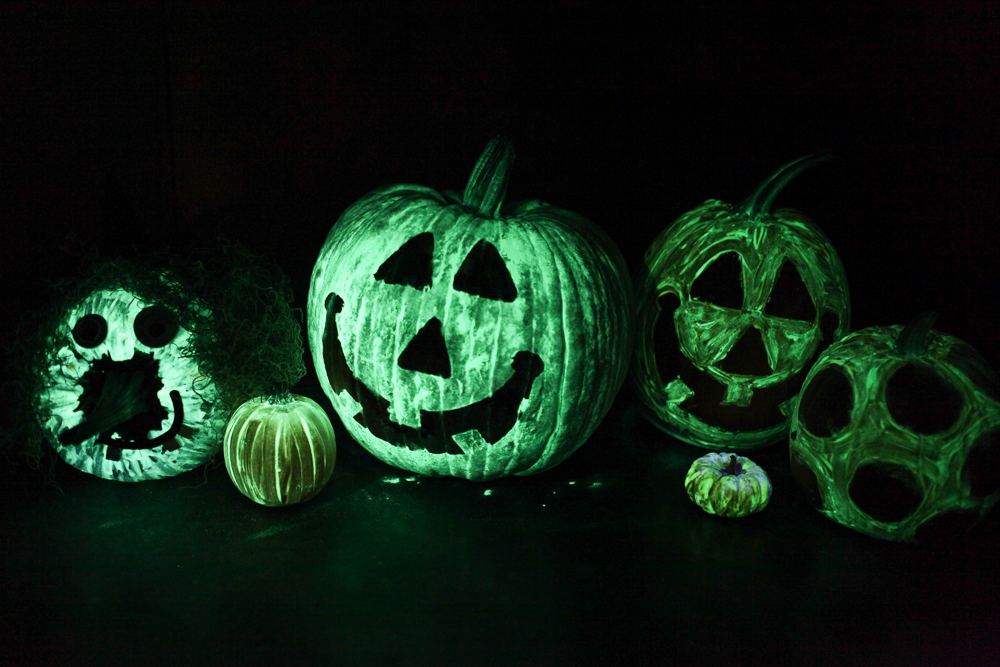 Now you are ready to apply the spray adhesive. I had this adhesive left over from my scrapbooking days. You could also paint and use modge podge if you wanted. After I had already used the spray adhesive, I discovered that there is actually glow in the dark modge podge. So you could paint the pumpkin with glow in the dark modge podge if you wanted to add extra glow! Your last option is to use plain Elmers glue. While this is not quite as easy (because it takes awhile to dry) you could use it if you are in a bind.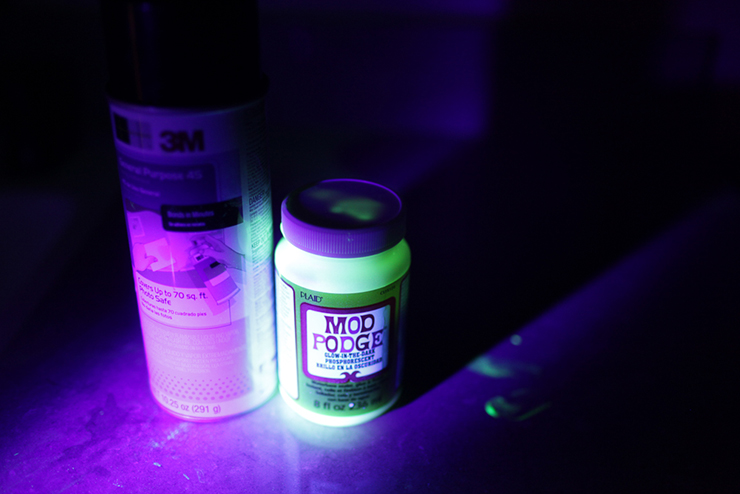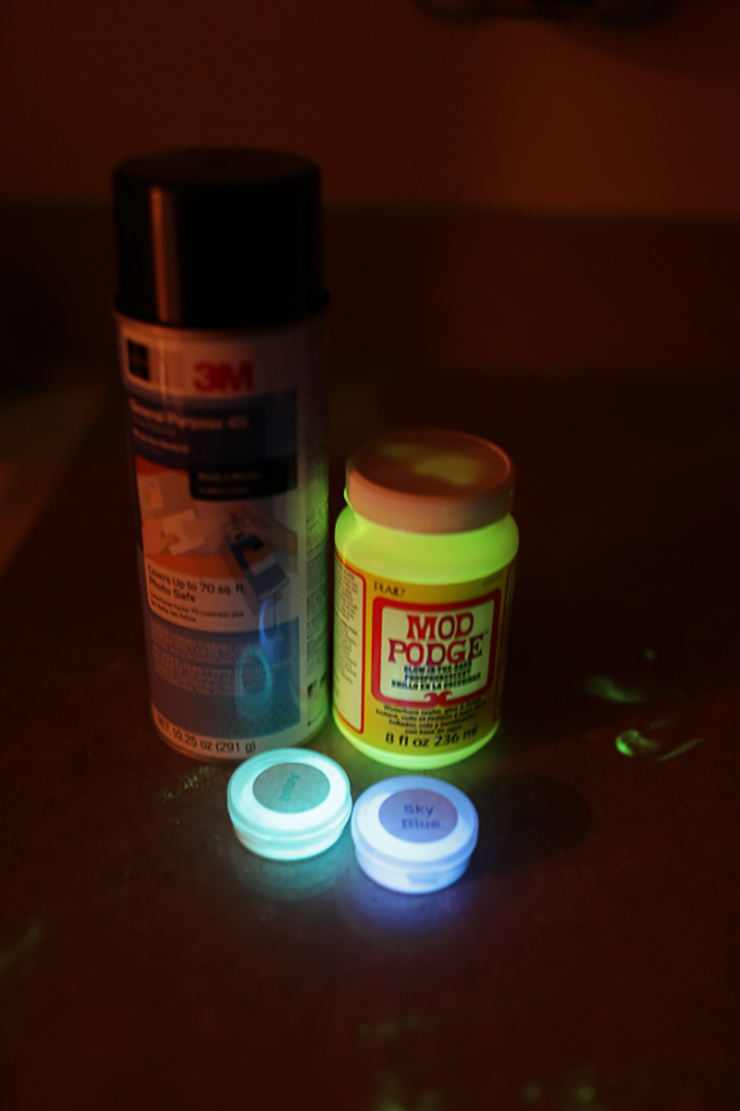 Apply whatever method of adhesive you decide to use. Let it dry for about a minute and then sprinkle or "paint" on the glow in the dark powder with a dry paint brush. The more powder you use, the more your pumpkin will glow!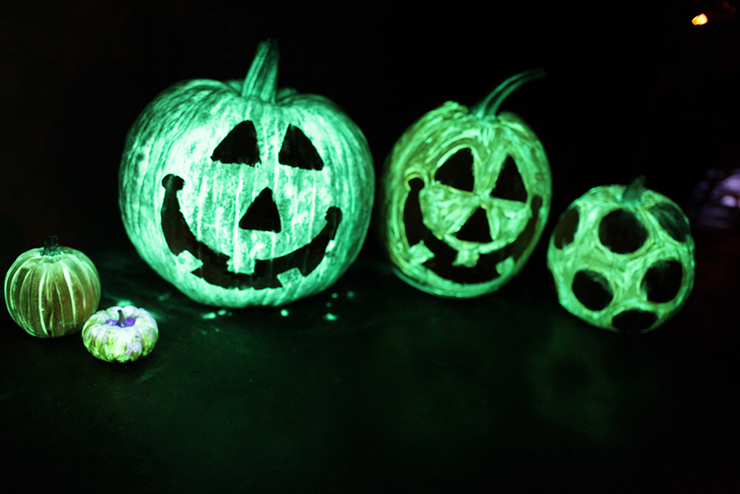 The glow powder is activated by light. There are three ways you can charge them:
To charge the pumpkins quickly let them sit in a room with the lights on for about 15 minutes.
If you have a black light you can shine it on the pumpkins and they will charge almost instantly.
Or you can do what I did and use solar power! I displayed mine on the front porch and let them absorb the daylight.  Come night time they are charged and ready to shine!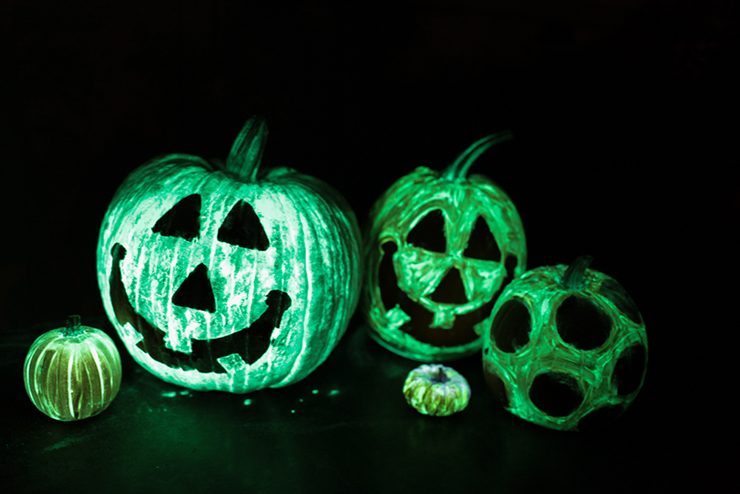 My pumpkins have been glowing strong for two weeks now! If you are worried about the glow in the dark powder washing off you can always coat it using clear spray paint! It will keep it sealed and in place.
More DIY Halloween Decoration Ideas
We love to decorate for Halloween! Check out our amazing, giant spiderwebs made out of trash bags, our Halloween wreath made out of a pool noodle, and more outdoor Halloween decoration ideas. We even have more no carve pumpkin ideas, and if you are really into stuff that glows, you will love our glow in the dark floating ghosts!