This post may contain affiliate links which may give us a commission at no additional cost to you. As an Amazon Associate we earn from qualifying purchases.
Are you looking for a last minute touch to complete your Halloween crafts? Maybe you need a little something extra to give your decorations their finishing touch? No need to look any further!
A DIY Halloween Pom Pom Garland is the perfect addition to your Halloween crafts to add a bit of whimsy to any room and set the mood for the perfect Halloween night!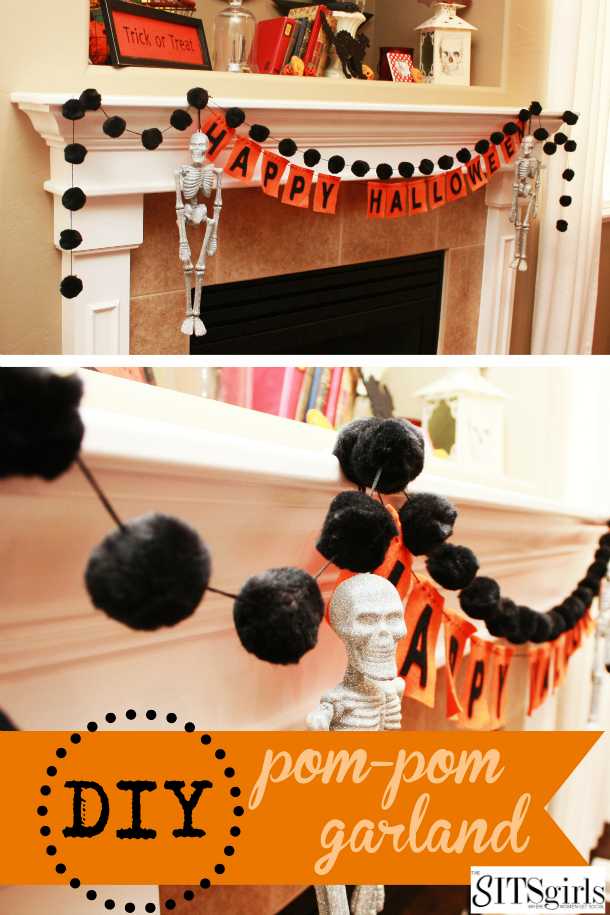 Halloween Crafts: Homemade Garland
To begin, just gather these easy to find supplies.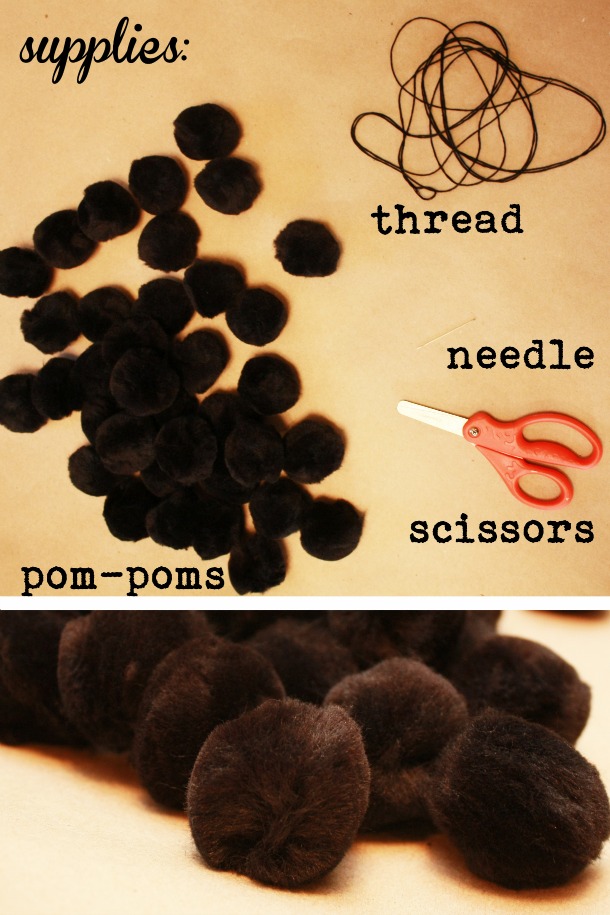 Start by measuring out how long you would like your garland to be. I wanted to make mine long enough to swag in multiple locations on my mantle. Cut your thread accordingly.
Tie a knot in one end of your thread, and thread your needle on the other end.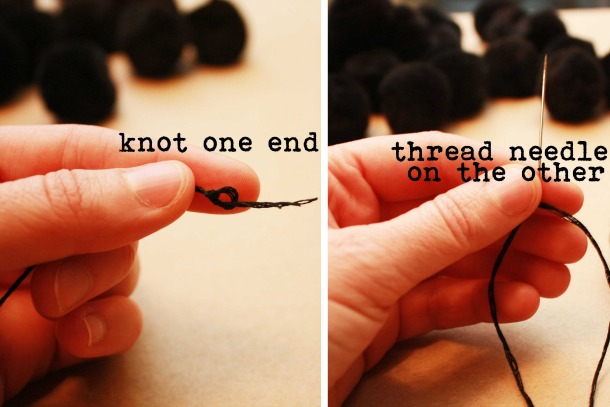 First, poke your needle into a pom pom. You need to find the exact middle of the pom pom so you can thread it properly and keep it from falling off of your garland.
Once you have found the middle, push your needle through the pom pom and pull it down the thread, all the way to the end or the last threaded pom pom.
Pull it down the thread slowly as to avoid tangles and knots.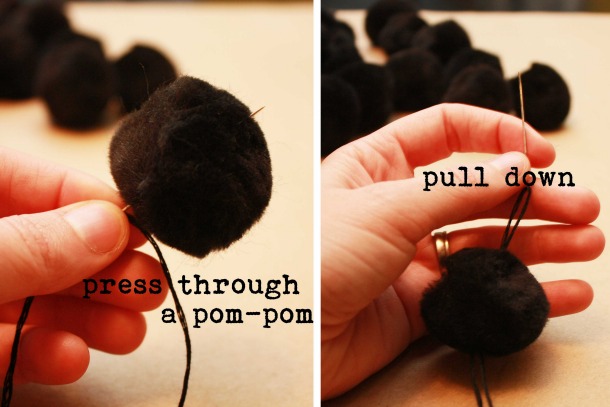 Space your pom poms as your pull them down the thread. You can keep as much or as little space between your pom poms, just eyeball it and try to keep the spaces uniform.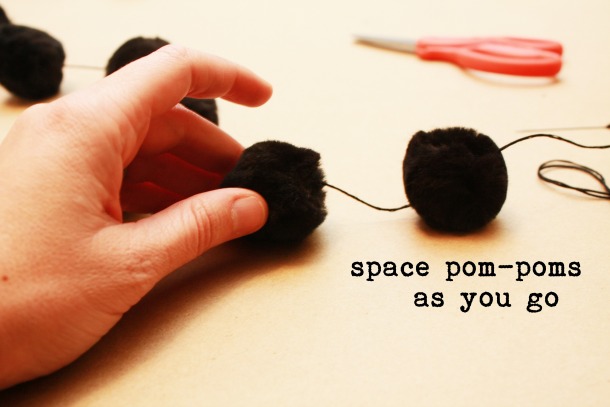 Keep threading your pom poms, until you reach the end of your thread.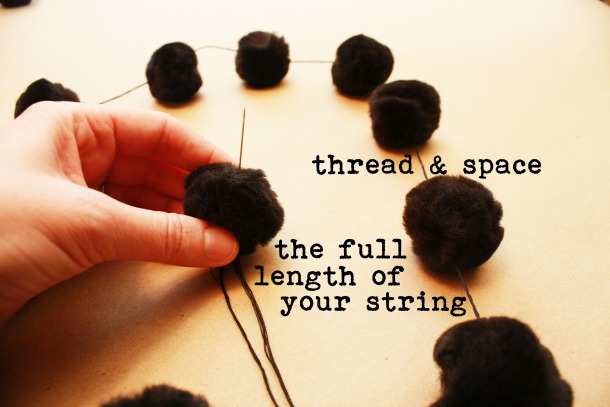 To finish your DIY Halloween Pom Pom Garland, pull the last pom pom down and knot the end. Pull the last pom pom back up into the knot and trim the excess!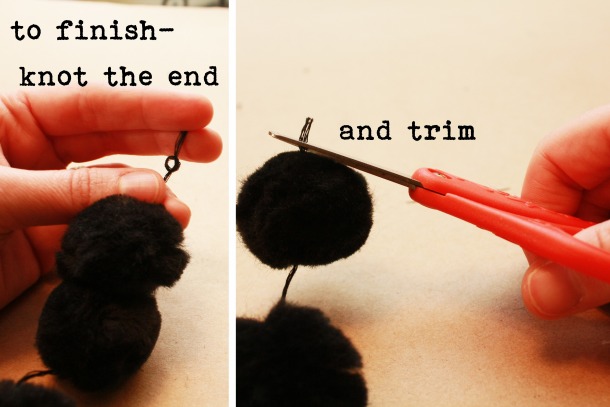 A DIY Halloween Pom Pom Garland is a foolproof way to complete your Halloween crafts by adding a charming finishing touch to any room!
And, it's so quick and easy you will be able to complete multiple strands in a matter of minutes. They can be hung from the mantle, or added as a sweet swag along the stairs. Place a strand along the dinner table edge, or around a decorated Halloween tree.
With a homemade garland, your Halloween crafts possibilities are endless!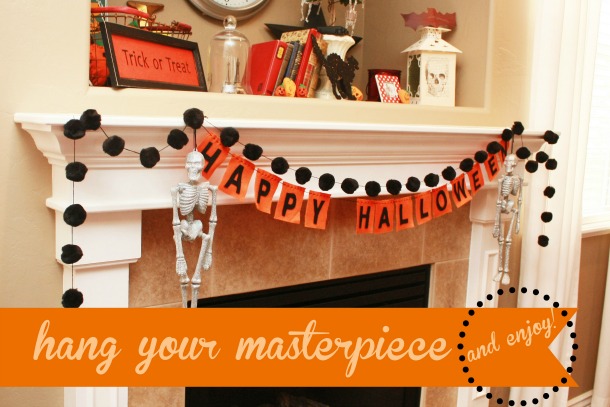 Halloween Crafts Video Tutorial
Are you looking for a little more help with your DIY Halloween Pom Pom Garland? Check out my latest vlog and follow my step by step process while I make my own!
Looking for More Halloween Crafts? Keep Reading!
Looking for more Halloween crafts? Then be sure to head over to our Halloween Pinterest board.
Happy Halloween!