This post may contain affiliate links which may give us a commission at no additional cost to you. As an Amazon Associate we earn from qualifying purchases.
This year I decided I wanted spooky lanterns that we could hang along our porch walkway for Halloween, like lanterns you would see in a haunted graveyard.
A couple of years ago I made some Floating Candles that we use each year for our hallway inside. They were a huge hit with the kids, therefore I was on a mission to adorn the outside of our house, as well. However, all the lanterns I was finding were expensive AND made of glass, which doesn't work with rain, wind, and kids. After a classroom root beer float party, we had a ton of leftover 2-liter soda bottles. They were begging to be repurposed into something cool! Enter my Halloween DIY Graveyard Lanterns – they are the perfect spooky accessory for any walkway!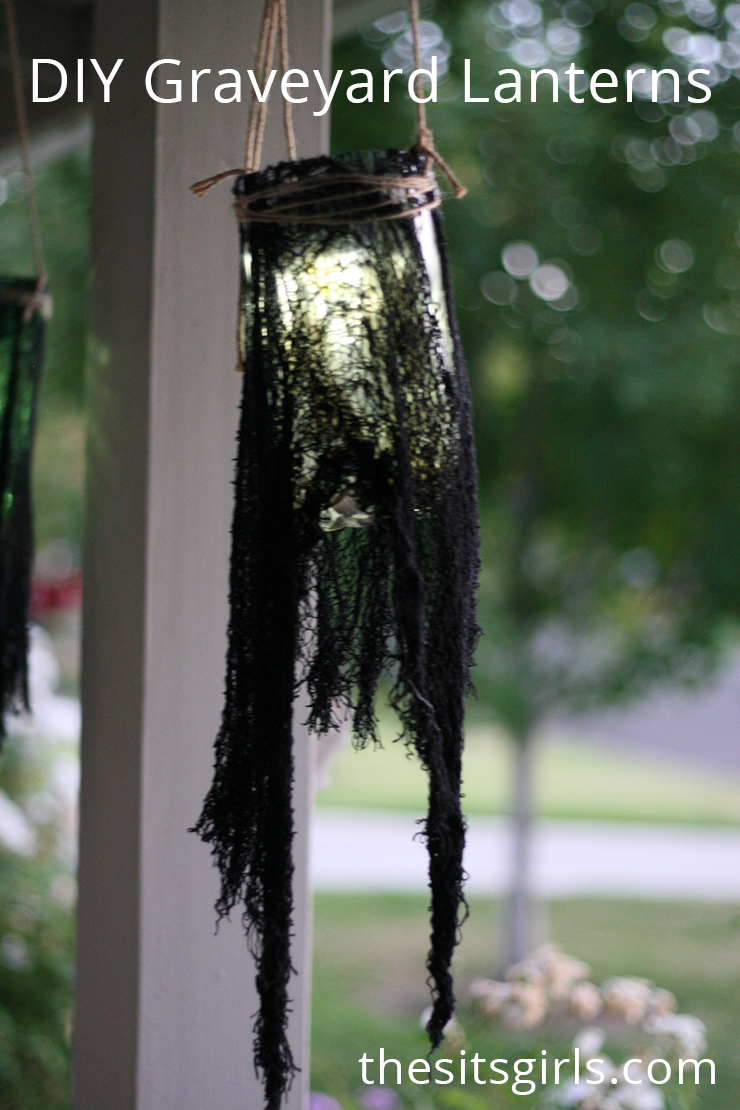 Halloween DIY Graveyard Lanterns
The great thing about these graveyard lanterns is that you probably have most of the materials at your house already.
DIY Graveyard Lanterns Video Tutorial
Halloween DIY Graveyard Lanterns Materials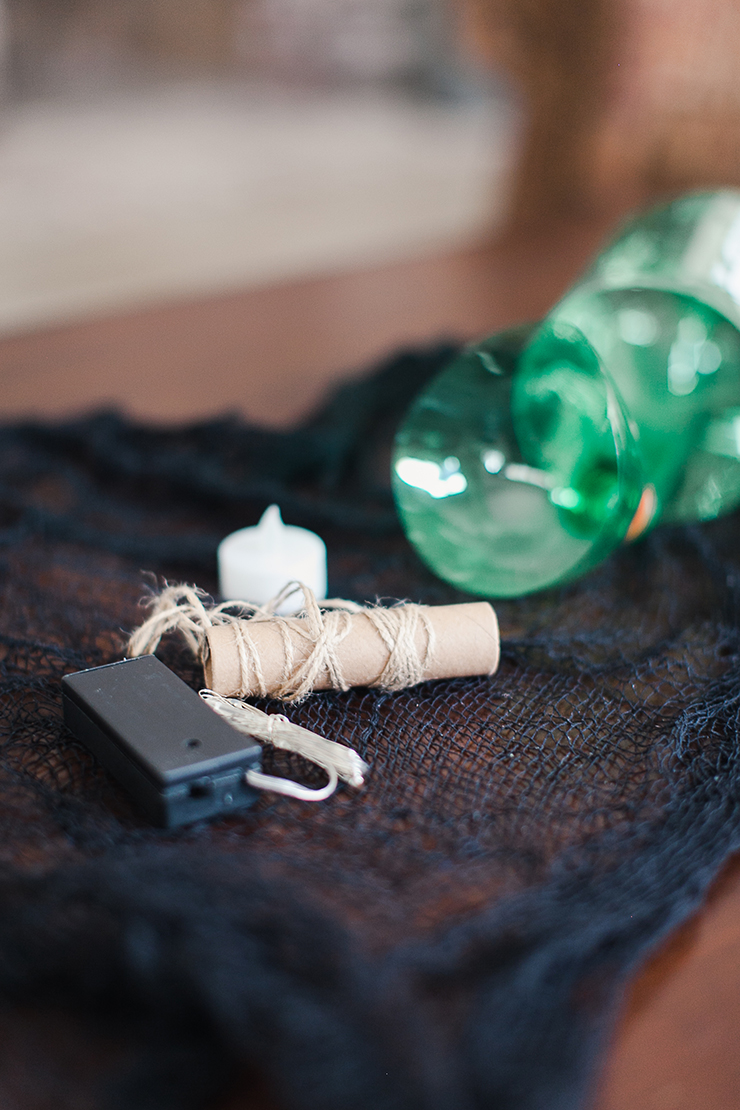 How To Make Spooky Graveyard Lanterns
Let's start with the 2-liter soda bottles!
The beauty of a 2-liter soda bottle is that it costs $1, or even less in some cases. Even if you don't drink soda you can always pour it out and make these lanterns! The first step is to wash out the bottles. Once you wash them out, you will cut the bottle right where it curves up to the opening.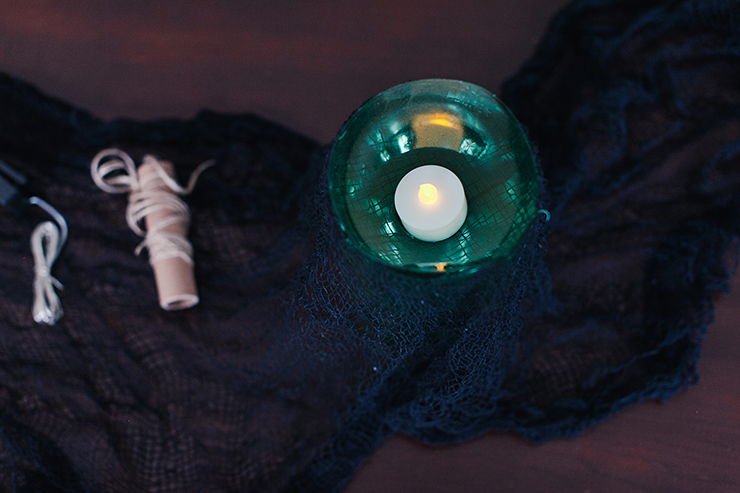 Save the top portion of your soda bottle, because this is where you are going to put your tea light or solar light.
Cut about a 20-inch square from your long creepy black cloth. It doesn't need to be perfect. Actually, it's better if the edges are frayed and uneven, as it makes it look more authentic and scary! Drape the 20-inch square over the top of the soda bottle. Next, place the cut top inverted into the bottle.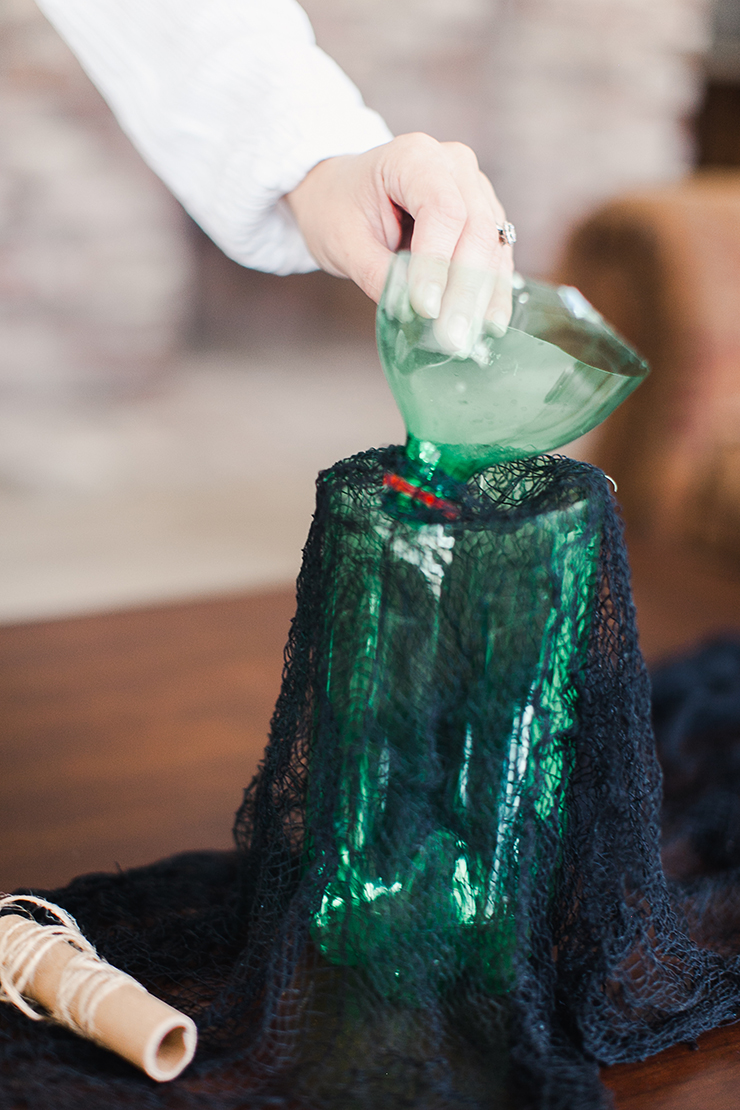 Twine Time!
Now you are ready to twine it up! Cut a long piece of twine – no need to be exact – and wrap it around the outside of the bottle. You need to secure the ends with a little bit of hot glue. Use a hole puncher or scissors to cut a hole on either side of the bottle. Next, string through a piece of twine on each side. These pieces are what you will use to hang your new lantern.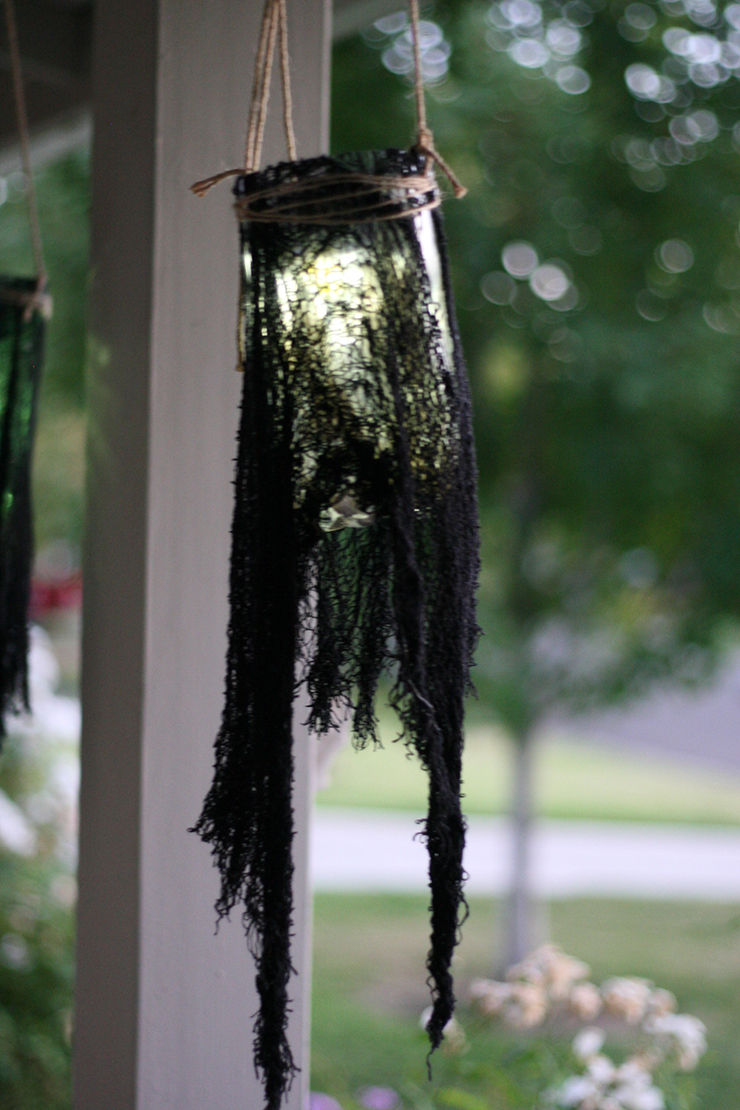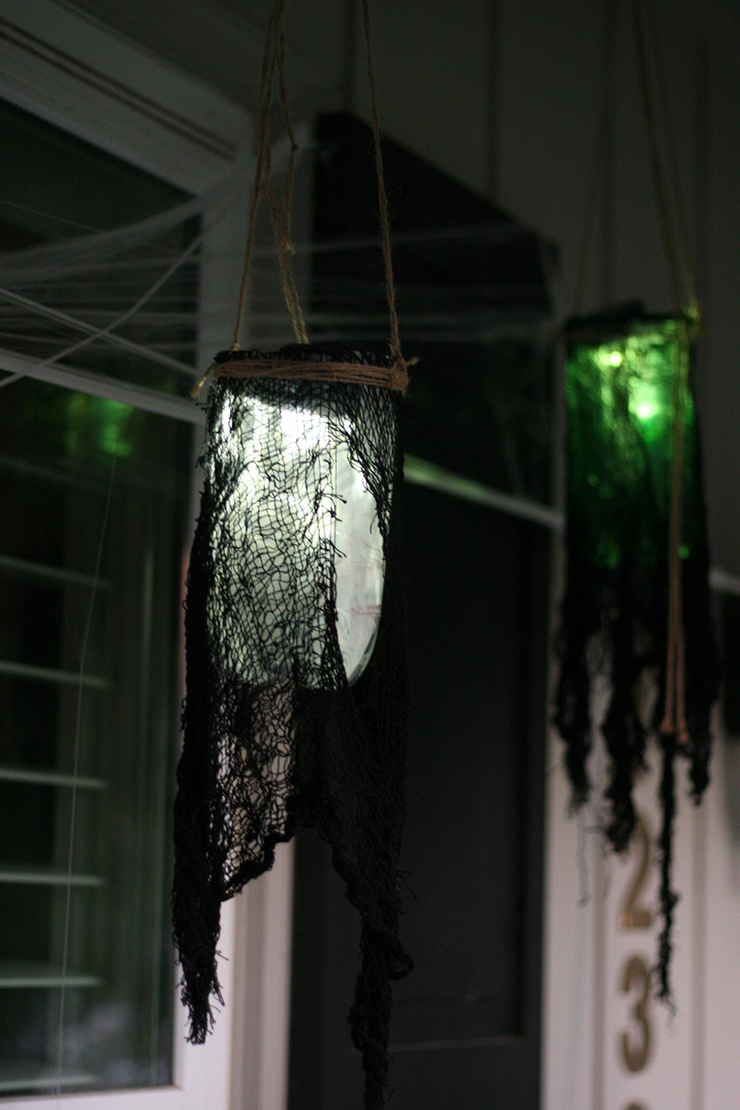 Let's Talk Lighting!
Let's talk about the lighting options for the lanterns. I actually used two different lights for my spooky lanterns. I had a number of flickering tea lights hanging around as well as some cheap solar light sticks from the Dollar Tree, so I decided to use both of them for the lights in the lanterns.
Different lights made for various brightness levels and ended up looking SUPER authentic!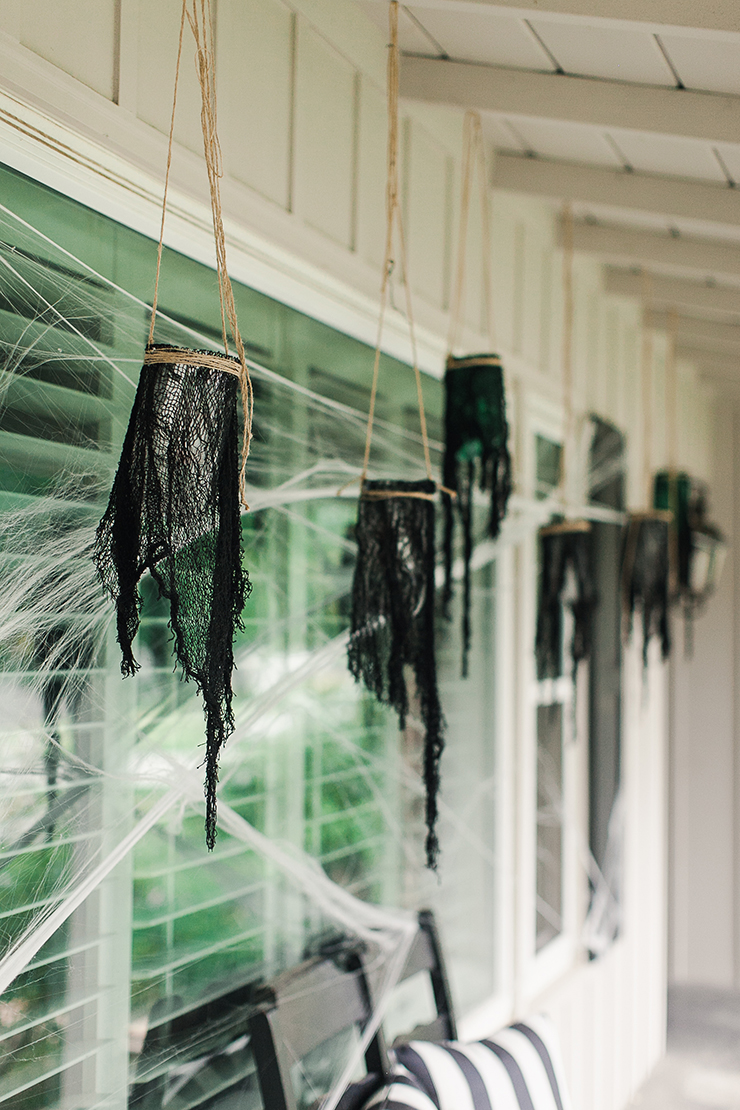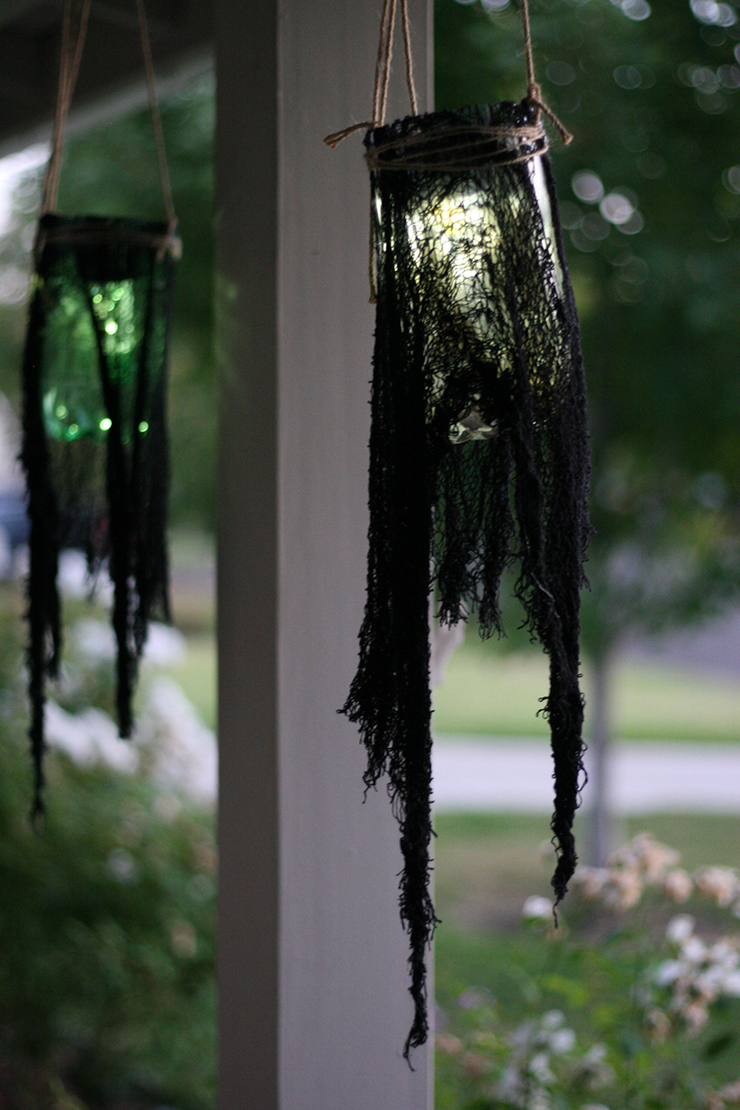 The cool thing about the solar lights was that they recharged! I simply left the light in there, and they would charge during the day and begin shining once dusk hit. And I really liked the brightness they gave off, and how they worked really well in the green soda bottles.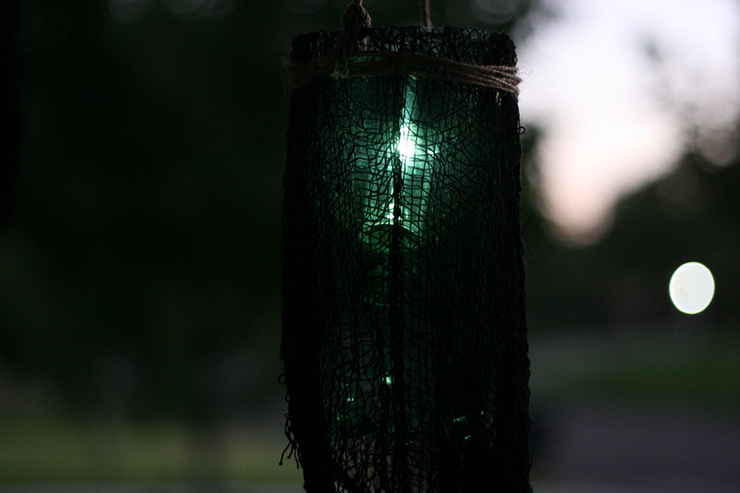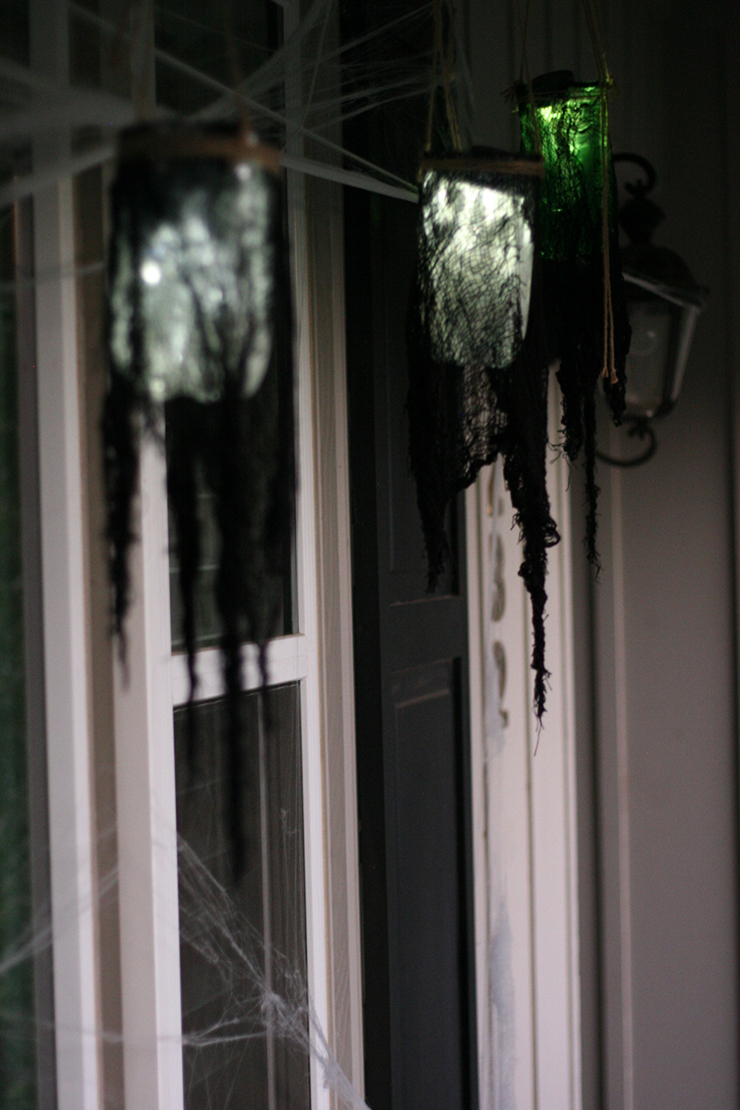 I hung my lanterns at various heights, and tried to alternate high and low. All in all I am really pleased with how they turned out! They have weathered the rain and wind, and are still looking great! Not to mention they cost a whopping $17 for 14 lanterns. I think that is a pretty good deal!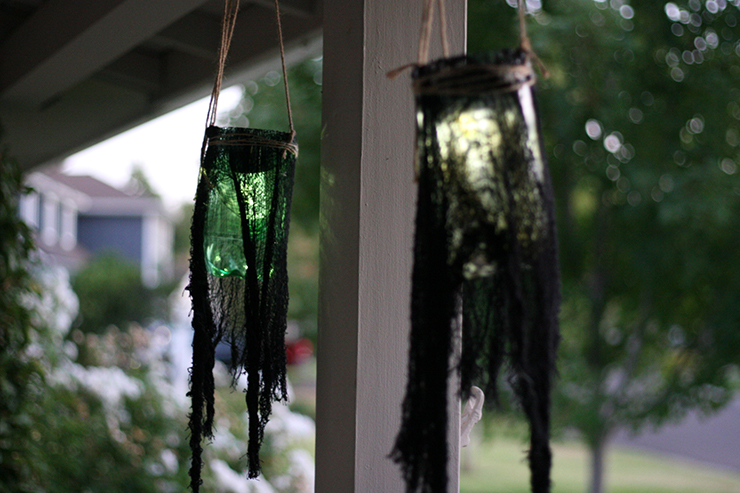 So, what is your favorite Halloween DIY? If you like to repurpose everyday items, you might also love our Trash Bag Spider Webs! And if you're looking for more lantern ideas for fall holidays, check out these Mason Jar Lanterns!