This post may contain affiliate links which may give us a commission at no additional cost to you. As an Amazon Associate we earn from qualifying purchases.
Last year around I went searching for the perfect Turkey recipe. I probably spent a couple hours each day for a week scouring the internet for a recipe that would ensure a crispy skin, but leave the inside super tender. I finally settled on a recipe that called for the use of cheesecloth. The cheesecloth was used to coat the outside of the bird to protect the tender skin. It was a win! My turkey turned out perfect. As a result I have a ton of extra cheesecloth laying around the house. Naturally I decided to use it to make Cheesecloth Halloween Ghosts. This DIY project was super fun, easy, and cheap!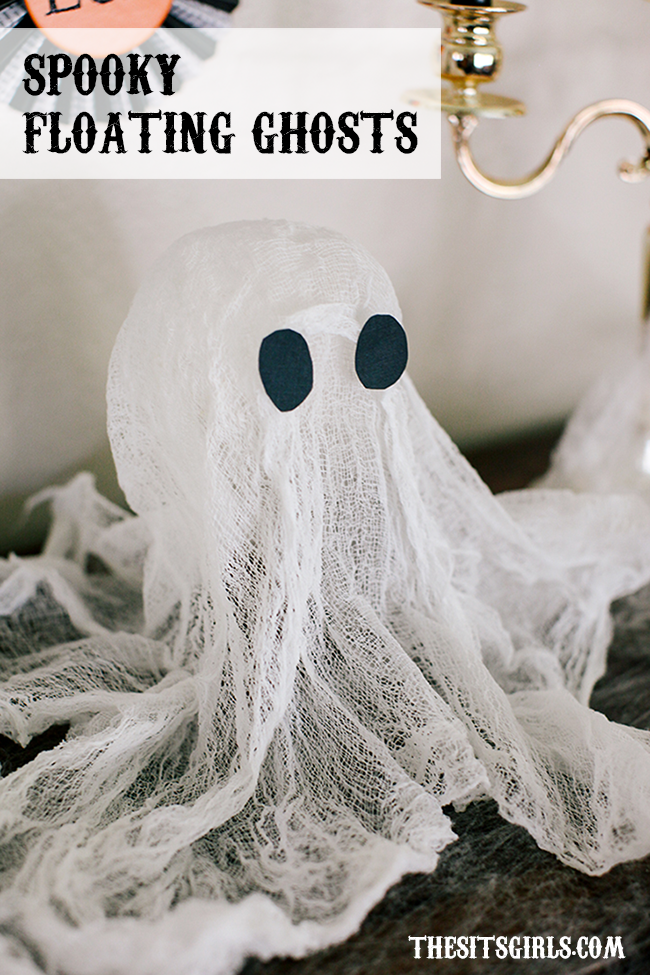 Floating Halloween Ghost Materials
Cheesecloth 1-2 packages (you can buy this from most grocery or craft stores)
Liquid starch
Balloons
Cup or mason jar (something to prop the balloon on)
Straws or sticks if you want to add arms to yours
Cooking spray (optional)
Spray bottle (optional)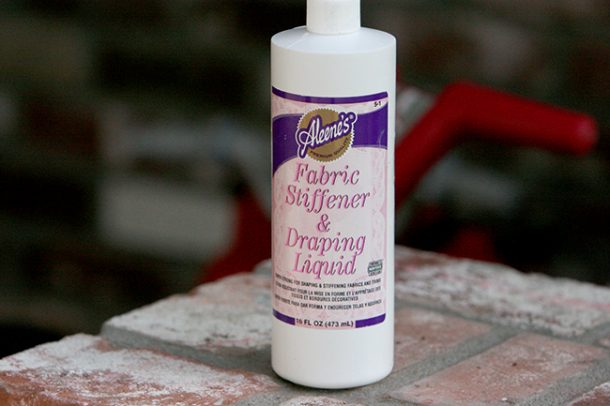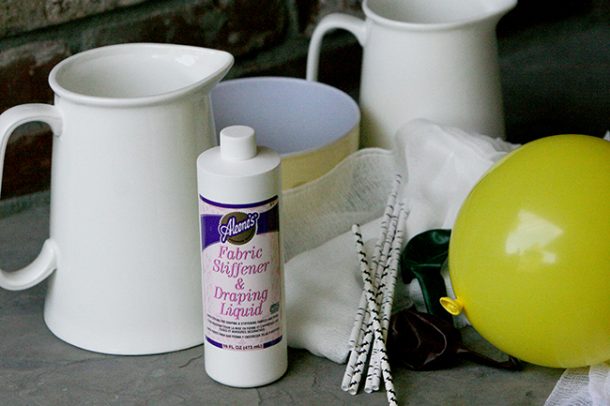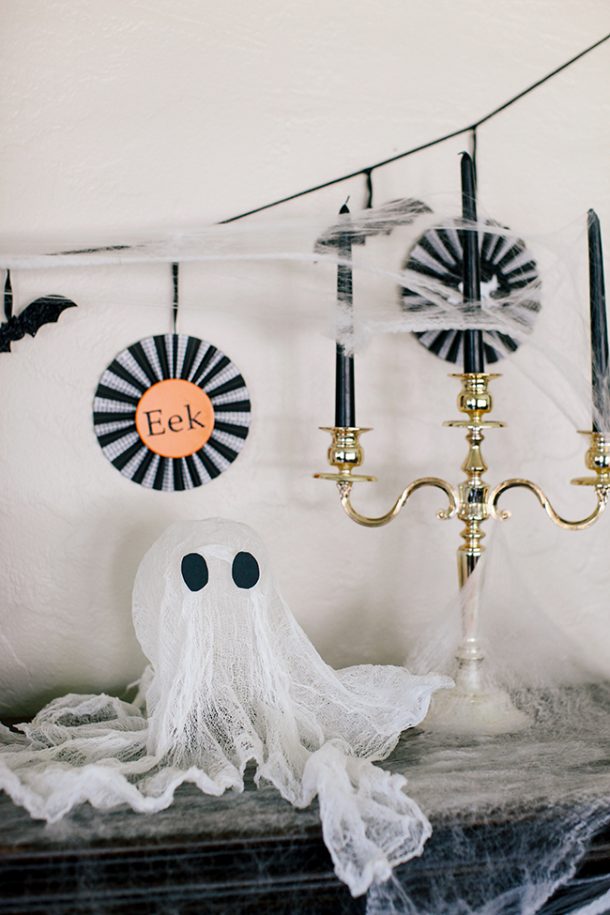 How To Make A Floating Halloween Ghost
Tip: I would do this project outside because liquid starch can get a tad messy.
Step 1
First you need to blow up your balloon to the size of the head you want your ghost to have. It does need to be big enough to fit on the rim of the glass or container that you will prop it on. If you are wanting your ghosts to have arms, you can stick straws, pencils, or sticks underneath the balloon. This is your basic form for making the ghost.
Step 2
Unwrap your cheesecloth, and completely unfold it. Most cheesecloth is folded numerous times when packaged. At this point you can lay it over your balloon form to test and see how it drapes. If you want it to be draped more at the bottom find a shorter glass, if you want it less you can cut off some extra. Here is an example of draping using straws to make the arms.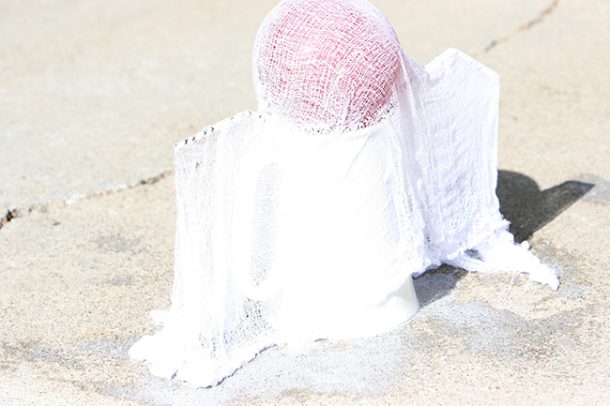 Step 3
When doing this project I used a little bit of the scientific method. The good old trial and error was my best friend. There are two ways you can work with the liquid starch. The first way I tried, I poured the starch in a bowl and soaked the cheesecloth in it. After this it takes a little bit more time to squeeze the excess out and drape it over your balloon form.
The other option is using a squirt bottle filled with liquid starch. If your liquid starch is super thick, poor half starch and half water into a squirt bottle and shake. Drape your cheesecloth on the balloon form and then saturate it completely by spraying the water/starch mixture on your cheesecloth draped form.
Tip: This is where the optional cooking spray comes in to play.  I decided to coat my balloon with cooking spray to help make the cheesecloth easier to remove once it dried. This turned out to be a great idea! The forms slid right off.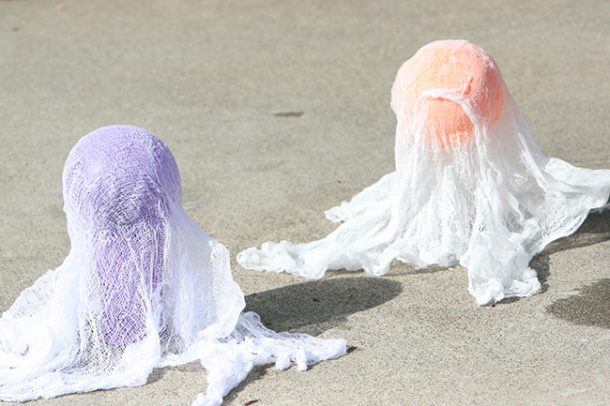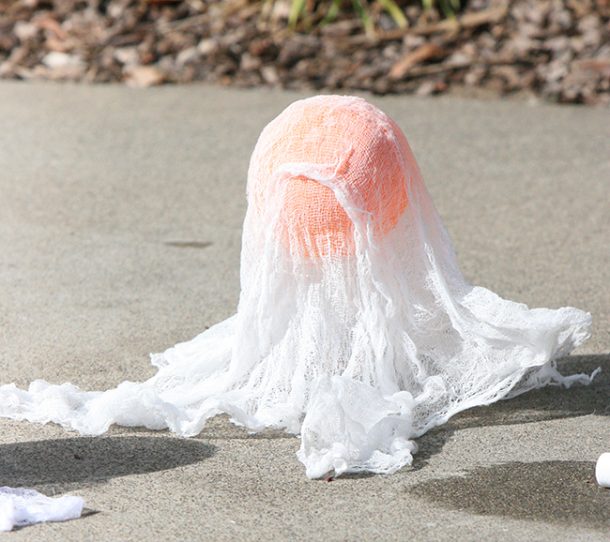 Step 4
Make sure the cheesecloth is draped how you want it at the bottom, because once it begins to harden, you will not be able to readjust it. On a warm day it will take a couple hours to dry, but it could take four hours if the day is cool. Once your forms are dried, you can remove them from their stand, and they should be able to stand entirely on their own.  If they are not hard enough, just reapply the liquid starch mixture and that should do the trick!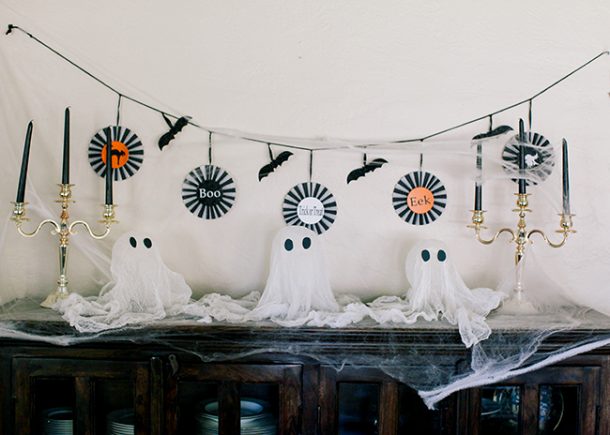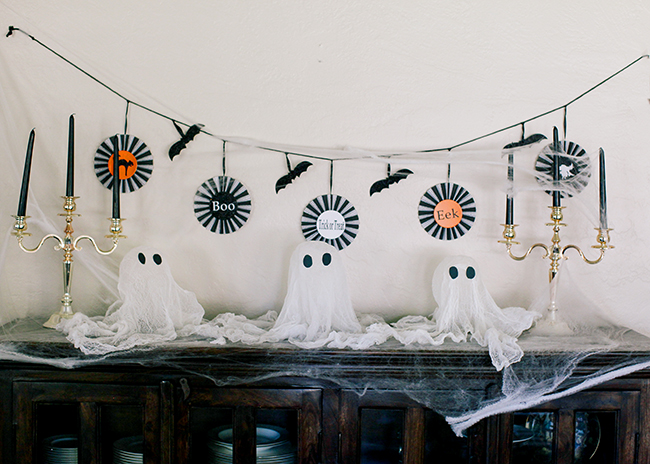 You can style your ghosts however you wish!  You can add eyes, a bow, or hang them.  I personally love them in groups of threes, so I suggest you make at least three!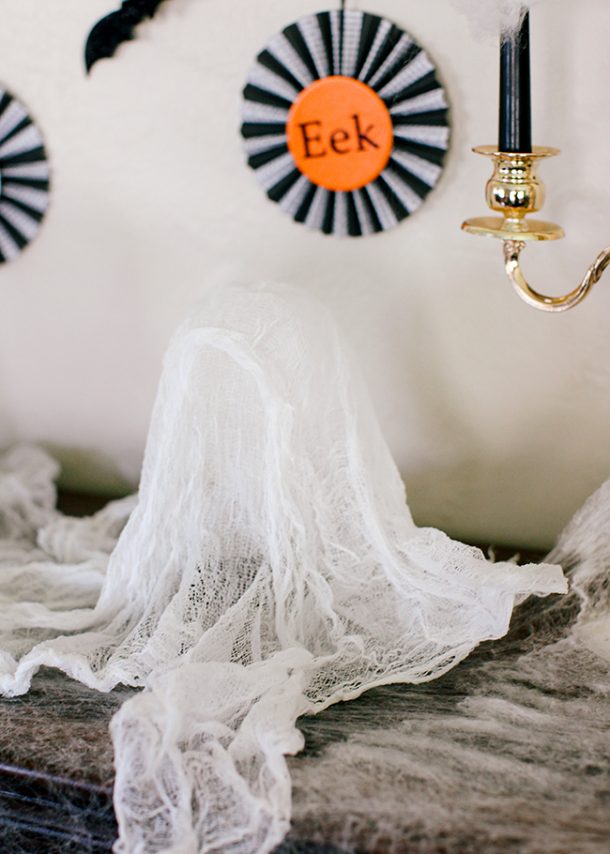 This Halloween ghost looks great without eyes, too.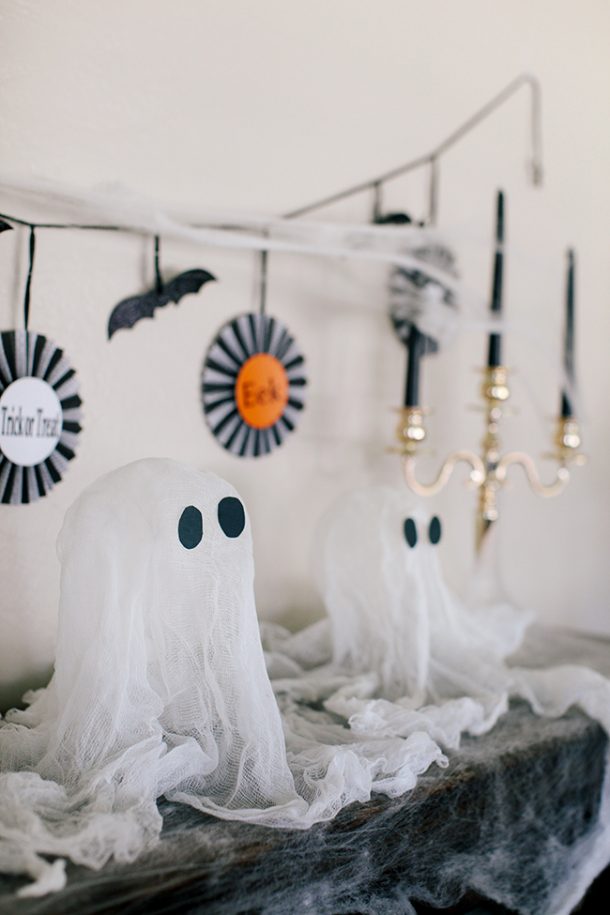 After I was done taking pictures my kids had a ball gluing googly eyes and adding their own personal touches to our Halloween ghosts. Happy Haunting, ladies!