This post may contain affiliate links which may give us a commission at no additional cost to you. As an Amazon Associate we earn from qualifying purchases.
Are you looking for Halloween pumpkin ideas? Or new and exciting ways to decorate your Halloween pumpkins?  Then, look no further!
Learn how to bring a little spook into your décor using pumpkins decorated with fabric, lace, and burlap.
These are simple, mess-free Halloween pumpkin ideas for you to dress up your pumpkins and bring the Halloween spirit into your home!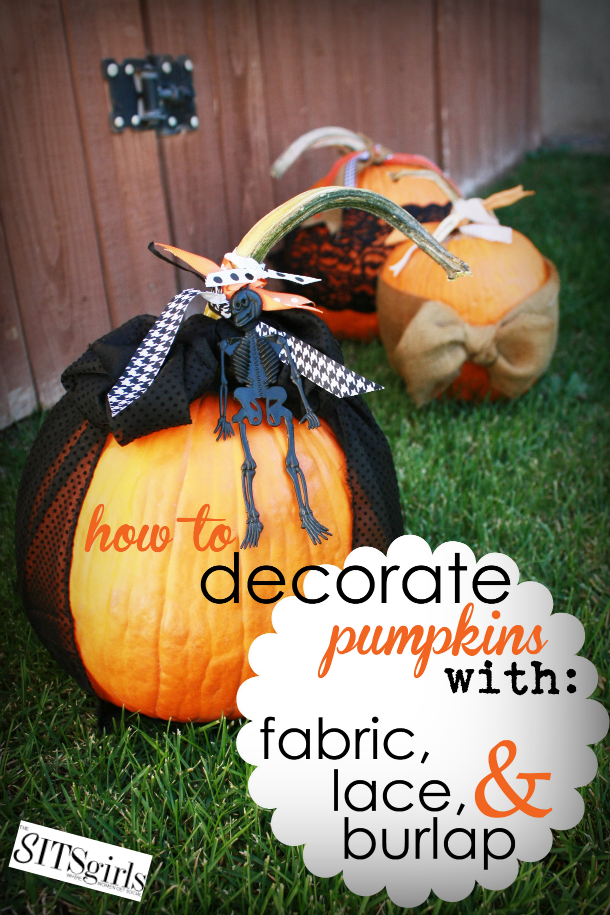 Halloween Pumpkin Ideas A-Plenty
To begin, collect a few easy-to-find supplies.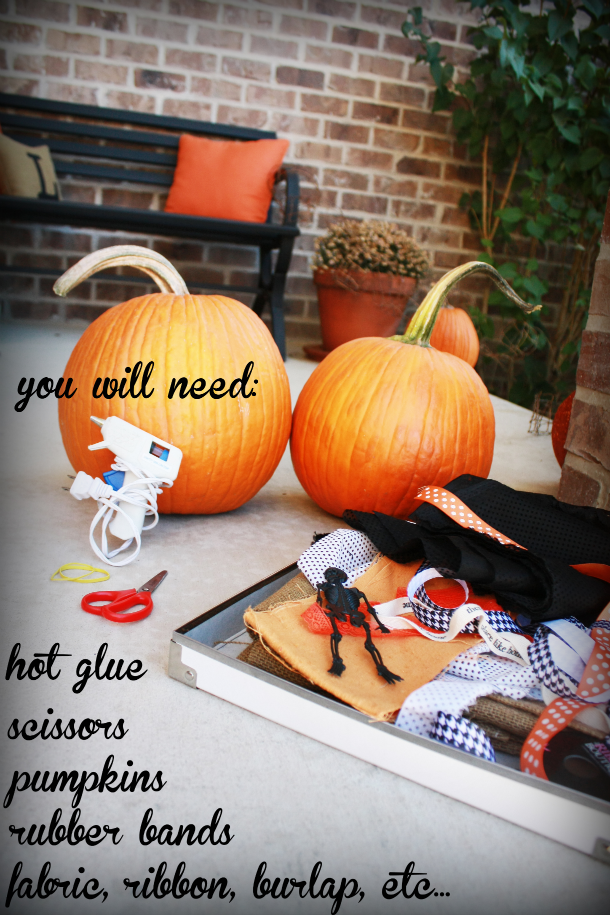 To Decorate a Pumpkin Using Fabric or Tulle:
Cut a long panel of fabric to wrap completely around your pumpkin.  (from stem to stem)  You could easily cut two panels to wrap your whole pumpkin in fabric, but I like some of the pumpkin peeking out!  Fold your panel, so that the width matches the width of your pumpkin, and place your pumpkin on top.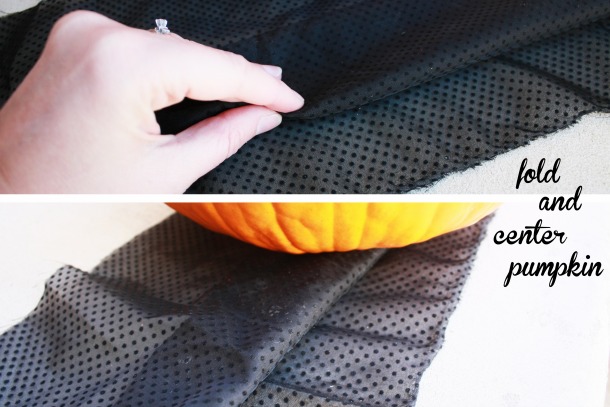 Pull up the sides of your fabric, and fasten to the stem of your pumpkin using a rubber band.  Take care in pulling out wrinkles and bumps.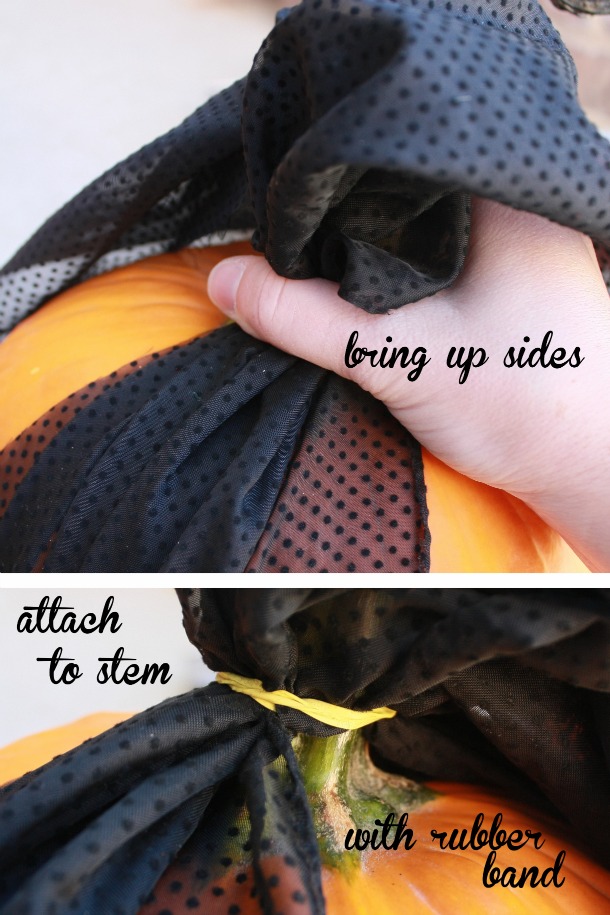 Curl the edges under and tuck into the fabric to create a bow.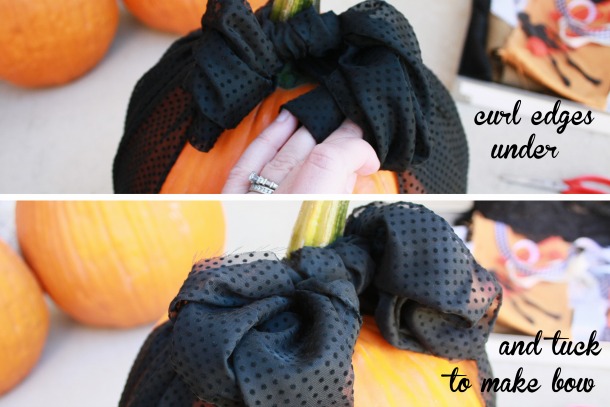 Trim your pumpkin stem with bits of ribbon, lace, and fabric.  Cut the edges of the lace to add more detail.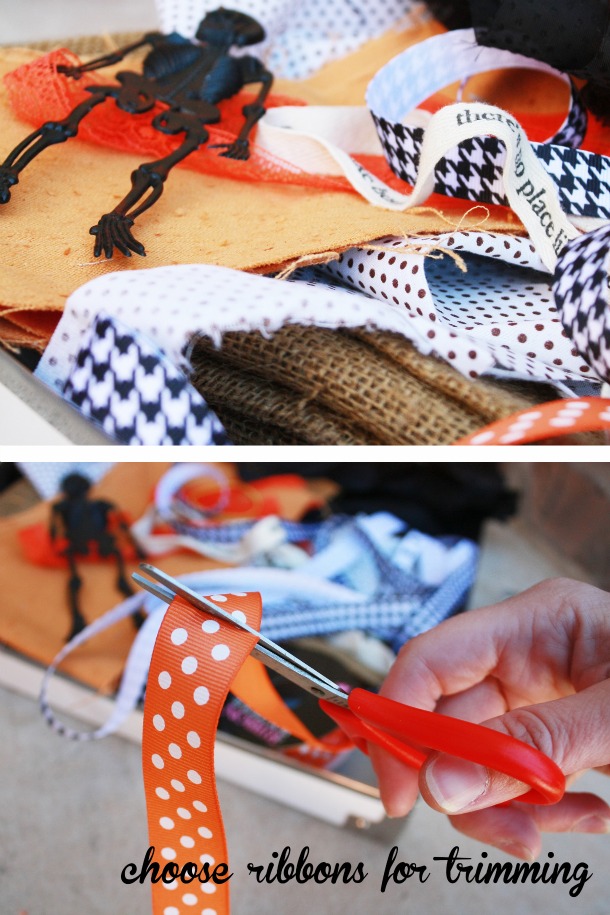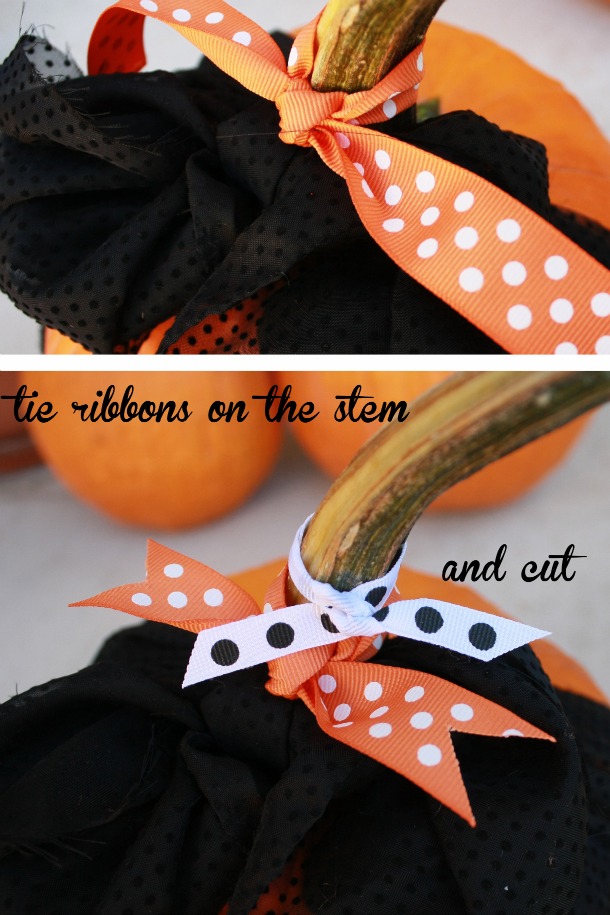 You can add decorative elements, or leave it as is!  Fabric is the perfect way to kick your pumpkin decorating power up a notch!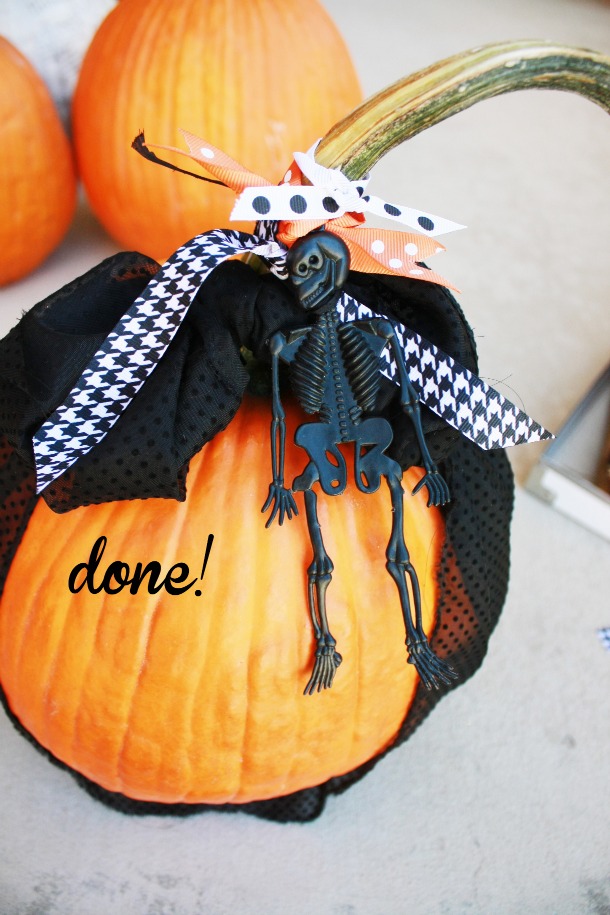 To Create a Pumpkin Using Lace:
Cut a piece of lace that is long enough to wrap around the midsection of your pumpkin and tie in back.  You could also fasten the lace to the pumpkin using hot glue.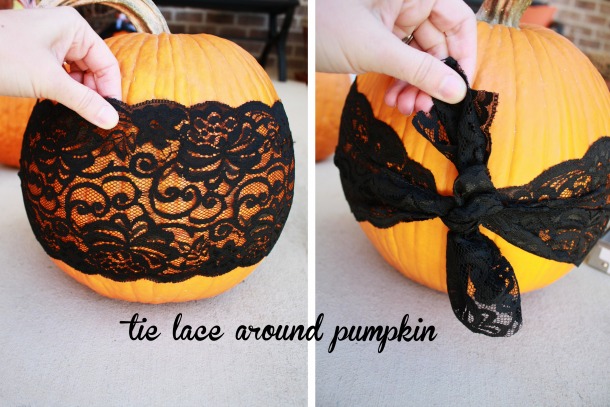 To top your lace pumpkin, stretch out different layers of fabric, burlap, lace, or ribbon.  Keeping your layers bundled, tie them on your pumpkin stem.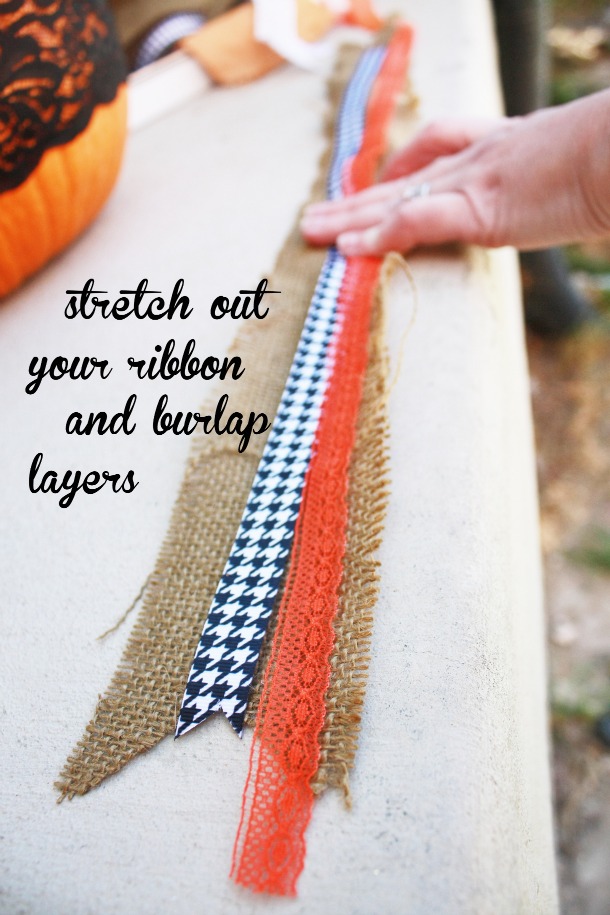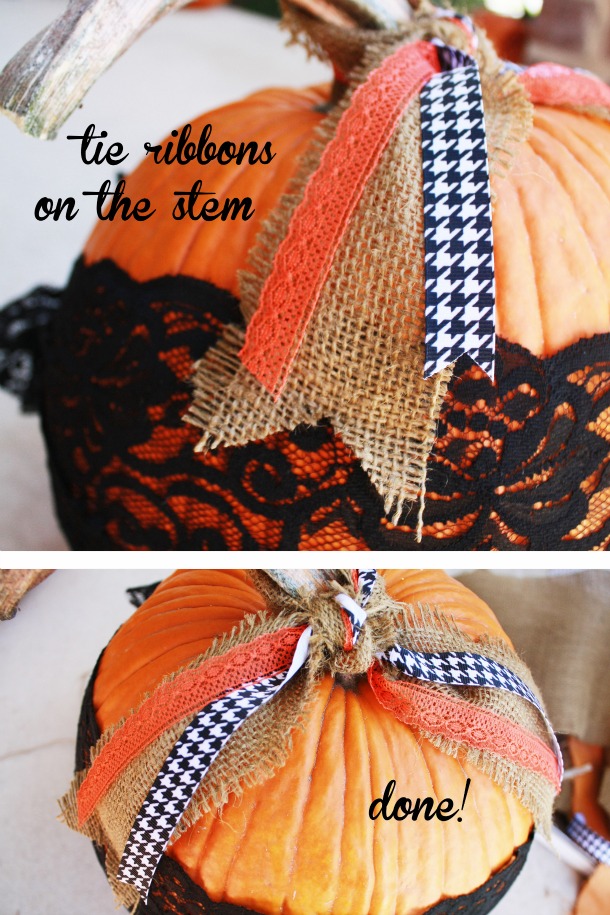 To Create a Pumpkin Using Burlap:
Cut a thick strip of burlap long enough to wrap around the midsection of your pumpkin and tie in front.  Roll the edges and tuck them under to make a bow.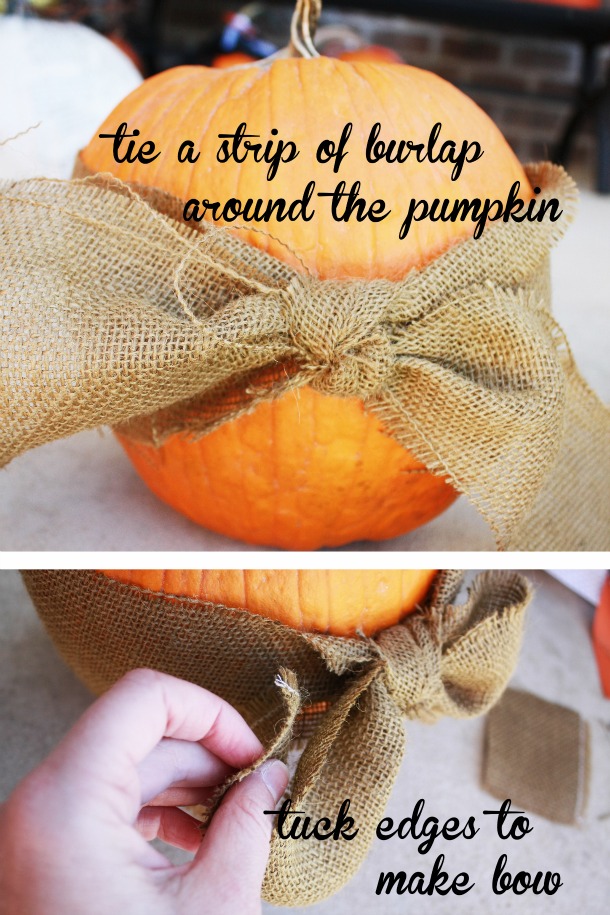 Jazz up your burlap pumpkin by attaching bits of ribbon, lace, and burlap to the stem.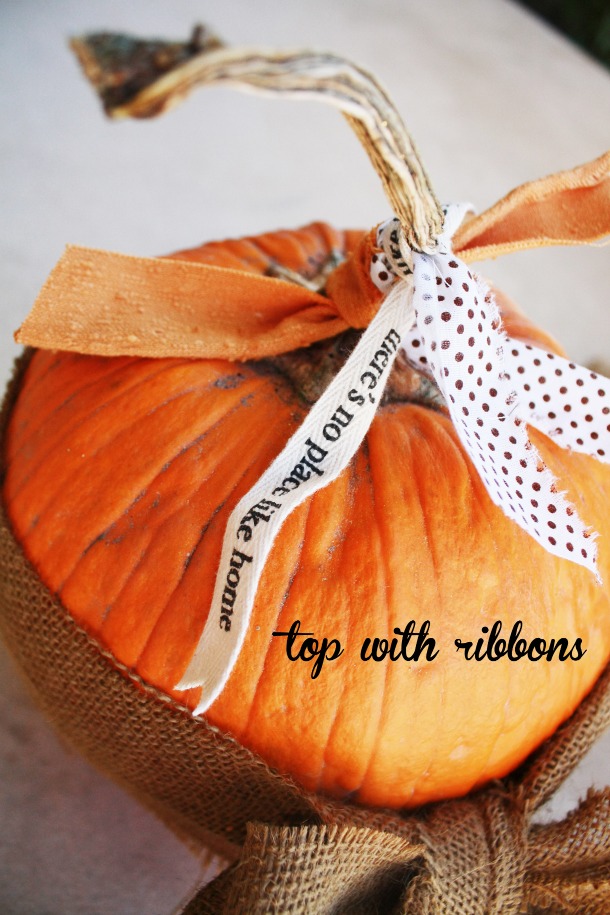 Fabric, lace, and ribbon are an easy way to add a bit of charm to your Halloween pumpkins, and the perfect way to get your front porch trick-o-treat ready!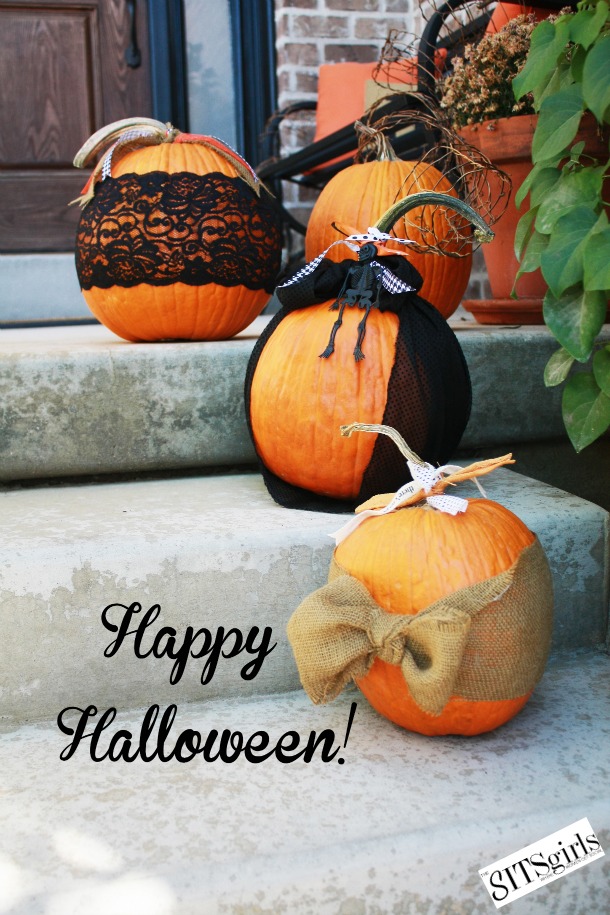 More Halloween Pictures and Fun Await!
Did you enjoy our Halloween pumpkin ideas? Because we've got plenty more where those came from. Head over to our Pinterest page to check out our Hocus Pocus Halloween pin board. Be sure you do not miss the below links too!