This post may contain affiliate links which may give us a commission at no additional cost to you. As an Amazon Associate we earn from qualifying purchases.
My first year of marriage we moved to our "forever" home, and that December I was so excited to decorate our first tree. However, after a quick visit to the store, I realized the beautiful glass ornaments I had been eyeing were so expensive! Even the cheap plastic ones were beyond my budget. I was so not prepared to fork over $300 for ornaments, but I also wanted an impressive tree. The struggle was real. I finally found a solution and spent a couple hours one night crafting these beautiful Handmade Christmas Tree Ornaments with toilet paper rolls and toothpicks.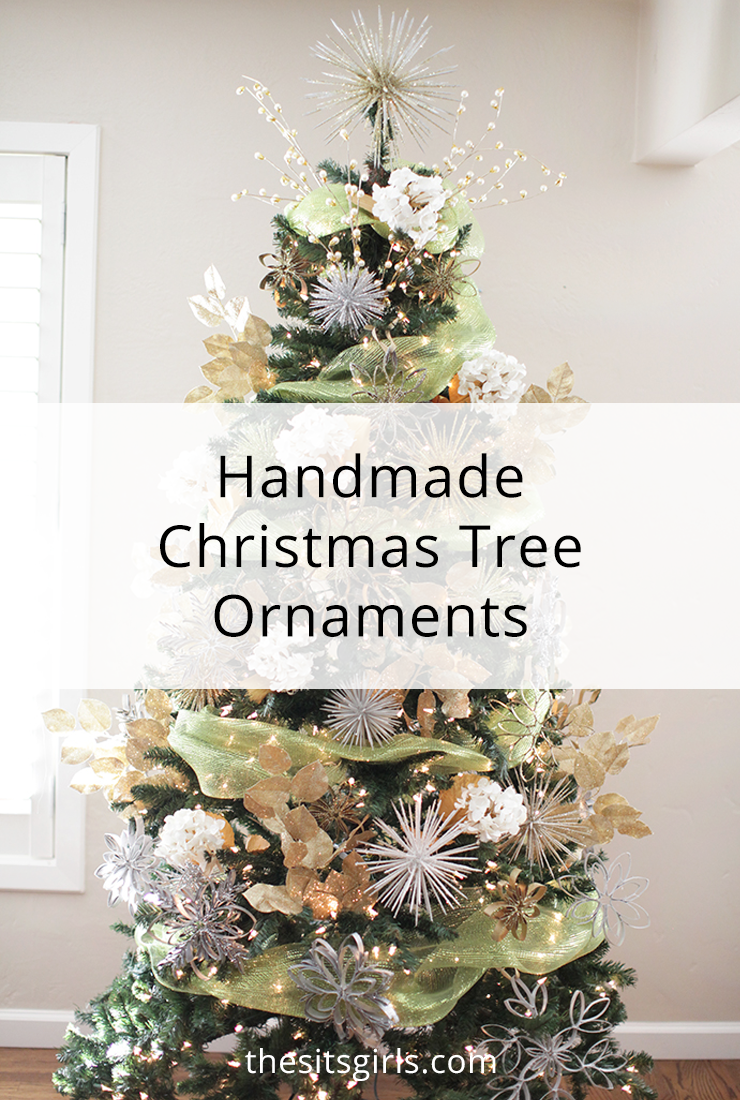 Handmade Christmas Tree Ornaments
I made two types of handmade Christmas tree ornaments. The snowflake ornaments were made using toilet paper rolls and the spike burst balls were made using toothpicks! Check out both tutorials below — I made a video for each of them — plus, I included bonus tips for creating your own tree topper. (note: this post contains affiliate links)
Toilet Paper Roll Snowflake Ornament Supplies
Tip: Each toilet paper ornament takes about 2-3 toilet paper tubes, so if you are making a bulk amount, ask friends and family to donate theirs!
How To Make Toilet Paper Roll Ornaments
1. Begin by flattening the toilet paper rolls — lay them on the table and push them flat with the palm of your hand. Each ornament takes about 3 rolls, so I would suggest flattening about 24 at once.
2. Starting at one end, cut the flattened tubes into sections. Depending on how wide you cut them, you should get 6-8 flattened rings from them.
3. You can make a variety of different patterned snowflakes once you have the rings cut. There are 4 basic ring shapes I used to make them all. You can leave them as they are, fold them in half, cut one end, or cut them in half.
4. The basic shape of the snowflakes is almost like a flower. I used 5 tube rings glued together for some and 6 tube rings glued together for others. I would recommend making the base shape first and then building off that!
Ideas for building your toilet paper roll snowflake shapes: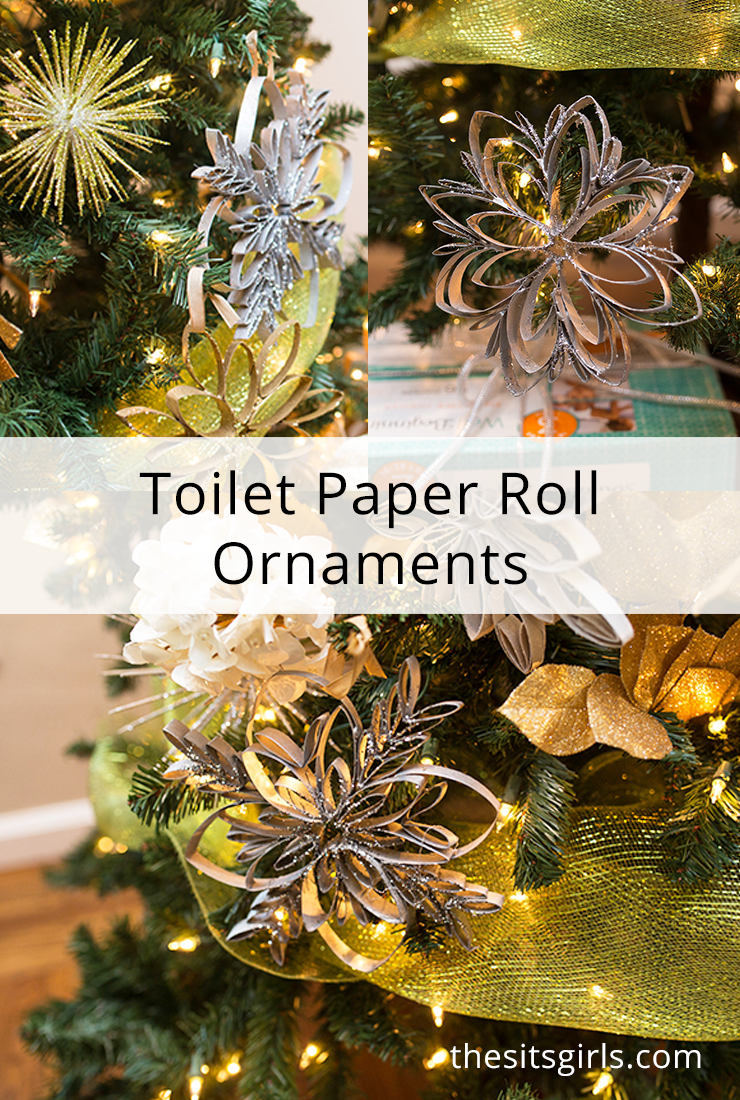 This one was made using the standard flattened rings and the center decoration was made from folding the rings in half.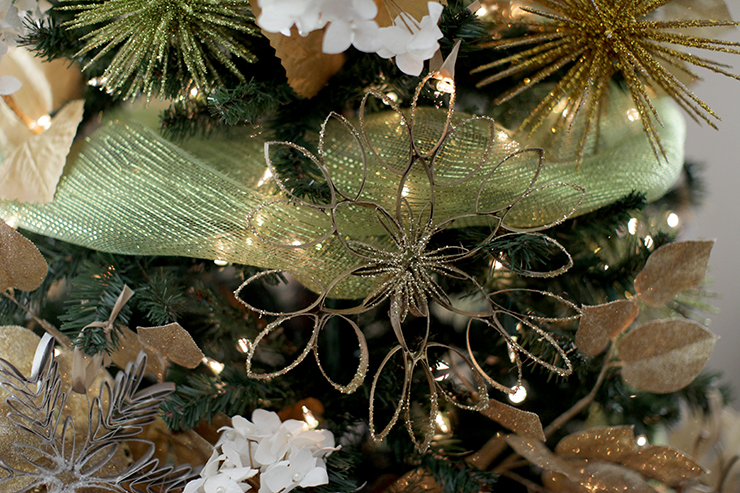 This is another example of folding the tubes and gluing them to the center to add some extra decoration!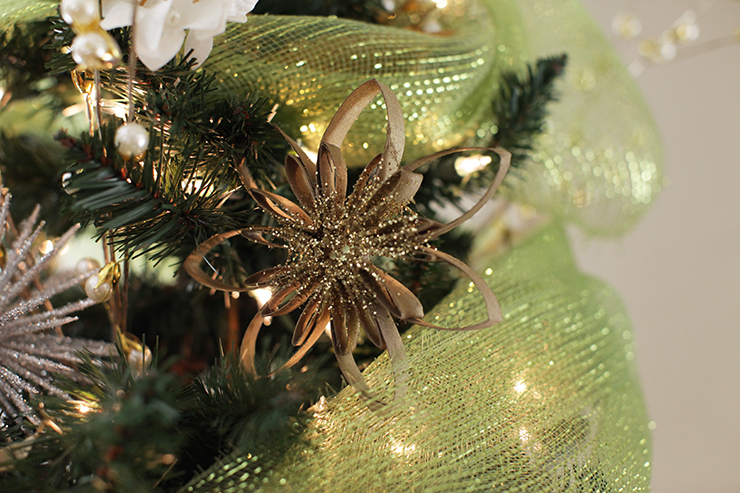 The center of this was made using the flattened tube rings. To create the outer edges, I cut the rings on one side and glue them around the flower design. Between each of the "petals" I used a flattened ring cut in half.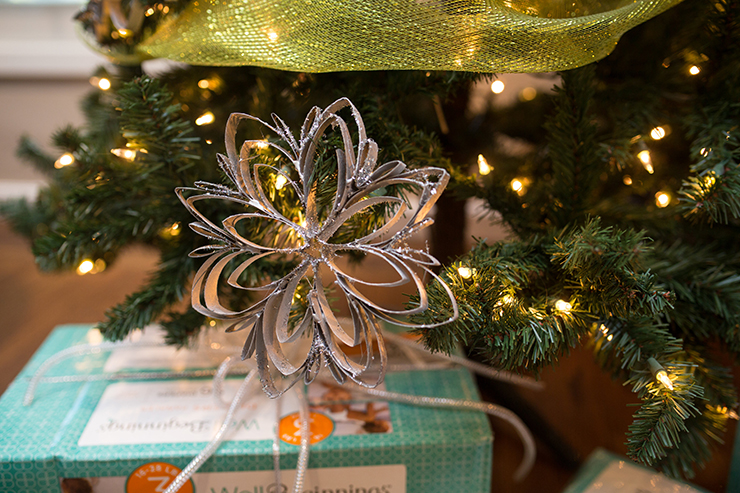 This beautiful snowflake is made using all 4 of the shapes. It is the one demonstrated in the above video. The base is made from the flattened tube rings, the center decoration is made from the rings cut in half, the outer petals are made from the rings being cut open on one side, and the outer points are comprised of rings folded in half and stacked on top of each other.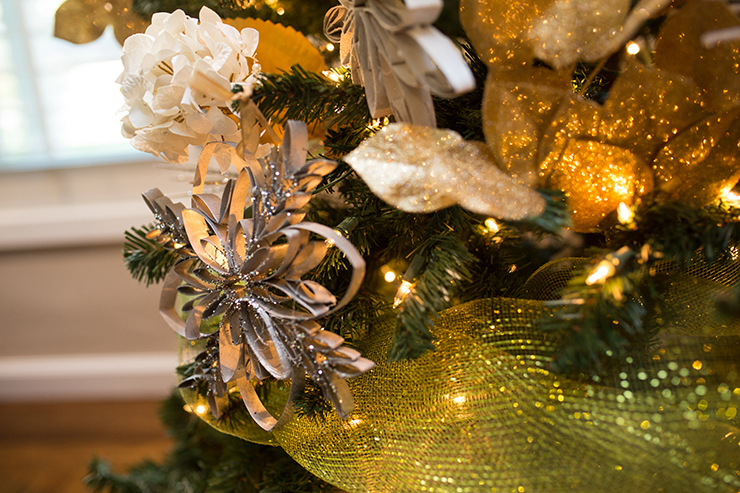 5. After you build your snowflake, you are ready to spray paint them. Apply spray paint, quickly followed by spray adhesive. Next, quickly apply the glitter. Let them dry before you move them.
6. When they are dry, add a ribbon. Or you can hang them without ribbons. Whichever you prefer.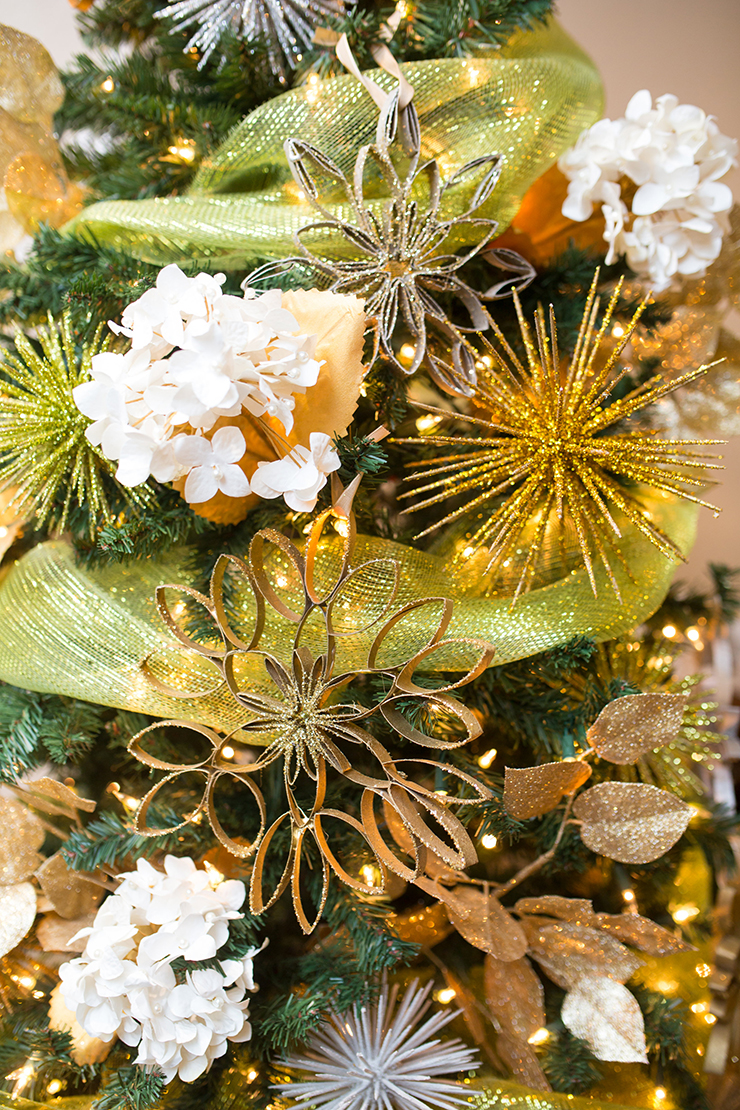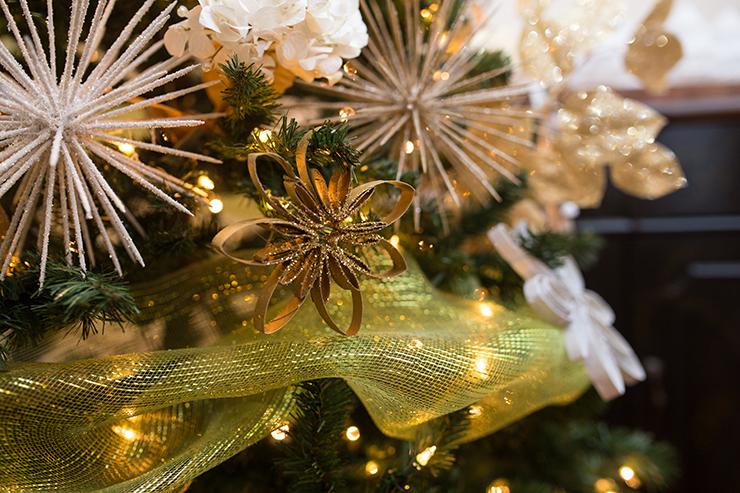 Spike Burst Ornaments
Don't stop with making handmade Christmas tree ornaments. The best thing about these spike burst ornaments is that you can use the same method to make a Christmas tree topper!
Spike Burst Ornament Supplies
How To Make Spike Burst Ornaments
1. Begin by pushing the toothpicks into the Styrofoam. I made mine in a linear design. I put my toothpicks in a row going all the way around the circle, and once that was done started a new row. But you can be more random with your toothpicks if you like.
2. Once each row was completed, I added a little hot glue to the row to make sure all the toothpicks stayed in place.
3. When your entire ball is covered you can add some extra hot glue to any toothpicks that look like they might be a tad loose.
4. Spray the ball with whatever color spray paint you choose and then immediately spray it with spray adhesive.
5. Cover the ball in glitter and let dry. Before you bring it inside, give it a gentle shake to get rid of excess glitter.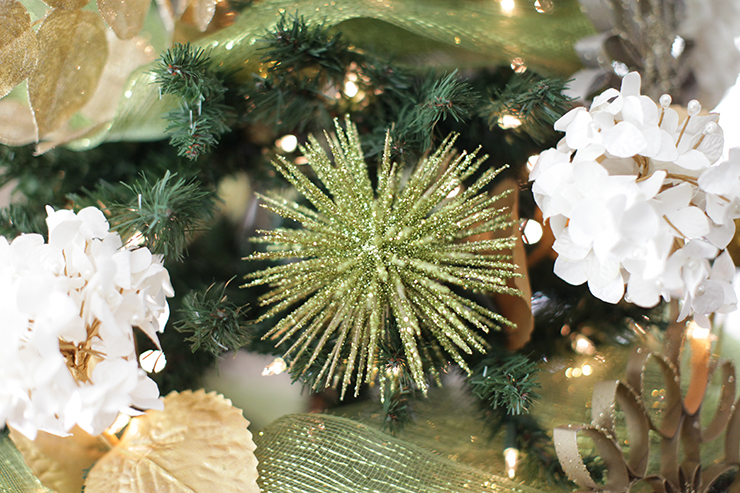 I used a variety of colors of spray paint as well as different colors of glitter. The thicker the glitter the fuller the spikes and ball will fill out.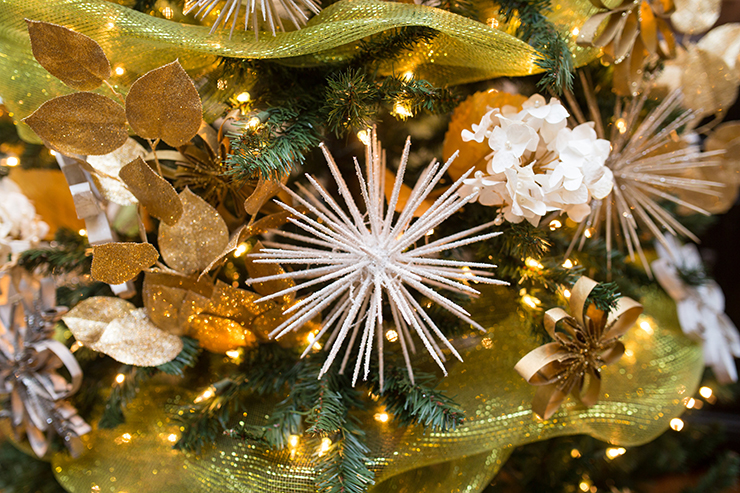 The ornament my friend Stephanie is adding to the tree was made using craft sticks. They are about 4 inches long.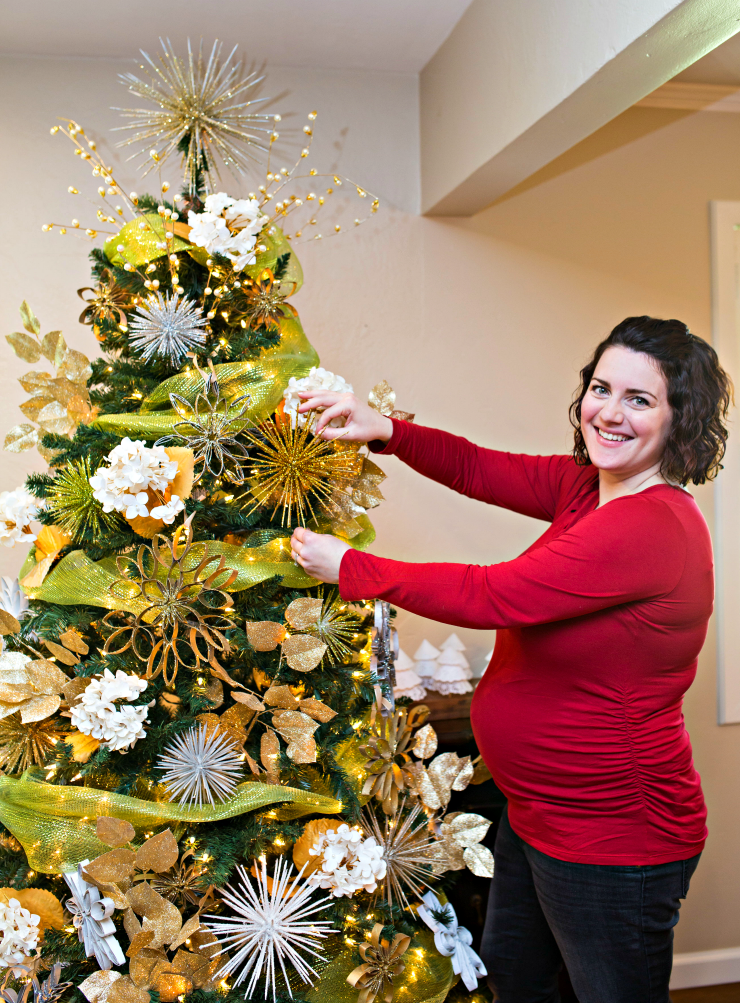 I loved the variety of different sized spikes. The process to make the bigger ones is the same. Use a slightly larger Styrofoam ball and longer wooden sticks.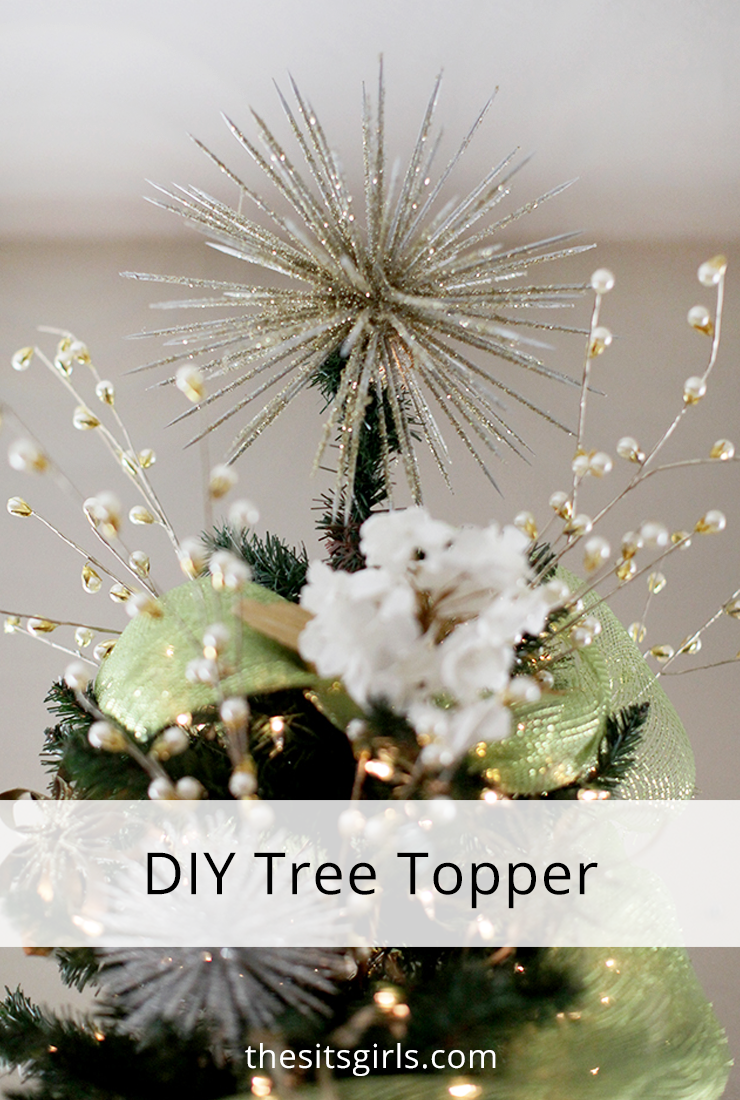 DIY Christmas Tree Topper
The decoration I was most proud of was my DIY tree topper. To make it I used some kabob sticks that I had left over from the winter. I pushed a portion of a wire hanger into the ball on one end and then wrapped it around the top of a branch on the other end.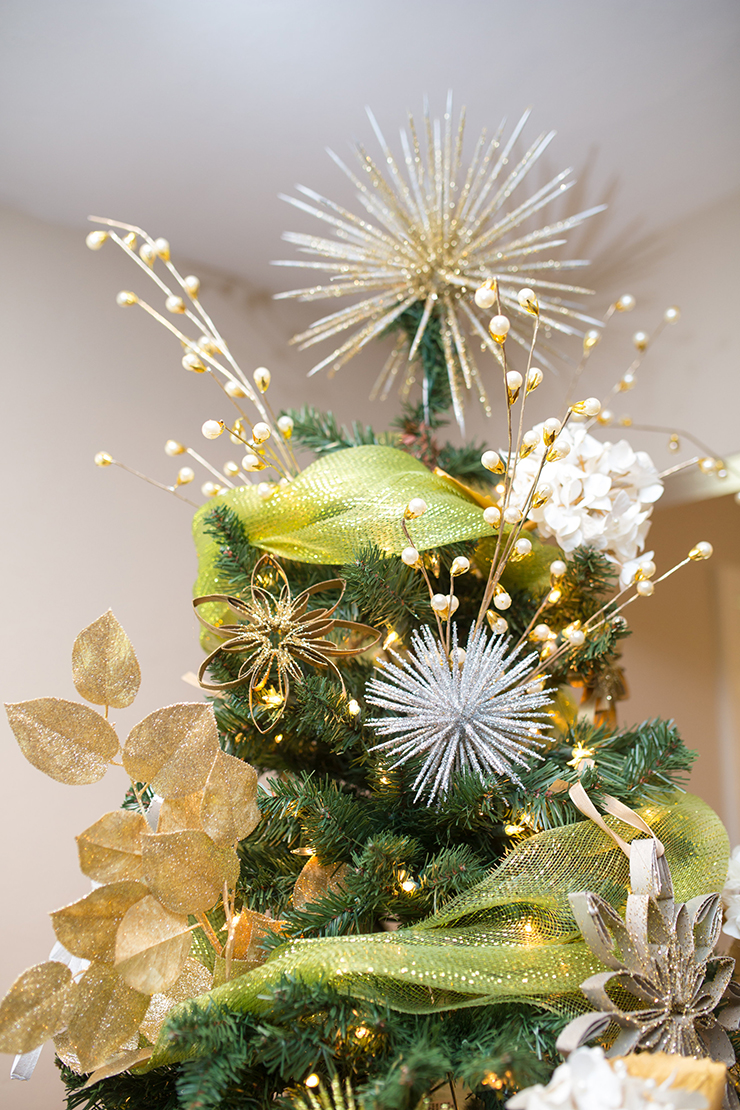 I can not even begin to tell you how pleased I was with how my homemade Christmas tree ornaments turned out.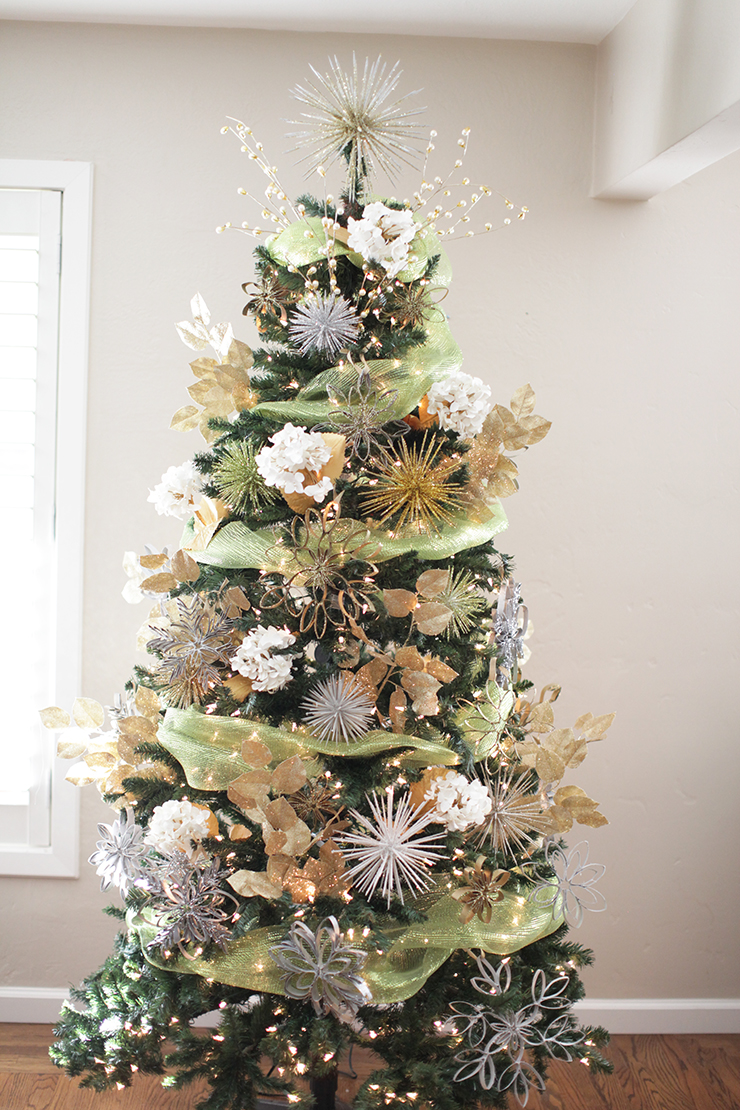 The total cost was somewhere around $30 for the entire tree! I added tulle, gold leaves, and flowers to finish it off, but honestly it looked beautiful even without those additions! You could easily fill the whole tree with only handmade Christmas tree ornaments and it would be perfect.
For more great holiday ideas, check out all of our DIY Christmas posts!