This post may contain affiliate links which may give us a commission at no additional cost to you. As an Amazon Associate we earn from qualifying purchases.
My daughter is obsessed with fairies and the magical pixie world. We have a fairy door in our house that is visited often by the Tooth Fairy and the Sugar Plum Fairies visit every year around Christmas. My son, however, is not so smitten by the fairies, so we decided to do something a little more up his alley… Diagon Alley, to be exact. This Harry Potter Cornish Pixie Jar Lantern is the perfect magical DIY project for Harry Potter fans or kids who need a little more mischievousness in their life! It looks exactly like a Cornish Pixie silhouette for their rooms! A pixie in a jar!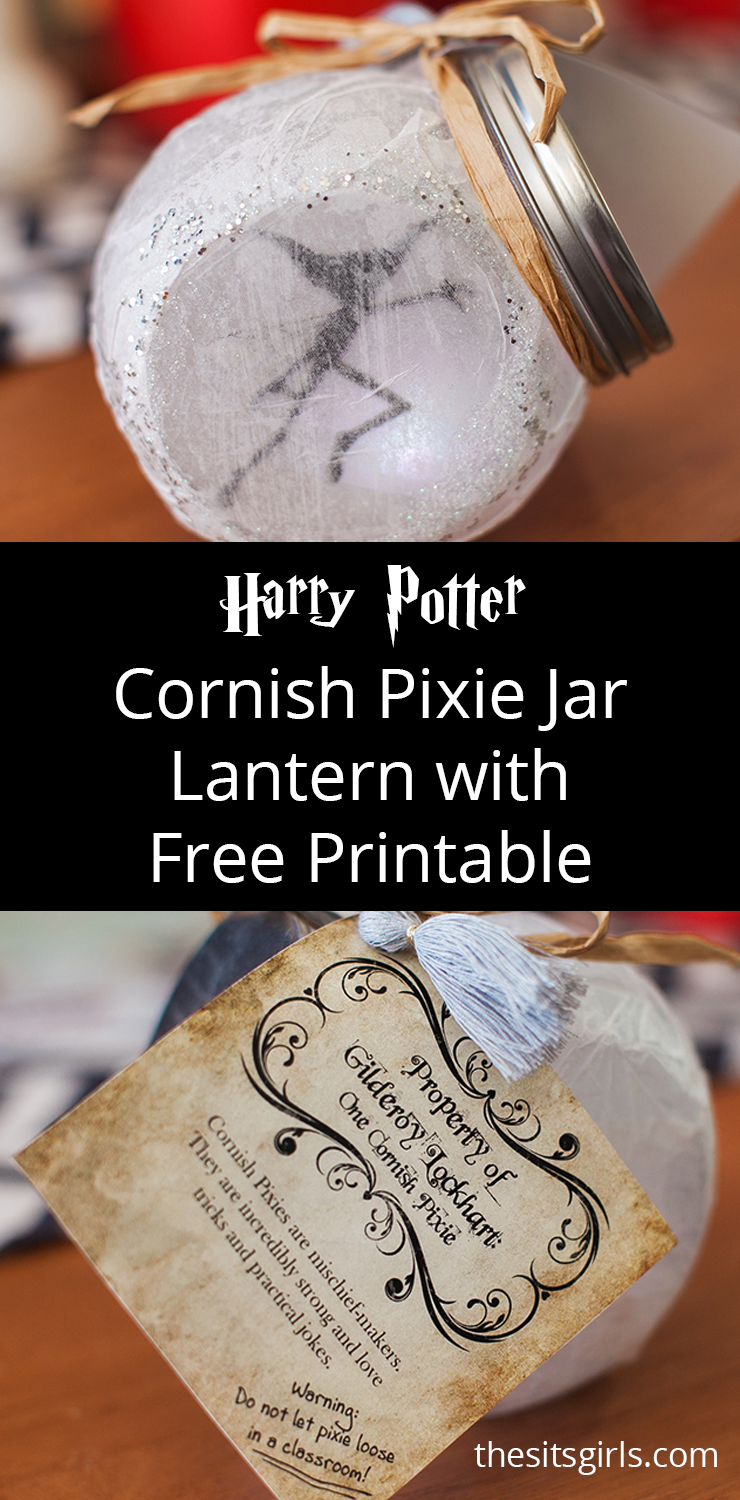 Harry Potter Cornish Pixie Jar Lantern
Cornish Pixies are the most mischievous of the pixies. Despite their tiny size, they are quite mighty. They love playing tricks and causing trouble — sounds kind of like a toddler to me!
In the Wizarding World, Cornish Pixies were introduced during Harry's second year. Gilderoy Lockhart brought a cage full of them into his Defense Against The Dark Arts class and set them loose. They wreaked havoc on the classroom, and were SUPER hard to catch, but we have to imagine that Hermione took at least one of them back to Gryffindor Tower for further study.
Did you fall in love with the pixies from Harry Potter too? Now you can have one of your own!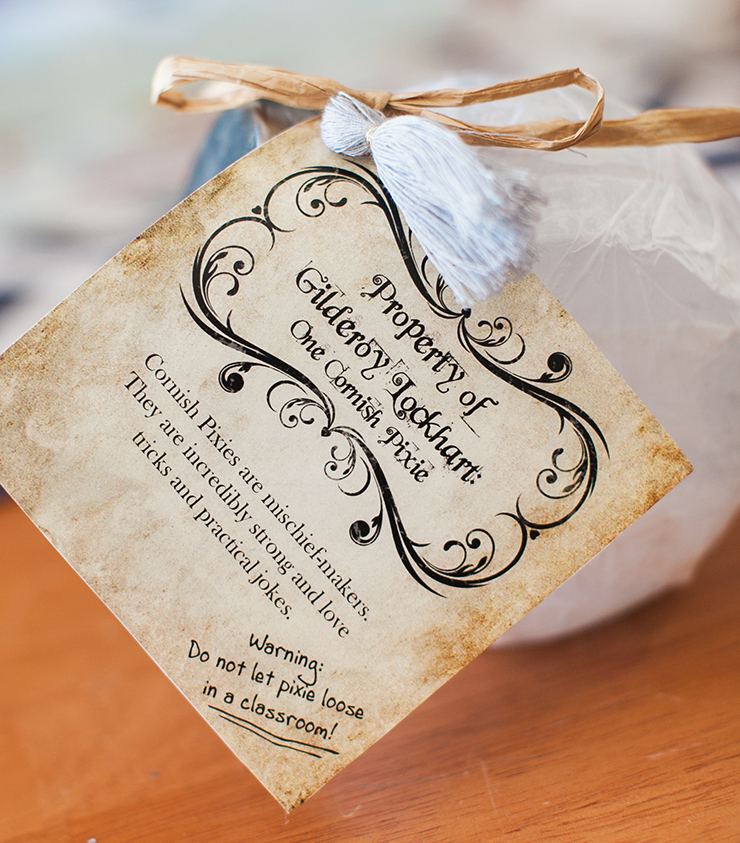 Once you let these little guys loose you might not be able to catch them, so make sure you pay attention to that warning tag! (Note: This post contains affiliate links)
Cornish Pixie Jar Lantern Project Materials:
Jar (I got mine from the Dollar Store)
Printable (free download at the end of this post)
Scissors
Cornish Pixie Jar Lantern Video Tutorial
How To Make A Cornish Pixie Jar Lantern
It is super simple to make a Cornish Pixie Jar Lantern! Modge Podge is your best friend in this project.
Your first step is to cut out the shape of the Cornish Pixie. Then you will apply a thin film of Modge Podge in the inside of the jar. Stick the Cornish Pixie cutout directly on the Modge Podge. Make sure the black side is facing outward! And add another thin layer of modge podge over your pixie cutout.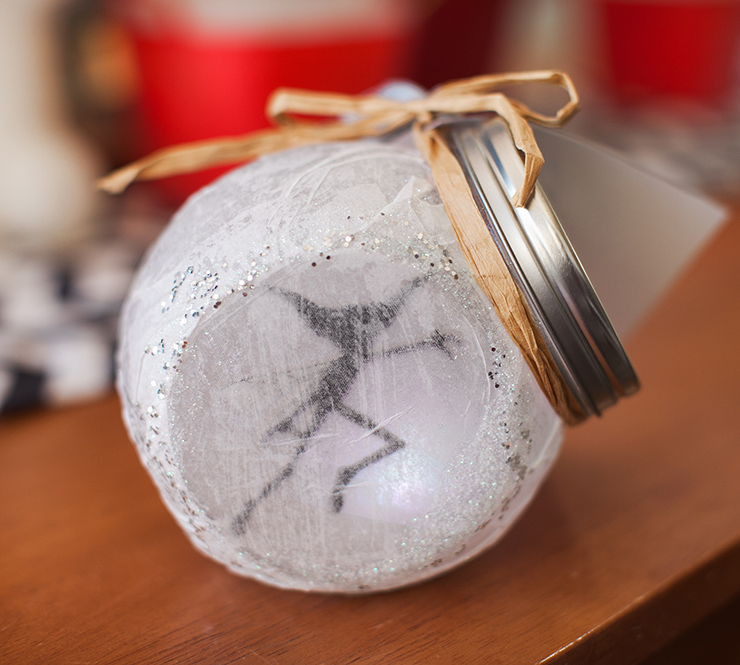 Next, coat the outside of the jar in Modge Podge and lay the tissue paper over the entire jar, gently pressing it down as you go. Cut off the excess tissue paper.
Wait for the jar to dry before you complete the next step. I wanted to add a little glitter to jazz it up because all magical creatures, of course, need glitter! I painted a little bit of Modge Podge around the face of the jar, and sprinkled some glitter on it.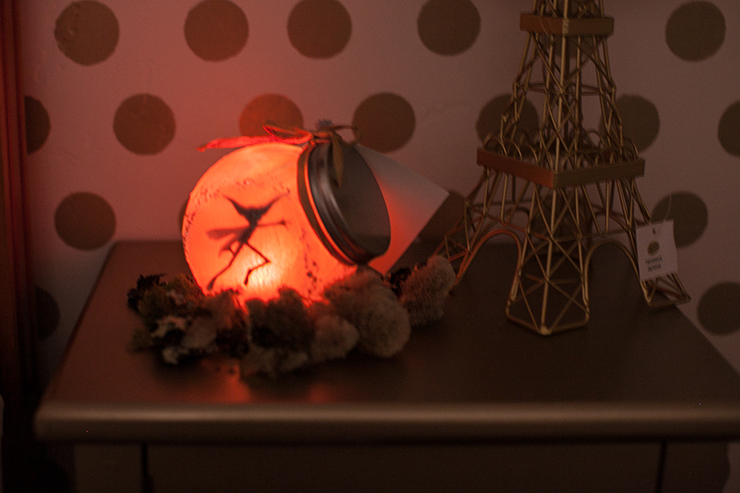 Once your jar is dry, you can insert your electric tea light candle. I choose ones that flash and change colors.
My kids use it as a nightlight, for reading, and even carry the jar to the bathroom for late night trips. A Harry Potter Pixie silhouette makes a perfect companion for the middle of the night!
It's like the "how to catch a fairy in a jar" crafts I made as a kid, but even better. Harry Potter Cornish Pixies will delight your kids! Even better that they can help make your own pixie.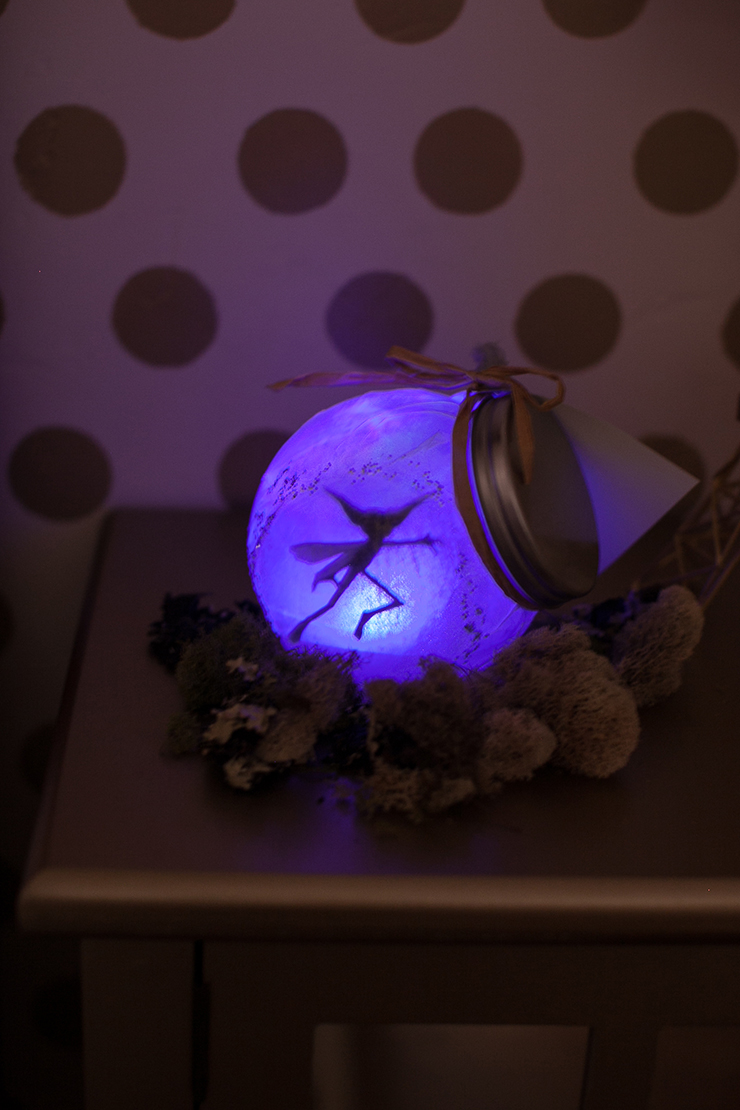 Cornish Pixies are great year round, but they are perfect for a kid who might be a little nervous to start school! They could even take it to their first day of school and show their friends. Cornish Pixie Jar Lanterns are also great for stirring up impish trouble around Halloween.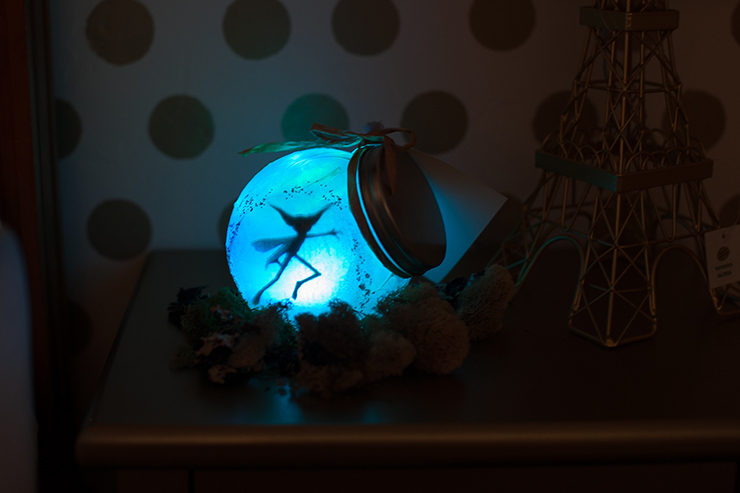 Harry Potter fans, rejoice, you can now have your own little Cornish Pixie! Now can you think of any Cornish Pixie names?
Get Your FREE Cornish Pixie Printables Here!
[embed_popupally_pro popup_id="3″]

More DIY Projects Inspired By Harry Potter
Check out our Harry Potter Floating Candles and this great tutorial for a DIY Harry Potter Wand.