This post may contain affiliate links which may give us a commission at no additional cost to you. As an Amazon Associate we earn from qualifying purchases.
Halloween is a time to let your creativity shine! I love making costumes, and creating things for my kids to wear. Growing up my mom created homemade Halloween costumes, and I think it was special to wear something crafted with love. Other crafters certainly appreciate the hours you spend putting together the final look!
It is always so fun to see what creative things people used to make their costumes. The possibilities are endless. I hope someday my kids will look back and have great memories of all the fun things we put together. Trick or Treat fellow crafters!
Put your thinking caps on to plan the perfect DIY costume and get ready for a fabulous Halloween! Hopefully this list of more than 30 ideas for homemade Halloween costumes will help!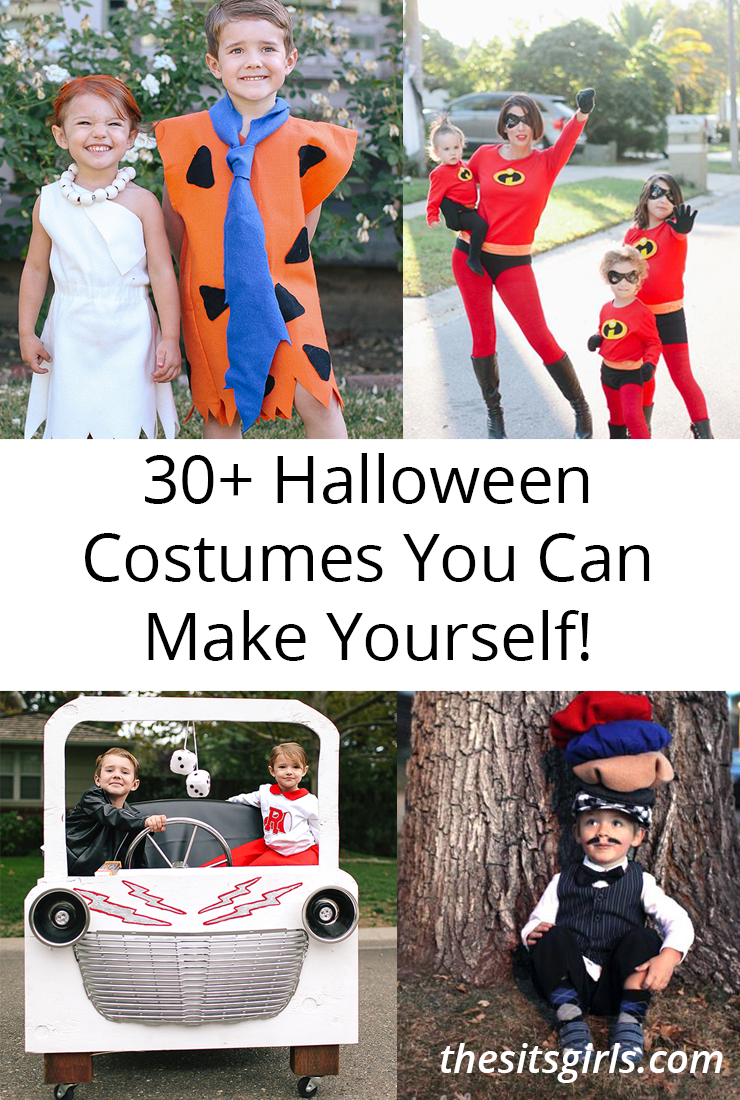 30+ Homemade Halloween Costumes
Baby Knit Sock Monkey Costume Tutorial // Make and Do Crew
DIY No-Sew Maleficent Costume // Pink When
DIY Jelly Bean Costume // The SITS Girls
Skully Parrot Costume // Mom Endeavors
The Perfect DIY Swan Costume // The Forever Teacher
Captain Hook & Peter Pan // Classy Mommy
Easy Baker Costume // Delineate Your Dwelling
Rosie the Riveter and Uncle Sam Poster Costumes // The SITS Girls
LAST MINUTE Spider Costume // Mad In Crafts
DIY Frozen Halloween Costumes // A Night Owl Blog
DIY Superhero Baby Costume // White House Black Shutters
Caps for Sale Costume // Blue I Style
Fred and Wilma Flintstone Costume // The SITS Girls
Helicopter Mom Costume // From Wine To Whine
DIY Katy Perry Costume // Ugly Duckling House
Charlie Brown Baby Costume // Simmworks Family Blog
Toy Army Man Costume // The SITS Girls
Mummy Costume // Nellie Bellie
Pinocchio Costume // Eclectic Momsense
DIY Hashtag Halloween Costume // Capturing Joy with Kristen Duke
Audrey Hepburn Costume // The SITS Girls
Easy DIY Incredibles Costumes // Fresh Mommy Blog
DIY Infant Mermaid Costume // The Pinning Mamma
Scarecrow Family Costumes // The Vintage Modern Wife
DIY Thomas the Train Costume // Little Red Window
Grease Lightning Costume // The SITS Girls
DIY Lego Movie Costume // Umbrella Tree Cafe
DIY Scuba Diver Halloween Costume // Delineate Your Dwelling
Nacho Libre Costume // Good Morning Loretta
HawkGirl Halloween Costume // Terrell Family Fun
Homemade Paint Brush Costume // Duke & Duchesses
DIY Astronaut Helmet // The Java Mama
Last Minute, No-Sew R2D2 Costume // Savoring The Good
We are also (still) loving these two homemade Halloween costumes our kids wore a few years ago. All you need to make both of these is paint and cardboard boxes!
The circular part of the train was made using a circular cement form found at Home Depot. You glue it all together and paint! To make the steam, use a wire hanger and cover it in quilting batting! It is such a fun memento to keep!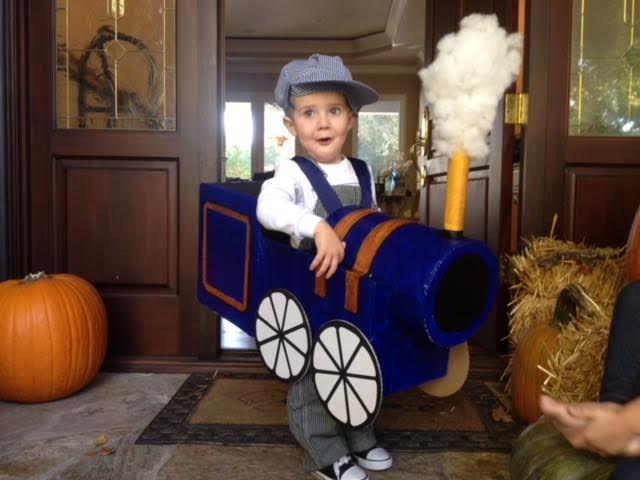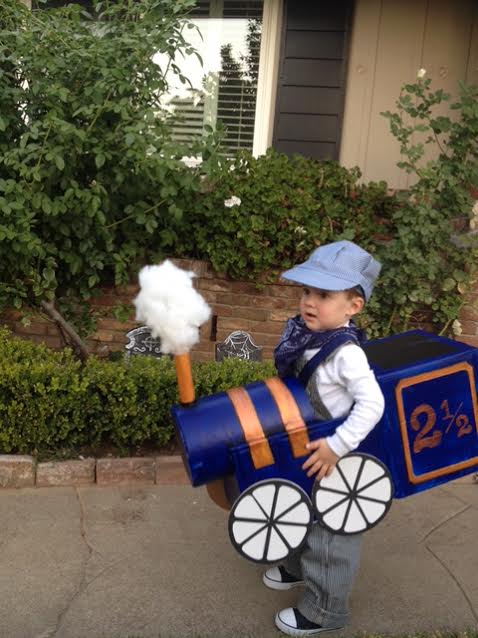 Who doesn't love a Cabbage Patch Kid!? We had an entire collection growing up, but this real life version is ten times cuter!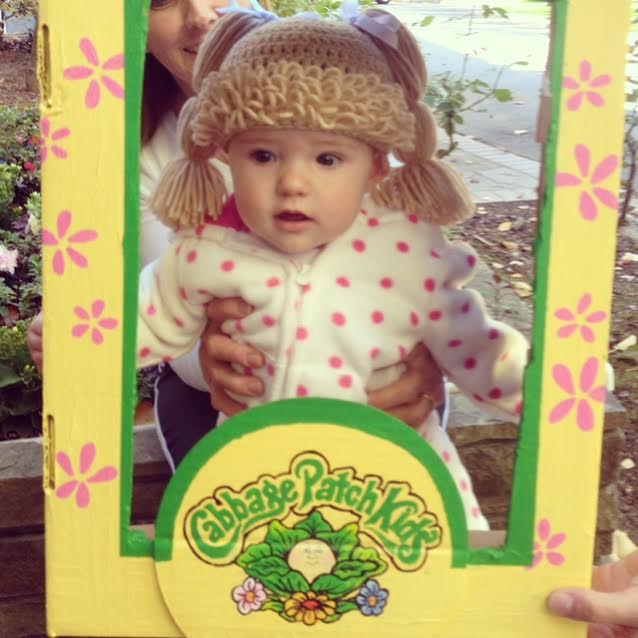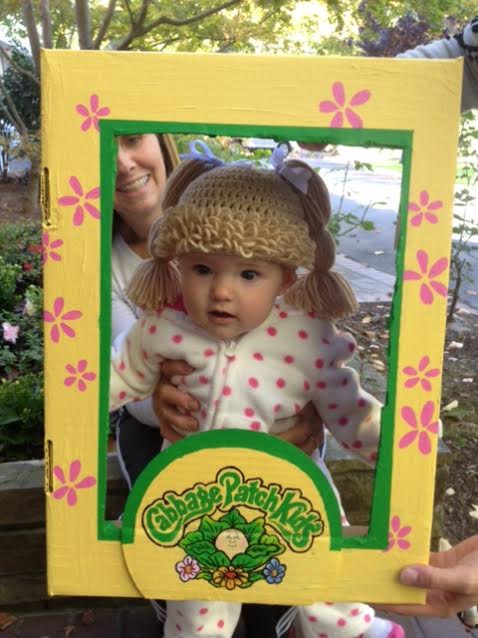 I will admit I did not knit the cabbage patch doll hat, but I did paint the box. I bought the hat, and received many giggles and compliments! If you love to knit, this would be a super fun DIY for Halloween!
Do you have a great tutorial for a homemade Halloween costume? Share it in the comments below, so we can check it out!