This post may contain affiliate links which may give us a commission at no additional cost to you. As an Amazon Associate we earn from qualifying purchases.
I was blessed with an incredibly talented mom. She is an amazing seamstress. I say seamstress, because she can sew just about anything — beautiful quilts, homemade Halloween costumes, my fancy Christmas dresses, even her own bridesmaid dresses! One of our favorite projects is this adorable 20-Minute Skirt. It turned out so cute we ended up making 3 different skirts in a variety of prints, and today we are going to teach you how to sew a skirt in 20 minutes!
This is a great project if you are learning how to sew a skirt for the first time.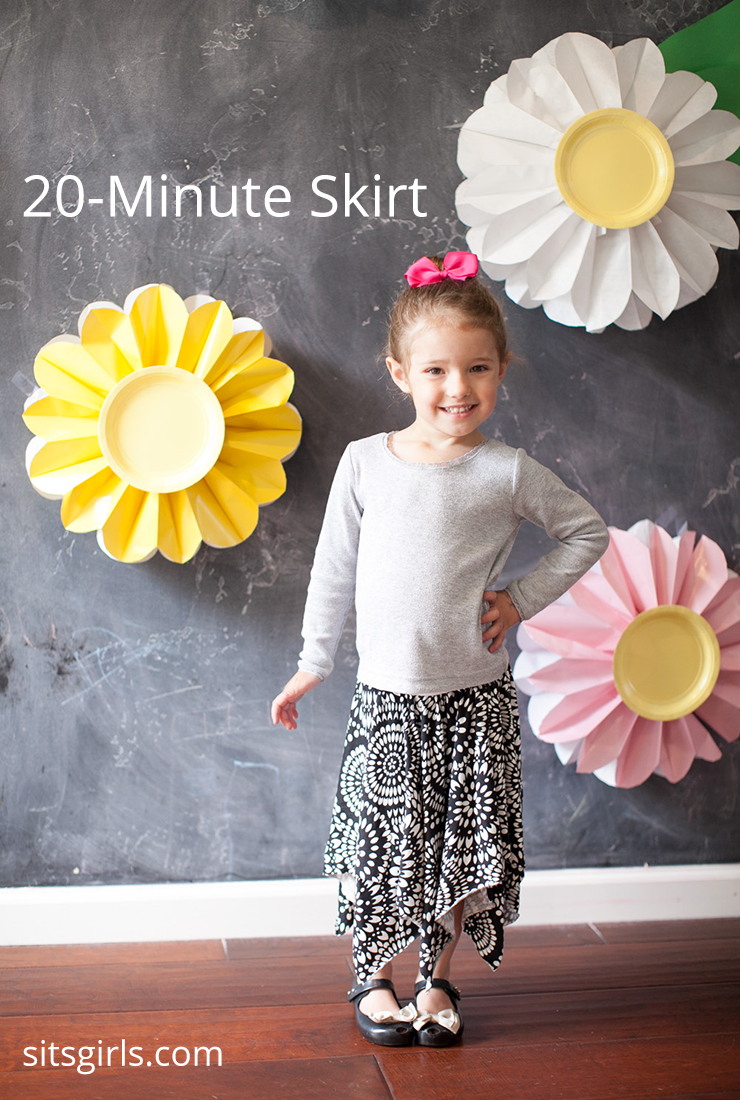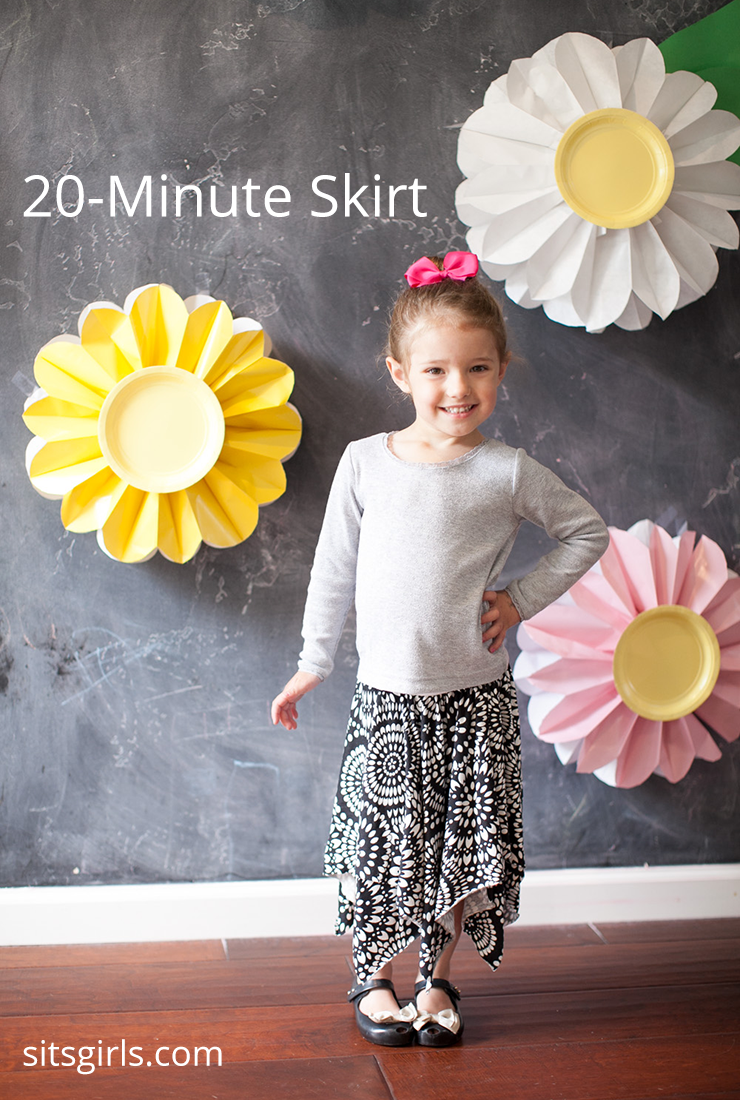 20-Minute Skirt
The beauty of this skirt is that you can adjust it to fit ANYBODY! You can adjust the size of the squares to be larger or smaller, and use the same method to make your skirt. (Note: This post contains affiliate links)
20 Minute Skirt Materials Needed:
2 Yards of Jersey Fabric (maybe more depending on height of the person wearing the skirt)
Scissors
Ruler
Salad Plate (or a bigger plate if your wearer is larger)
Needle and Thread for basting
How To Sew A Skirt In 20 Minutes
For my daughter, Elise, who is 4, I  used a 30″ by 30″ square.  To make is even easier, you decide how long you want the skirt to be, and then make a square using that length. I drew my square out on paper for an easy pattern before I started cutting the fabric. Once you have your paper pattern, cut two exact squares.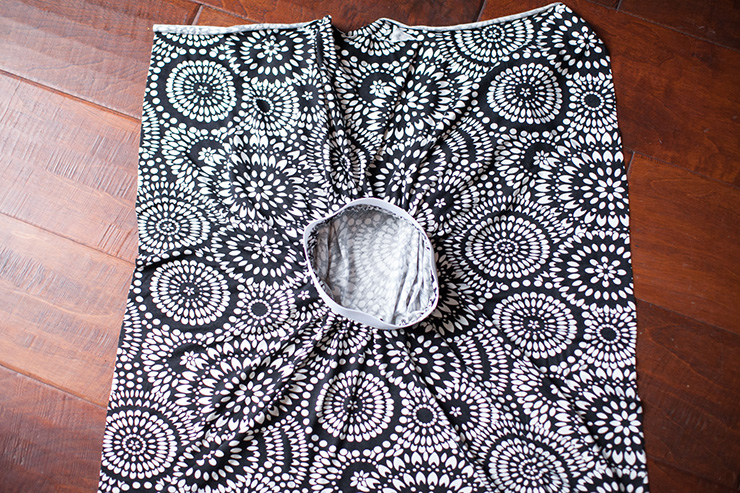 Lay your squares on top of each other and cut a circle in the middle where you will insert the waistband. I used a salad plate and traced around it, to get a perfect circle. If you need a larger waist you can use a dinner plate or even a salad bowl. Trace around your plate and then cut out the hole.
This next part is key! To make the skirt with the uneven hem you need to take one layer of the skirt and turn it 45 degrees so the edges are not overlapping. Use a baste stitch to loosely stitch around the circular pattern, and then pull your thread a little so it is a bit gathered.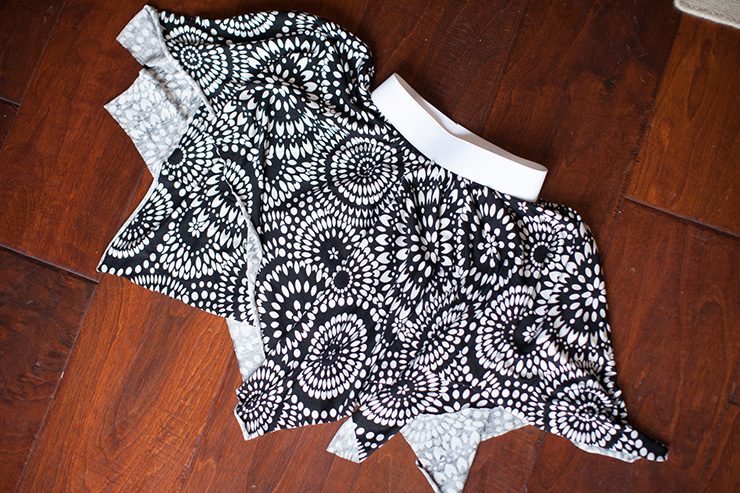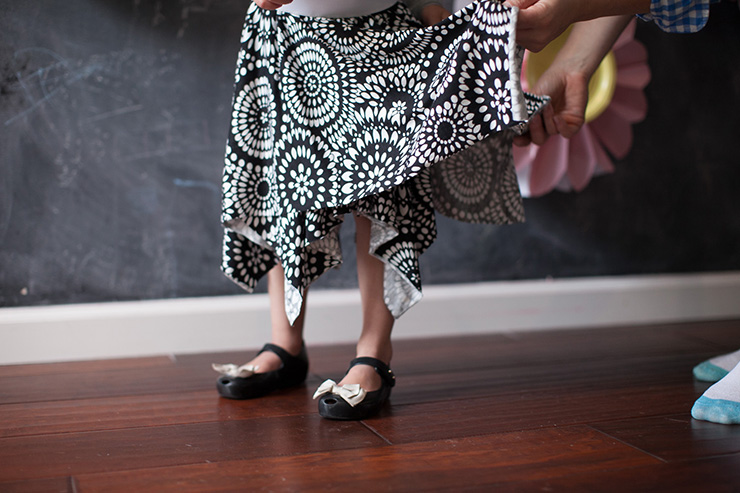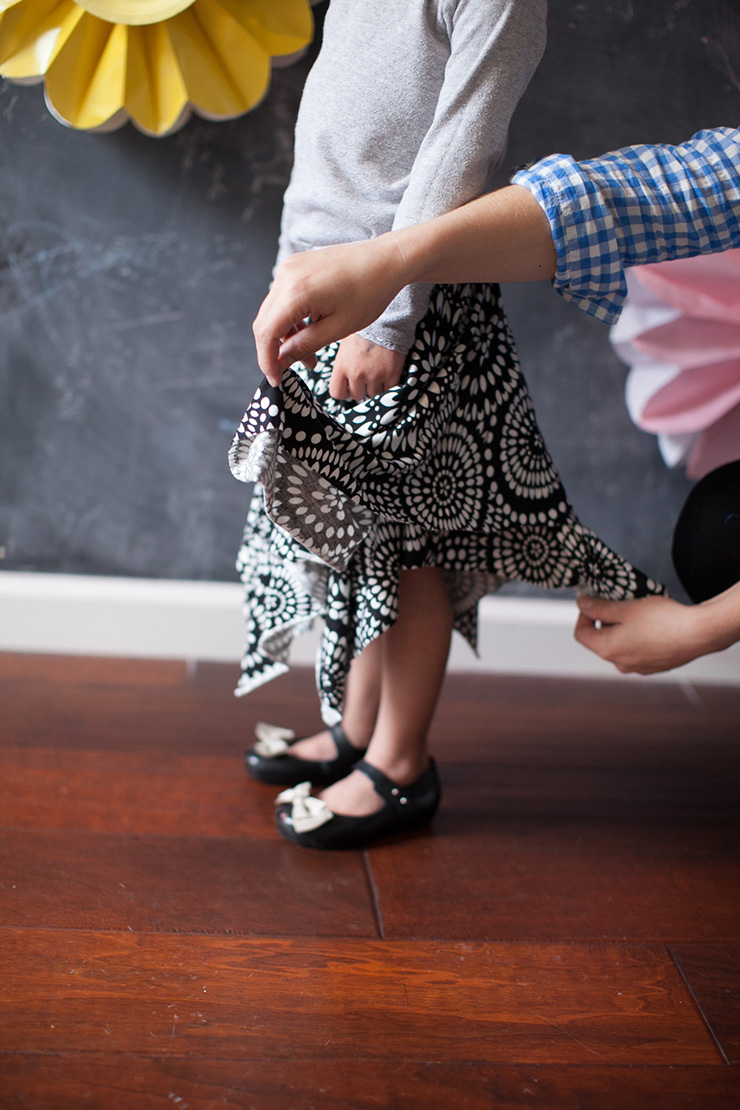 Now you are ready to sew your waistband. I like the thick elastic. It holds up well, and is super durable.  You can buy it in almost any color, too. I just wrapped the elastic around her waist and eyeballed it to measure, and then sewed it on to my squares.
Tip: Use a zigzag stitch when you sew on the elastic to really secure it.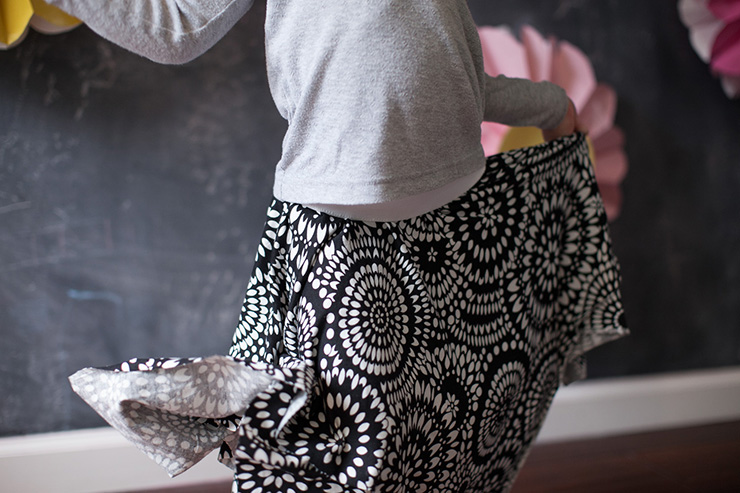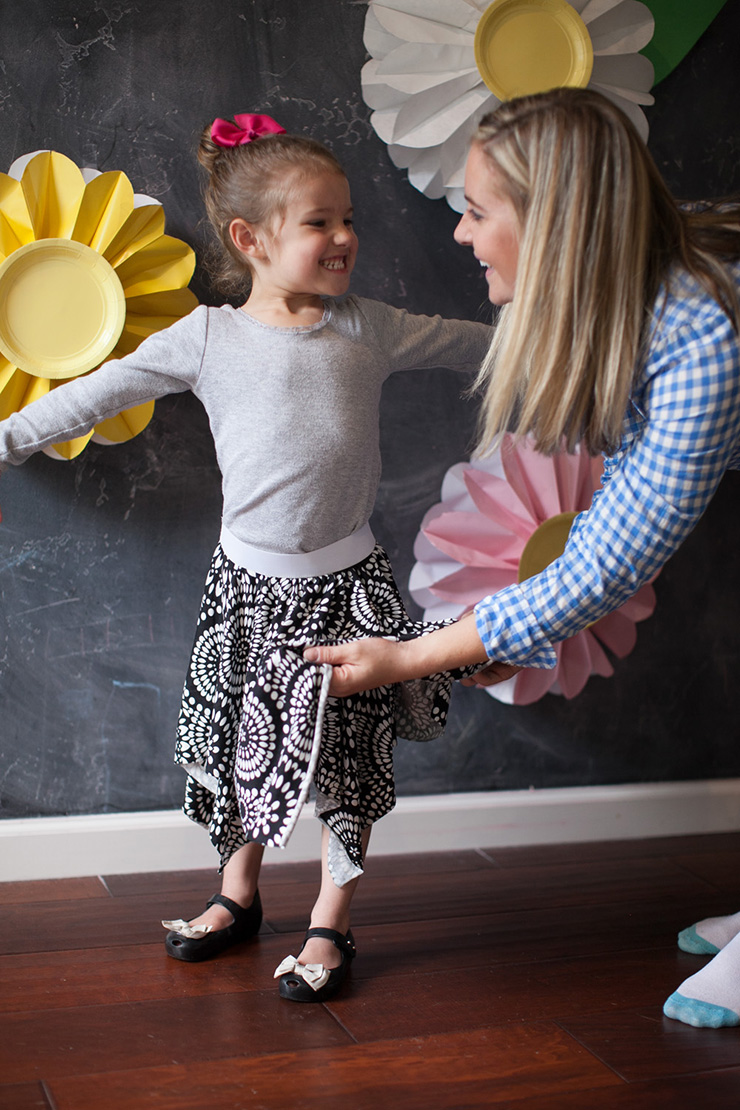 These cute little skirts have become a staple in my household. I got the fabric half-off, so the total cost to make this 20 minute skirt was right around $10.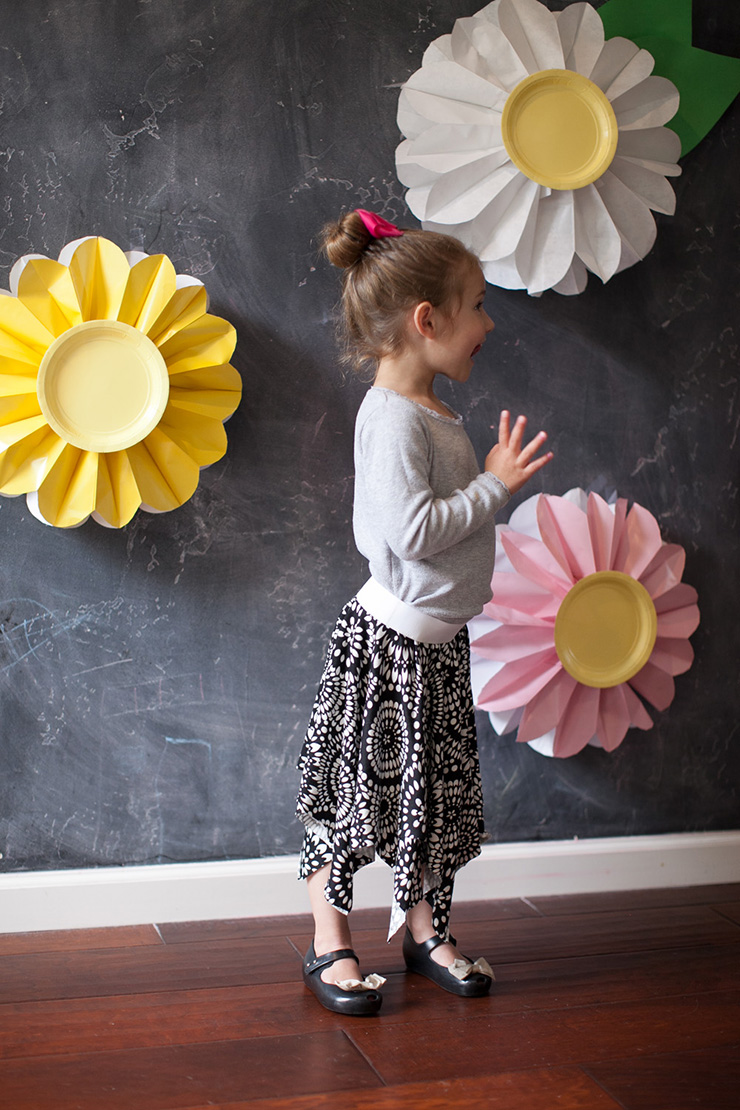 This is a super simple project if you want to sew matching skirts for you and your little girl.