This post may contain affiliate links which may give us a commission at no additional cost to you. As an Amazon Associate we earn from qualifying purchases.
Fall is a great time to start a new hobby, because it's a time for refreshes, changes, and new routines. With kids back at school and the weather changing, why not learn something that is both exciting and soothing, and brand new to you? It's a wonderful time to learn how to knit. And you'll want to have these must-have supplies for new knitters!
Before you say knitting is just for little old ladies, or too hard, or you don't have the time or ability to concentrate and learn how to knit, I want to tell you that it's actually pretty easy to get started. You don't need a ton of supplies or time, people of all ages enjoy this craft, and it will actually help relieve stress, make you feel calmer, and help you concentrate throughout all areas of your life.
Sounds pretty great, right? Here's all you need to get started knitting.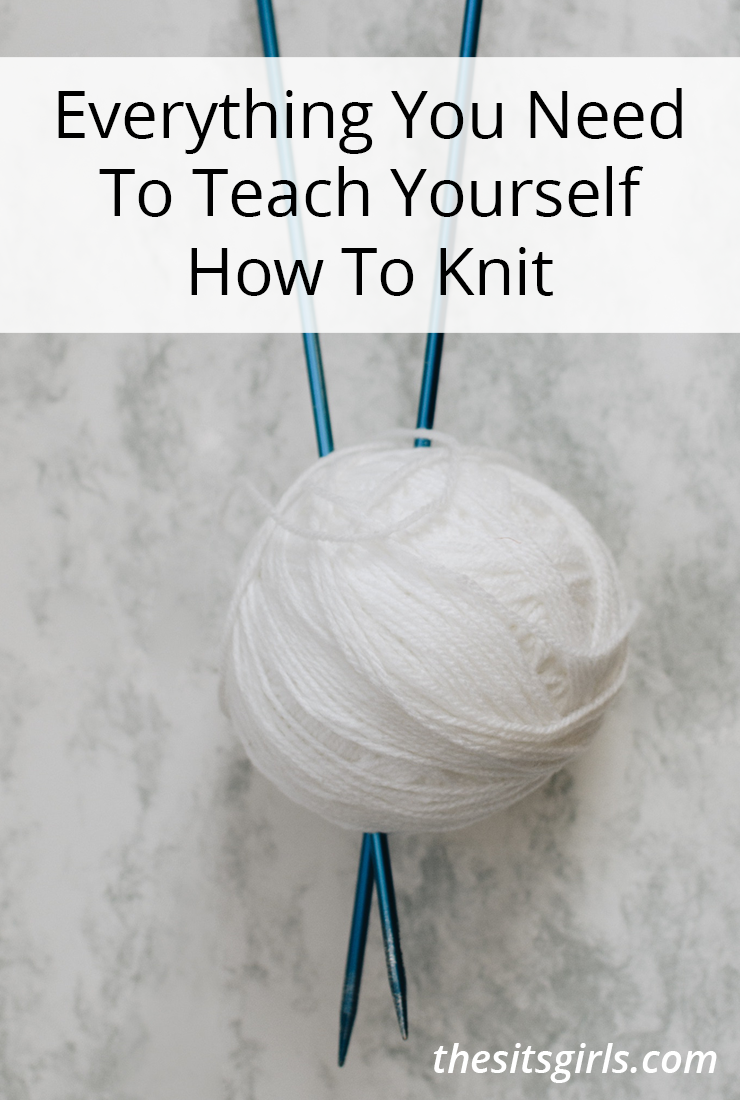 Must-Have Supplies for New Knitters:
Even though you can learn a lot of basic and beyond knitting skills from the Internet, and I heartily recommend hitting YouTube for things you don't understand, I really think using a book to learn is still a great way to go when you are a new knitter. Note: this post contains affiliate links which may give us a commission at no additional cost to you.
A Good Books To Help You Learn How To Knit
Books move at your own pace, and it can be great to see still pictures of what you're supposed to be doing alongside the videos you might watch. If you don't have a local yarn shop with a class you can take, this is the next best thing.
I learned to knit from my mother and grandmother when I was a kid, but I stopped knitting in college. I used How to Knit by Debbie Bliss as a refresher, and it's a good book full of little skill-building workshops and projects that fit your skills as you learn them.
Another great reason to learn from a book is that the patterns you find in learn to knit books are suited for beginners.
Other good options for books to learn how to knit include:
Knitting Supplies
When you first learn how to knit, you don't necessarily need to buy supplies for a specific project, because you will be spending a lot of time practicing and getting comfortable with the stitches.
The basics you need to know before you go shopping:
Yarn comes in different weights, which are classified by a number system.

Knitting needles are also numbers, either in millimeter measurements (in most of the world other than the United States) or size numbers, where the larger number indicates a larger sized needle. In general you will want to use larger needles with larger yarn.

The label of the yarn should tell you what needles are recommended for use with that yarn.
I like to start people on a medium-weight yarn, which is a number 4, with size 7 or 8 US (4.5 or 5 mm) knitting needles. There are tons of yarns in this size, and you are certain to find one you like.
I tend to go with a nice acrylic or soft wool blend yarn for learning. These yarns tend to be inexpensive and easy to use, but you should definitely choose a yarn that you like the look and feel of. Just make sure it's not too fluffy or dark in color, because you need to be able to see your stitches.
A few great yarn options for new knitters:
Vanna's Choice

is an acrylic yarn that comes in a bunch of lovely colors, is soft and easy to work with. And yes, it's named after

that

Vanna, who is a longtime crocheter.

Red Heart Soft

 

really is soft (I make hats for babies out of it) and comes in tons of colors.

Lion Brand Heartland is another great basic that comes in solids and heathered options. And their Wool-Ease yarn

is a great wool-acrylic blend that's easy to work with.

Caron Simply Soft

is not one of my favorites but it is soft, shiny and comes in lots of colors.

I love to start people on bamboo knitting needles because they feel good in your hands and tend to be a little less slippery than metal or plastic needles, which is great for beginners. Clover Takumi is a great line. Once you decide you're going to stick to your knitting, you might want to buy a whole set of needles

.
Other Handy Items for Learning to Knit
Once you learn how to knit, you'll find that there are all kinds of tools and accessories depending on the types of knitting you like to do, from double-pointed needles for knitting socks to yarn organizers, ball winders, and more.
But when you're getting started knitting, there's really not much more you need than needles and yarn.
Still, a few other tools will make your knitting life easier:
Once you get started learning how to knit, I think you will find it challenging but rewarding. It's a great way to make things for yourself and loved ones, and a fun, productive hobby you can take anywhere.
Knitters, what would you add to this list?