This post may contain affiliate links which may give us a commission at no additional cost to you. As an Amazon Associate we earn from qualifying purchases.
Decorating for the holidays can be pricey. My decorating vision doesn't always match my budget, so I love to take everyday items and transform them into something spectacular. Last year I used toilet paper rolls to make glowing candles, and trash bags to transform my front porch for Halloween. This year, my go-to material is milk jugs! These Milk Jug Skeletons are so fun to assemble and totally budget friendly.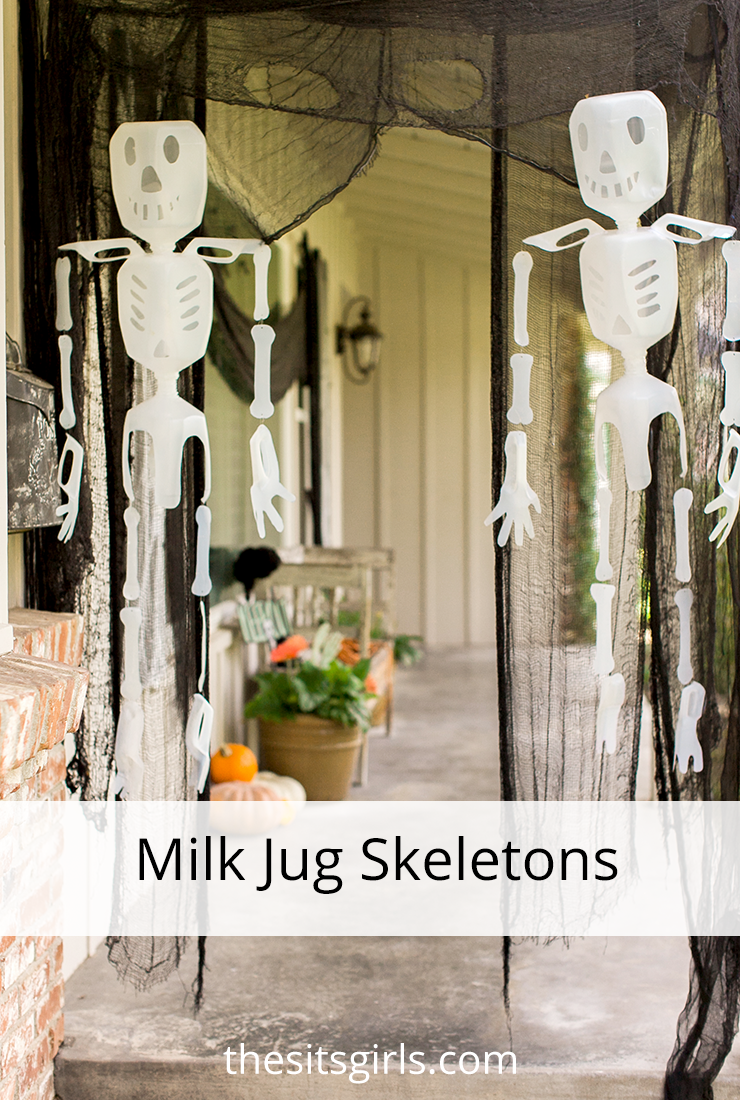 Milk Jug Skeletons
Materials:
8 milk jugs
Hot Glue Gun
Fishing String
Scissors
Washable marker
Hole punch
Milk Jug Skeletons Video Tutorial
How To Make Skeletons Out Of Milk Jugs
Your first step is to create a template for the face, rib cage, and bones (you can grab our templates here). You will need a total of 8 bones. You need to cut and trace around the bones, and tape the rib cage and face template to a milk jug.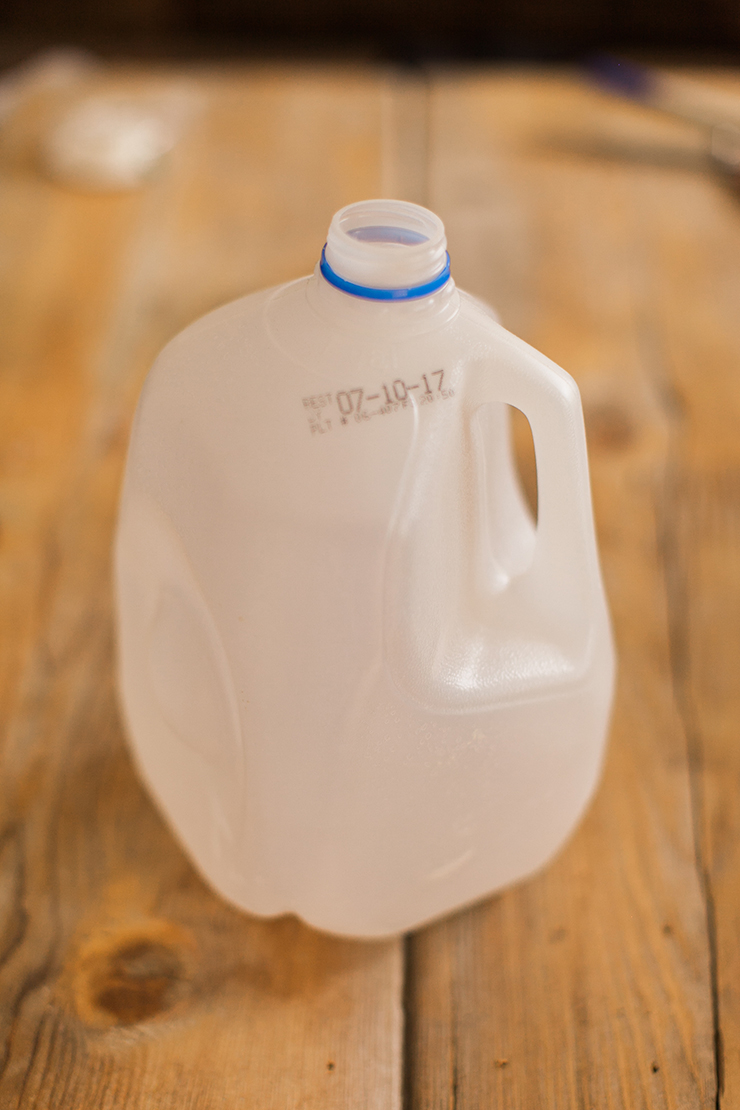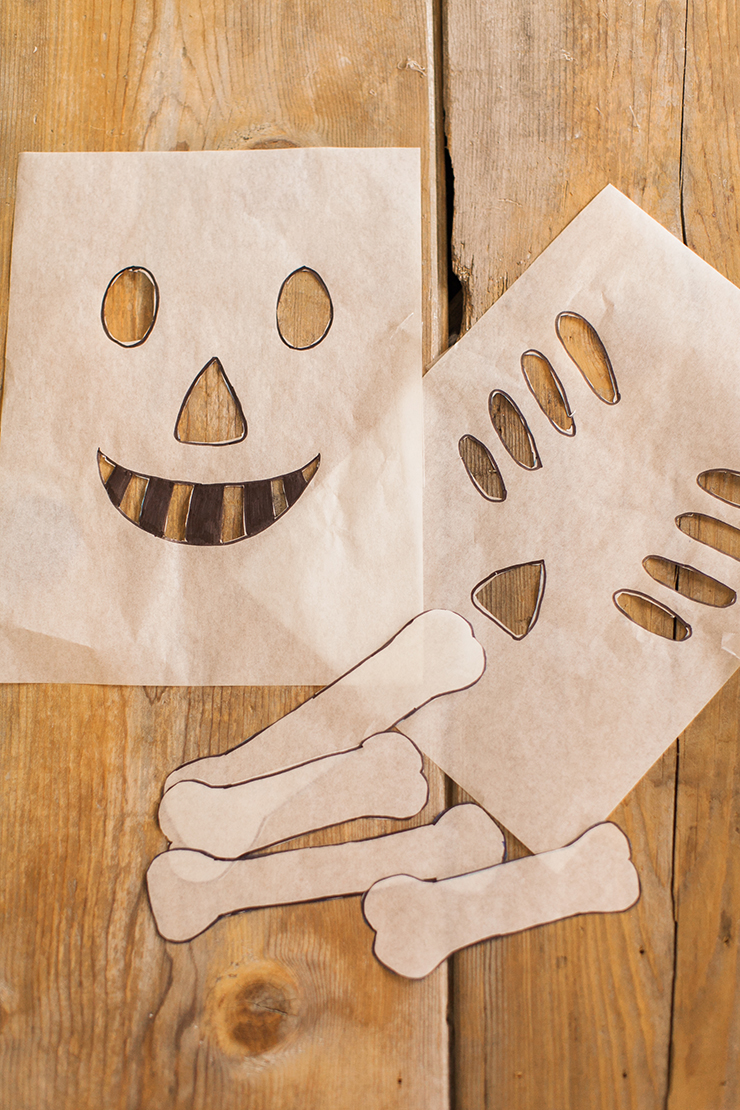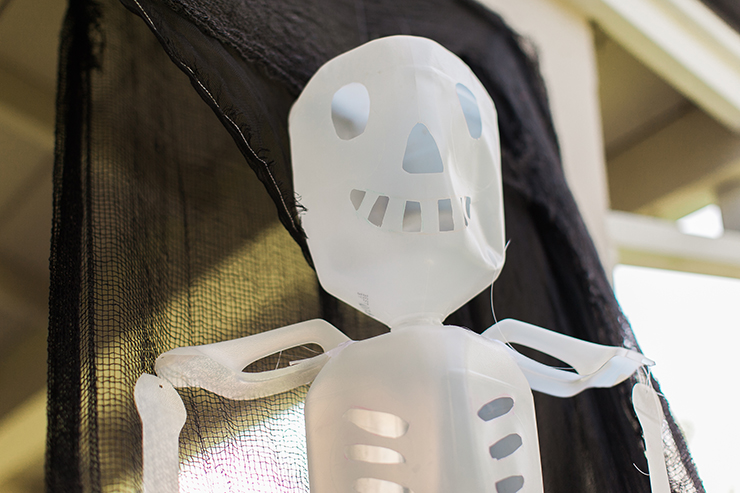 For the shoulders I cut ovals around the handles of two milk jugs and then glued them to the rib cage jug. I did not use a template for this, I just free-handed it. When all the pieces are cut out you can begin to assemble your milk jug skeleton. Using your hot glue gun, glue the head to the top of the rib cage milk jug. Next, glue the shoulders to each side of the chest piece.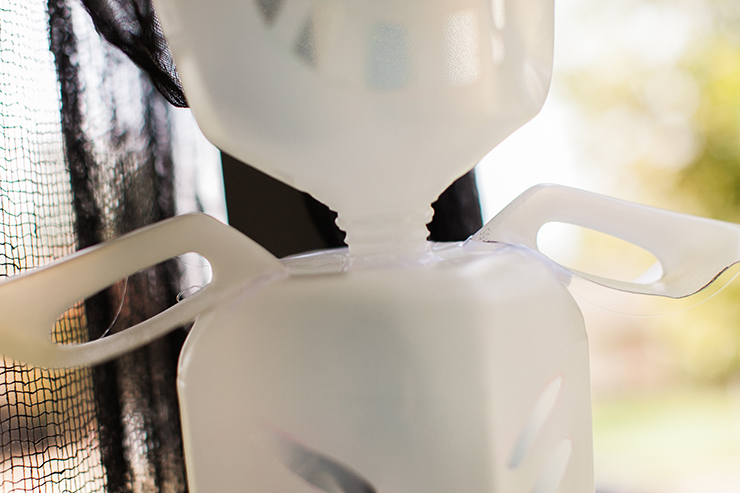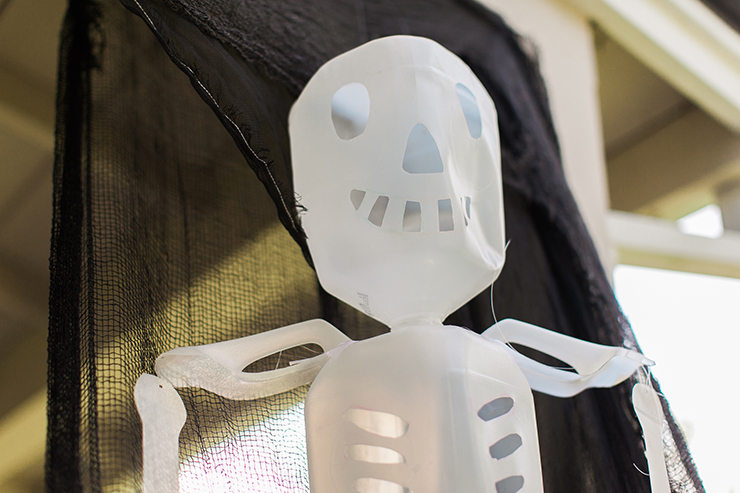 The hip bone I cut two " U" shapes on each side of the front and back of a milk jug. Glue the milk spout area to the milk spout of the chest jug. These jugs will be facing each other so the two spouts connect. Hold it together until the glue dries.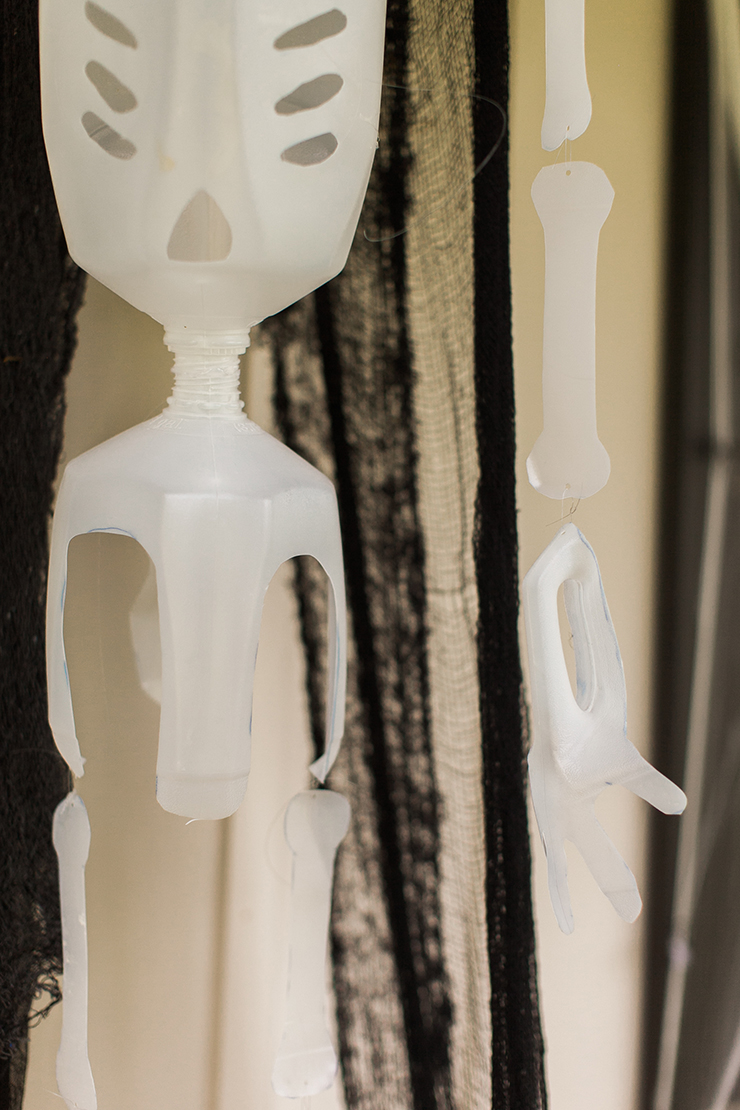 Now it's time to assemble the bones. Use a hole puncher to make small holes in each end of the bones. String the bone pieces together with fishing wire and triple knot them! If you do not triple knot them, and pull the fishing wire tight, they will loosen and come undone.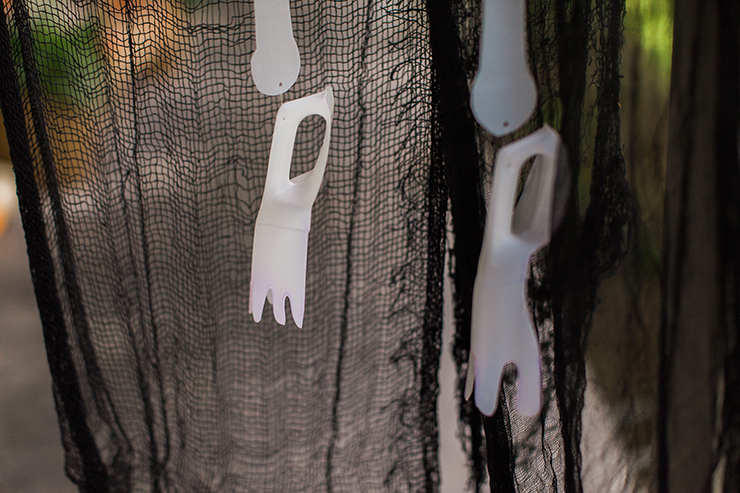 To create the hands and feet, I used my 6 year old for a template. This part is EXTRA fun for kids. He placed his hand over the handle of the milk jug, and I traced around it with a washable marker. Make sure you spread out the fingers so you have enough space to cut around them. Repeat this with the other hand and both feet, and then cut out all four pieces.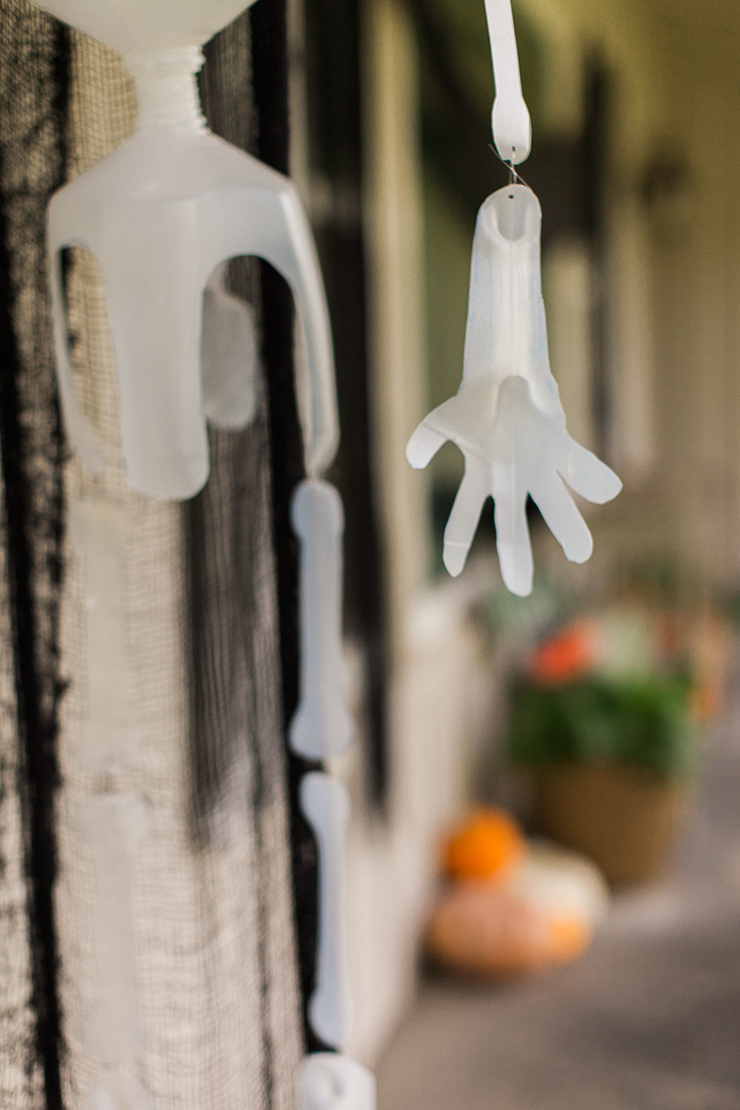 Finally, you can attach the head to the chest piece using your hot glue gun, and finish tying your bones to the to the shoulder sockets and hip bones. Using your hole puncher, make holes in the top of the hands and feet. Attach all loose arms, legs, feet, and hands with triple knots, and you are good to go!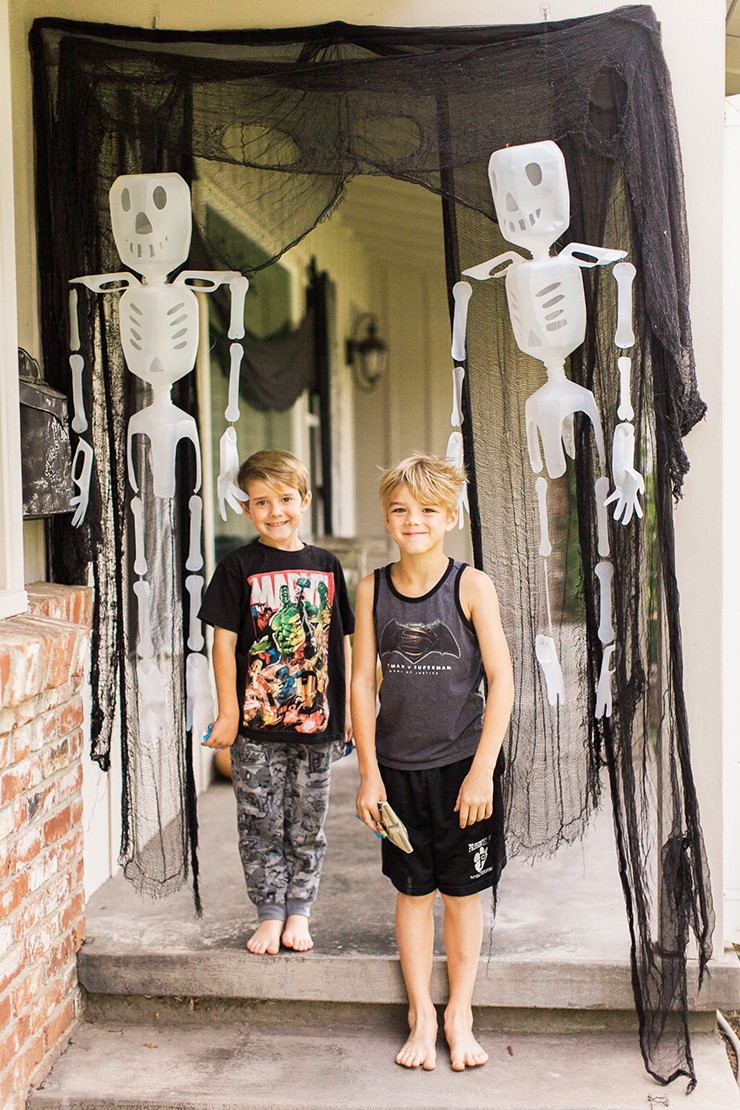 The kids were quite pleased with the milk jug skeletons, they are roughly 3 1/2 feet tall, so they are a great size, and perfect for hanging or propping on the porch.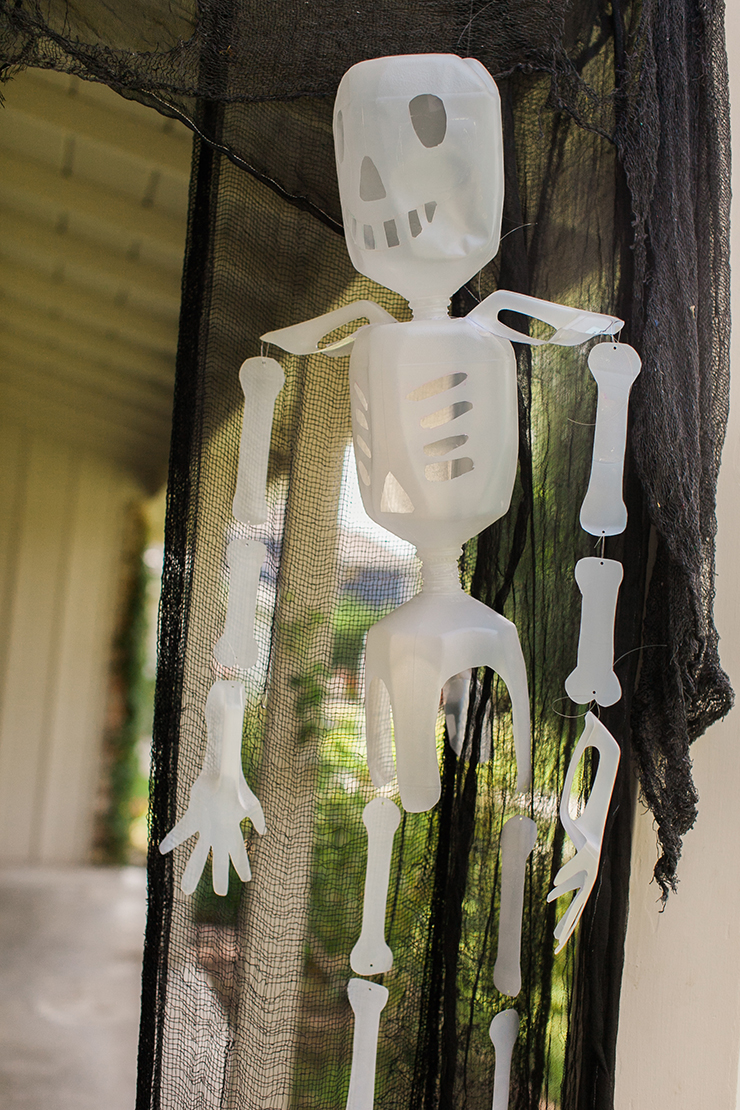 One other fun thing you can do is let the kids decorate your skeletons. You can also change up the face for each skeleton by making your own template!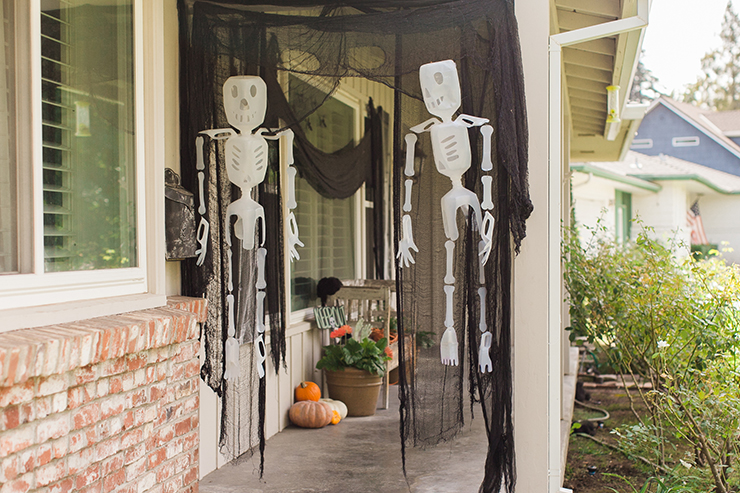 There you have it! An easy project for DIY Halloween decor that won't break your bank.
For more Halloween decorating fun with milk jugs, check out our Milk Jug Ghosts!