This post may contain affiliate links which may give us a commission at no additional cost to you. As an Amazon Associate we earn from qualifying purchases.
While browsing through Michaels, I came across this wooden tissue box cover, and I knew this would be the perfect DIY to use my leftover tiles from my mosaic tile coasters. It is safe to say that I'm lowkey obsessed with making DIYs with these colorful tiles. Something about the process is very relaxing and allows me to put on a podcast and zone out; plus, you are elevating your space with your creation! There is no need to worry about picking out your favorite design on the tissue box while at the store.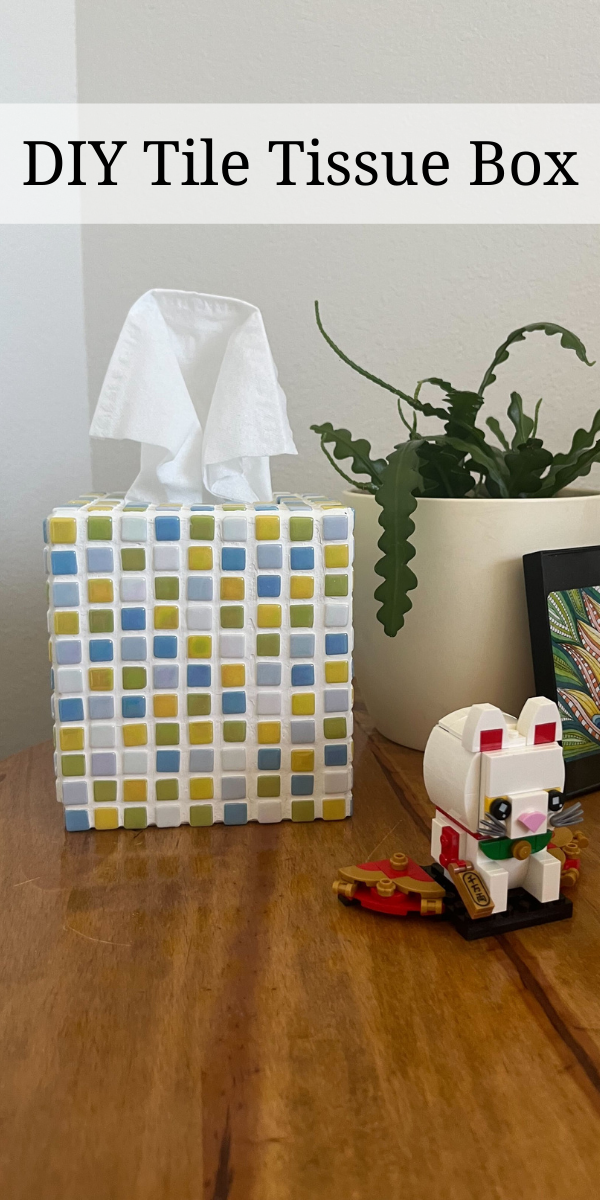 DIY Mosaic Tile Tissue Box Cover
Materials needed to make a mosaic tile tissue box cover: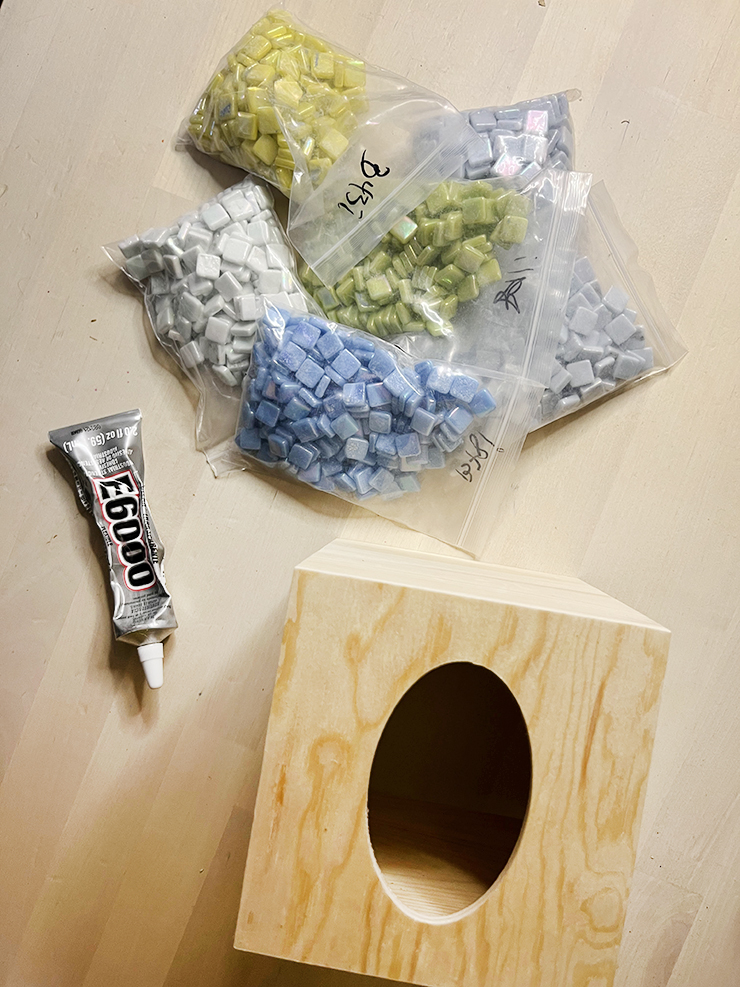 How To Make Mosaic Tile Tissue Box Covers
The hardest part of this DIY is coming up with your design. Feel free to get as creative as you'd like! You can make a pattern or mix it up with the tiles as I did for this one. I will most likely make another one with a different design for the other room in my apartment.
I recommend placing your tiles on one side of the box before gluing them down to space evenly, leaving enough room for gout between each tile. Note: you don't need to use grout if you prefer not to go that route. The only time grout is recommended is if the tiles are out in the elements, so I will leave that decision up to you! If you decide not to use grout, I'd do a quick base layer of paint (your choice of color) in case it shows through, and you'll just want to make sure you glue your tiles as close together as possible.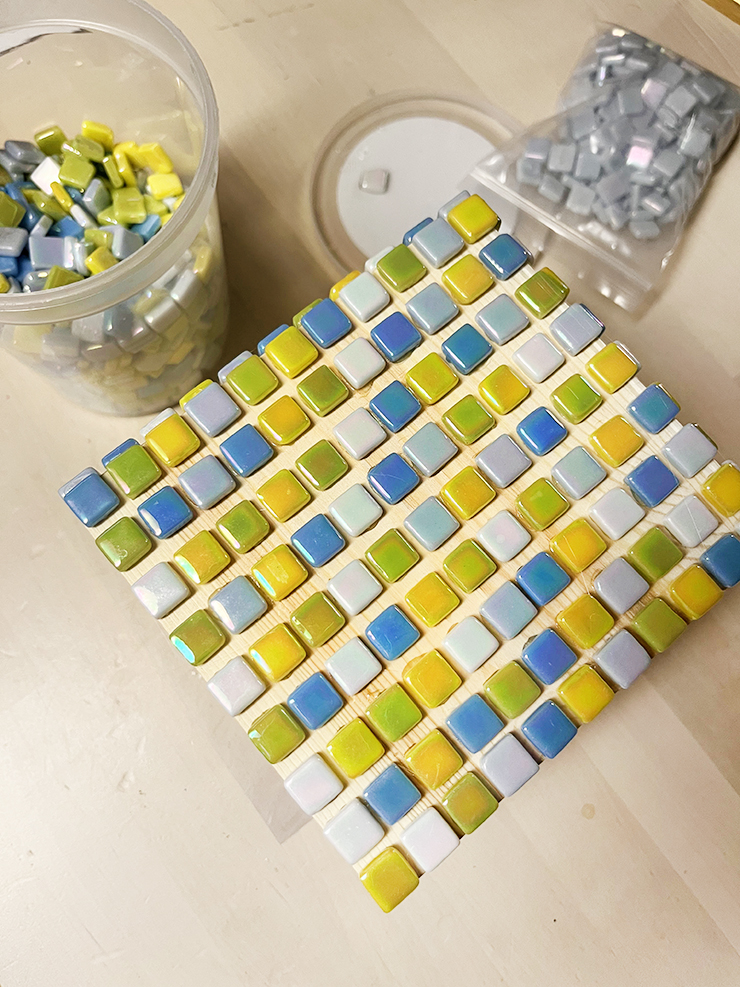 Once satisfied with your design, begin gluing your tiles with E6000 glue. I love using this glue because you can move the tiles around just in case your spacing is off. I recommend letting your tiles cure for about 2-3 hours before moving on to your next side.
When you have made it to the back of the box, there will be a removable piece of wood for the tissue to stay in place. I decided to remove that when gluing down the tiles. You can place that back in once completed.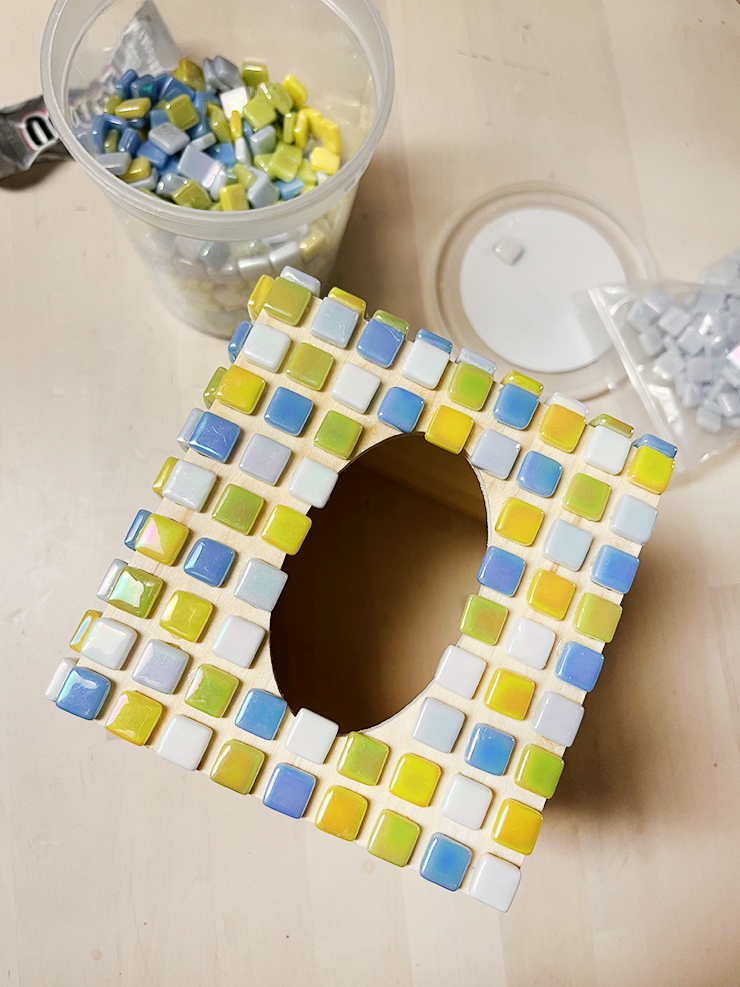 The top of the box was a bit tricky, a few tiles will hang over the opening, but it looked OK with the grout! You might need to adjust if you have different tiles so there isn't a ton of overhang in the opening.
Next comes the fun part, mix the grout with water until it becomes a batter-like consistency. Scoop a spoon full on one side of the box and fill the spaces. I found using my finger was the best method, fill all the areas with grout and then begin wiping it down with a clean finger until the top of the tiles is visible. Wait about 15-20 minutes to let the grout slightly dry, then take a clean, damp sponge and begin wiping down the area to remove the excess grout on top of the tiles.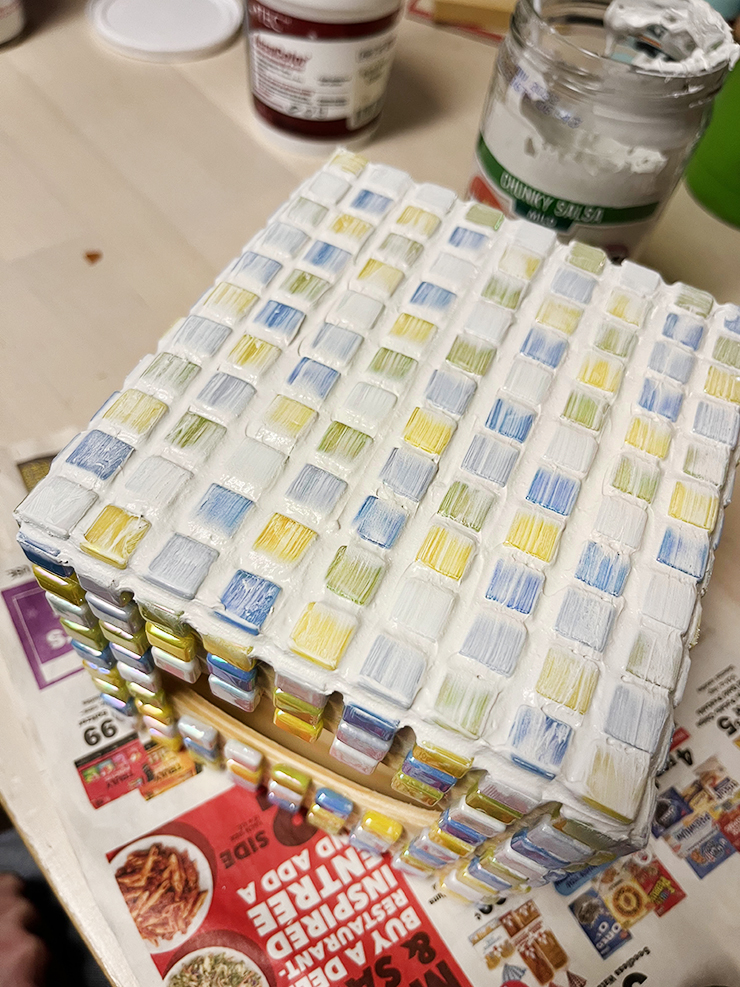 You'll need to wipe down the tiles a handful of times to get as much grout off as possible. Ensure you are ringing out the sponge and using clean, fresh water each time you wipe the tiles down. Once you've removed all of the grout on top, let dry. Complete the same steps until you've covered the whole box in the grout.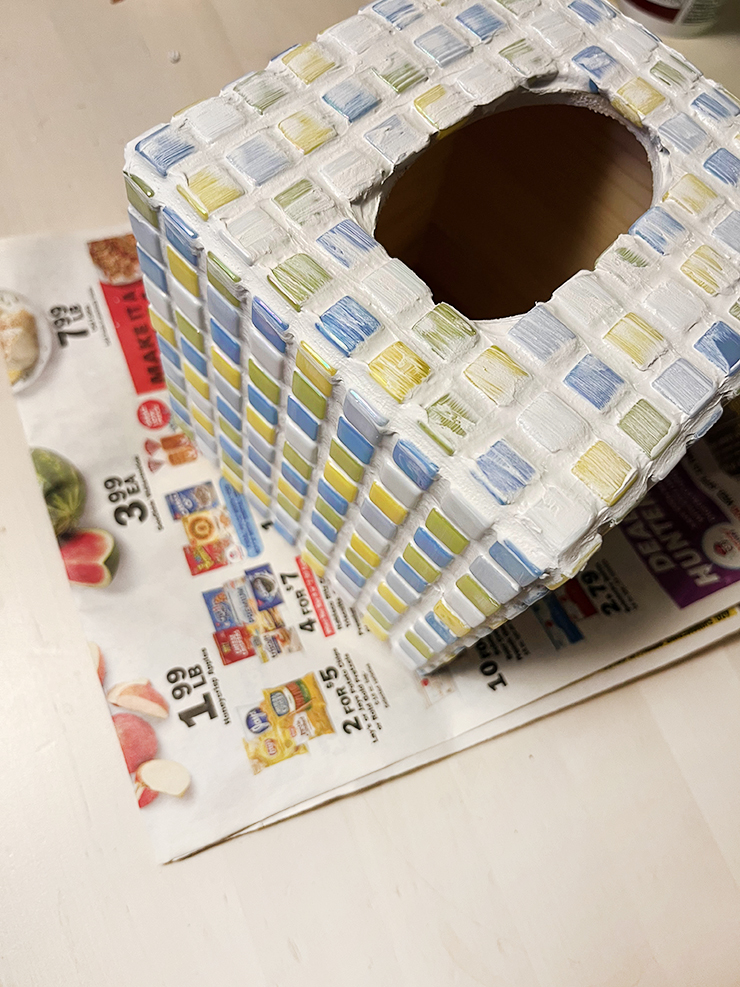 Let the box dry for a few hours, then do one final wipe-down with a clean sponge. I found that some grout was still on the tiles, then let the box completely dry overnight. And you now have a fun tissue box cover to elevate your space!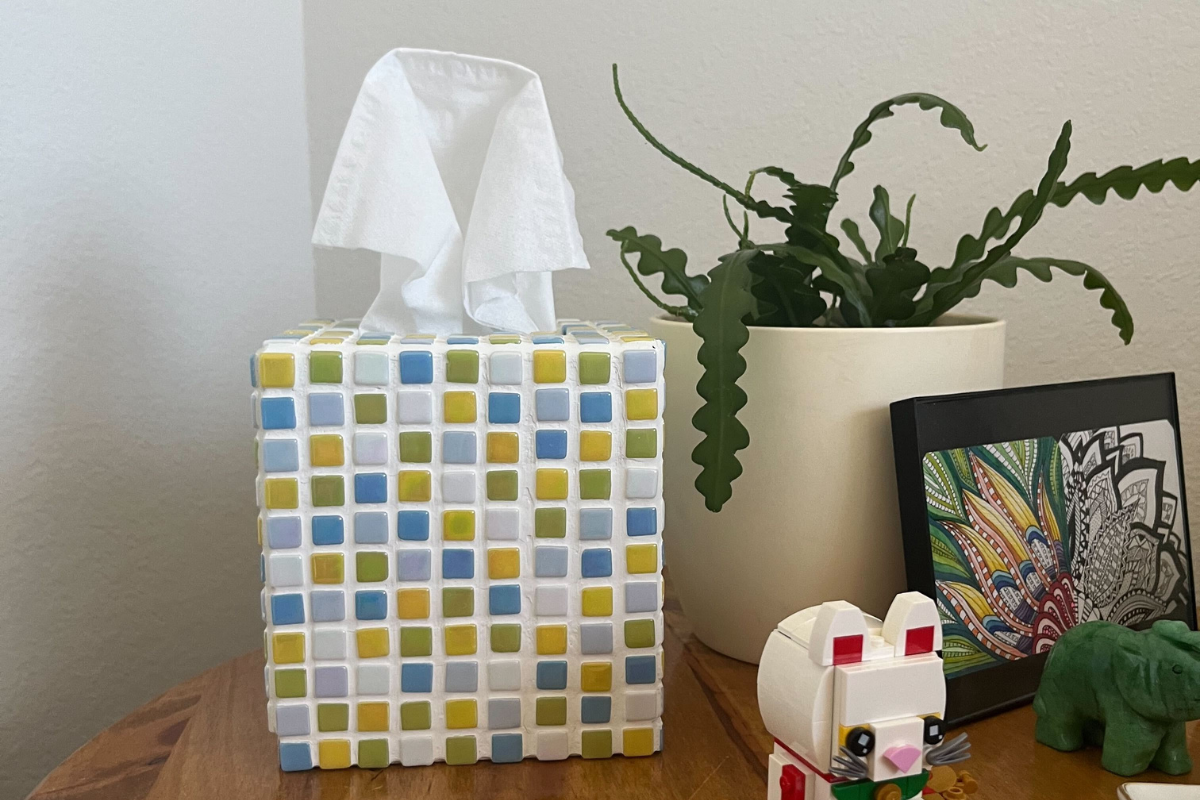 Want more fun ideas for DIY projects with tiles?
Check out our mosaic tile coasters and DIY bathroom mirror re-do!