This post may contain affiliate links which may give us a commission at no additional cost to you. As an Amazon Associate we earn from qualifying purchases.
Decorating pumpkins for Halloween is one of my favorite activities of the season! But, I get tired of the same old techniques done year after year. This year I wanted to try something new and so I have! You will find great no carve pumpkin decorating ideas here to help you get inspired!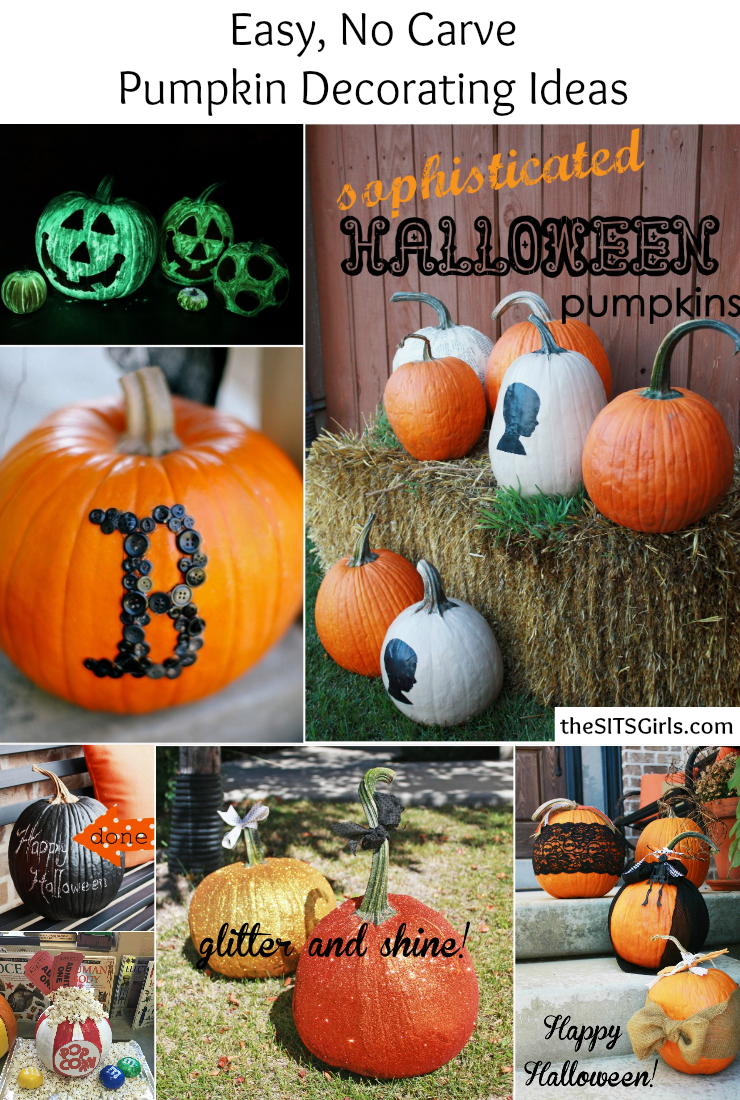 No Carve Pumpkin Decorating Ideas
Halloween isn't Halloween without a festive DIY decorated pumpkin! A DIY decorated pumpkin is the perfect way to cap off the perfect Halloween front porch. I've gathered no carve pumpkin decorating inspiration to add a little pizzazz to your Halloween decor ready for trick or treaters. Try one or try them all, I have a little bit of everything from glow in the dark pumpkins to fun ideas for using fabric! These pumpkin decorating ideas will add a uniqueness to traditional Halloween pumpkins.
Let's start with pumpkin painting!
Pumpkin Painting Ideas: No Carve Chalkboard Pumpkin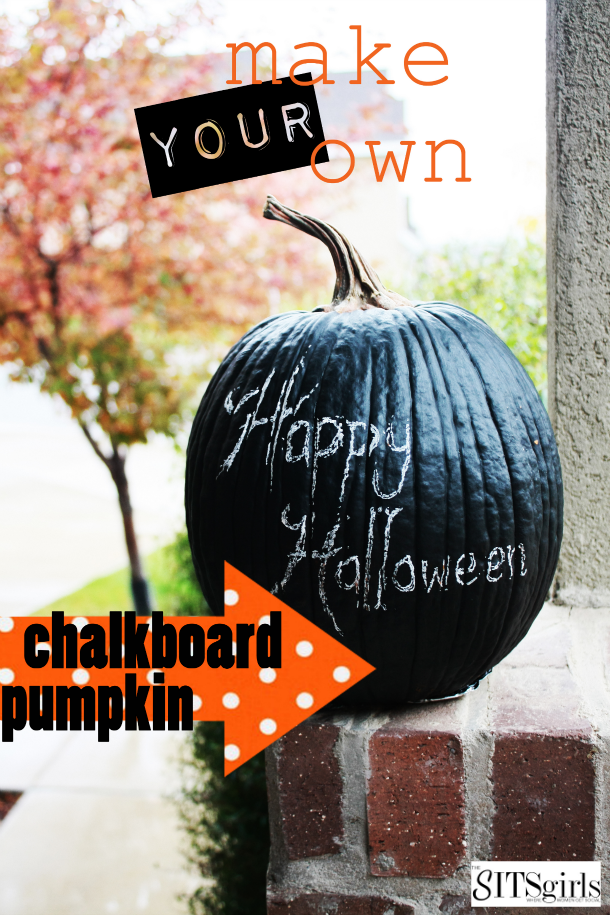 Chalkboard Pumpkin Painting Supplies:
Pumpkin
Foam Brush
Chalkboard Paint
To begin, clean your pumpkin with a damp cloth and allow time to dry. Give your chalkboard paint a good shake, and pour a workable amount into a bowl or container. Protect your work surface from paint by covering with paper or foil.
Apply the chalkboard paint to the outside of your pumpkin with your foam brush. Take care to get paint in all the cracks and around all the bumps. Allow first coat to dry, and then repeat the process. Allow plenty of time for your pumpkin to dry completely! If you try to draw on your pumpkin too soon, the chalk will scrape off the paint, and you will have to repaint.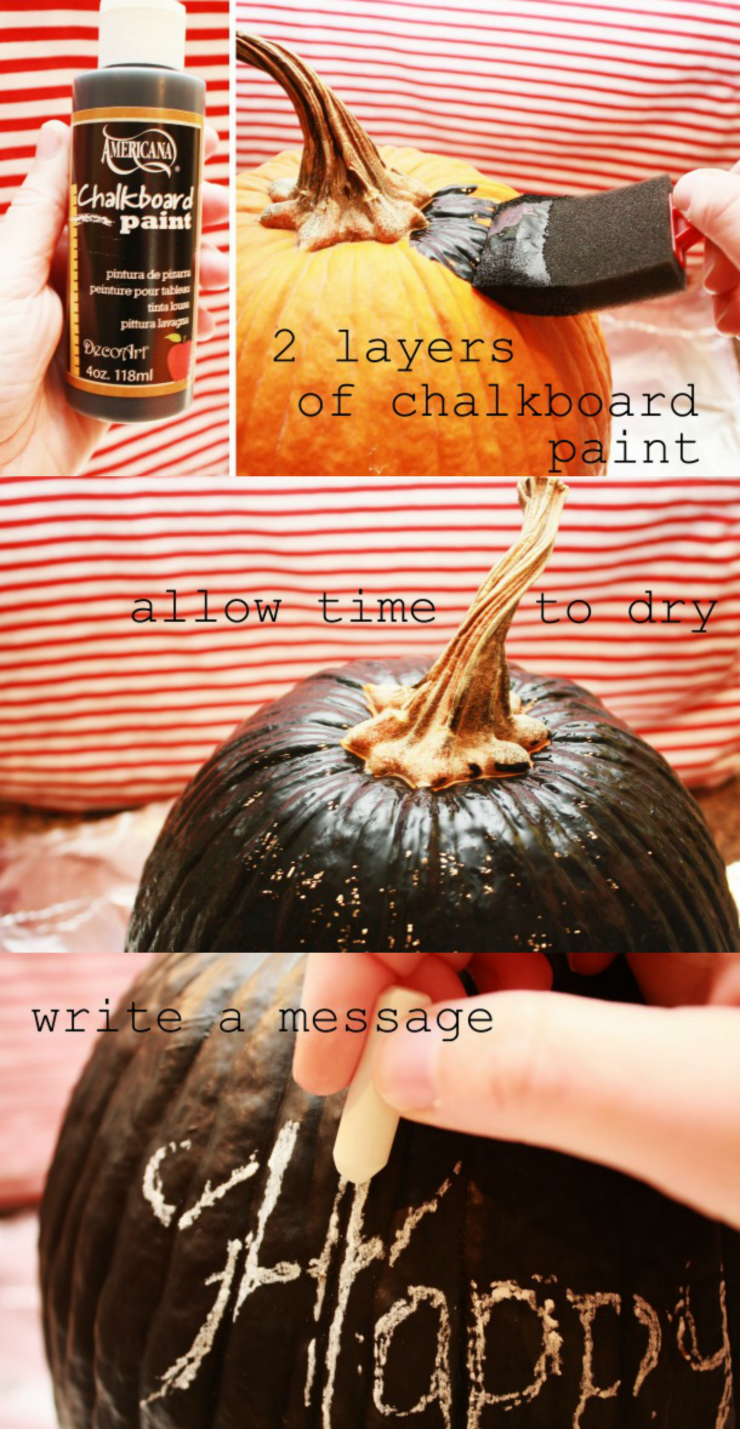 Once your chalkboard pumpkin is dry, draw a design or message using chalk on your pumpkin. You can dress it up with a face, or express yourself with a cheerful Halloween message. A chalkboard pumpkin is the perfect way to add a bit of unique style to your Halloween décor and show off your creativity!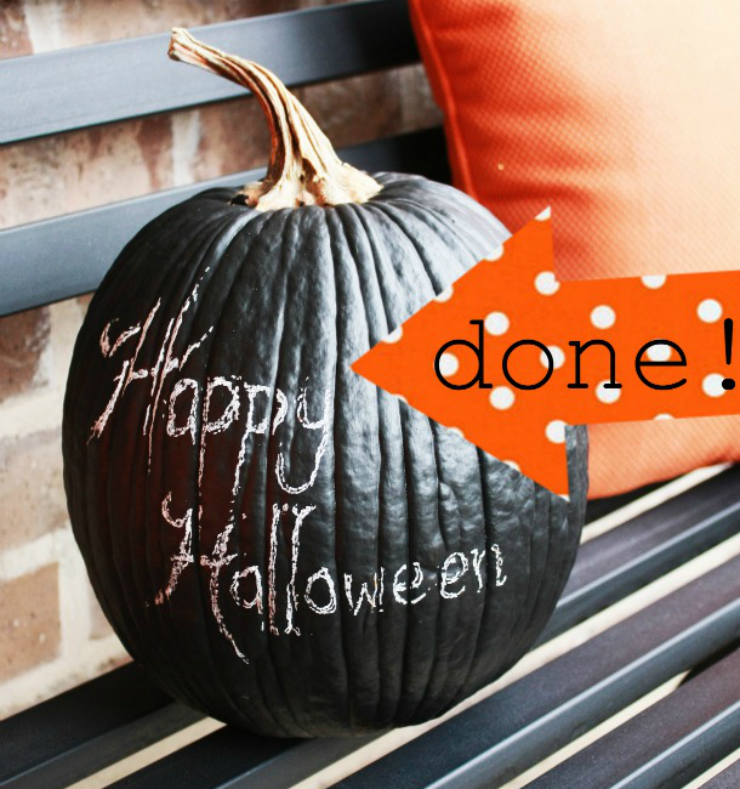 More Pumpkin Painting Ideas
Personalize your pumpkin decorating by painting a silhouette on your pumpkin.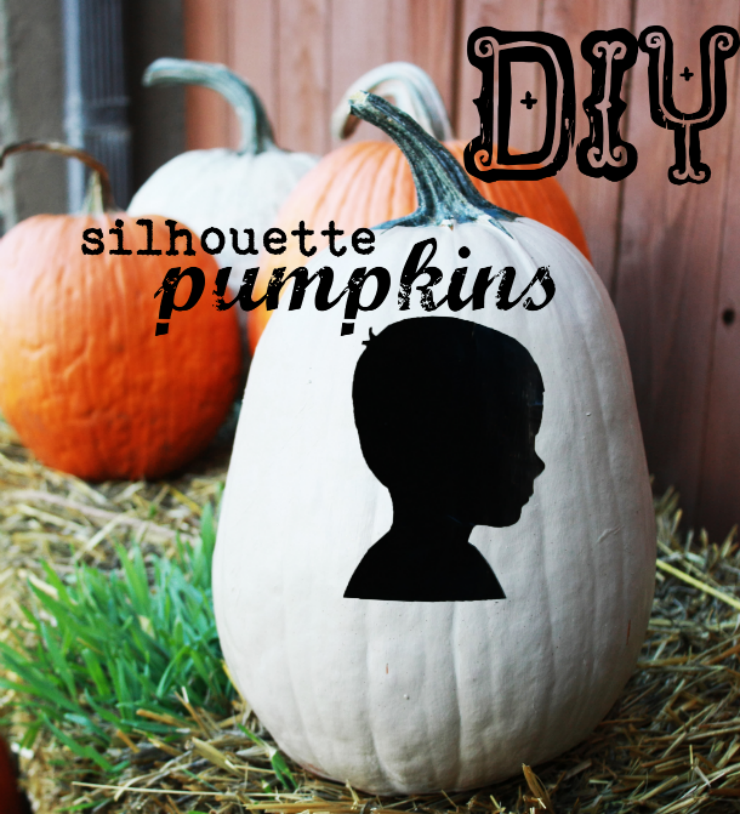 This trio of black & white painted pumpkins from C'mon, Get Crafty, is great. Wrapping the sheer spiderweb fabric on the smallest pumpkin gave it the perfect spooky feeling.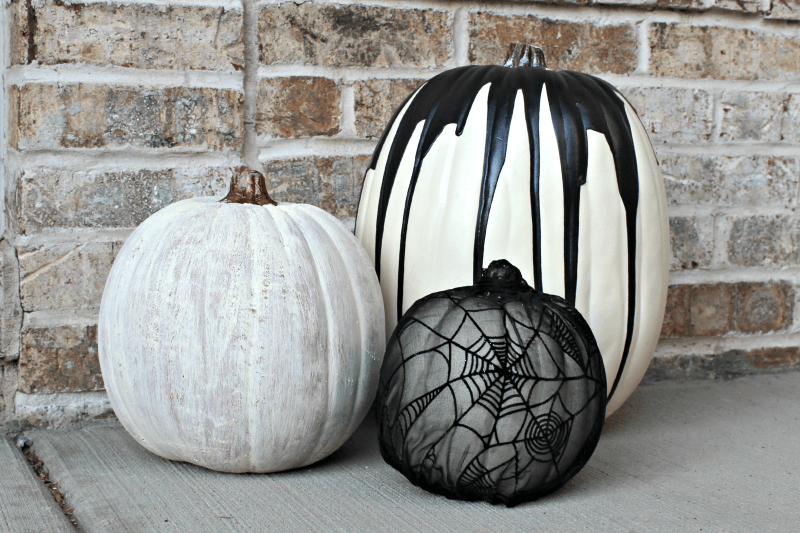 A touch of gold makes these painted pumpkins from Bubby & Bean sophisticated Halloween decor perfection.
If you want to make your pumpkin painting extra fun, you could try dressing up pumpkins to represent each member of your family like Blue I Style did.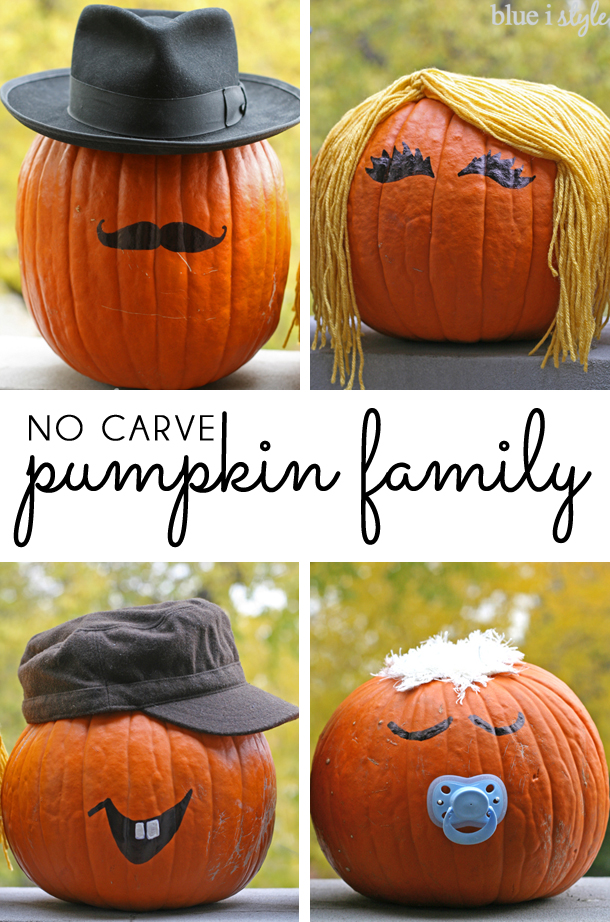 Or you can make your pumpkin look completely UN-pumpkin-like, the way my cousin did for a recent pumpkin painting contest. Check out the bag of movie theater popcorn, and the mini pumpkins painted like M&M's. I love them.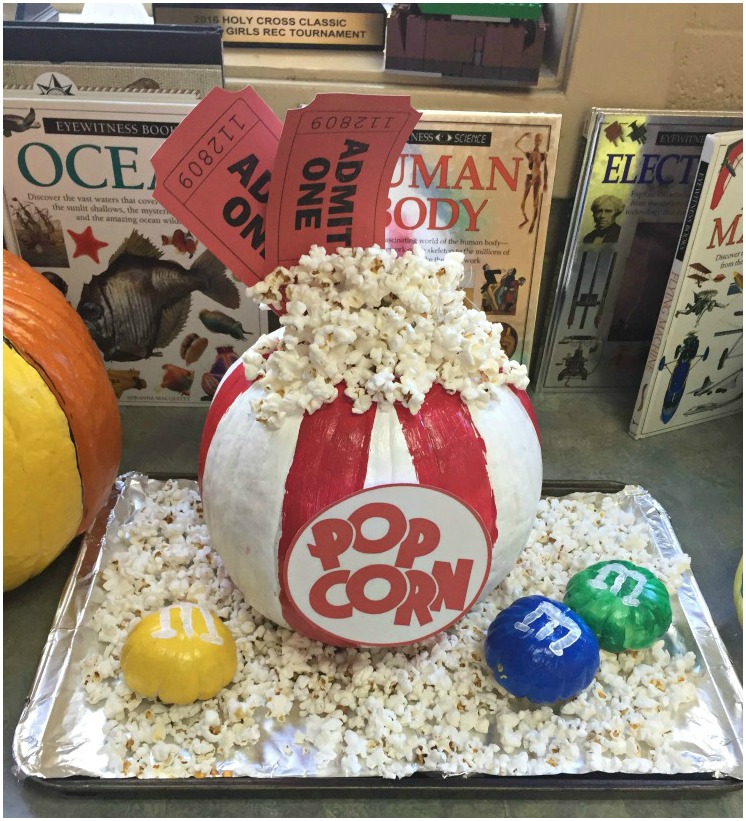 No Paint, No Carve Pumpkin Decorating Ideas
You don't have to pull out the paint to decorate pumpkins without carving them. Last year I used different sizes and colors of pumpkins to add variety to my front porch. Then I spelled out BOO in buttons. My Boo Button Pumpkins would be easy to recreate, you just need black buttons and a hot glue gun. You could spell out anything you like!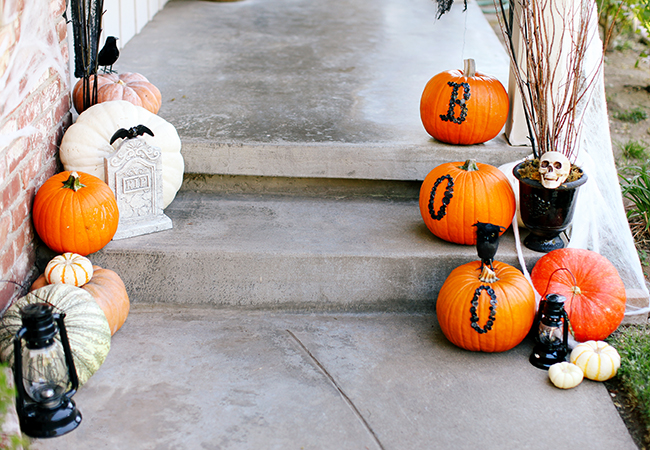 You can also use fabric and lace to decorate pumpkins, or even glitter!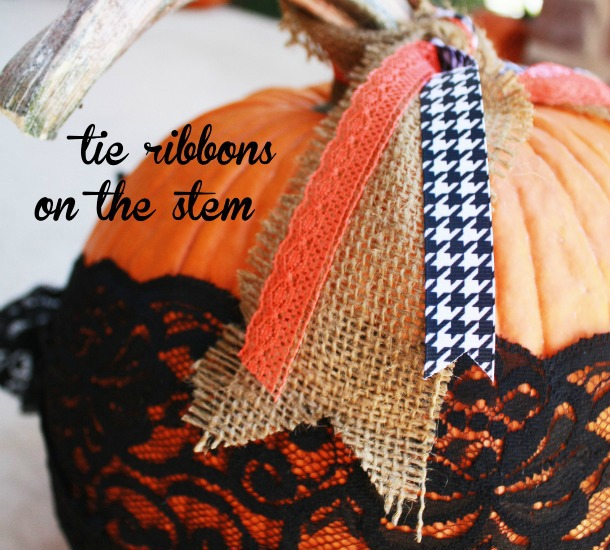 Everyone loves a glitter pumpkin.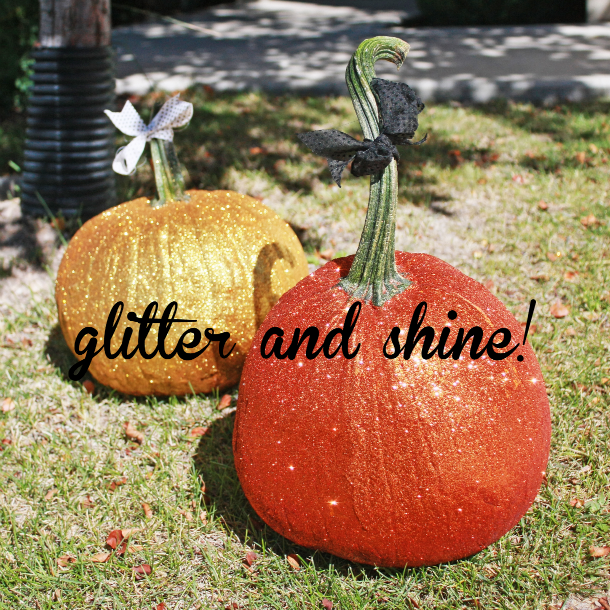 This year I'm all about the glow in the dark Halloween decorations, so I had to figure out a way to make my pumpkins look good during the day and glow in the dark!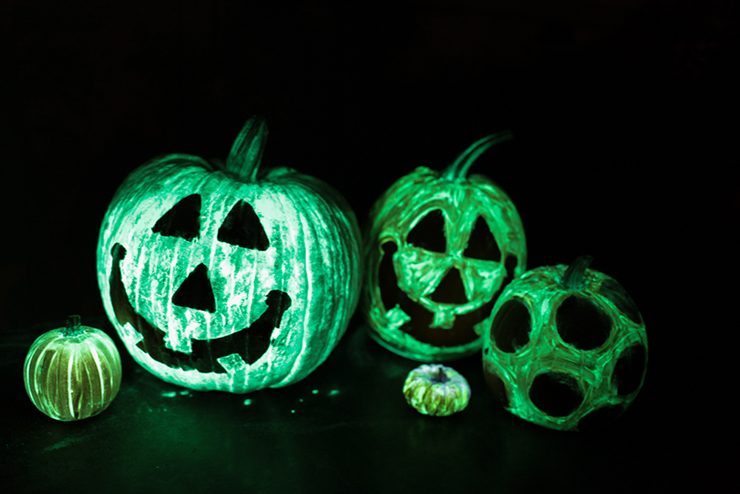 They were SO easy to make, check out my quick glow in the dark pumpkin video tutorial here.
Whew! That's a lot of no carve pumpkin decorating inspiration. Which one was your favorite? Tell me in the comments. Or leave the link to one of your own pumpkin decorating ideas. I'd love to see it!
More Fun Halloween Ideas
We have lots of fun ideas for celebrating Halloween here. Don't miss this collection of homemade Halloween costumes and make sure you check out the trash bag spider webs that have taken over my front porch this year.