This post may contain affiliate links which may give us a commission at no additional cost to you. As an Amazon Associate we earn from qualifying purchases.
Fall is my favorite time of year. It really does feel like everything becomes new again. The leaves change colors, the breeze is cooler, the air is crisper, and everything pumpkin is totally in! I am always looking for new ways to decorate with pumpkins! These No Sew Fabric Pumpkins are literally the easiest craft ever! And even though it technically isn't fall yet, it's never too early to start getting ready for the best season of the year!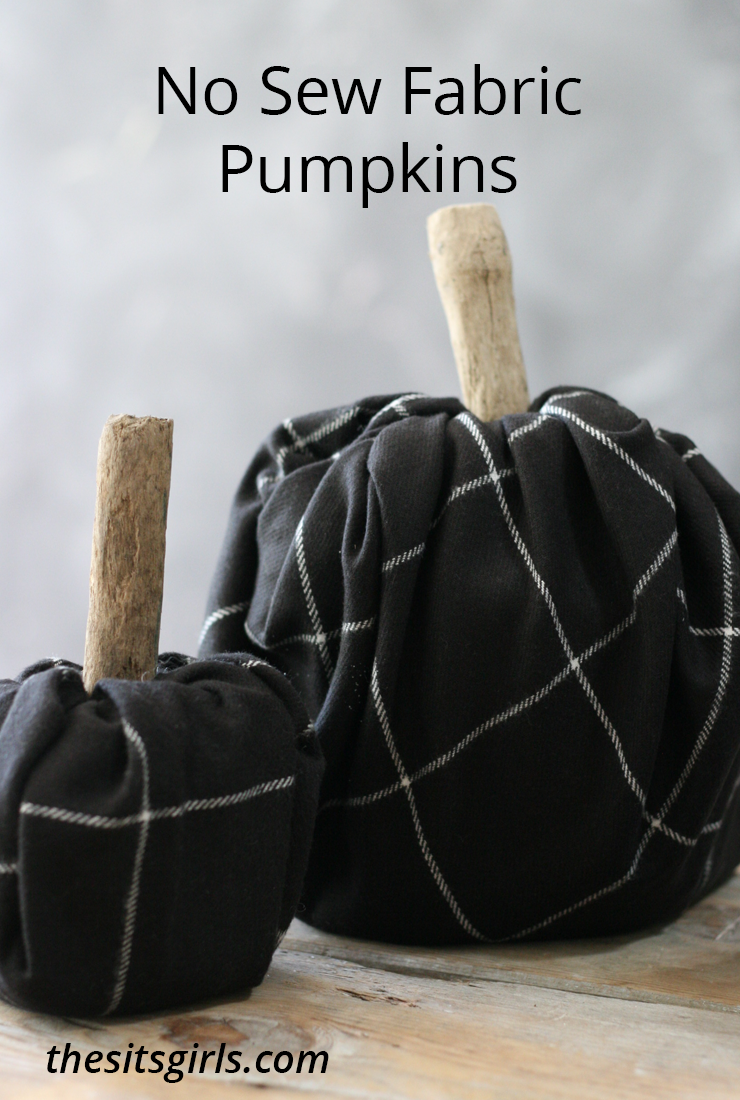 No Sew Fabric Pumpkins
I love any craft that takes just a couple of minutes, and can be done on a budget! You can make an entire pumpkin patch for under $10! I also love the idea of adding a cute tag and giving these as a gift!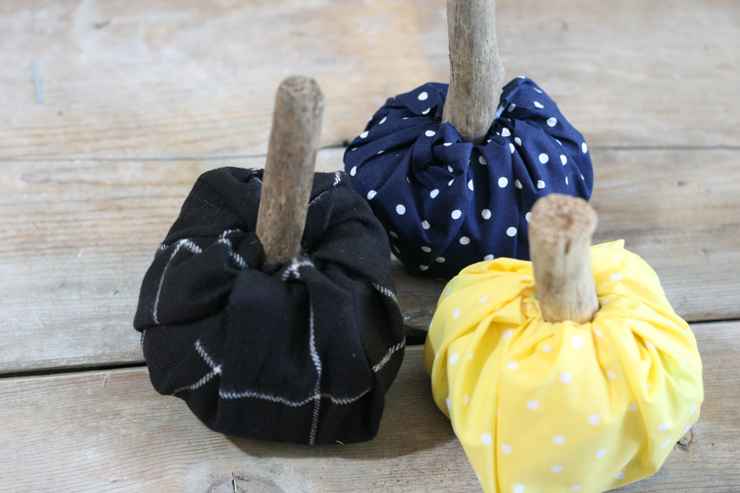 Materials for Fabric Pumpkins
No Sew Fabric Pumpkin Video Tutorial
How To Make Fabric Pumpkins Without Sewing
Start by filling the bag with about a 1/2 cup of dried beans. Pack the rest of the bag with polyfill stuffing, and stick the piece of driftwood (or foraged stick) in the middle. The stick will become the stem so make sure it sticks out long enough to give a stem look.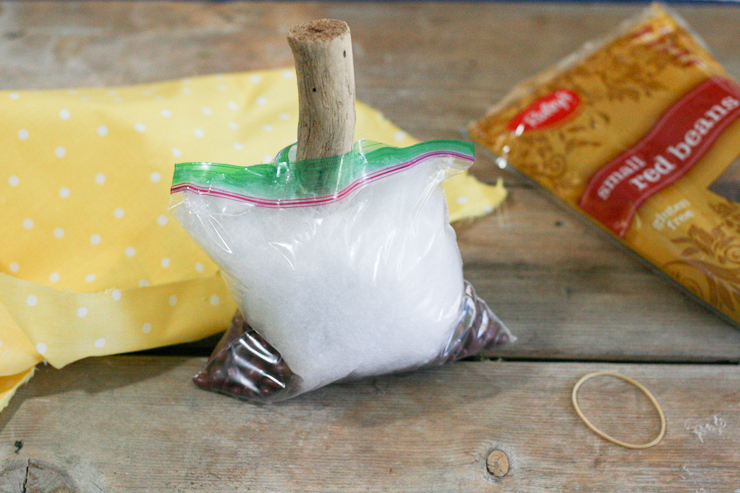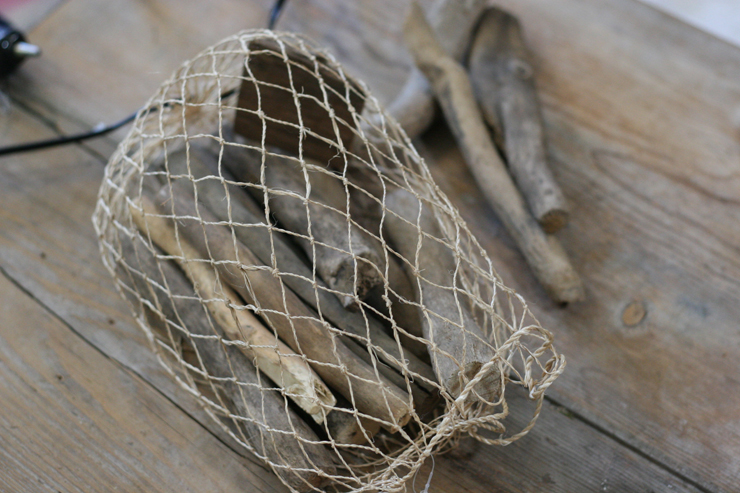 Next, I used a little hot glue gun to really secure the bag closed. If you don't have a hot glue gun you can omit this part, but it really does help keep the stick in place. After that take a rubber band and wrap it around the base two times. It should be tight, but not overly tight, because you will be tucking fabric around it.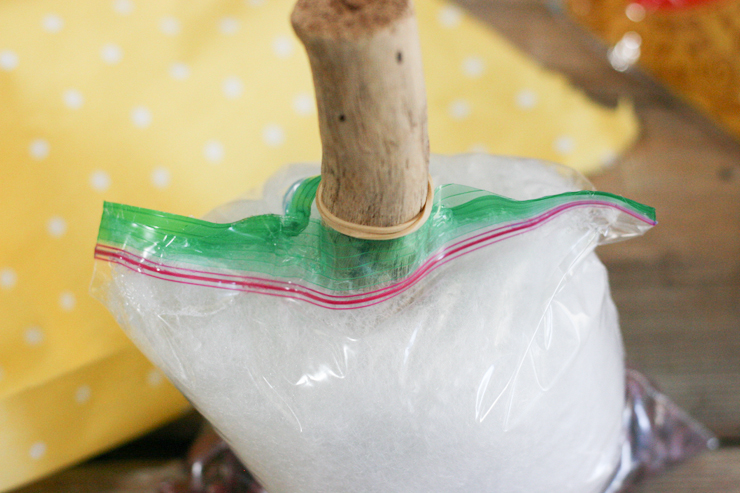 Once your bag is done, you can move on to cutting the fabric! Take a piece of scrap fabric and fold it 2 times, so that it is folded in fourths.
Measure the fabric from the folded corner to about 8 inches out. You will cut the fabric in an arc, but it doesn't need to be an exact arc, so a perfect measurement is not needed. Cut from the right side and arc around so that you are cutting an oval/circle looking shape.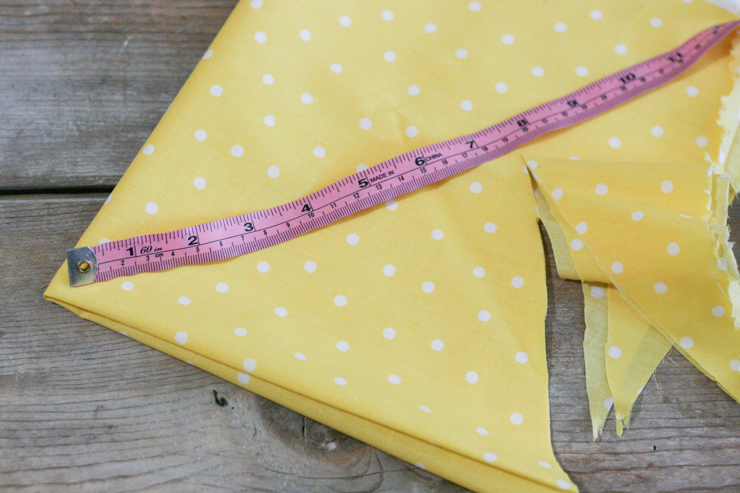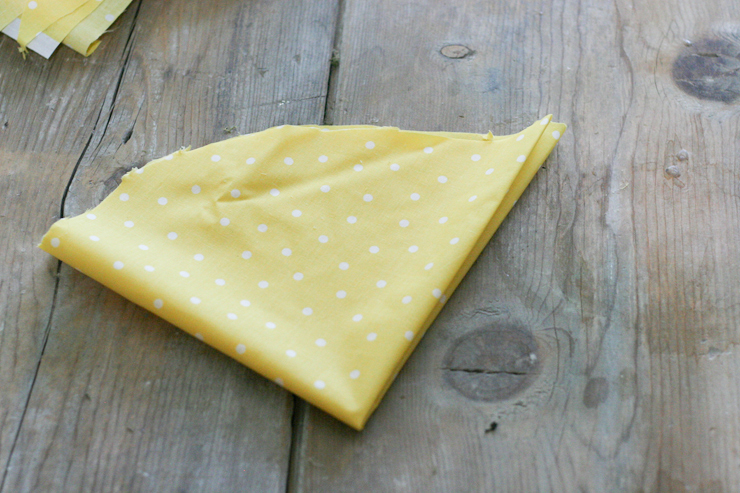 Clearly, my cutting is not perfect, and that is ok! No need to waste the extra time to make a perfect circle, when it won't be seen at all! Open up the fabric so that the print side is down, and place your bag of beans and stuffing in the middle.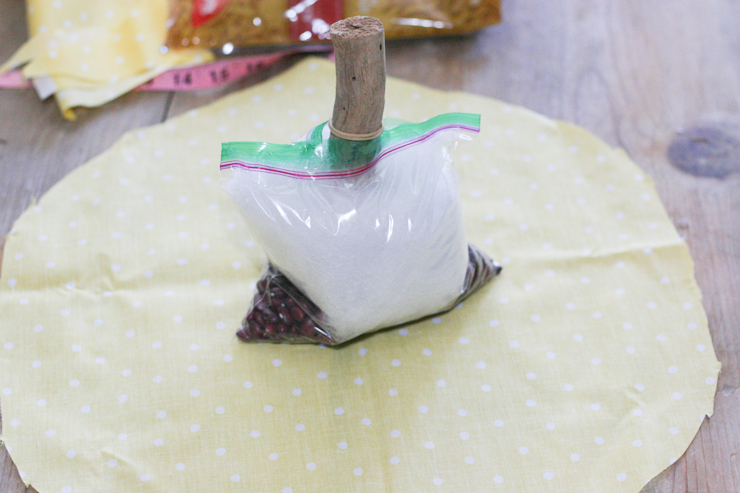 Begin pulling the outer sides of the fabric towards the rubber band, and fold the edges inside under the rubber band.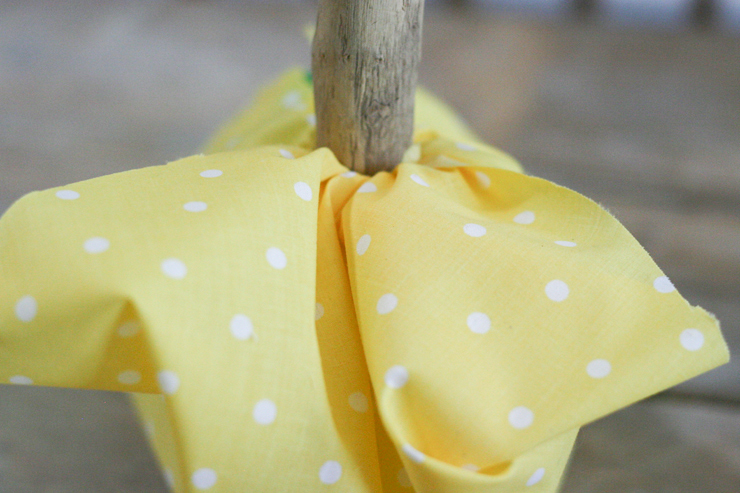 Continue tucking and arranging the fabric until all the edges are secure under the rubber band. It might take a couple of redos, but eventually all the fabric will be secure and in place.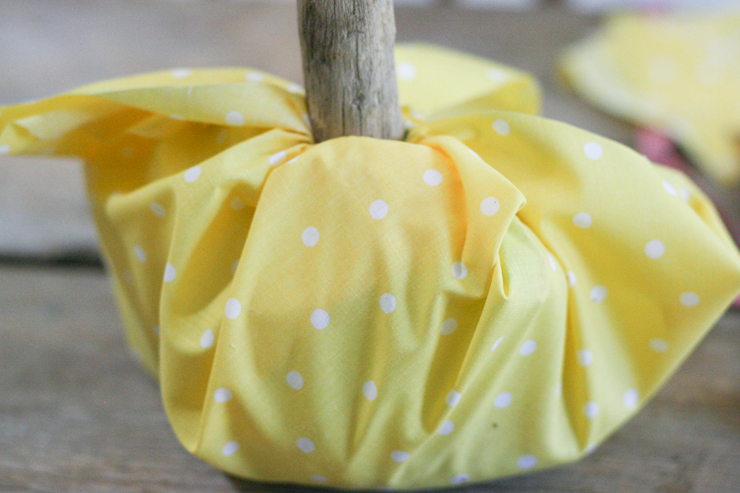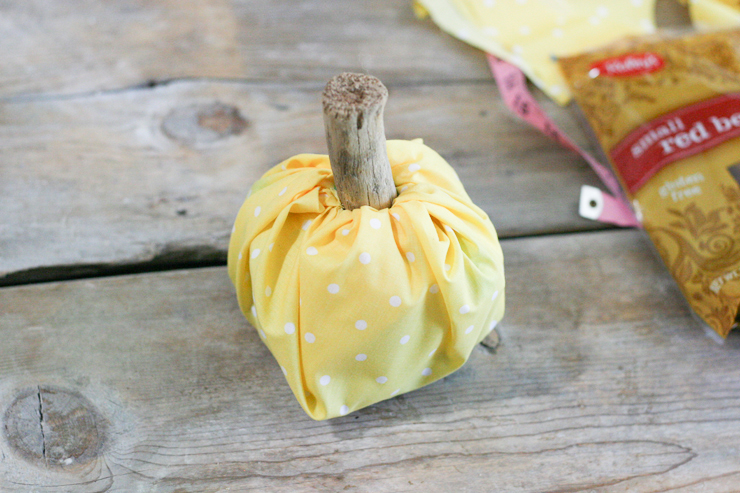 After I finished my cute yellow polka dot pumpkin I decided to make some more in some colors that match my home decor. Black and white is my jam; I simply love everything monochromatic!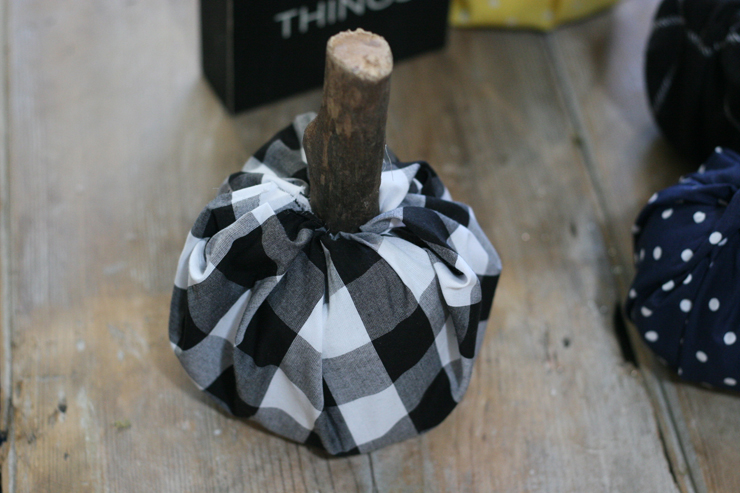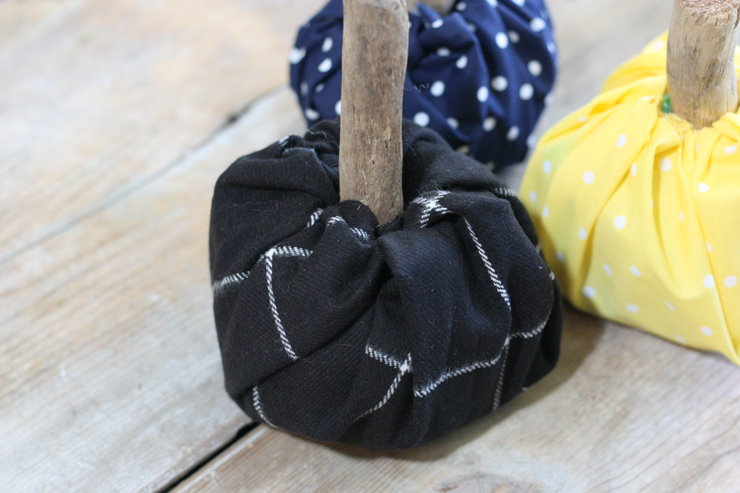 After I played around with the small pumpkins, I decided to make a couple larger ones. The method is the same, but instead of a small sandwich-sized ziploc bag, you use a gallon sized ziploc bag! The only difference is that you will need a larger circular piece of fabric.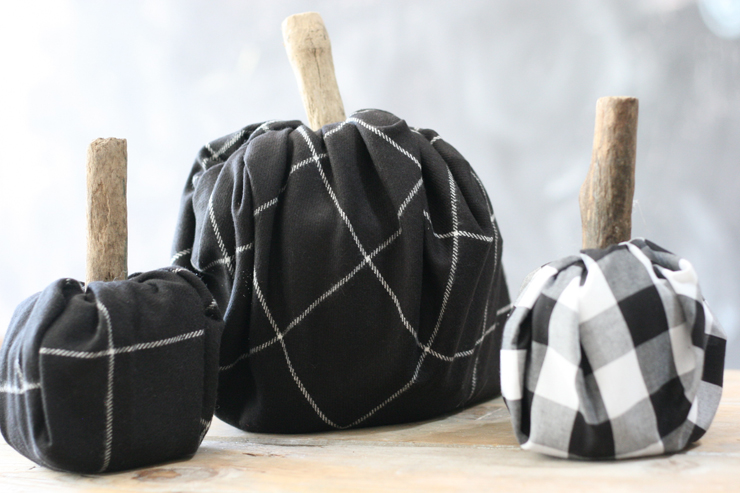 Have fun with sizes, textures of fabric, and prints of fabric! I placed the pumpkins all over the playroom – they were perfect addition!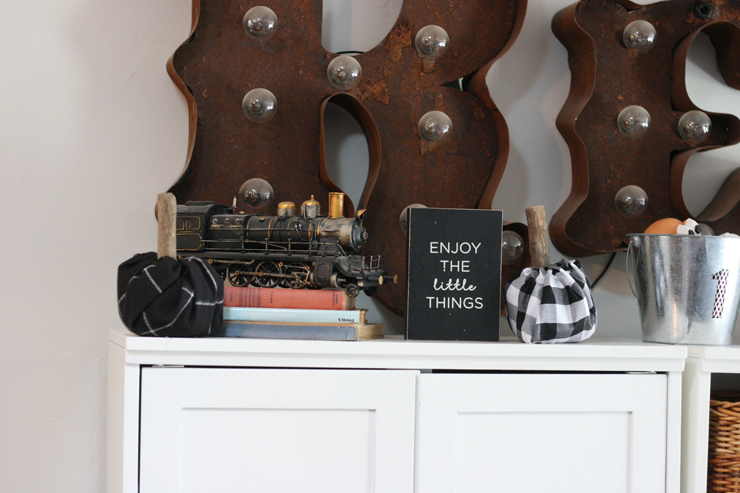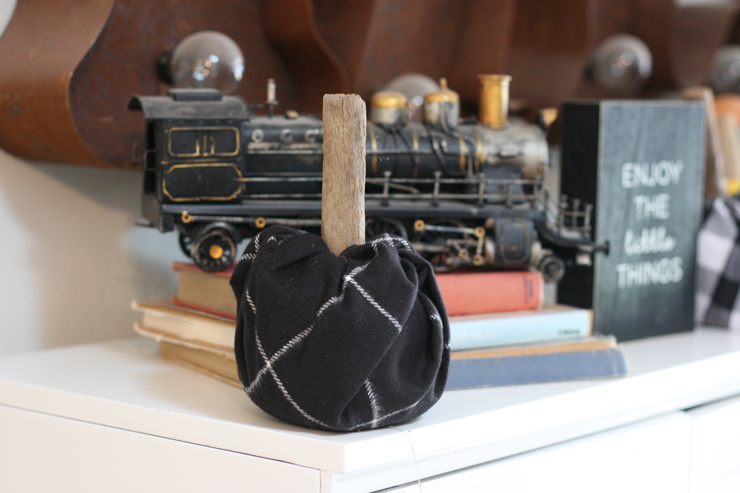 Looking for more pumpkin and fall inspiration? Check out: