This post may contain affiliate links which may give us a commission at no additional cost to you. As an Amazon Associate we earn from qualifying purchases.
Halloween is the perfect time to decorate outdoors. I'm always looking for outdoor Halloween decoration ideas. I think go above and beyond with decorations, but I'm okay with that. It's fun! Kids will be so excited to come to your house for treats on Halloween if it is fabulously decorated. You will also feel instantly happy when you pull up after a long day. I swear decorations have this effect on the soul.
A great way to decorate for Halloween is obviously pumpkins! The best part is you can jazz them up a bit more and use them throughout the fall. I had a great time creating my "Boo" pumpkins, and I think they really added to my front porch decor. Bust out the buttons, spider webs, and pumpkins and get ready to create some fabulous Outdoor Halloween Decor!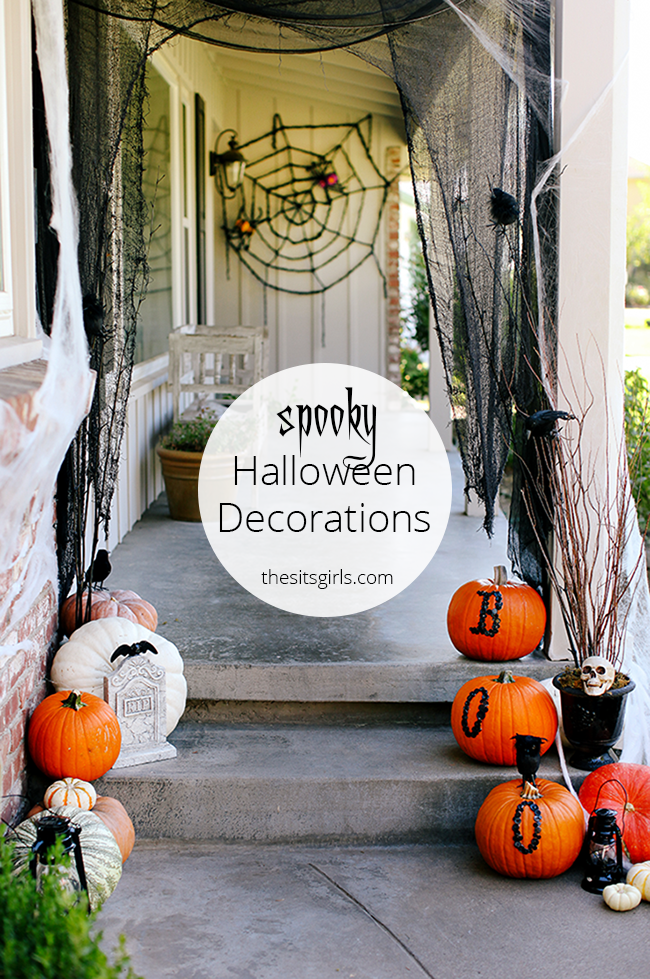 Outdoor Halloween Decoration Ideas
My decorations this year were inspired by a spooky shabby chic feeling. My design was originally centered around hanging spooky curtains all over the porch. These are actually fabulously cheap, and can be used in some many different ways. I got mine on (affiliate link) amazon for around $5-$7. I think it is a great idea to mix and match different styles to give it a more haunted and authentic feel.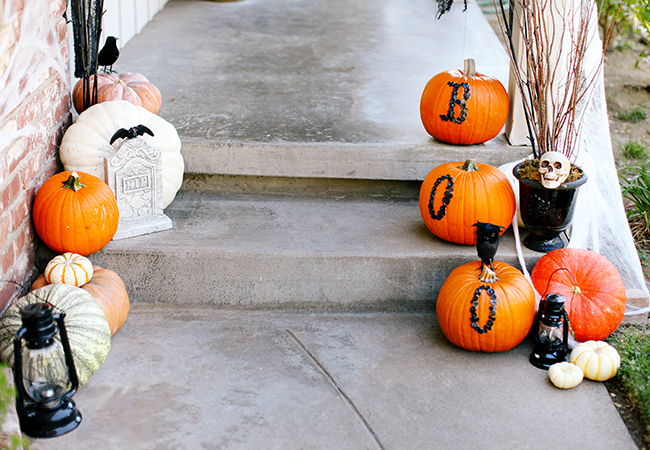 I wanted to mix and match my pumpkins, and break free of the traditional, big orange carving pumpkin. The pumpkins featured on my stoop are called Cinderella pumpkins. They are a little more pricey coming in around $4-$6, but to me they are well worth it. Perfect for bringing in some different colors and shapes, and perfect for Thanksgiving decorations as well!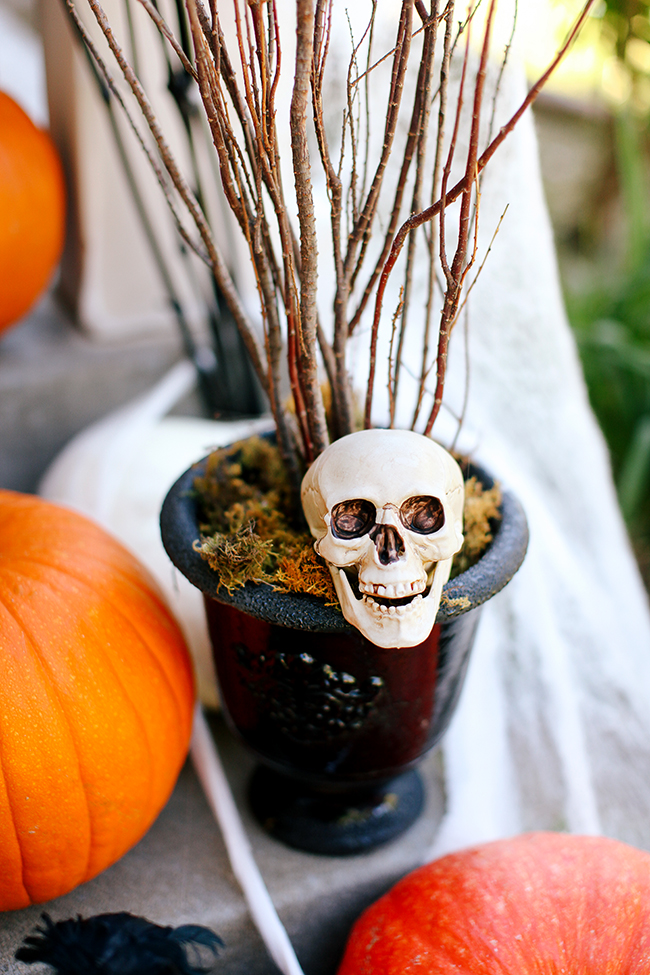 I must admit, my favorite DIY of the porch turned out to be this spooky twig display. I had a cracked vase in our "junk" pile in the backyard, and decided to spruce it up. I spray painted it black, and then filled the pot with dirt. At the top I added some moss from the craft store, and some twigs I had from another project. You could use twigs from around the yard, too, for an even more rustic look. The fake skull was actually an addition by my son, and it worked quiet perfectly if you ask me!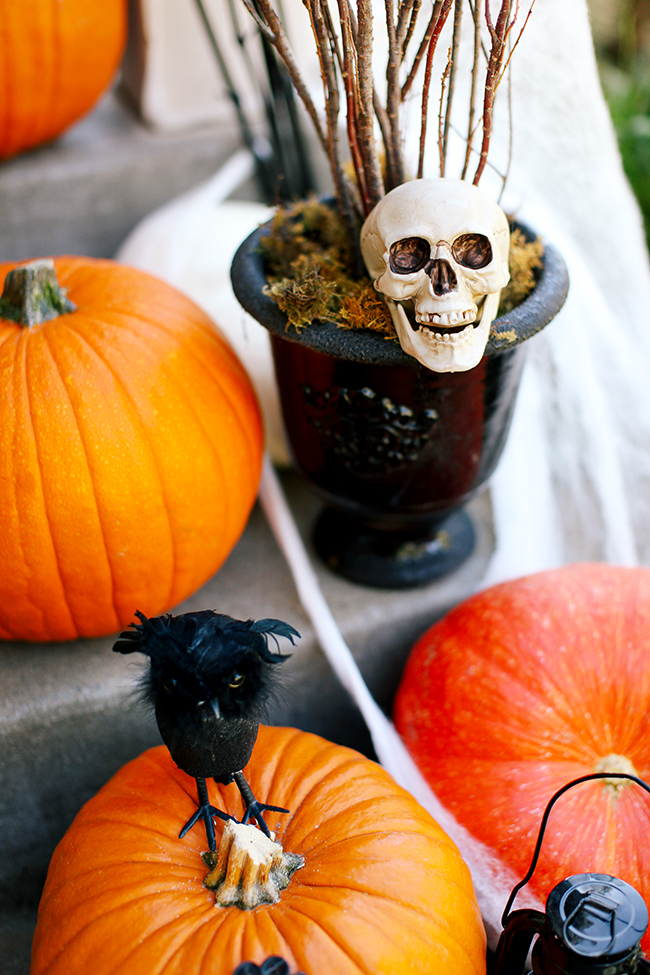 Speaking of sticks and twigs…I have fallen in love with these black branches from my Evil Queen Party. So naturally, I had to use them again. They give the illusion of a spooky forest, and are the perfect place for my little owls and crows to sit.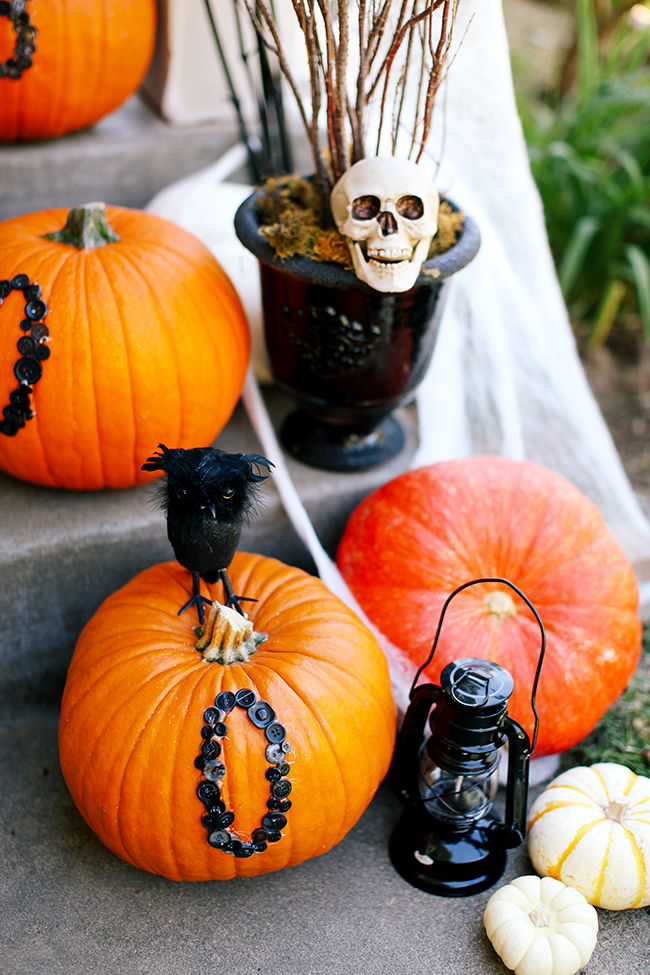 Naturally, I had to add in some spiderwebs. Kids love decorating with these, and since they are so cheap it is a great addition. It adds a lot of bang for your buck. I will add more as Halloween comes, but wanted to keep it simple for now so the mailman could still deliver my packages.
Boo Button Pumpkins
My DIY "BOO" button pumpkins were super easy to make. I was inspired by a bag of leftover black buttons I found.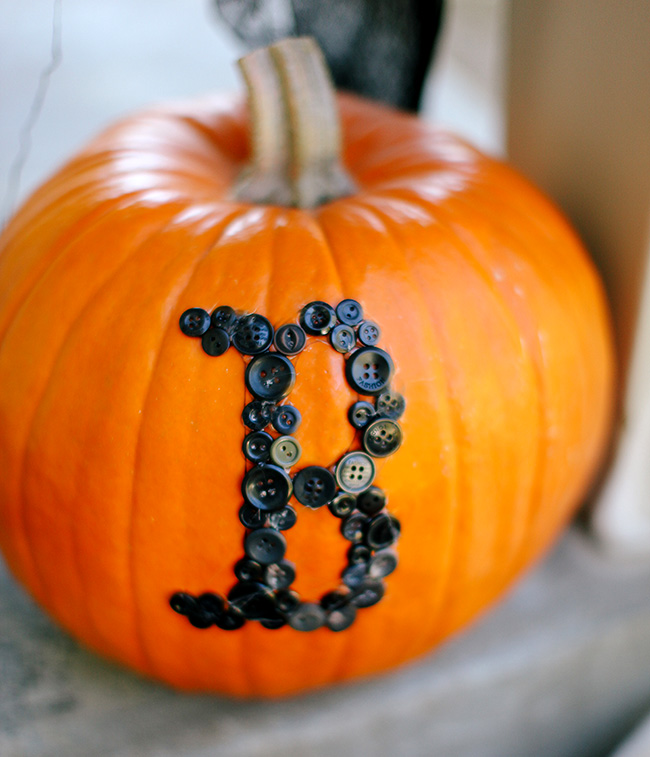 First I cut the letters "BOO" out of my cricut machine, you could also print them off on the computer. Then I used push pins to stick them to my pumpkins. I recommend finding the most even side of the pumpkin and adorning that area. Then I traced around the letters.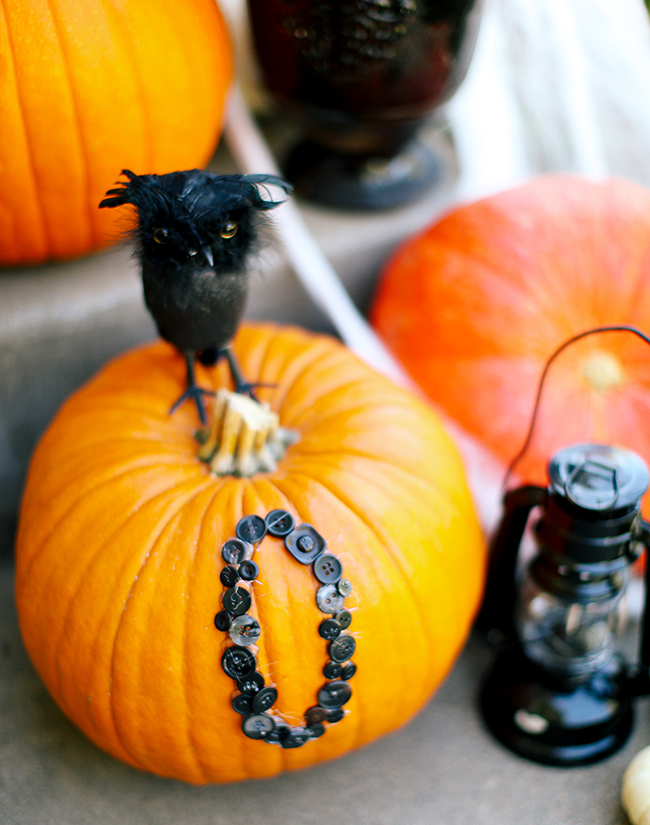 The next step was to adhere the buttons using my hot glue gun.  I chose to mix and match different shapes of the buttons to give echo my shabby chic look. You could use white buttons, gold, or mix and match for a fun look, too!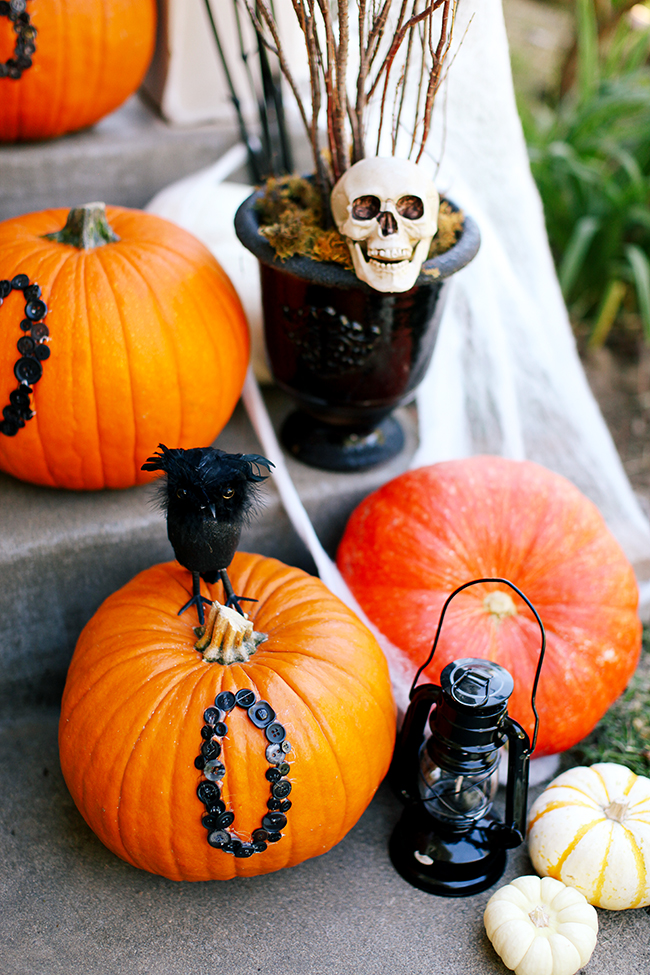 Wanting to add a little " BOO" in the inside of your house? Here is a sneak peak of the adorable cheesecloth ghosts I'll be sharing later this week! They are my new favorite DIY project.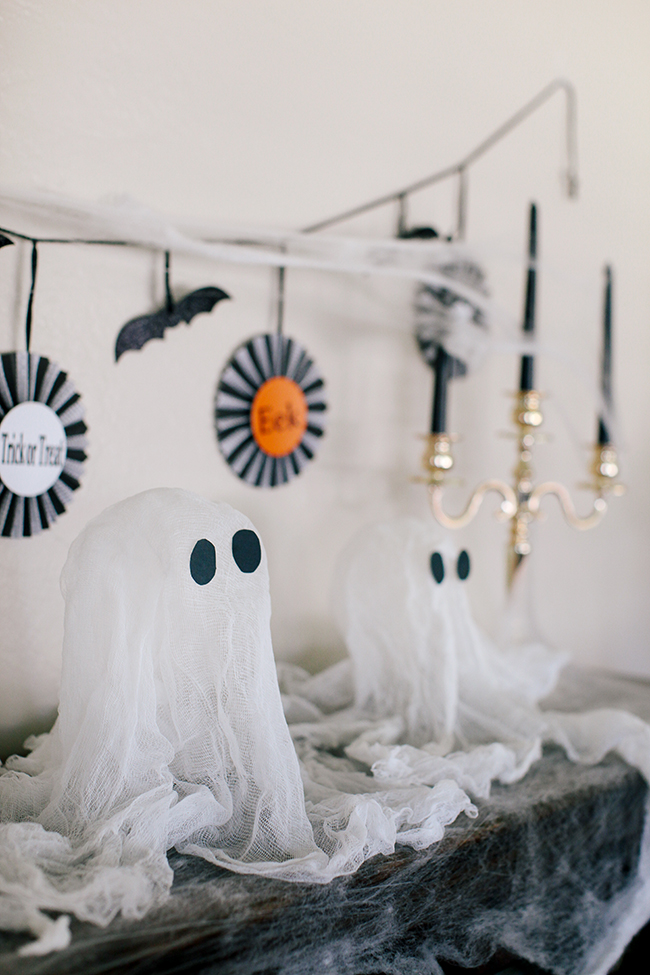 How do you like to decorate your front porch for Halloween?