This post may contain affiliate links which may give us a commission at no additional cost to you. As an Amazon Associate we earn from qualifying purchases.
About a year ago I created giant paper bag stars for a party. We posted a how-to video on Facebook, and it went viral. I think it is currently at around 23 million views. Since then, we have done many different variations using the same basic bags. The giant paper bag stars, giant paper bag snowflakes, and now my favorite, Paper Bag Flowers. You can now officially decorate for almost every event using paper bags… YOU ARE WELCOME!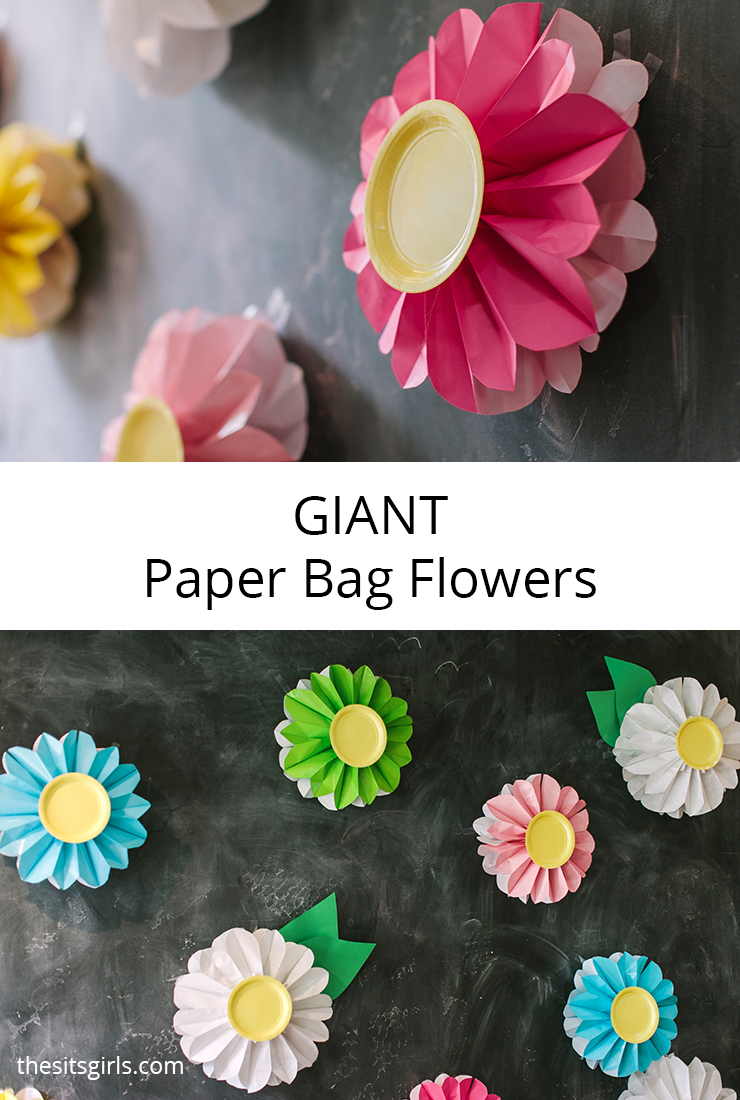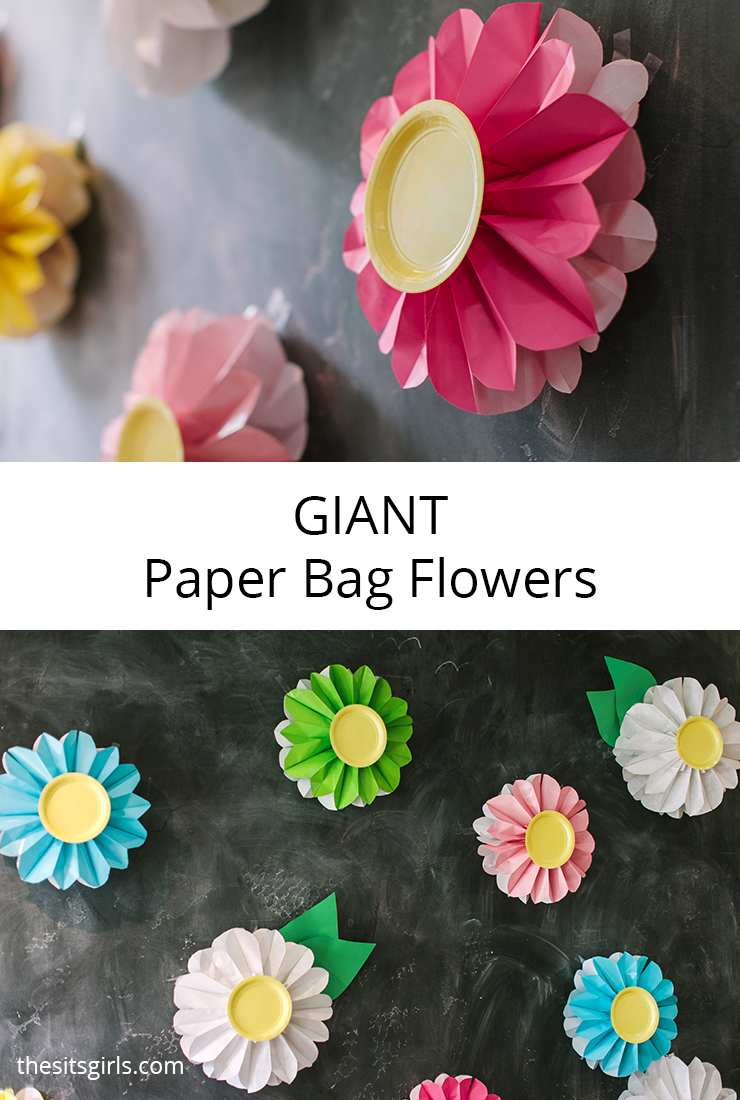 Giant Paper Bag Flowers
Paper Bag Flower Materials:
Paper Bags
Glue
Scissors
Tape
Yellow Paper Plates
The beauty of this project is that you only need a few materials!
How To Make Paper Bag Flowers
To create each flower you need 7 paper bags. You will apply glue in a "T" shape. A straight line down from the top to the bottom, and then a horizontal line of glue from side to side at the bottom of the bag.
Stack your second bag on top of the first, and continue the process with all 7 bags.
When your last bag is stacked on top, cut the tips in a curved fashion. Then, fan the flower out and glue to the two ends together. Here is a tutorial of the same process I used to make the Giant Paperbag Stars. I cut them to pointy tips for stars.

Once your flower is assembled, you can use hot glue to attach a yellow paper plate to the center.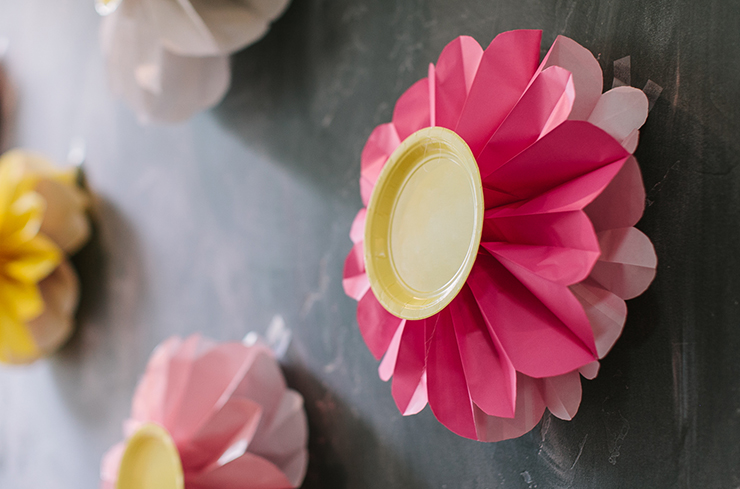 As you can see, they are so light that I only had to use scotch tape to hang them on the wall. Another fun thing I did was cut leaves out of green craft paper.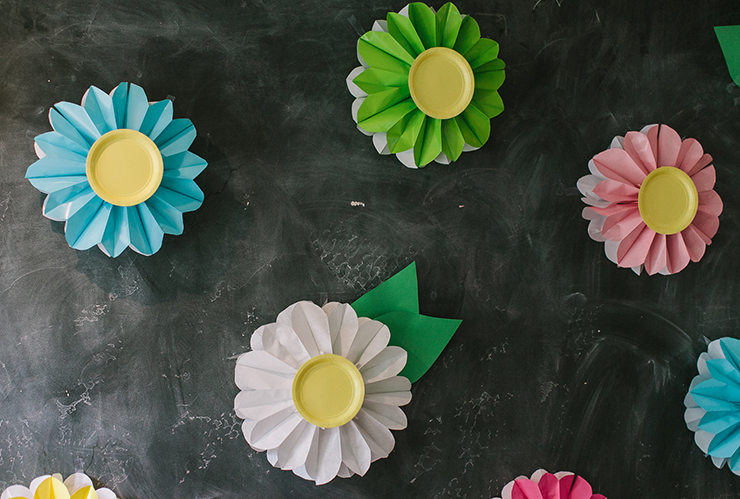 Using all different colors is a great way to decorate for Spring, Mother's Day, a luncheon, or weddings!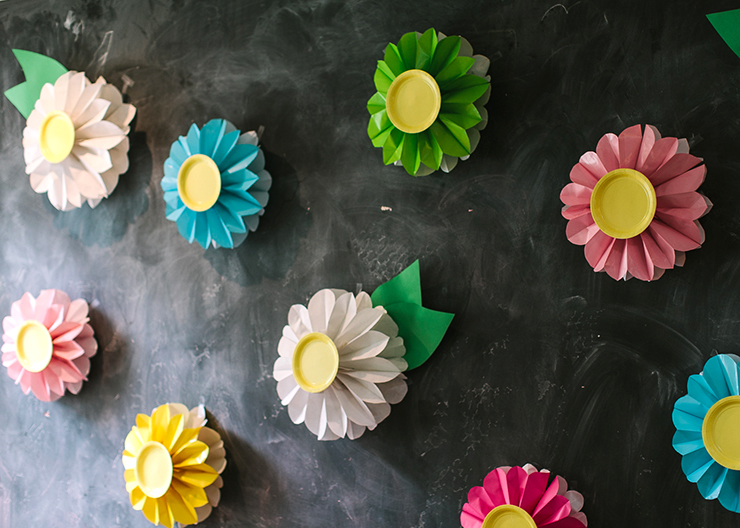 There are so many ways to customize the flowers.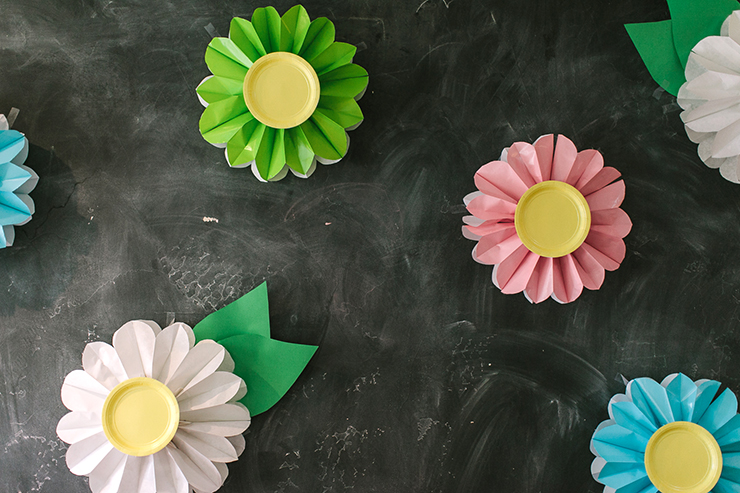 You can also hang them in any fashion you want. They would look beautiful in an arch over a walkway or entrance, or even as a photo backdrop. The cost to make 13 flowers was roughly $6, so they are a very cost effective way to create MAJOR drama at a party!
Would you like to learn how to DIY Giant Paper Flowers? Check out that DIY HERE!