This post may contain affiliate links which may give us a commission at no additional cost to you. As an Amazon Associate we earn from qualifying purchases.
I love flowers and fresh garlands in the home — I use them on the mantle and as part of my table decorations — but they don't usually last for the whole Christmas season. This year I am using my paper doily Christmas trees as the main focus for my Christmas table decor. I even made extras for my kids, so they could have their own little paper tree forest!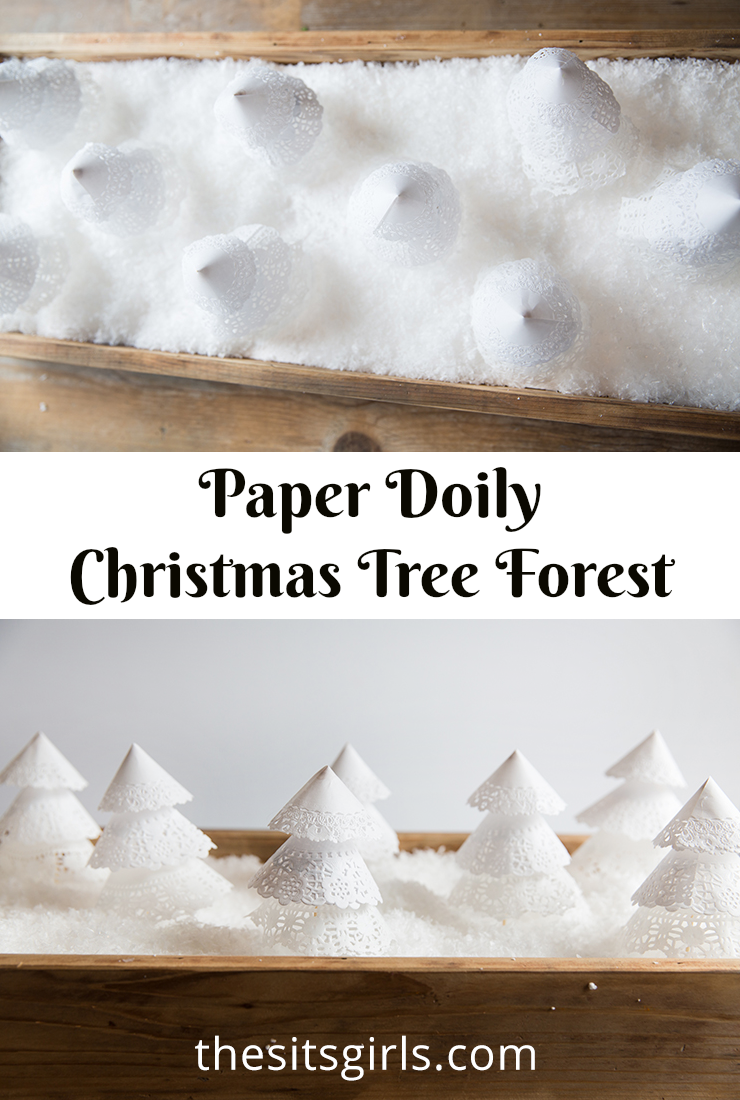 Paper Doily Christmas Trees
Materials for making paper doily Christmas trees (note: this post contains affiliate links)
How To Make Paper Doily Christmas Trees
The process is pretty simple! I easily assembled 12 little trees in under an hour. You can vary the size of the trees by using large sticks for the base and larger paper doilies. Each tree is comprised of 3 doilies ( large, medium, small), 3 beads, and one stick.
1. Begin by cutting a slit from one side of the paper doily to the center. Roll the doily into a cone shape and apply glue to keep it together.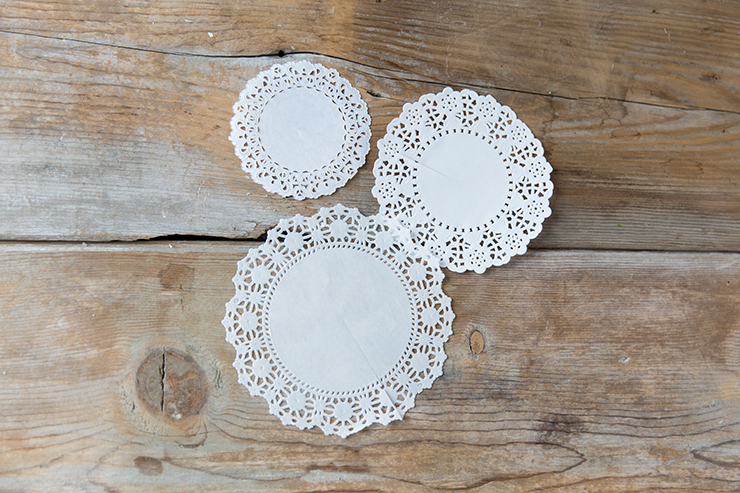 2. Repeat the process with the other 2 doilies. You should have a large doily which will be the base, a medium doily, and a small doily which will go on top.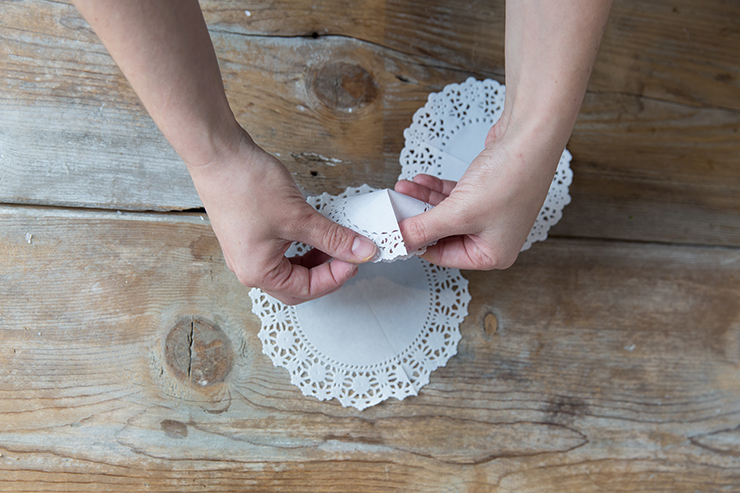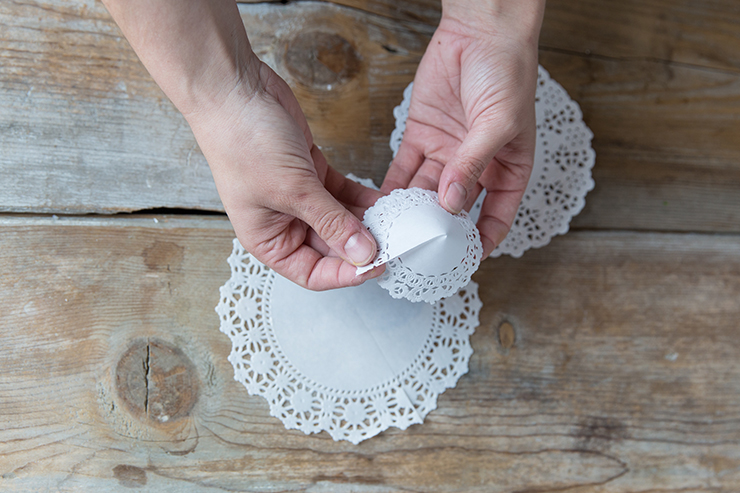 3. Take the largest paper doily cone and stick the craft stick through the center. Place a wooden bead on your craft stick next and secure it with hot glue.
4. Do the same thing with the medium paper doily cone.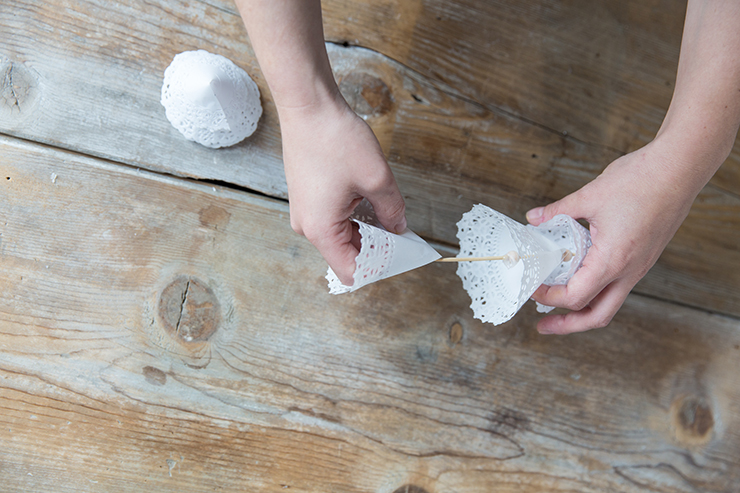 5. For the final piece, add a little hot glue and adhere the small little paper doily cone. While the glue is still hot make sure that the paper doilies are positioned where you want them. They should be evenly spaced so they resemble a tree.
6. Wait for the glue to dry!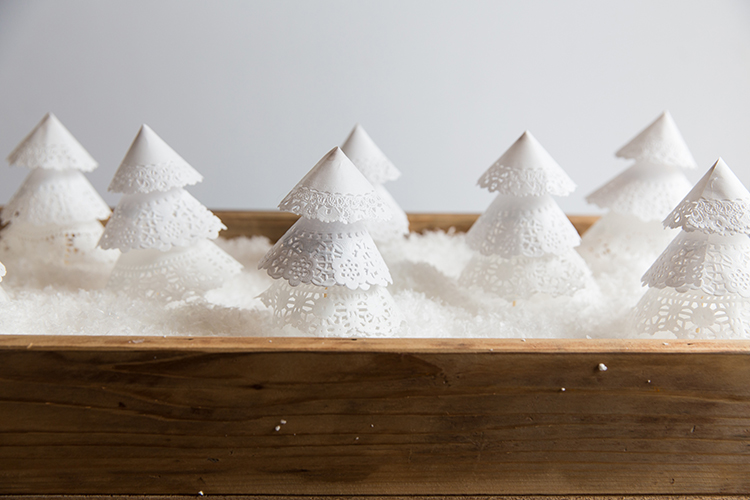 I displayed my trees by putting them in a wooden box.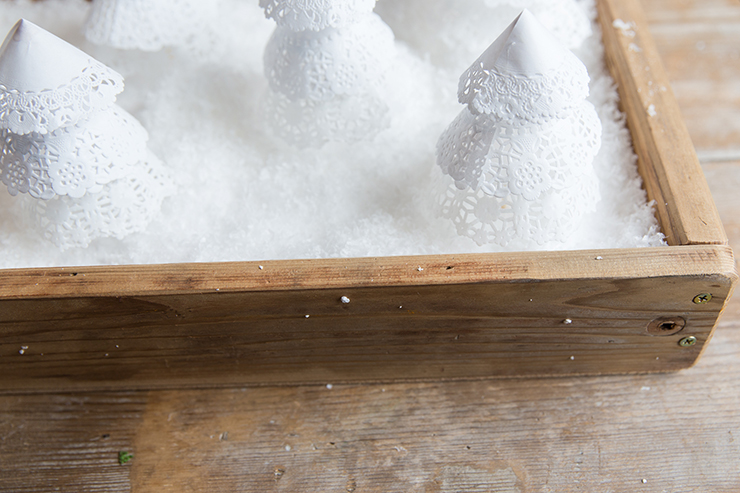 I simply stuck them into a large piece of Styrofoam and spread fake snow on top of it!
My kids loved creating little villages in this box! It is a cheap and easy way to make a Christmas centerpiece or mantle decoration.

For more DIY Christmas fun, check out our giant popcorn garland and handmade Christmas tree ornaments.