This post may contain affiliate links which may give us a commission at no additional cost to you. As an Amazon Associate we earn from qualifying purchases.
Keep in mind this DIY when cleaning out your closet! Don't toss those unwanted sweaters into the donate pile just yet! Repurpose your old sweater into a fancy pattern ear warmer head wrap with a bow! It doesn't require any special machines or tools, just a trusty pair of scissors, a needle and thread, and about 30 minutes!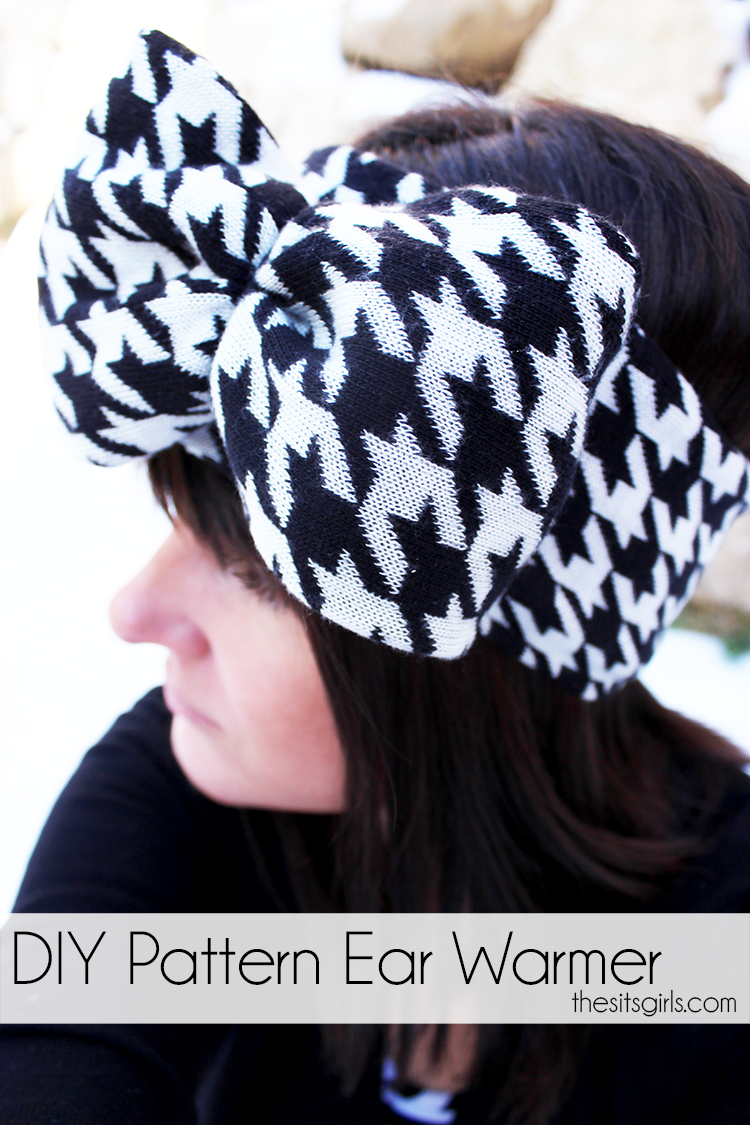 DIY Pattern Ear Warmer
Keeping warm in the winter does not mean that you have to forgo looking cute. Add a little style to your cold weather ensemble with this Bow Ear Warmer Head Wrap. This wrap is stylish, and easily made using the sleeves of an old sweater.
Pattern Ear Warmer Supplies
An old sweater (If you don't have a sweater you want to cut up, you can buy one at the thrift store like I did.)
Scissors
Needle & thread
Pins
Find an old sweater with sleeves that fit around the circumference of your head, and cut the sleeves off of your sweater. Cut as close to the seams as possible.
Next, take one sleeve and tuck the raw edge into the cuff to make a circle.
Pin all four layers of the cuff and the sleeve to help with sewing. You don't want your sleeve to slip around when you sew. Take the time to complete this step neatly!
Then, sew through all four layers to join the two ends of your sleeve together and create the ear-warmer base for your head wrap! When you are finished with this step, you will have a complete circle.

Grab your second sleeve and do the same thing as the first. Tuck the raw edge, pin the layers, and sew together. When you've finished sewing, gather your sleeve in the middle to make a bow.
Using a bit of thread, tie your bow in the middle tightly. Attach your completed bow to your head wrap using a few stitches. Your Bow Ear Warmer Head Wrap is complete!
This repurposed sweater DIY is the perfect addition to your winter weather wear!