This post may contain affiliate links which may give us a commission at no additional cost to you. As an Amazon Associate we earn from qualifying purchases.
When August rolls around, I start dreaming of homemade Halloween costumes. I always ask my kids what they want to be, and this was the first year both of my older kids were adamant about their choices. Last year my son chose Luke Skywalker, and my daughter wanted to be "The Princess and the Pea." With their choices my dreams of matching siblings costumes went out the door. While my oldest son chose a different path, I was determined to make a homemade Princess and the Pea costume that would work as a sibling costume for my daughter and her baby brother.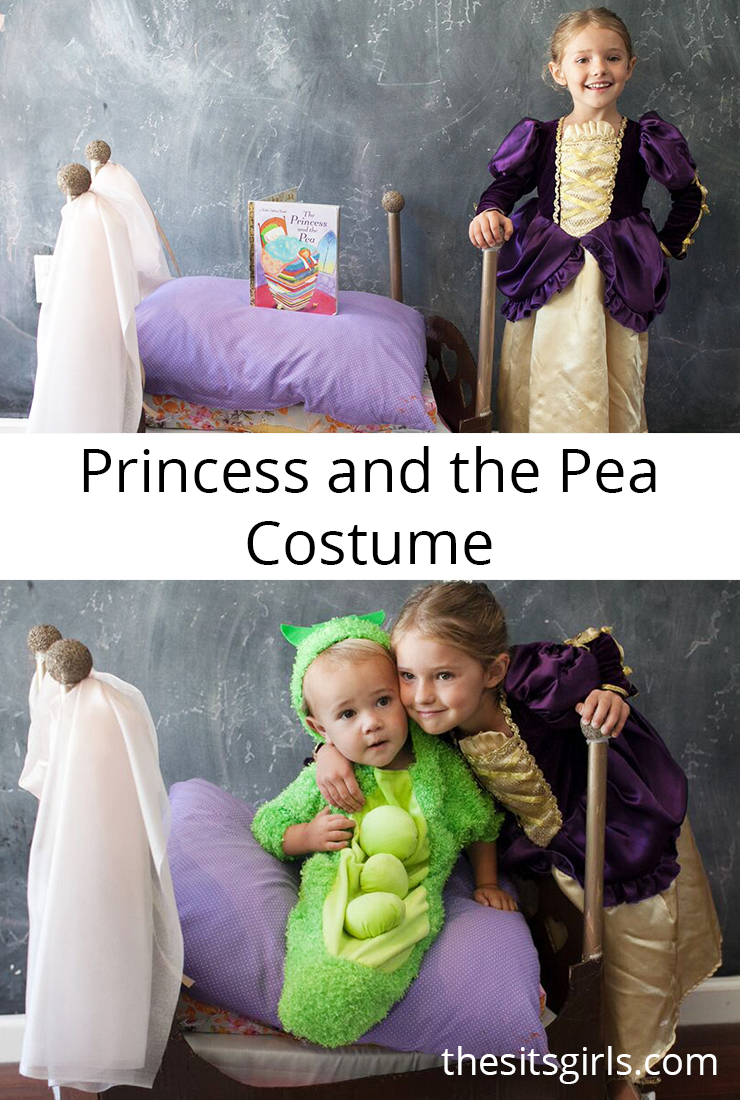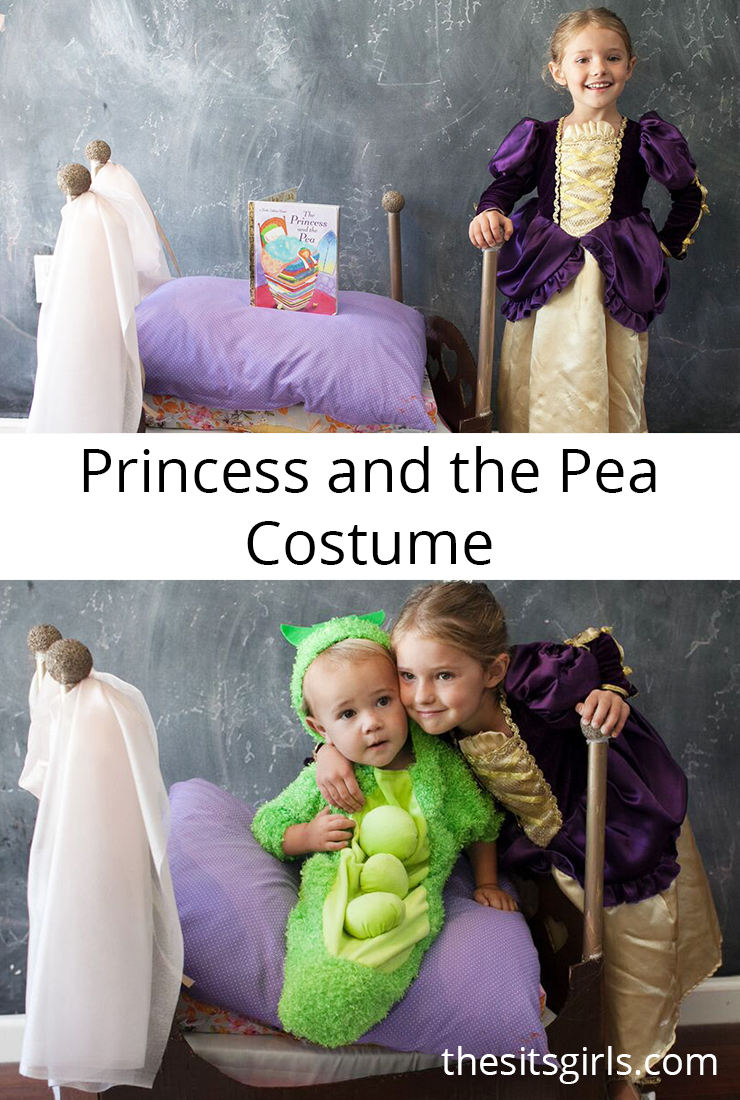 Homemade Princess and the Pea Costume
If you are not familiar, The Princess and the Pea story goes as follows…
Princess And The Pea Story
A prince is in search of a princess to marry. However, none of the princesses he met would do; they all had something wrong with them. One night a princess appeared at the castle doors, seeking refuge from a storm. The prince refused to believe she was a REAL princess because her clothes were so dirty and muddy. The queen agreed to let the princess stay the night to pass the storm, but was still uncertain if she was a true princess.
As a test, the queen placed a pea under a tower of mattress, after all only a REAL princess would feel the pea underneath all the feathers and fluff. The next morning the princess mentioned how uncomfortable the bed was, and said that she had such a terrible night's sleep. The queen and prince knew in that instant that she was true princess, and would be the perfect match!
Homemade Princess And The Pea Bed
I was totally stumped on how to construct a costume to match all these crazy parameters. And then, I found the perfect box. This box fit on our wagon, and I knew I could make it into some sort of bed. Admittedly, this costume took WAY longer than I had planned for — I normally finish my costumes a couple weeks in advance, but with the last start I got on making this one, I was up the night before Halloween creating Princess and the Pea mattresses with my hot glue gun.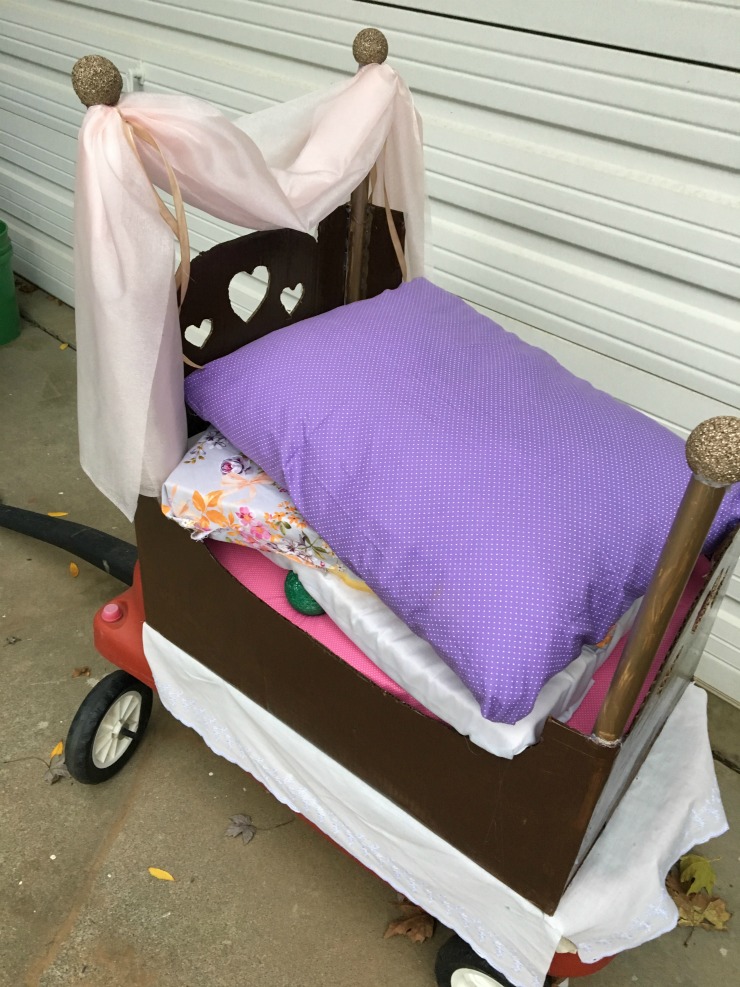 I made the bed out of a box and painted it brown. I tried to carve it on the sides to look as much like the illustrations in the Princess and the Pea storybook bed as I could. The bed posts were made from paper towel tubes and styrofoam balls spray painted gold. I added a bed skirt at the bottom made with old eyelet fabric, and used organza to drape around the top of the bed. I wanted to make it as regal as I could!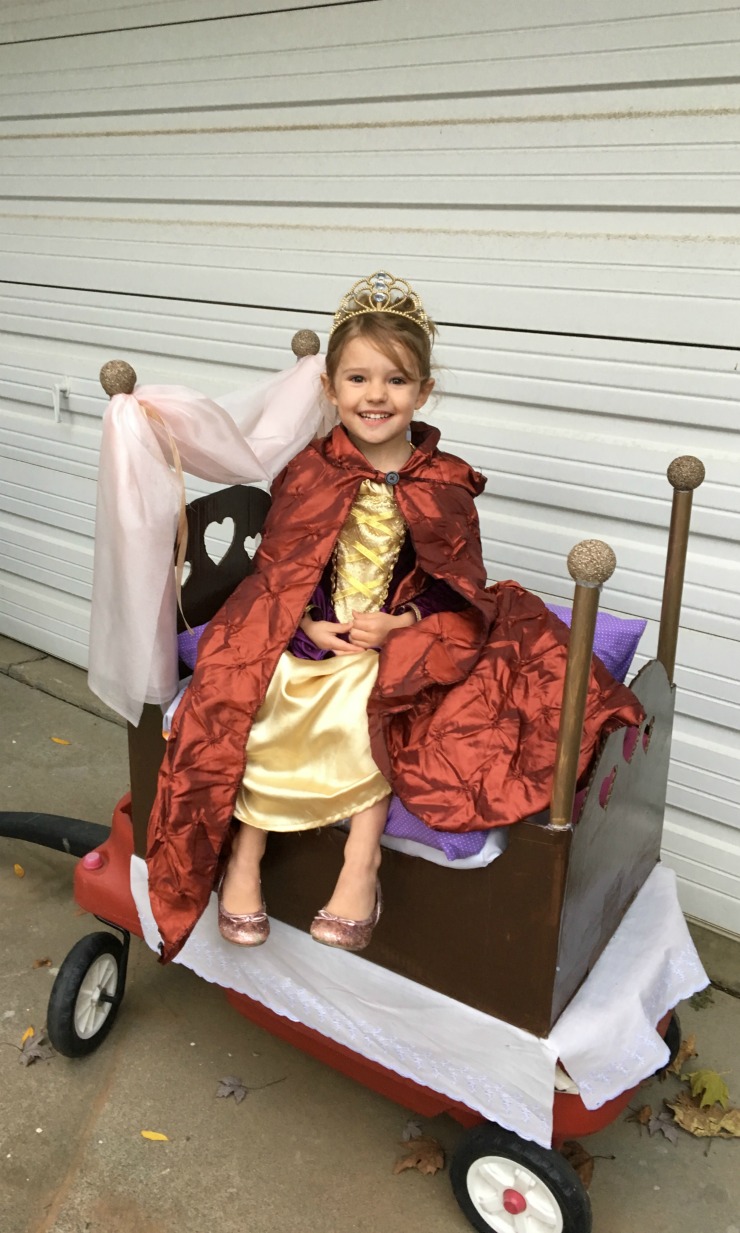 To make the mattresses, I simply wrapped old pillows in various fabrics, and then stacked them on top of each other. This made for a cushy ride as my daughter was rolled along from house to house on Halloween.
Princess And The Pea Sibling Costumes
As I mentioned before, I love it when I can have my kids match for Halloween. For this Princess and the Pea costume, I decided my youngest son would be the pea for my little princess. I did not make his costume, but bought a pea bunting costume online. There was NO WAY I would have had time to hand make his costume after making the bed, but if you plan ahead for your homemade Halloween costume, you could definitely make all of these pieces yourself.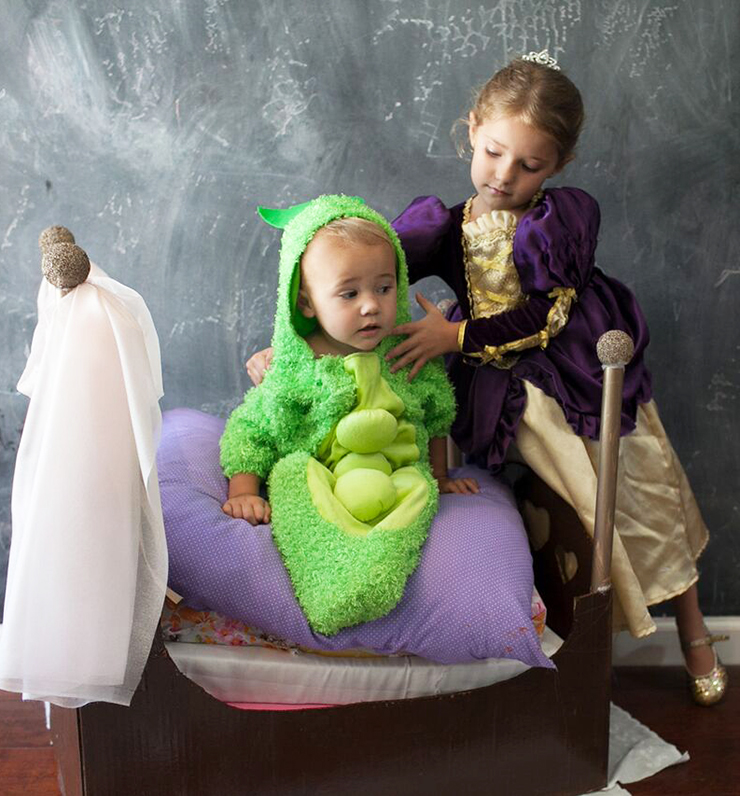 I also painted an extra styrofoam ball green to place in between the mattresses, just in case our little "pea" decided he wasn't up for Trick-or-Treating on Halloween night.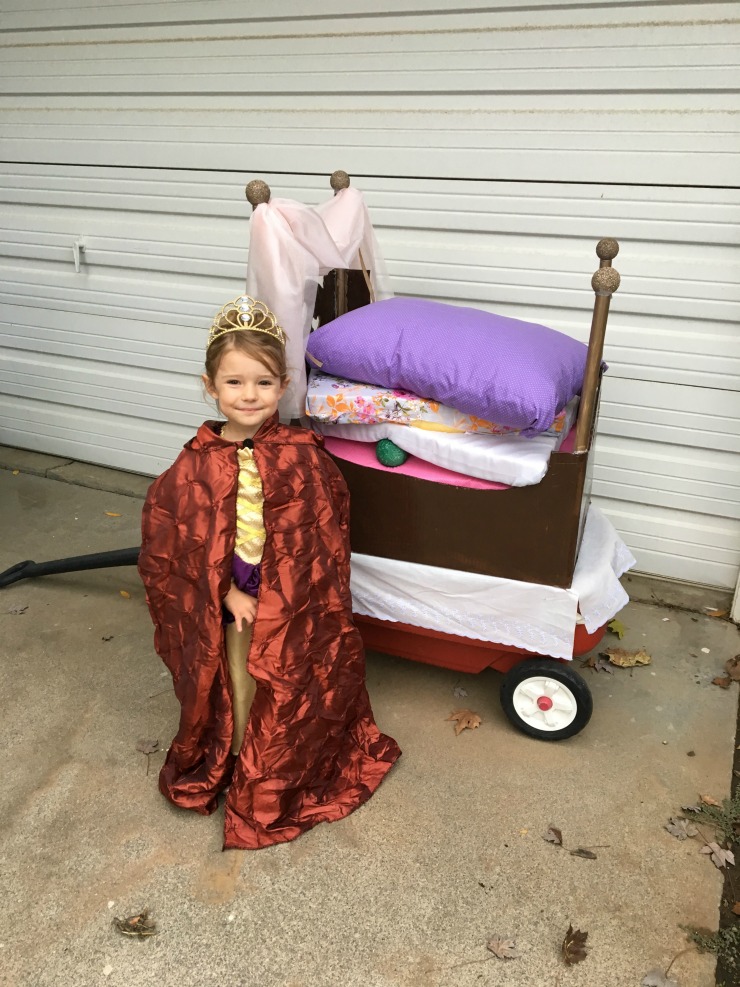 The Princess and the Pea costume was well received! Her school has a costume day, and the teachers loved that her costume was inspired by a fairy tale. The little bed also proved quite handy when she needed a ride towards the end of the night.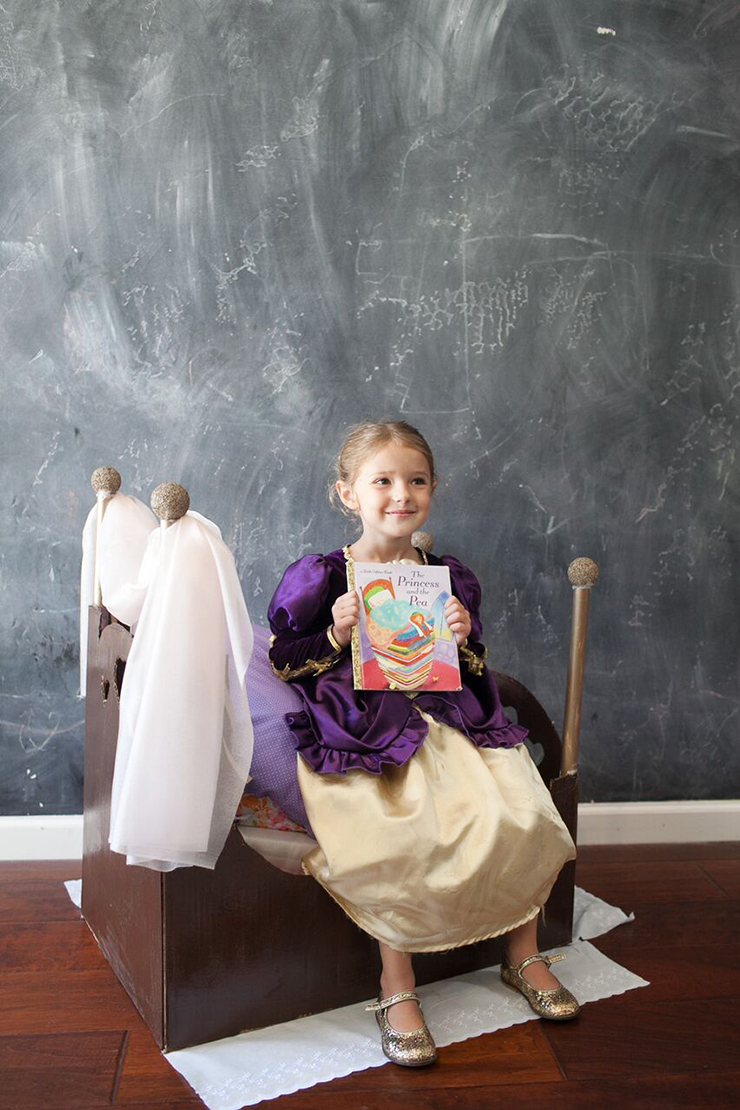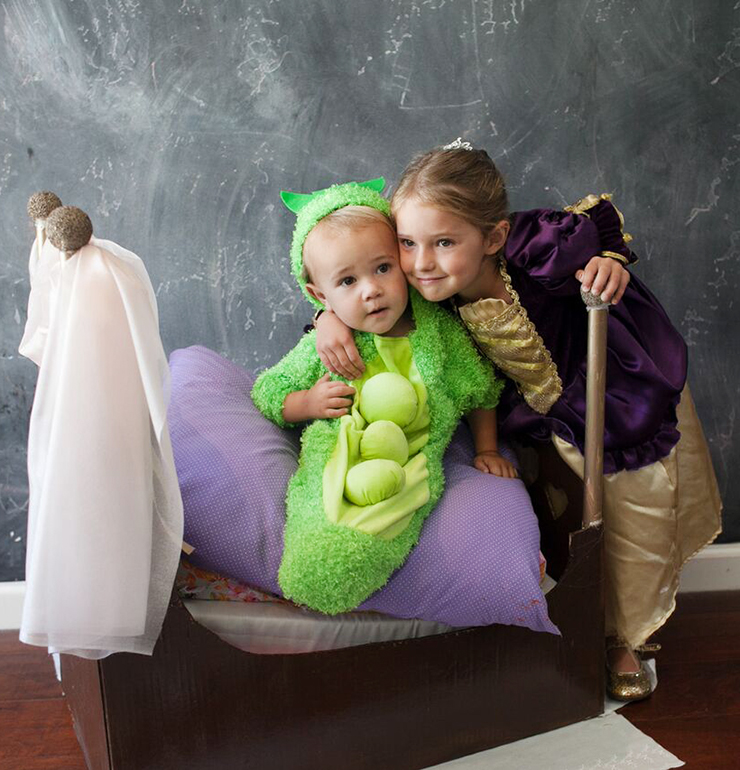 More Sibling Costume Ideas
If you love sibling costumes as much as I do, here are a few of my favorite Halloween sibling costumes we've made in the past: Fred and Wilma Flintstone costume, Rosie the Riveter and Uncle Sam poster costumes, and Grease costumes with a homemade Grease Lightning car.
And check out a great list of homemade Halloween costumes here!