This post may contain affiliate links which may give us a commission at no additional cost to you. As an Amazon Associate we earn from qualifying purchases.
Eeeeeeeek! Can you believe Halloween is right around the corner? If you are anything like me, you want to start getting ready early so you can be prepared for its anticipated arrival! There are so many creative pumpkin decorating ideas, you can really get creative with your pumpkins.
One of my favorite parts of Halloween is getting the front porch decked out and decorated! This year I found a cheap pumpkin stand and stocked up on loads of shiny orange pumpkins, perfect for setting the scene in my Halloween entry.
These glitter pumpkins are perfect Halloween activities for kids!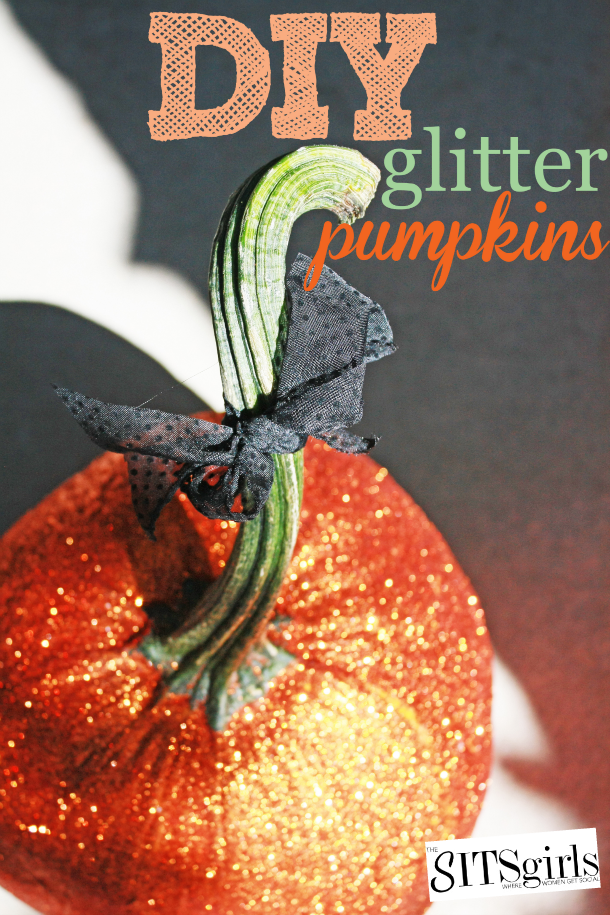 Pumpkin Decorating Ideas
Around Halloween, I love getting a collection of decorated pumpkins gathered on the front porch. This year, I found a cheap pumpkin stand and fount it as the perfect opportunity to load up on tons of shiny orange pumpkins!
To kick my decorating off right this season, I'm starting with a bit of glitz and glitter! DIY glitter pumpkins are a super quick and easy way to add a bit of pizzazz to your Halloween décor!
To make DIY glitter pumpkins, you will only need a few, easy to find supplies.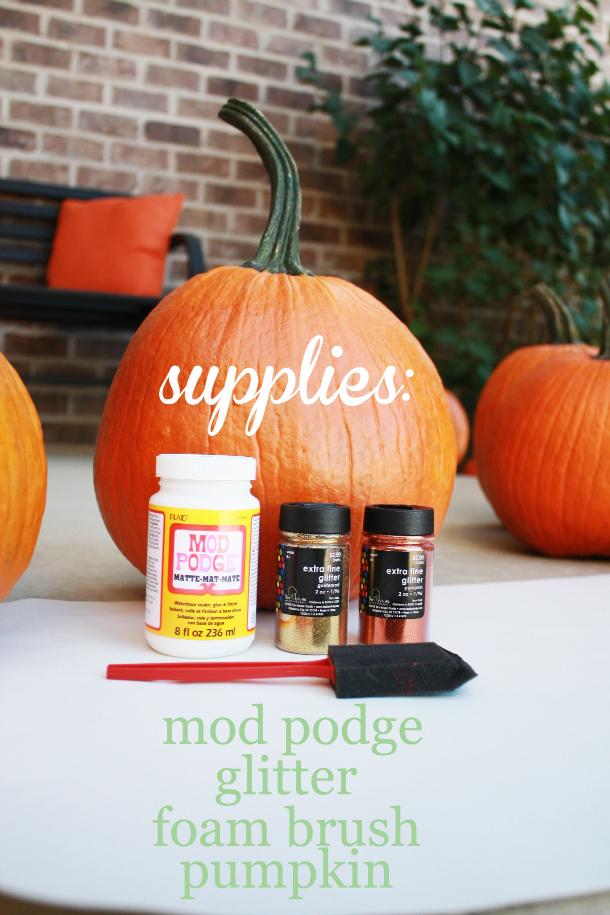 Before you begin, make sure your pumpkins are clean and free of dirt, dust, and debris. I just gave mine a quick wipe down with a damp cloth.
To make your DIY glitter pumpkins even easier to create, set your crafting scene up before you begin. Unscrew the tops off of your glitter, pour a small amount of Mod Podge into a container, and line your work surface with paper, plastic, or foil.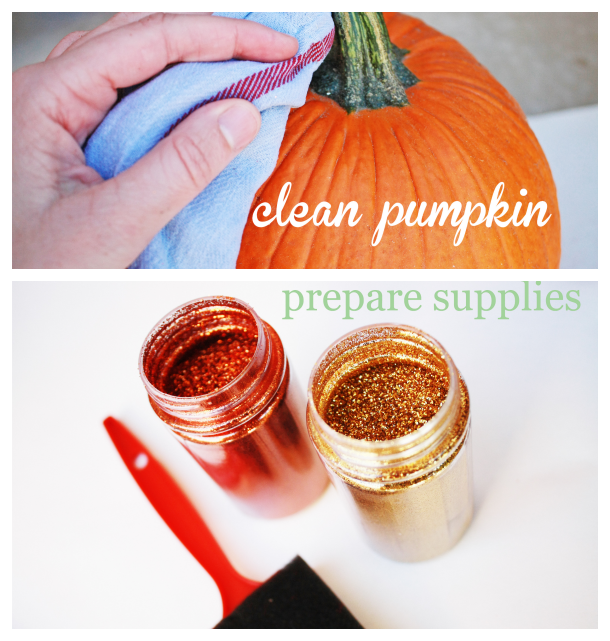 To begin, dip your foam brush into the Mod Podge and apply to your pumpkin in thin, even strokes. Don't apply too thick, or you will end up with drips. Take care around the stem, and make sure that you coat all of the pumpkins deep ridgelines.
You will work in sections, so don't try to coat your whole pumpkin in Mod Podge before you add the glitter.
After you've applied the Mod Podge, apply the glitter. Don't be shy! You want enough glitter to cover every inch, so pour it on!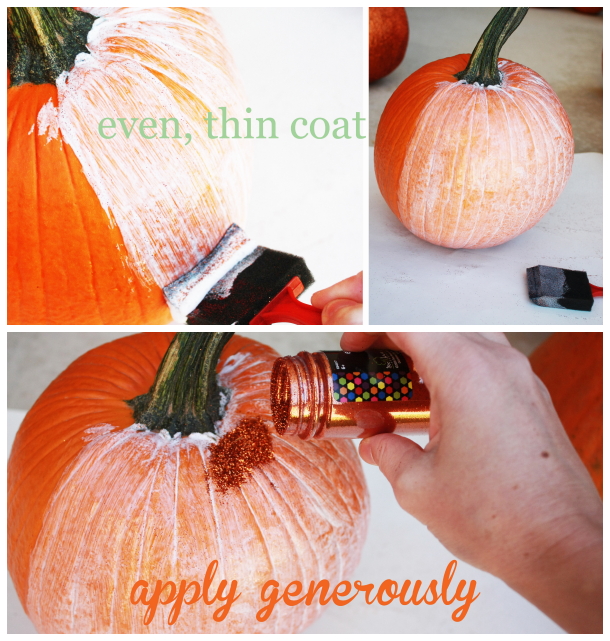 To apply glitter to the bottom of your pumpkin, just hang on to the stem and roll it around in the glitter on your work surface.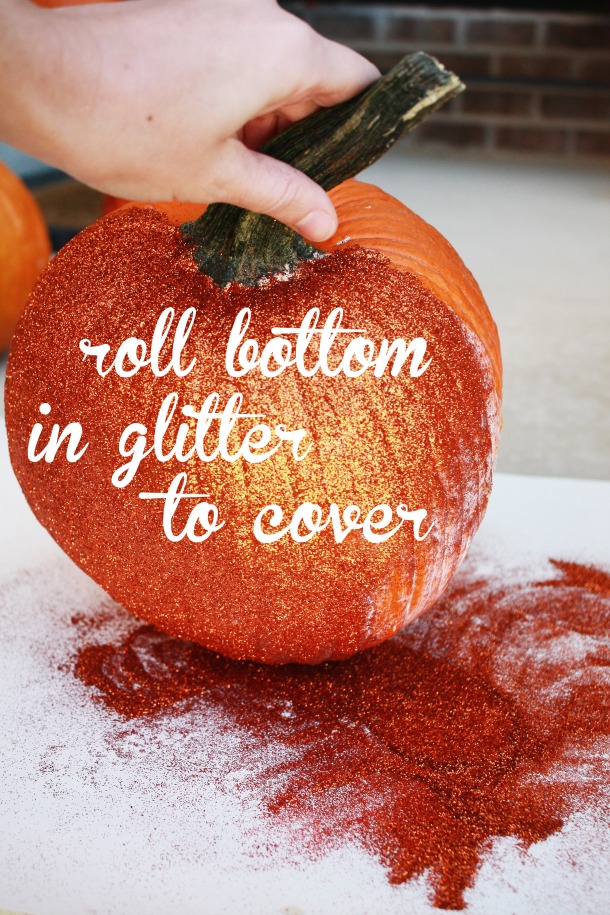 To finish your pumpkin, apply more Mod Podge to the un-glittered areas and repeat the process. You don't need to glitter the bottom of your pumpkin since it will be out of sight!
After your pumpkin is glittered and dry, you can brush off the excess with a firm paintbrush.
To top it off and add a bit more charm, tie a festive ribbon on the stem of your pumpkin! How charming! Adding these glitter pumpkins to your list of halloween decoration ideas, will have you Halloween ready in no time at all.

DIY glitter pumpkins look fantastic in the shade, but they come alive in the sunshine! They are perfect for setting the scene in any festive Halloween entry!
Pumpkins Decorating Ideas Video Tutorial
Want even more help making DIY glitter pumpkins? Check out my very first vlog and watch me go through the process!
Your Turn
What do you have up your sleeve for Halloween? We'd love to see your Halloween decoration ideas. Link up your posts in the comments below or head over to our Facebook fan page to show off now!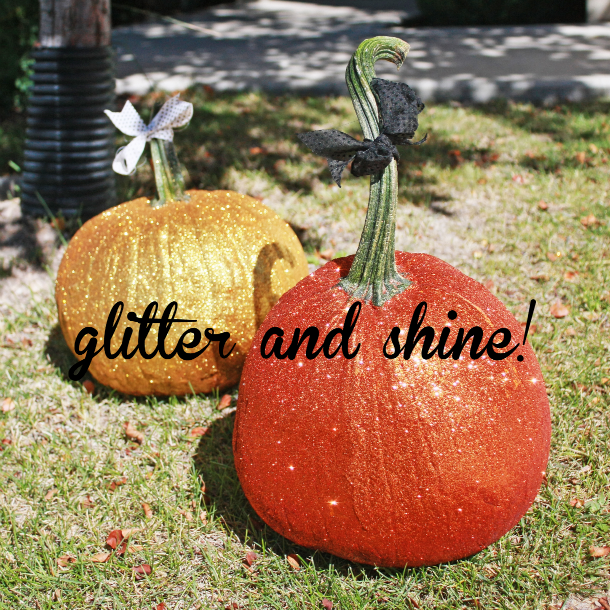 Enjoyed Our Pumpkin Decorating Ideas? Keep Reading!
If you enjoyed this post on Halloween decoration ideas, then keep reading! We have more!