This post may contain affiliate links which may give us a commission at no additional cost to you. As an Amazon Associate we earn from qualifying purchases.
I loved spending afternoons running through the sprinklers when I was a kid. It was a fun way to beat the summer heat. We recently hosted a Mickey and the Roadster Racers party and wanted to incorporate a fun station for the kids to cool off. Inspired by the race car theme and fond memories of summer sprinkler fun, we decided to make a PVC Pipe Car Wash Sprinkler. This is the perfect DIY project to provide hours and hours of fun for your kids. Grab bikes, trikes, and skates and get ready to get wet!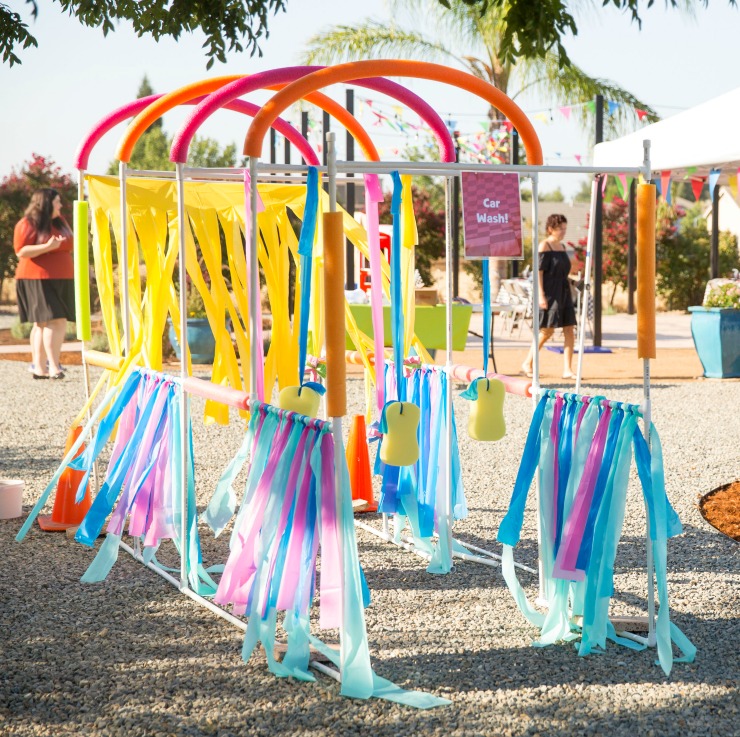 PVC Pipe Car Wash Sprinkler
This project will take you a couple of hours to complete start to finish. You can make the car wash as large or as small as you want. I choose to make mine about 8 feet long to give the kids a little extra washing! Note: this post contains affiliate links.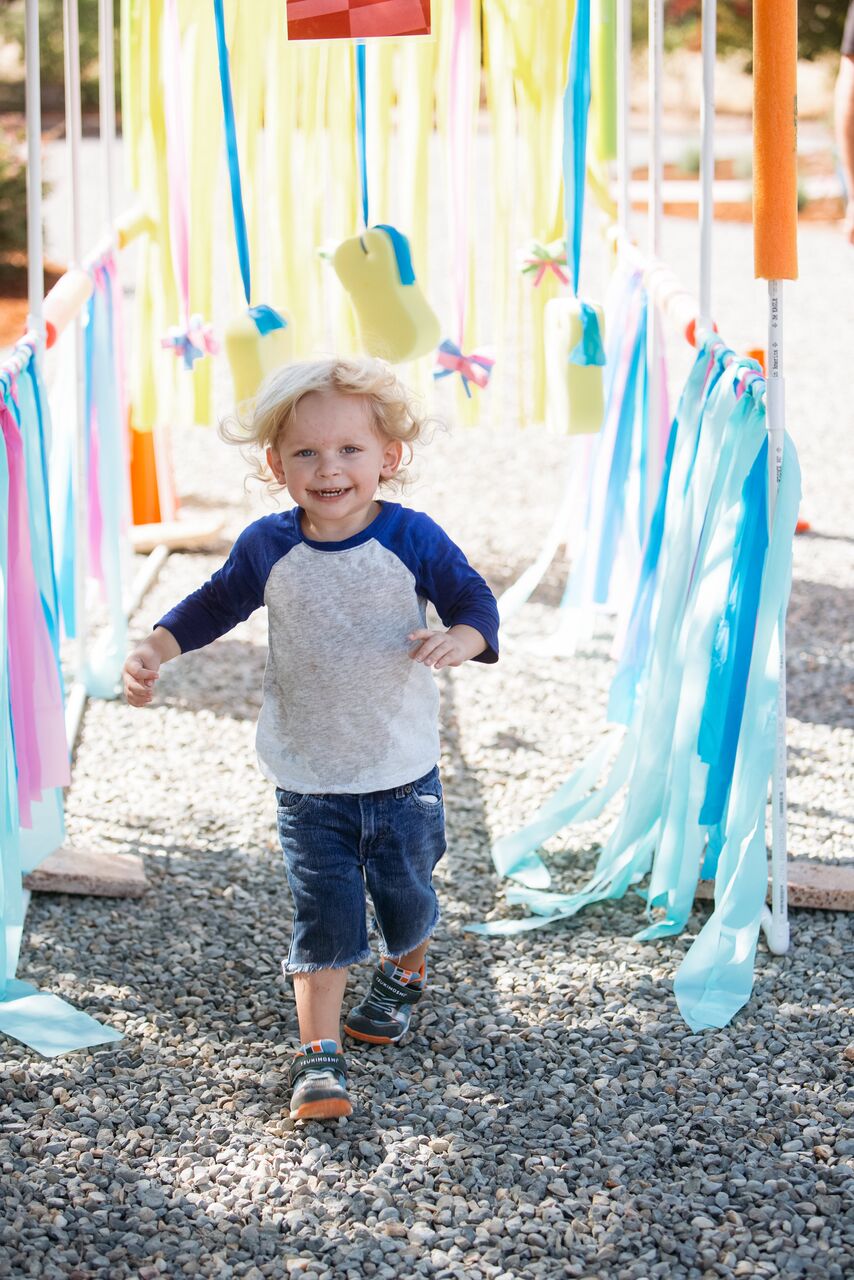 DIY PVC Pipe Car Wash Sprinkler Supplies:
5 PVC pipes – cut to 3ft with small holes drilled every 3 inches
36 PVC pipes – cut to 2.5 foot portions (this will be almost the entire frame)
8 PVC Caps (these go on the top so you can stick the pool noodles on them)
20 PVC tees (these connect the middle PVC drilled hole pipes along the top and outside entrance and exit poles)
8 Four Way Tees (these connect the middle portion)
4 PVC elbows
1 Female PVC Hose Adapter
6 Plastic Table Clothes
3 Large Yellow Sponges
8 Pool Noodles
8 Small Sponges
Drill
Measuring Tape
Scissors
Water Hose
Tip: I used 1/2 inch pipe for the entire project, and it worked perfectly! Make sure your pipes are measured and cut correctly before you begin assembling your PVC Pipe Car Wash.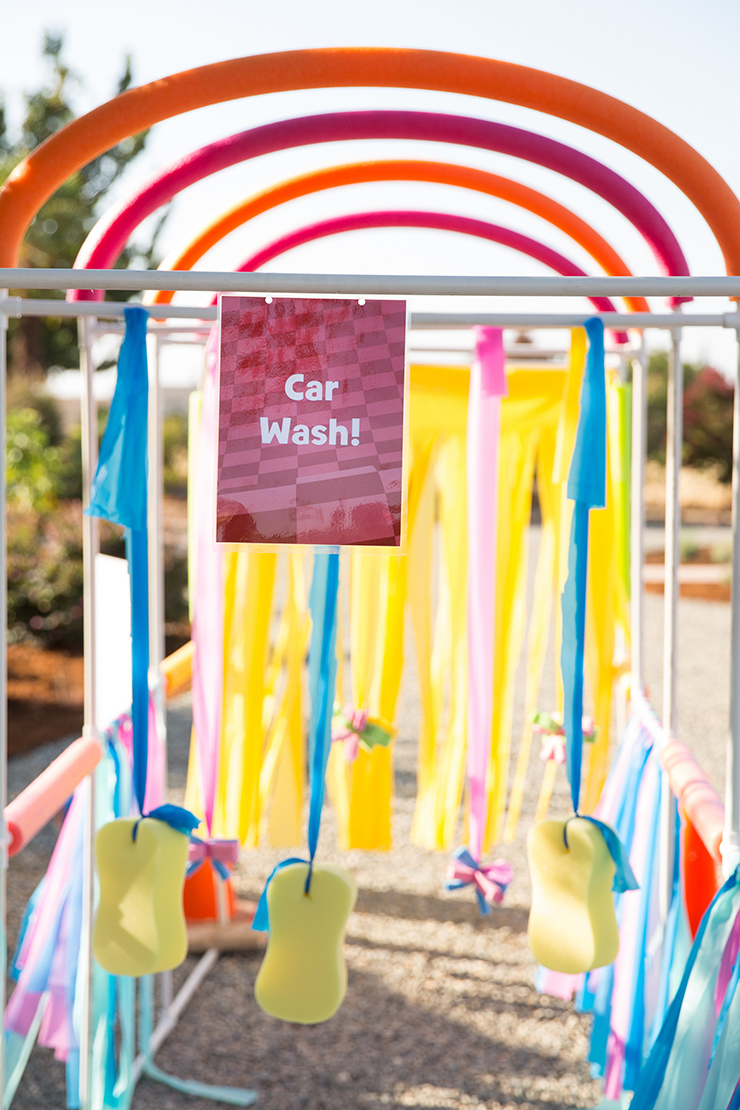 How To Make A PVC Pipe Car Wash Sprinkler
This project is basically like building a puzzle. All of the pieces are the same length EXCEPT the top pieces; they are a half foot longer. I used a PVC pipe cutter (like a pair of scissors, but for pipes). It was surprisingly easy! You need to cut all your 2.5 foot pieces to build the frame and your 3 feet pieces for the top. After that, you may begin to build the puzzle.
I laid the pieces out and built the side walls, and then inserted the longer drilled pieces on the top, keeping a large pile of all my pipe connectors close by as I worked!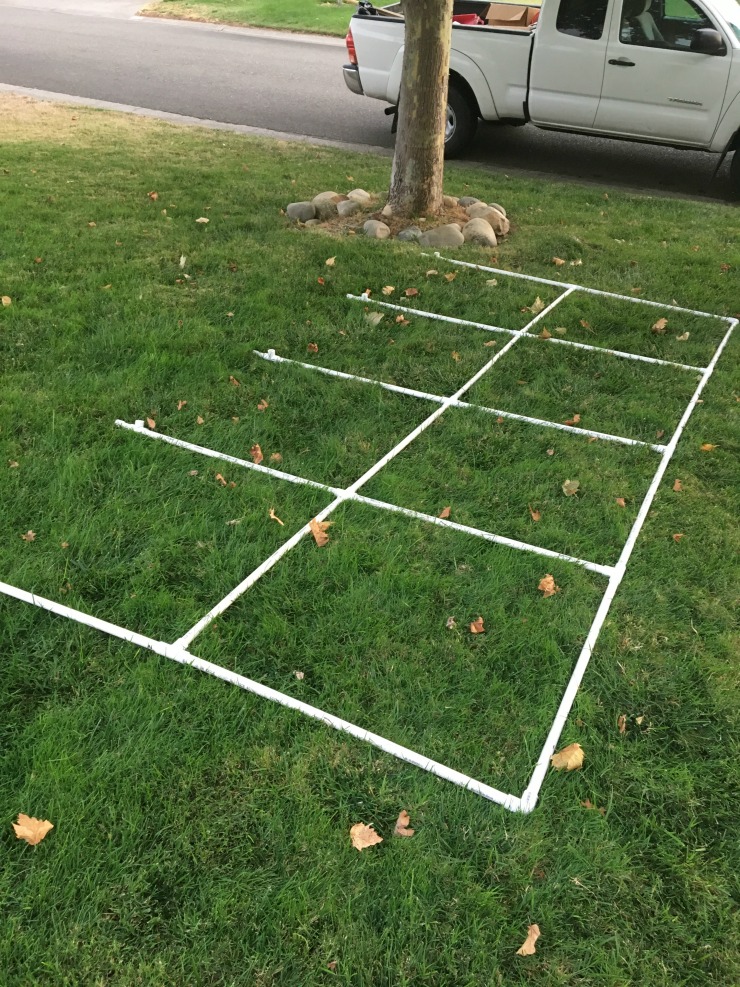 I used a Four Way Tee to connect the joints along the middle tier of pipes and elbows to round off the corners.
The last step is to drill little holes in the longer PVC pipe pieces. These will connect at the top of your car wash and allow for the water to stream out. Drill halfway through your PVC pipe to the middle, but don't drill all the way through the other side. When you insert these pipes up top make sure that these holes are pointing down towards the ground.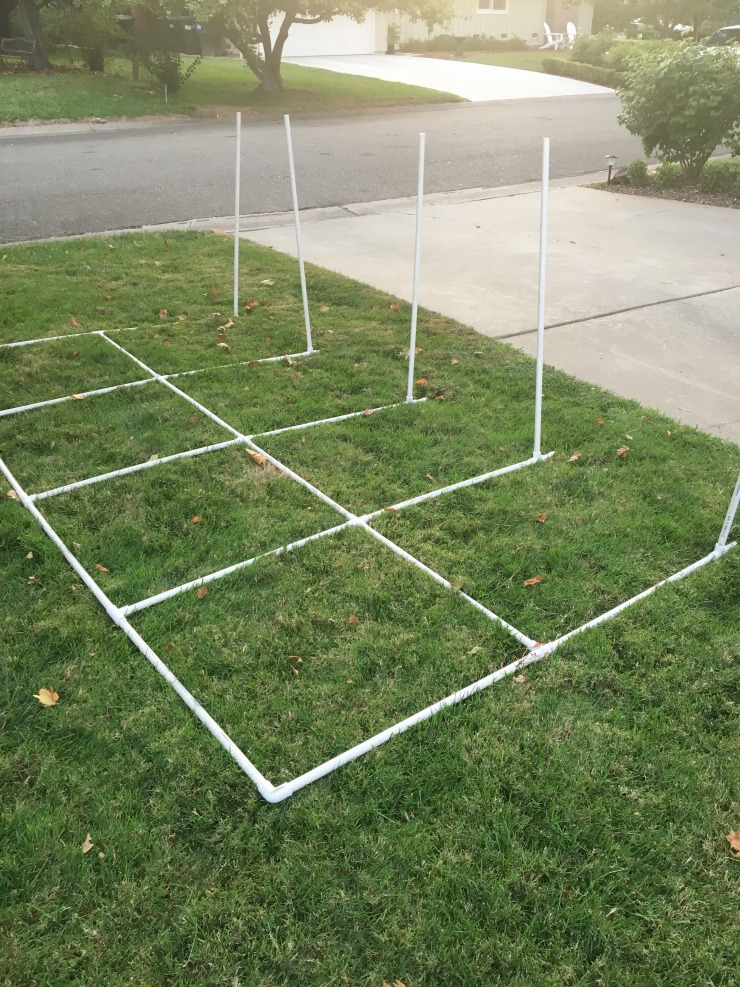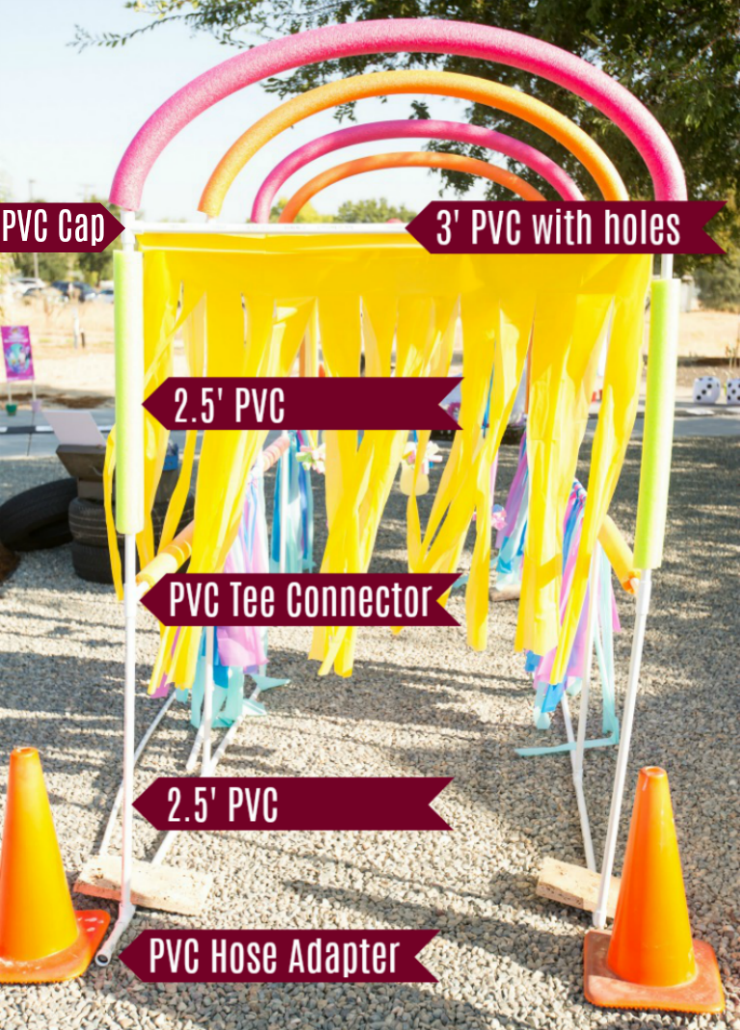 Connect your garden hose to the bottom by screwing it into the PVC Hose Adapter, and the water will run through your structure and drip down the from the 3′ pipes running across the top with the holes drilled in them!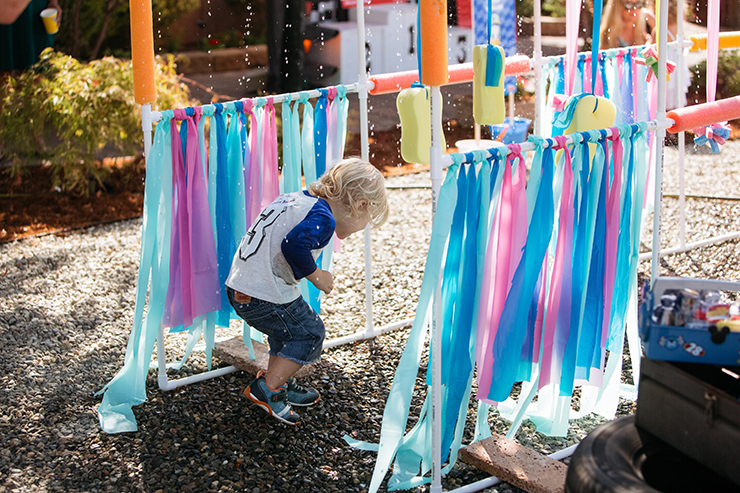 PVC Pipe Car Wash Sprinkler Flair
Once your PVC pipe car wash is constructed, you can add flair!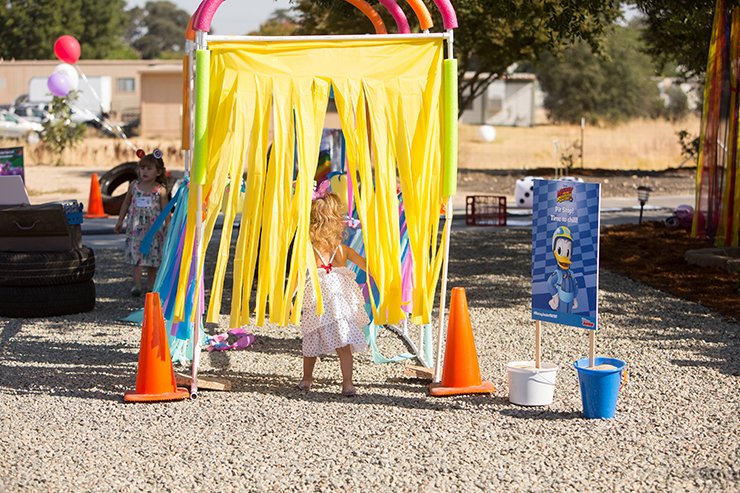 To start, I cut up a bunch of plastic table clothes into strips and tied them along the side. Then I bent pool noodles over the top and slid the ends onto PVC caps to make the arches. I also attached pool noodles along the sides, by cutting a hot dog slit, and slipping them over.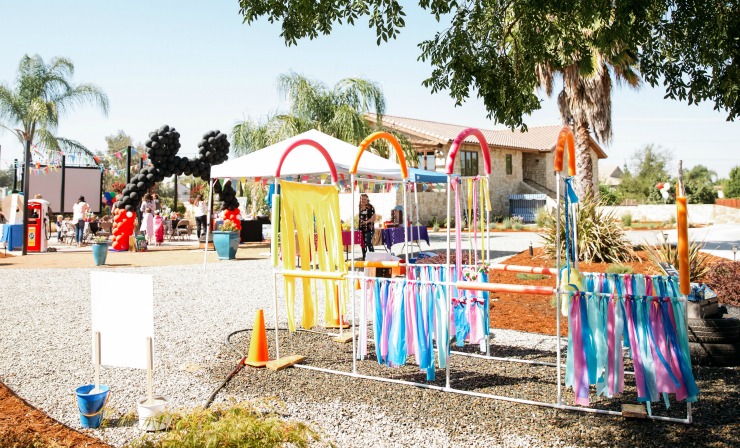 I tied sponges and sponge bombs to plastic tablecloth and hung them from the top rungs.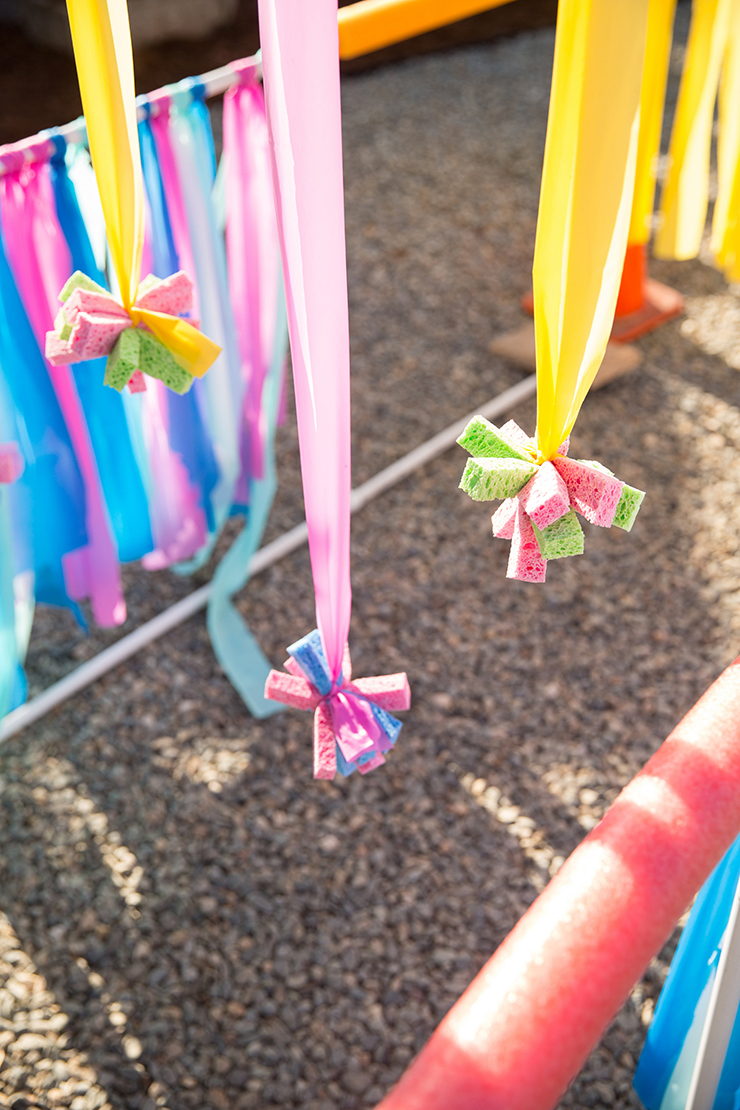 You can run through, ride your bike, or roller skate! Whatever your mode of transportation, you are in for a FUN afternoon!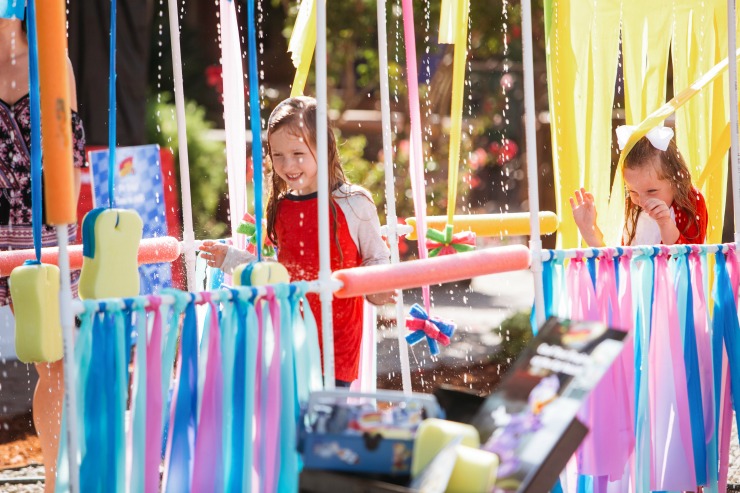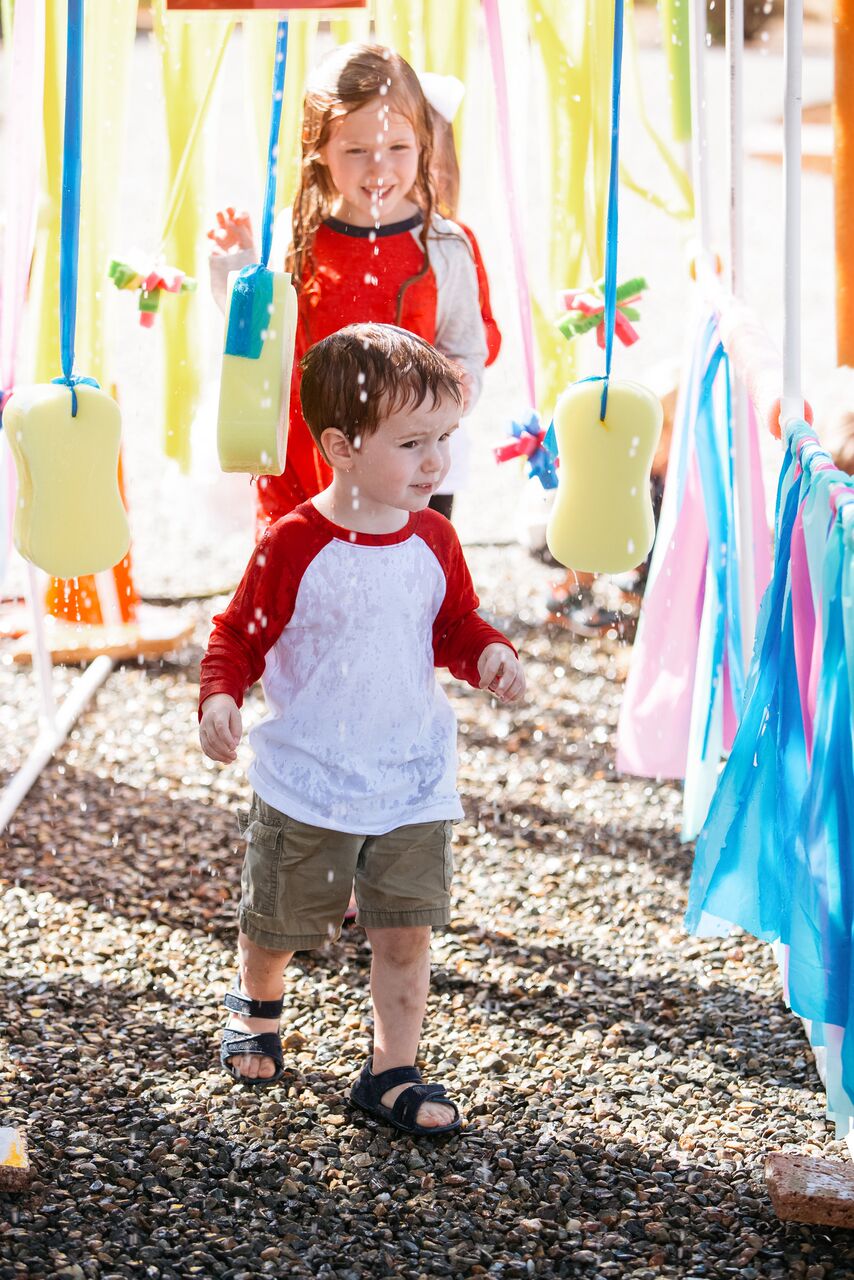 The best thing about this PVC Pipe Car Wash Sprinkler, is that it's easy to dismantle and store for your next summer party.
Check out more of our Mickey and the Roadster Racer's Party!