This post may contain affiliate links which may give us a commission at no additional cost to you. As an Amazon Associate we earn from qualifying purchases.
I love his and her costumes, and love them even better when it's little kids sporting matching costumes.This year I decided to go patriotic and created an Uncle Sam and Rosie the Riveter Halloween costume inspired by the classic Uncle Sam recruitment poster and Rosie the Riveter "We Can Do It!" poster.
My years of being able to dress my kids up in matching costumes are dwindling. Next year, my son wants to be someone from Star Wars and my daughter is leaning towards a unicorn or a princess. Until then, I'm going to enjoy every second of the cute coordinating costumes.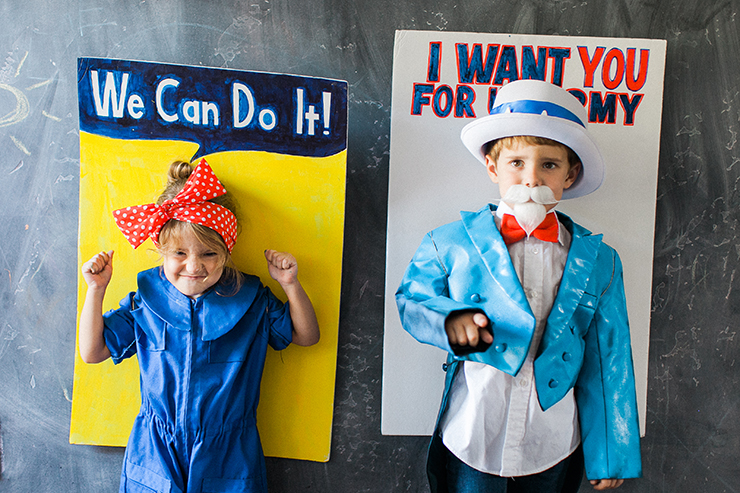 DIY Uncle Sam and Rosie the Riveter Halloween Costume
The beauty of these two costumes is that they each cost me a total of $10 or less. These iconic posters are sure to be a hit with everyone. I am no artist and was able to recreate them easily with things I had at the house or found at a thrift store! (Note: this post contains affiliate links)
Must Have DIY Halloween Costume Supplies:
Poster Boards (I got mine at Dollar Tree)
Pencil
Blue Ribbon
Bow Tie
Rosie The Riveter Halloween Costume
For my daughter, who was Rosie the Riveter poster, I actually used an old astronaut costume. There were some NASA patches on the front, so I found matching fabric and bonded pockets to cover them. I also cut a matching faux collar out of fabric and attached it with safety pins.
Originally, I was going to use a denim button down that we had at the house, but at the last minute I found this and thought it looked exactly like a work coverall! If you do want to spring for a toddler-sized coverall, you can actually buy them!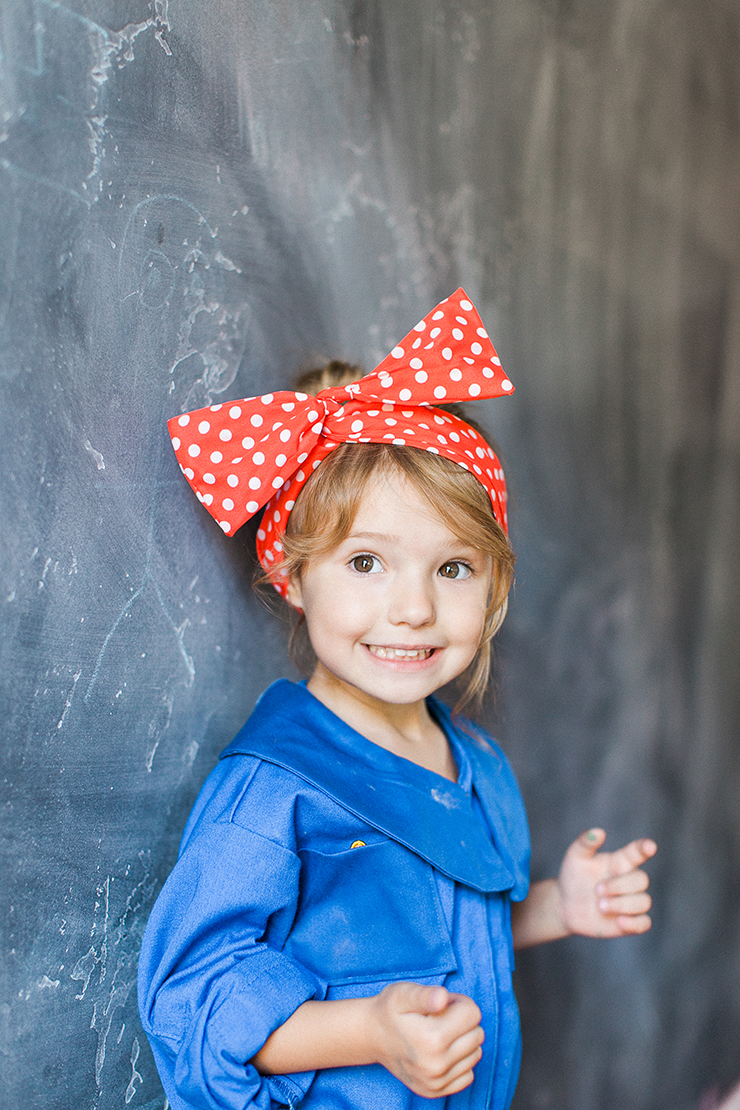 Rosie the Riveter had her hair in a bun atop her head, and her famous red and white polka dot headscarf. The headscarf was my favorite part of the costume, and we will definitely use it again!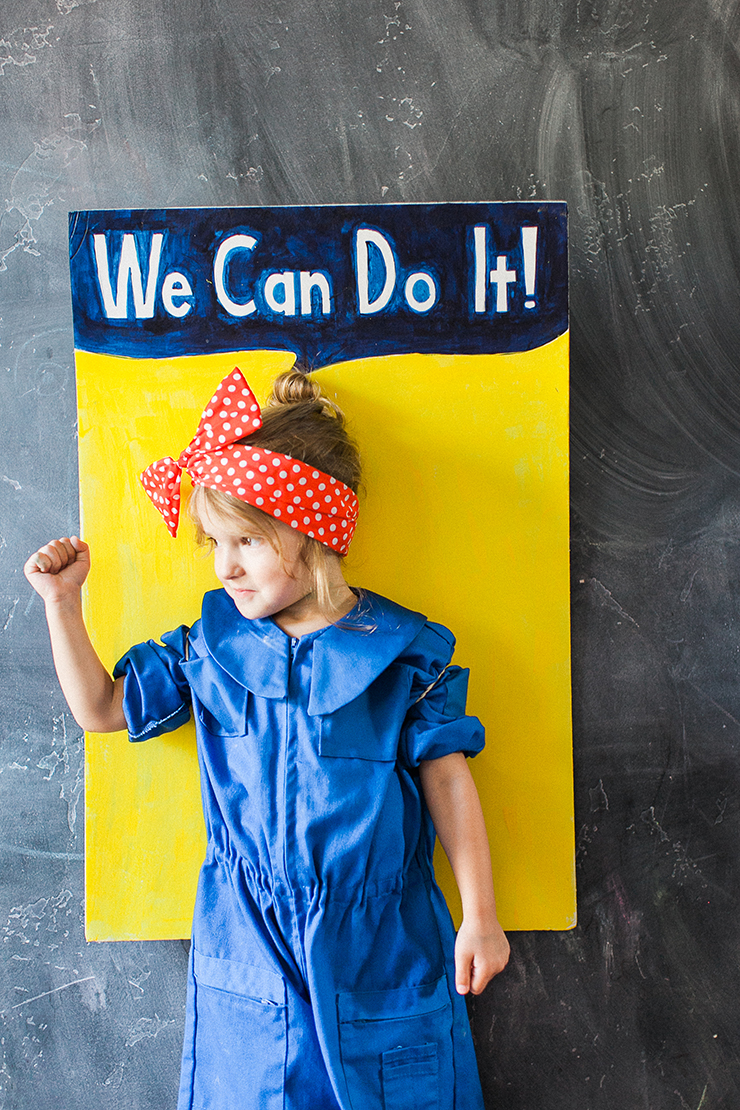 Above you can see how I attached the poster board to my daughter — I simply used rubber bands. I held it up to her and then hot glue gunned a portion of the rubber band to the poster board. The poster board is super light, so we had no issues with the rubber bands holding it up.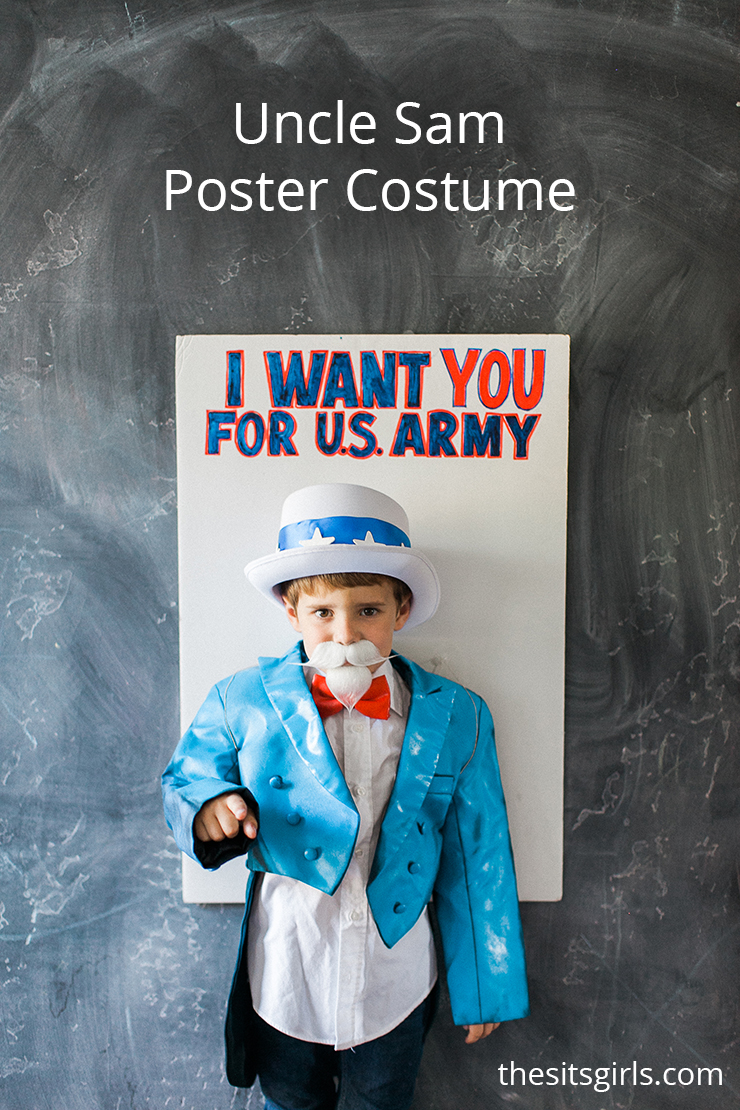 Uncle Sam Halloween Costume
My Uncle Sam poster costume was a tad more complex, however still very simple! In order to make him a true Uncle Sam, I had to track down a waistcoat. With one trip to the thrift store I was in luck, and only had to pay a mere $2.00. It was originally black, however I decided to spray paint it blue to make it more authentic! I also spray painted a yellow bow tie red.
Halloween costumes do not need to be perfect since you only wear them for one night. I am a huge fan of using old items and making them work for whatever you are planning!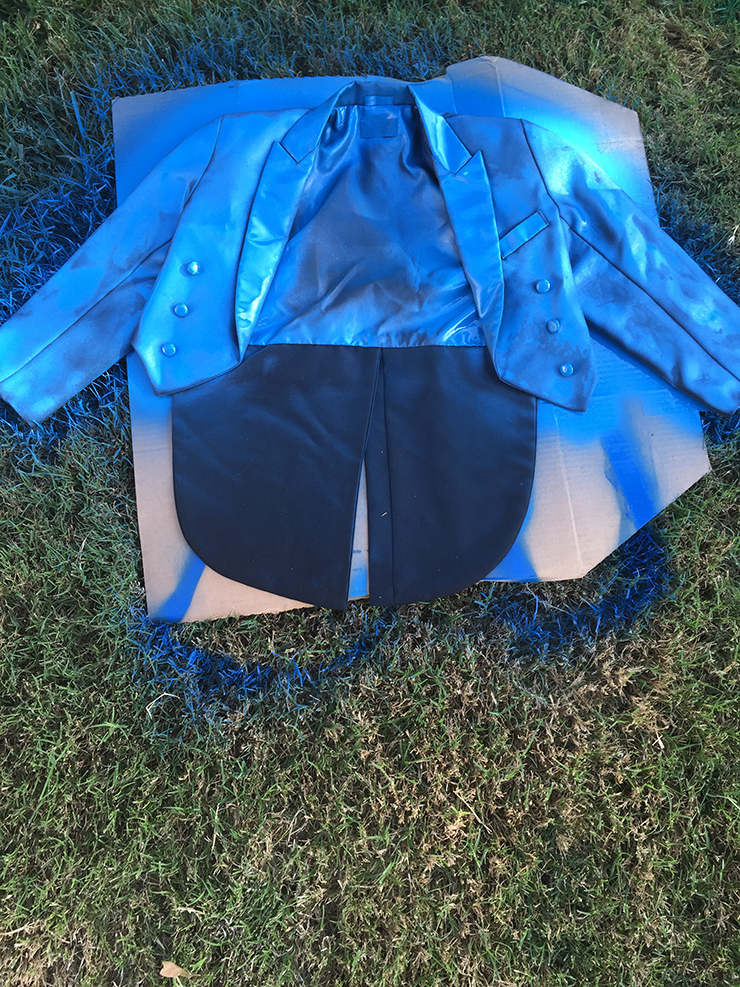 For the hat I just wrapped some blue ribbon around my white top hat and added white stick-on stars we had left over from the 4th of July. They worked perfectly, and with a little help from my hot glue gun, it was assembled in under 3 minutes! We attached the poster board the same way — with rubber bands.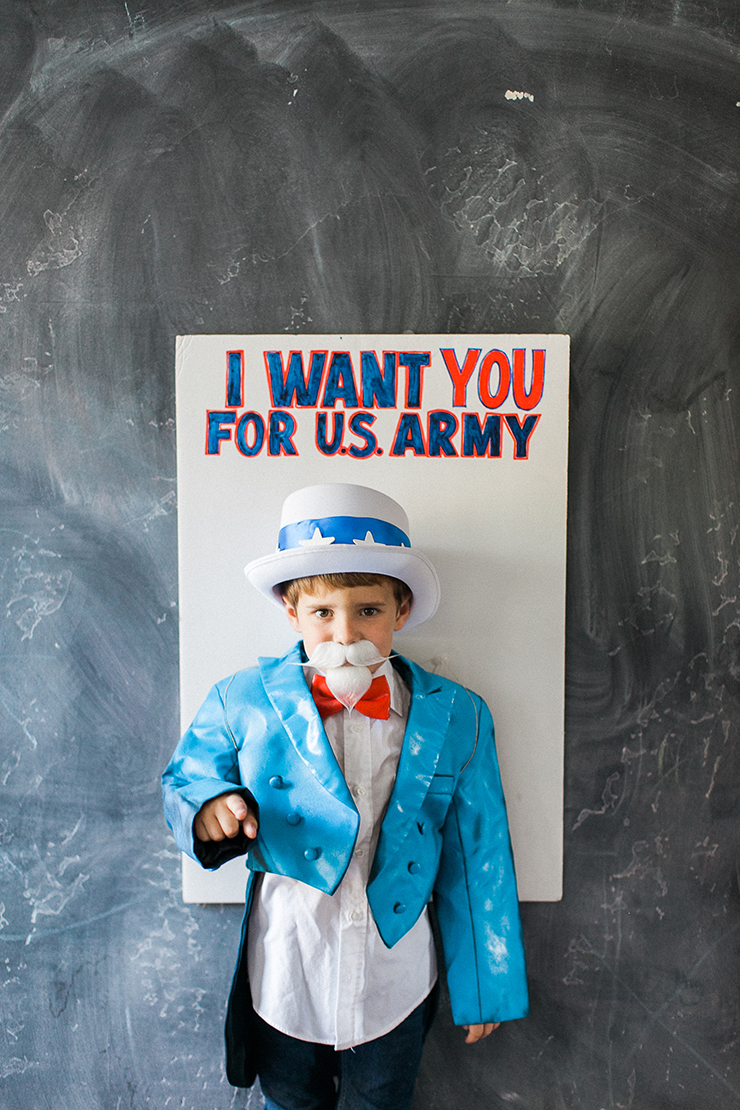 My favorite part of the whole costume was his fake beard. There is something hilarious about  a child wearing a beard! He also got a grand old kick out of it, and loved practicing the classic Uncle Sam pose!
Both poster boards were super easy to make. I just traced stencil letters in pencil and then filled them in with my poster paint! You could even use markers if you like.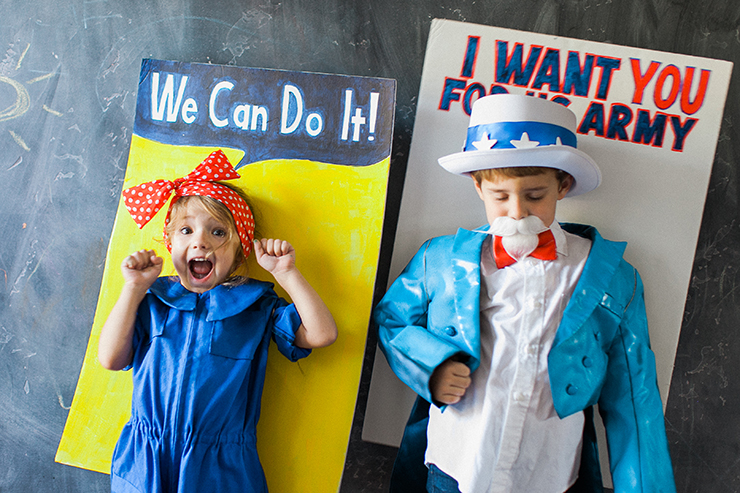 Matching Uncle Sam and Rosie the Riveter Halloween costume goal achieved.
This might be my last year of having these two in matching costumes, but if it is, I will be satisfied! I can not wait to take them out to trick or treat!
More Matching DIY Halloween Costumes For Kids
Want to see more matching Halloween costumes? Check out the Fred and Wilma Flintstones Halloween Costumes and the Grease Halloween Costumes (I even made a Grease Lightning Car for that one).