This post may contain affiliate links which may give us a commission at no additional cost to you. As an Amazon Associate we earn from qualifying purchases.
At our home, it just wouldn't seem like Easter without dying eggs. It's a fun tradition my husband, Mike, grew up with — and I have adopted — so it was natural that we pass it on to our son, Sam. Each year, we try different patterns and techniques that are age appropriate for Sam, to ensure that he can be fully involved in our Easter festivities.
Just this week, we created Silhouette Easter Eggs that were as beautiful as they were fun and easy to make. Sam and I used gel food coloring and stickers to make a colorful batch—and, best of all, there was no unpleasant vinegar smell!
How To Make Silhouette Easter Eggs
This entire project hinges on your choice of stickers — as it is what creates the lovely shape on the egg. When you're selecting them, you'll want to look for a paper-thin foil version so they will easily wrap around the egg as well as soak in water for an extended period of time. They should also have a cute and simple silhouette as you won't see small details or confusing shapes once they are removed. While we made some bunny silhouette versions — and Sam loved them — to my own eye, I thought that the small flowers and dots looked best. They can be removed cleanly and the smaller surface area allows for less bleeding under the edges.
Once you have the sticker detail out of the way, start by boiling eggs. Make sure the eggs are dry so the stickers really adhere to them. This will give you a sharp finished image.
Next, I filled three medium sized plastic containers with water. You'll want enough to fully cover the eggs. The beautiful thing about gel coloring is that a little goes a long way. Add a tiny bit and stir, then repeat until you have water that is saturated in color. As with most dyes, the finished product looks much lighter than the color of the egg bath. The darker you want the color, the longer the eggs will need to soak.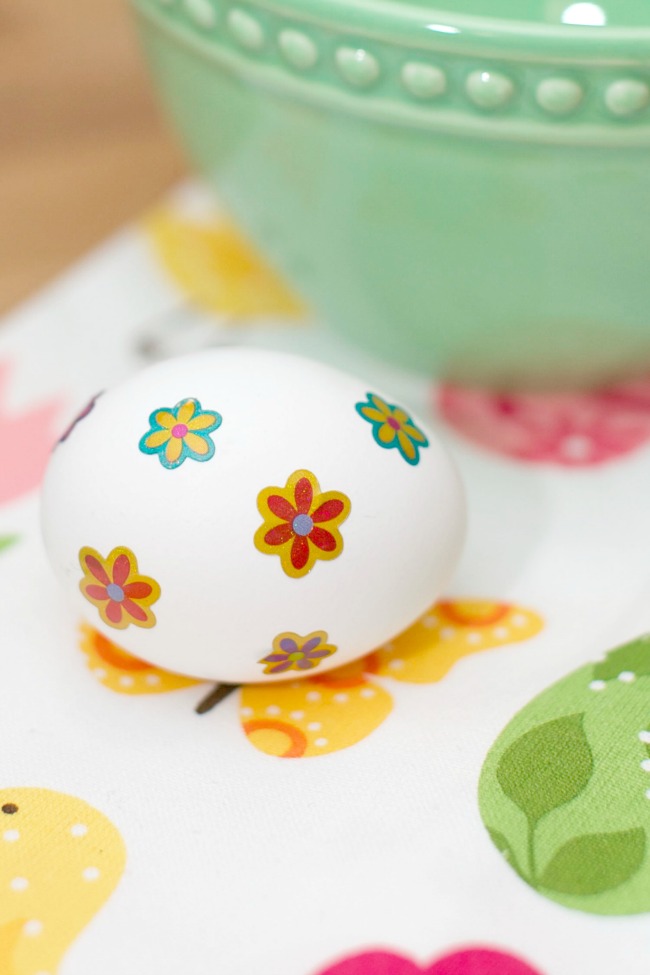 After our eggs had been hard boiled, we ran them under cold water to cool. We then had fun adhering the stickers to the eggs. After Sam had placed the stickers where he wanted them, I ensured that every edge adhered to the egg so as little colored water as possible could bleed through.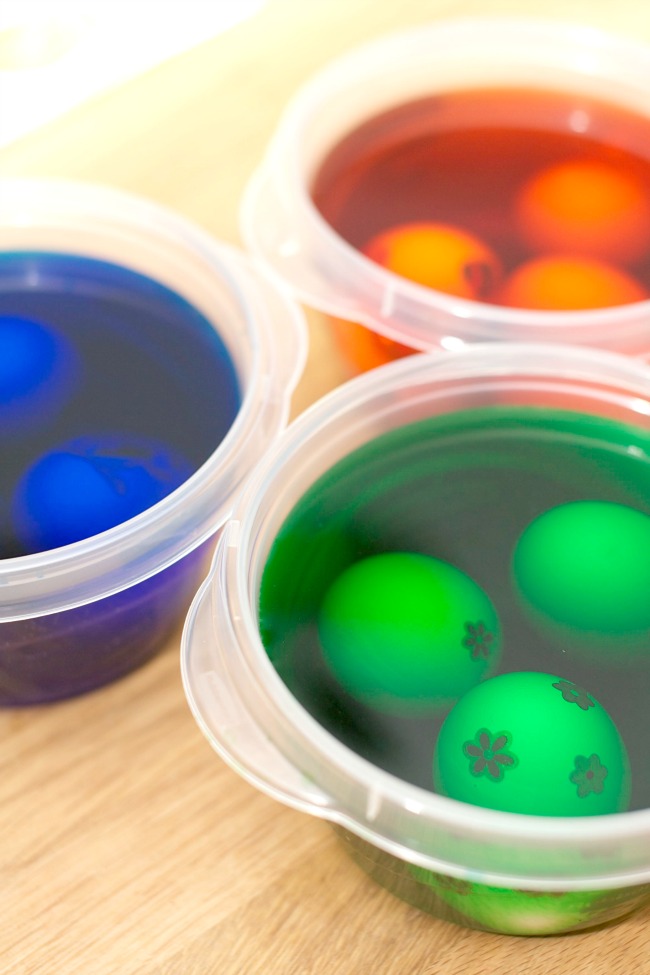 We soaked our eggs for a couple of hours, checking them periodically till we liked what we saw. The dark blue water produced purple eggs; red became pink and the dark green actually looked turquoise. Beautiful! Playing around with the colors is a part of the fun.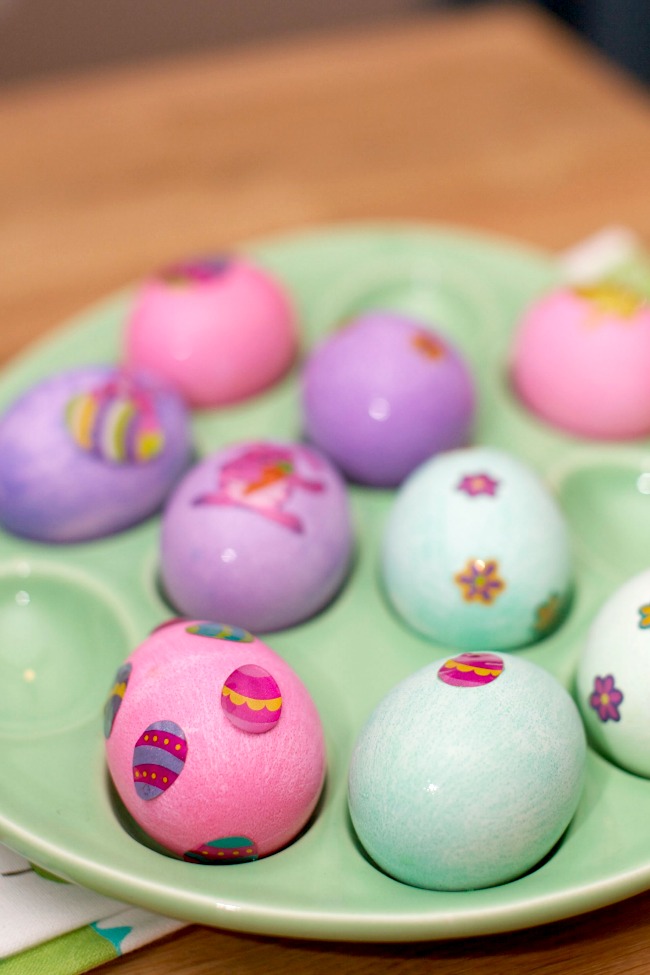 We fished the eggs out with a large slotted spoon, wiped them down with an old dish towel and removed the stickers.
Warning: your kids will want to make more as soon as the first batch is finished!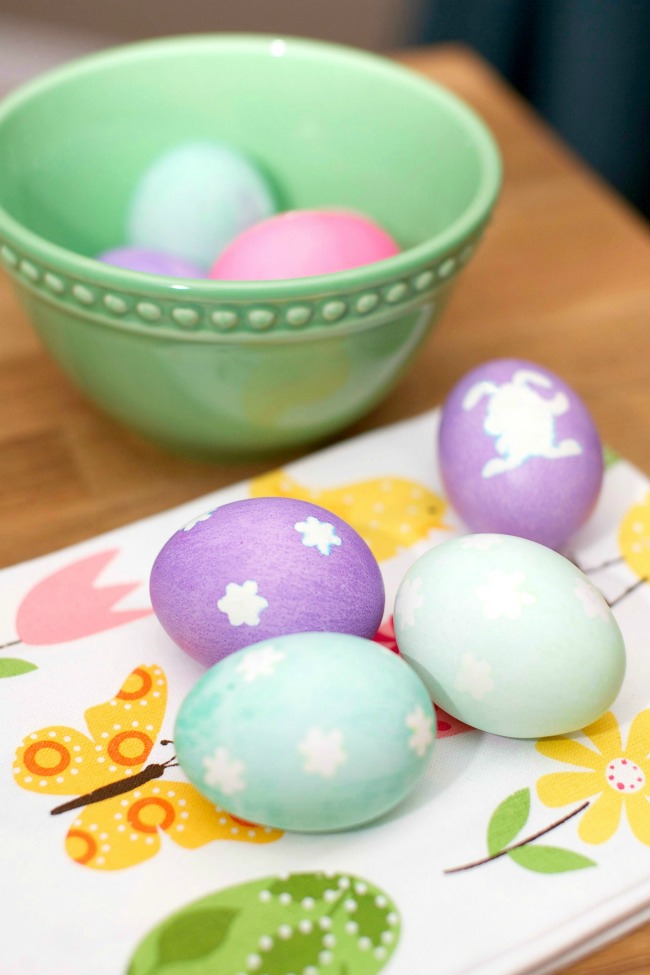 The simple arrangement of pastel eggs in a bowl looks wonderful anywhere you want a touch of spring color, but you can also make a nest of paper shred on a platter, or in a basket, and you'll have a perfect table centerpiece, too.
Author Bio: Stephanie Keeping
Stephanie Keeping is a wife to Mike and a mom to a boy named Sam. She's also a blogger and Etsy-prenuer. She celebrates boyish charm at Spaceships and Laser Beams, where she talks about all things boy and birthday party.