This post may contain affiliate links which may give us a commission at no additional cost to you. As an Amazon Associate we earn from qualifying purchases.
Just in case you haven't noticed, spring is here!  And, in honor of one of my favorite times of the year, I thought it be only fitting to make a diy wreath!  But, in search of fresh wreath ideas I noticed an alarming trend… they all look the same! 
And, not only are they all so similar, but they have all been done before.  Yarn, candy, fake eggs, none of the ideas even provoked a slight bit of interest in my wreath-making fantasies! 
But, after strolling the craft store one last time, I came across the large paper mache letters and it hit me like a bolt of spring thunderstorm lightening!  A DIY Floral Initial Wreath! What a perfect spring craft!
And don't forget to link up your craft or recipe post at the bottom of this post. Last week we had 286 people link up their posts!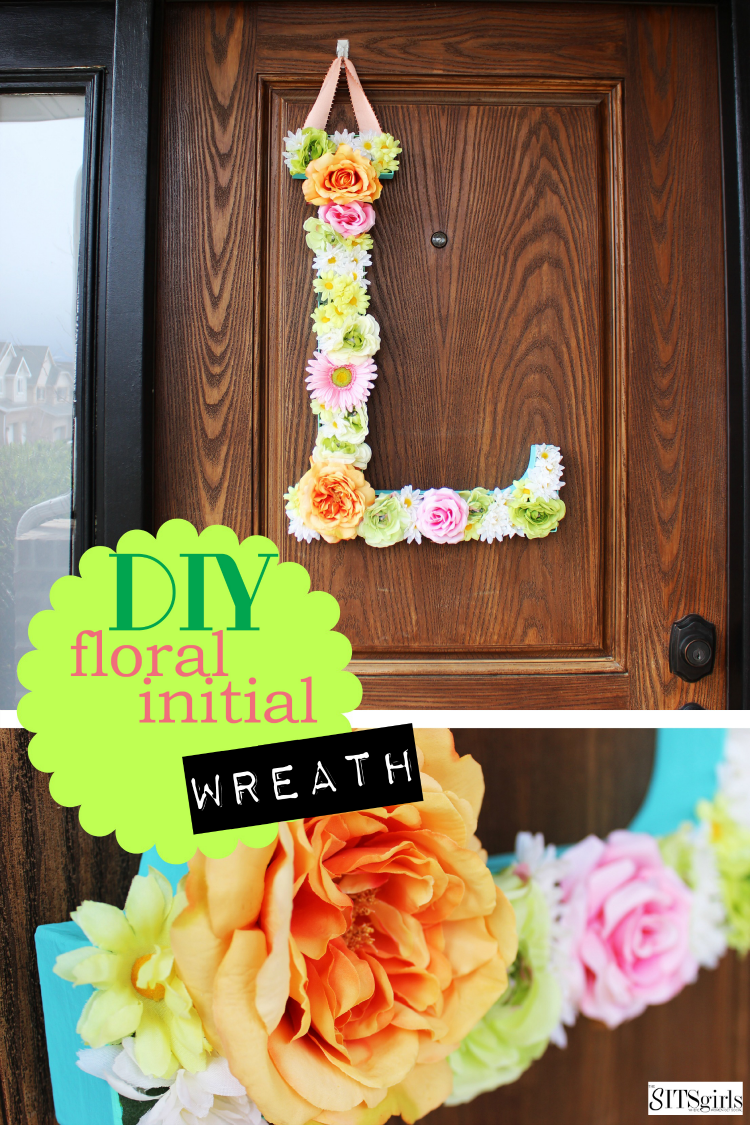 DIY Wreath
Throw out your preconceived ideas about what shape a wreath has to be!  This takes your wreath-making to the next level and how awesome that your wreath can be instantly personalized just by choosing the initial shape of your creation!
To create your own DIY Floral Initial Wreath, collect these supplies.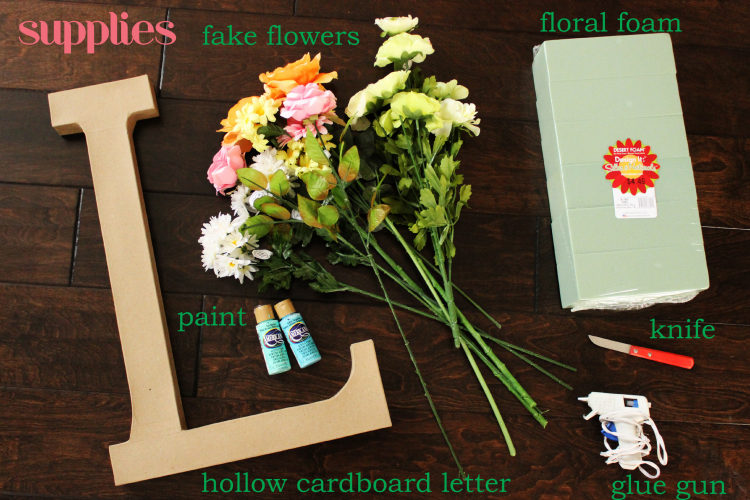 To begin, cut your paper mache letter with a knife and remove the top and all of the cardboard stuffing inside.  If you have any jagged edges, you can smooth them with a piece of sandpaper.
After you have removed the top, paint the outside.  You can use spray paint, but I just brushed mine on.  I choose an aqua blue color, but I thought how awesome it would be to paint it a metallic color so that the letter looked like copper or tin.
Then, if you want to paint the inside of your letter, you can do it with the same color, or choose something else.  I choose green.  This step is not necessary, but I wanted every bit painted just in case it could be seen!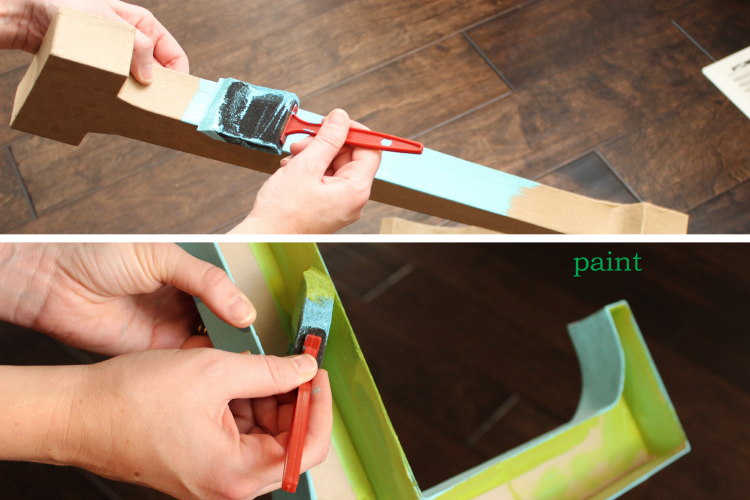 Next, cut your floral foam and wedge it into every nook and cranny of your paper mache letter.  I secured mine with hot glue for added stability since I wanted to hang my wreath outside.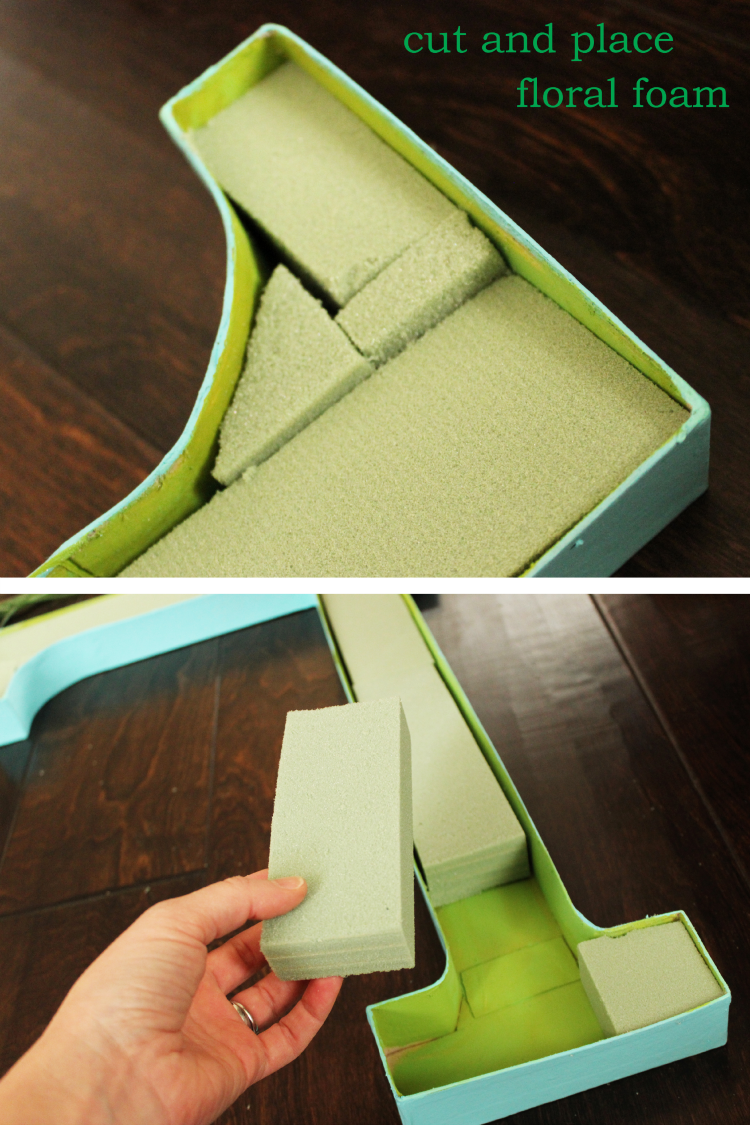 Then, cut your flowers an inch or two from the stem.  If you want your flowers sunken down further into your letter, cut them shorter.  If you want them popping out further from your letter, cut them longer.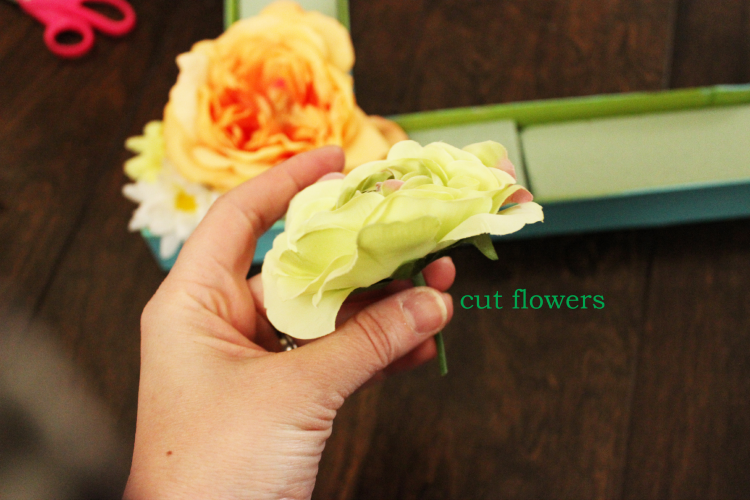 To secure your flowers to your foam, liberally apply hot glue all along the stem and then stick them into the foam.  Think about the placement of your flowers before gluing them in!  Make sure you cluster them tight enough to cover the foam.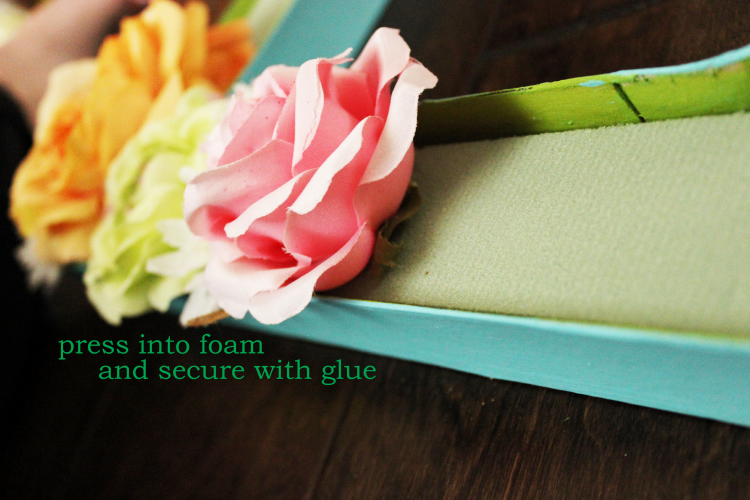 To finish your wreath, secure a bit of ribbon onto the back of your letter so that it is able to hang.  If you like, you can secure a metal frame hanger on the back so that the ribbon is not needed and then it could be hung from a nail on a wall!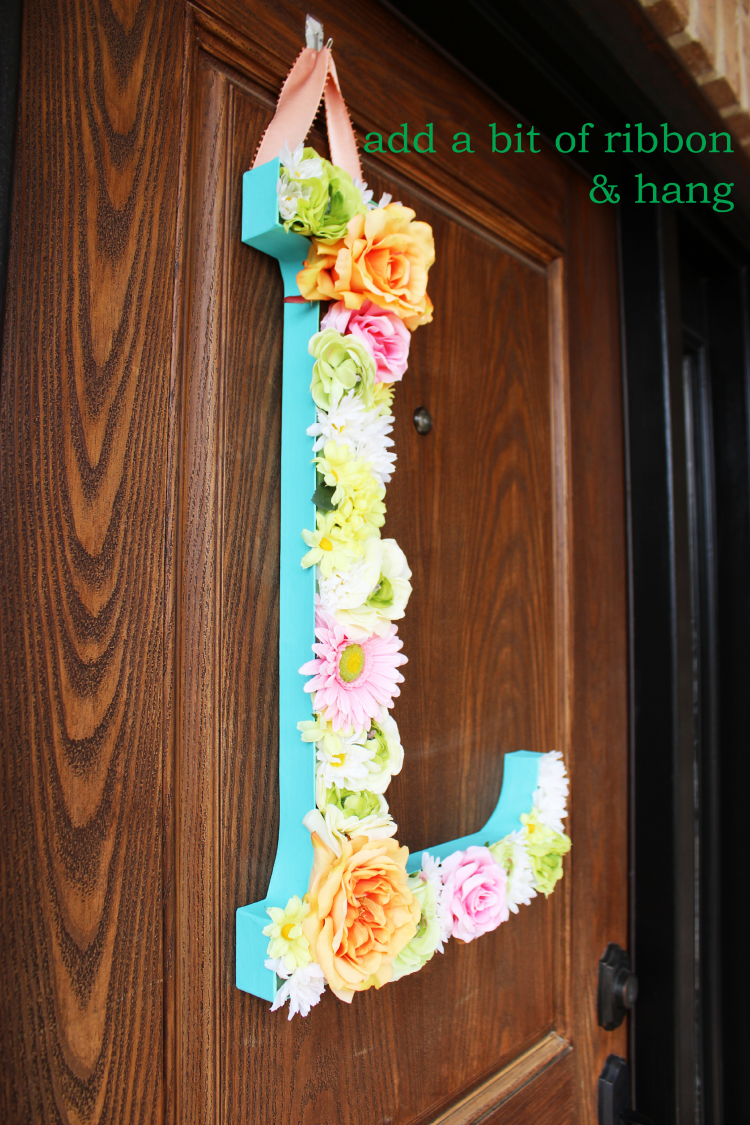 A DIY Floral Initial Wreath is the perfect way to celebrate spring on your front porch!  They are lightweight and easy to personalize as a gift or for a different holiday!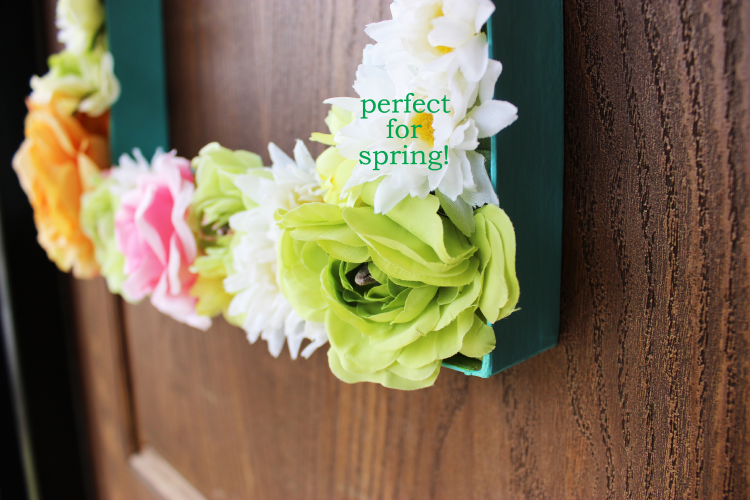 FEATURE YOUR CONTENT!
Do you have a craft, recipe, or another Pin-teresting post that you want to share? Use the below Linky to get featured! We'll be sharing our favorite posts in the coming week across our social media channels, on the blog, and in our newsletter.
SHARE THE COMMENT LOVE
Be sure to spread the comment love! If you link up, please comment on at least three posts that grab your attention. We're looking to help our community continue to grow their tribe and spread the comment support.
WHO WE LOVED FROM LAST WEEK
Here are our favorite picks from last week's link-ups. Show these ladies some love!