This post may contain affiliate links which may give us a commission at no additional cost to you. As an Amazon Associate we earn from qualifying purchases.
St. Patrick's Day doesn't always get the attention it deserves when it comes to holiday decorating, but with this easy Pot of Gold wreath, you'll be ready to make sure at least one spot in your home has the luck of the Irish and a little rainbow cheer! The best part is that you can make this DIY St. Patrick's Day wreath in less than 30 minutes.

St. Patrick's Day Pot Of Gold Wreath
To make your own St. Patrick's Day Wreath, you'll need:
Styrofoam wreath form
Straight pins
Rainbow ribbon
Hot glue
Foam Shamrocks and Cauldron
Gold Coins
Hot Glue
Popsicle Sticks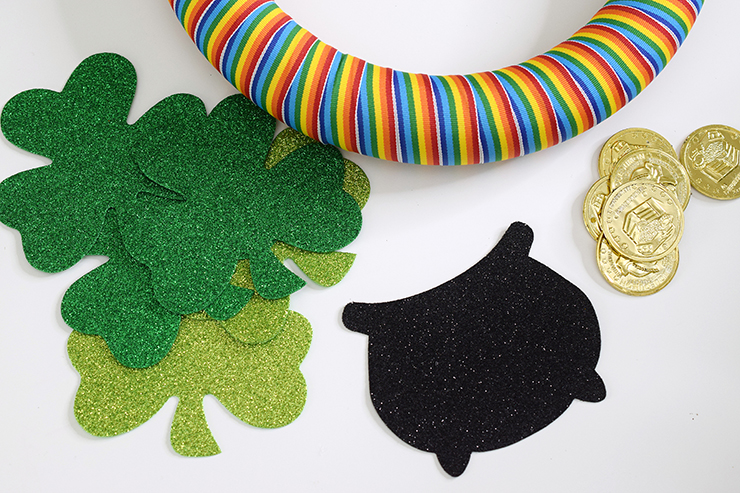 One of the best parts about this easy St. Patrick's Day craft is that most of the supplies were found at the dollar store!
How To Make A St. Patrick's Day Wreath
Start by carefully wrapping the rainbow ribbon around the wreath form. Use a straight pin to hold the ribbon in place each time you loop it around.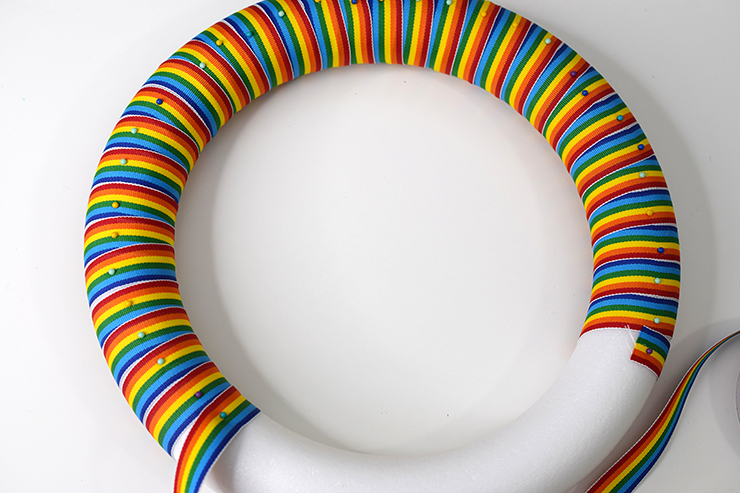 Once you've finished looping your ribbon around the wreath form, cut off any excess and use a little hold glue to hold the end of the ribbon in place.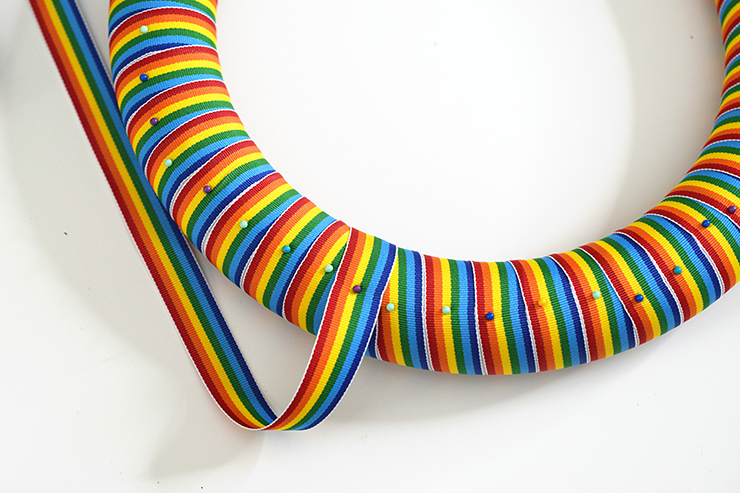 Create a pot of gold by hot gluing the gold coins to the back of the foam cauldron. I picked up my glittery cauldrons at the dollar store, but it's such a simple shape you could cut your own out of glitter foam from the craft store.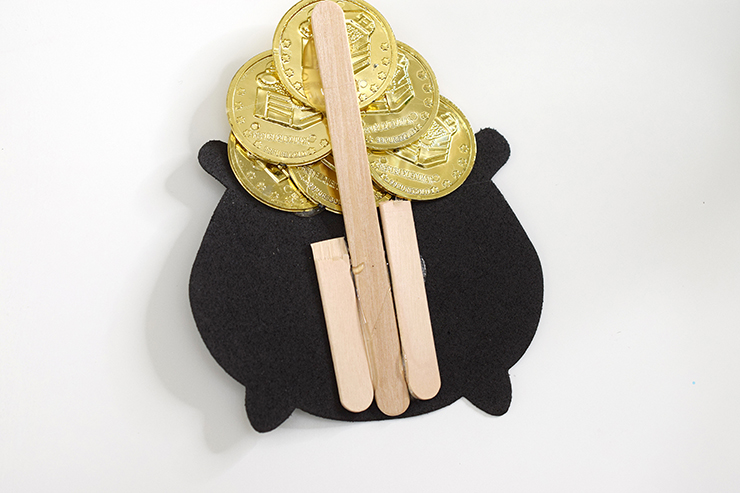 The foam will need a little support holding up those coins, so gluing popsicle sticks to the back will give it the structure it needs. I glued another foam cauldron on the front and back to make it even sturdier.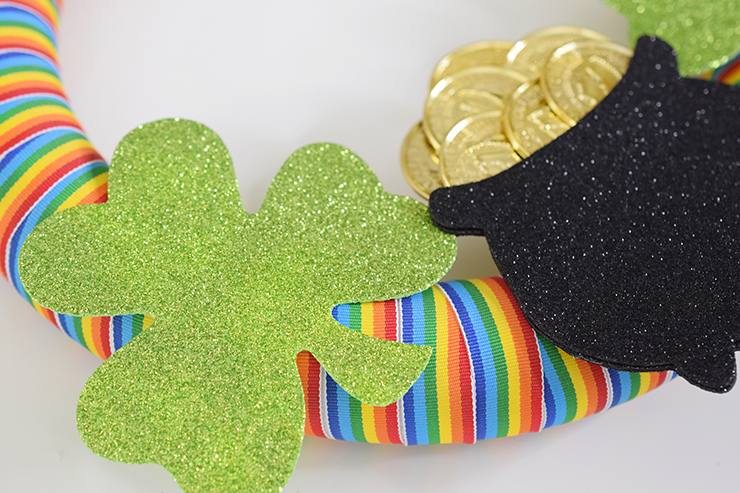 Attach your pot of gold, along with some shamrock decorations, to your wreath with hot glue.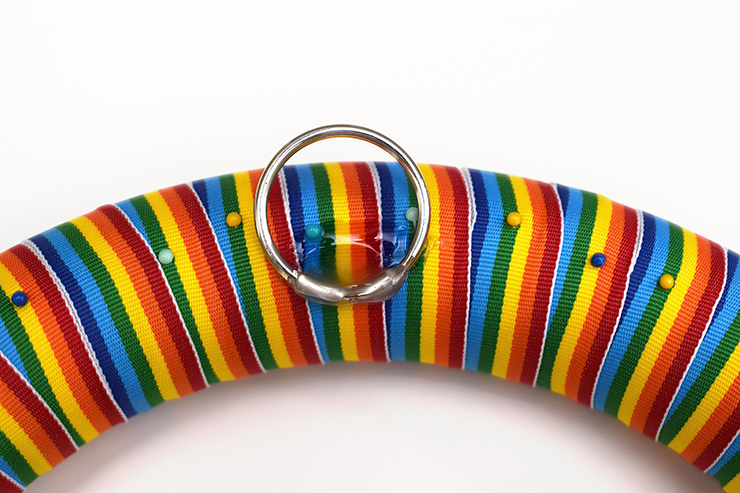 You can hang your wreath with more rainbow ribbon, but I opted to glue on an old key ring, which makes it easy to hang the wreath from a hook.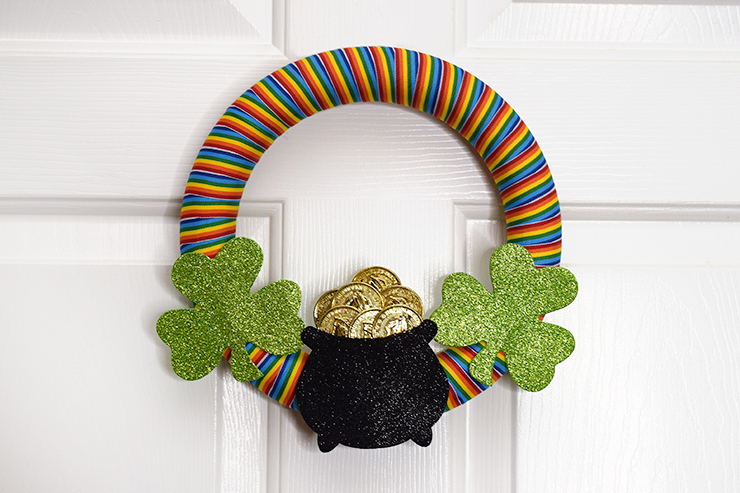 Once the glue has hardened, your St. Patrick's Day Pot Of Gold Wreath is ready to hang!
For more St. Patrick's Day fun, check out this cute Doughnut Leprechaun Trap and our list of 35 St Patrick's Day crafts and recipes.